Thailand is the best destination in the world for a bachelor trip.
With pristine beaches, tropical weather, delicious food, beautiful women, and plenty of indoor and outdoor activities, there is something for everyone.
Add to that a heavy dose of nightlife full of VIP experiences, and there is no question why guys from all around the world made Thailand the go-to destination to spend their last days of freedom.
To make your time in the Land of Smiles even more memorable, our lead concierge picked the best destinations for your stag party in Thailand.
Follow the guide.
Plan Your Bachelor Party in Thailand with VLS
If you need help choosing the destination or planning your trip, our team is here to assist you.
We have over a decade of experience planning luxury trips and parties in Thailand and we know how to make your bachelor party unique and unforgettable.
Contact our concierge team today to explore the options available and for a free quote.
Bangkok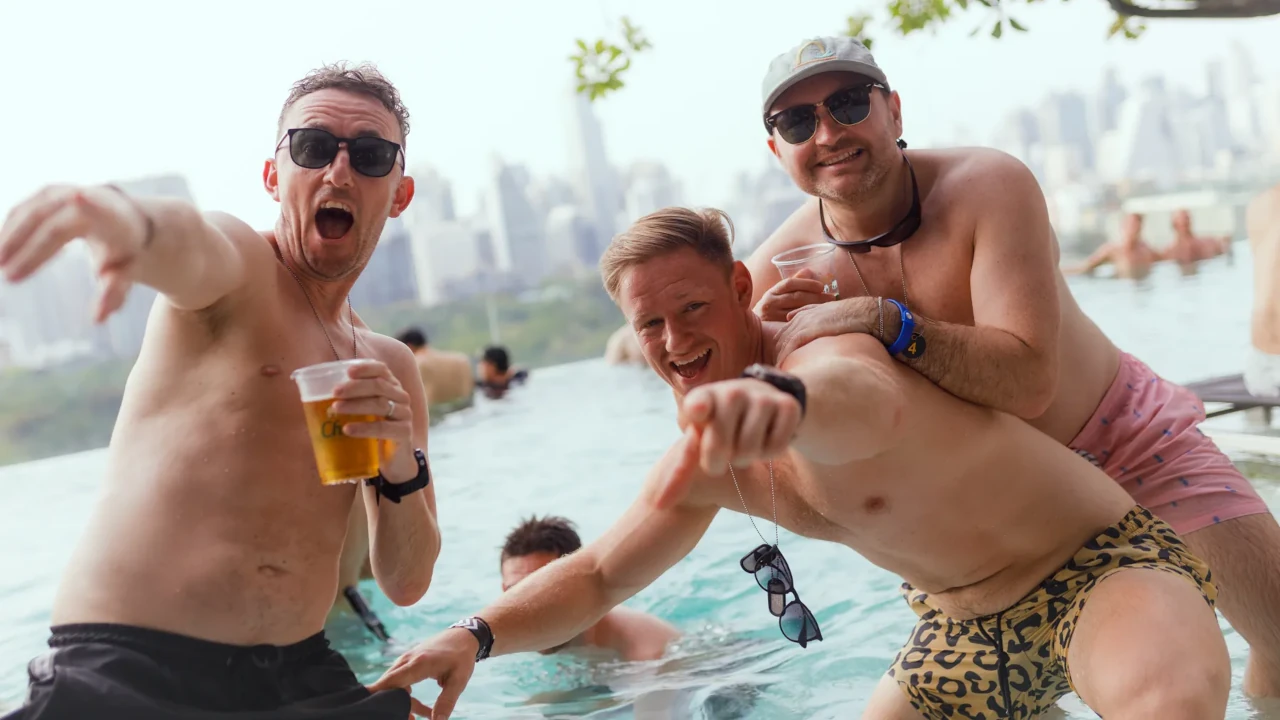 There's an unlimited list of ideas for a bachelor party in Bangkok.
From 5-star luxury hotels to private yacht parties on the river, you're in for a truly unique and VIP experience in Bangkok.
After all, the nightlife of this city is so epic that the most popular movie about a bachelor party was filmed here.
Yes, we are talking about The Hangover Part II with Bradley Cooper.
Bangkok has a wide range of nightclubs, rooftop bars, cocktail bars, and even exclusive gentlemen's clubs that will be the perfect place to celebrate this special event with your friends.
The city also offers incredible lavish experiences such as luxury accommodations, exotic cars, and dinner cruises.
There are also options to rest and chill between nights out, such as getting massages, going to the spa, playing golf, or indulging in fine dining at Michelin-star restaurants.
Now what makes these events even better is the amount of sexy and gorgeous Thai models you can meet and party with.
You simply won't believe it.
Phuket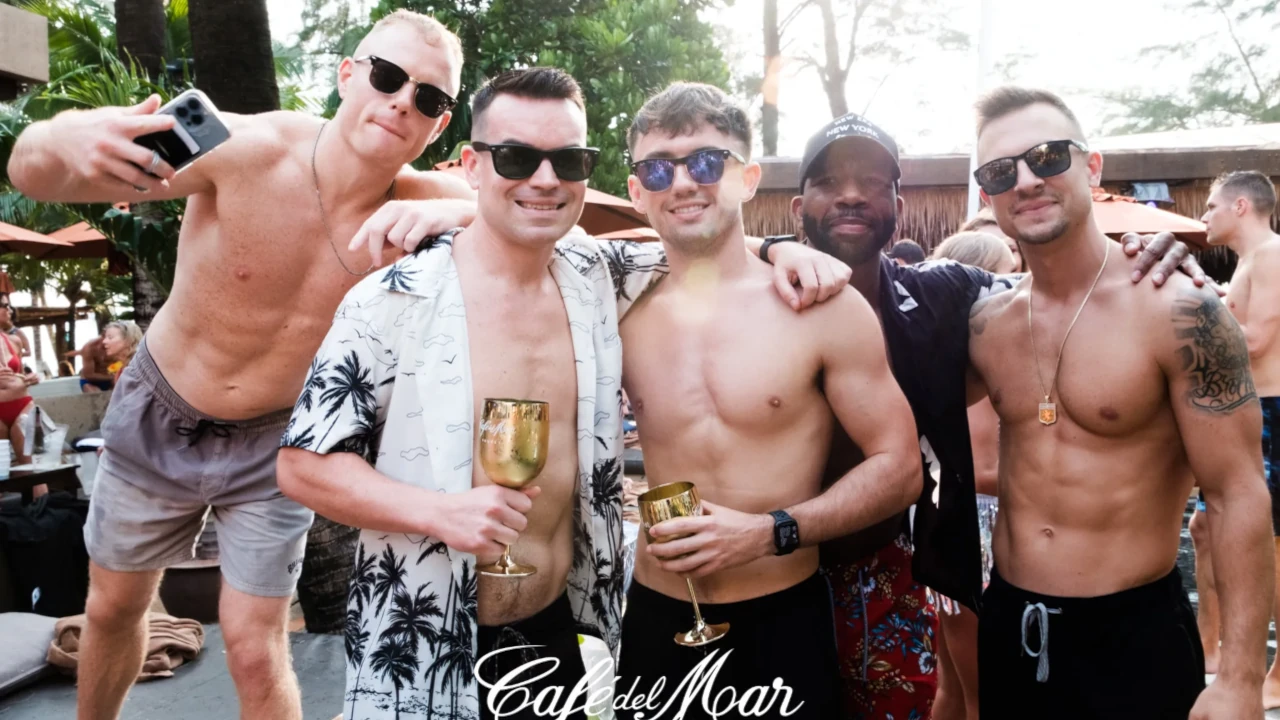 There is no doubt that Phuket has all it takes for bachelor parties.
This gorgeous island brings the best of four worlds – lively nightlife, luxury villas, stunning natural landscapes, and exciting adventure activities.
Clubbing and bars aside, which are great here, Phuket is actually known for its incredible beaches and luxury experiences.
There are tons and tons of world-class luxury pool villas with wonderful designs, excellent VIP services, and superb facilities.
Some of them are so amazing, why would you even want to leave the villa?
Simply organize your bachelor party there and invite hot Thai bikini models to join in.
Also, you wouldn't believe it, but it is even possible to book an entire island near Phuket.
That is literally the top level of extravagant luxury.
Companies like ours offer excellent bachelor party packages in Phuket.
Whether you want to get VIP tables at a fancy beach club or a nightclub or rent out a luxury yacht, there is a package for any kind of experience you are looking for.
You can even combine private parties and adventure activities together to create the ultimate bachelor trip.
Our concierge will create a customized package for you.
All you need to do is tell us what your dream bachelor party looks like, we'll do the rest.
Pattaya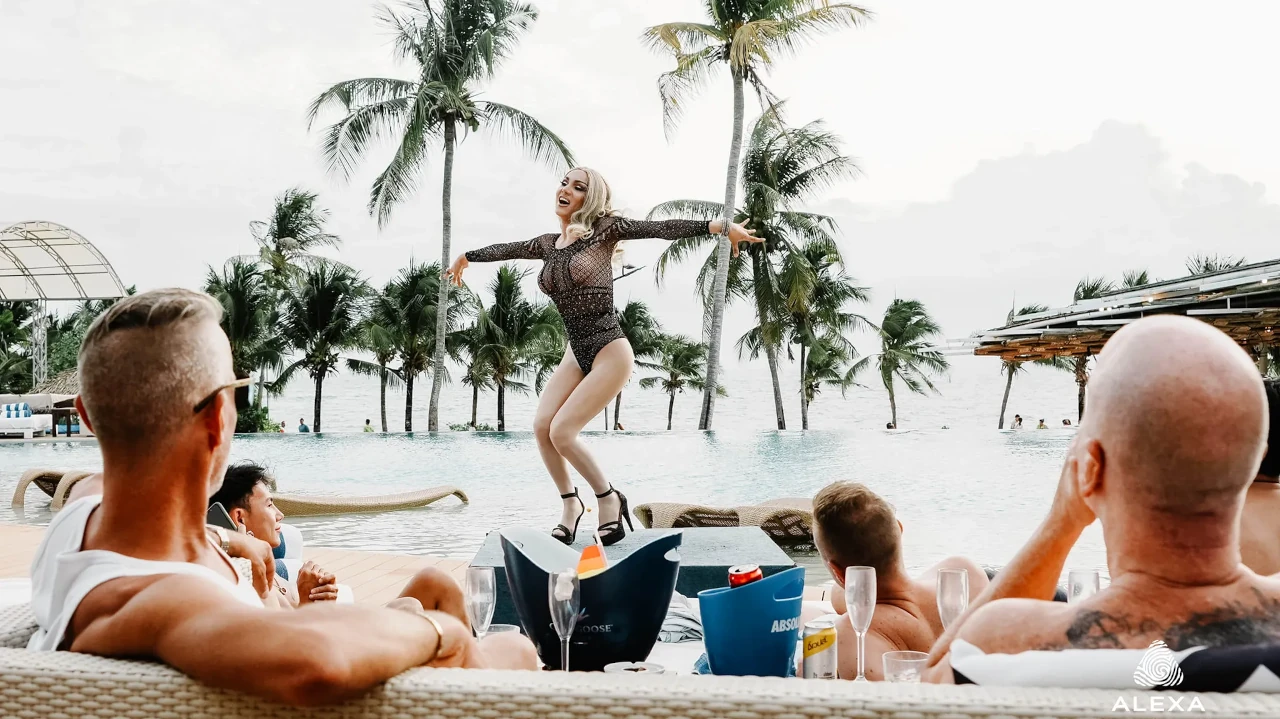 Pattaya is a haven for bachelor trips and parties.
The city has the craziest nightlife in Thailand with so many adult entertainment options.
There are bars, gogo bars, strip clubs, and nightclubs of all kinds.
The famous Walking Street is the most popular and packed with some of the best nightlife venues.
You can book a VIP table at one of the best clubs, or simply bar-hop as part of a female-escorted tour for an unforgettable night.
For a more intimate time with the lads, go up to one of the luxury beachside rooftop bars.
Our favorite picks are the ones at the Hilton and the Holiday Inn on Beach Road.
Pattaya is also home to several amazing beach clubs where you can chill or get wet at pool parties.
You can even charter a private yacht for island hopping or for a wild boat party.
There are also unbelievable choices of luxury pool villas like this incredible 10-bedroom party villa where you can organize a private bachelor party and invite hot models.
No matter where you go, though, it is impossible not to be surrounded by seductive sexy Thai girls in revealing clothes or bikinis.
That's what makes Pattaya truly incredible.
Other fun things to do here are riding ATVs, gun shooting ranges, playing golf, or going out on the sea for some water activities.
Koh Samui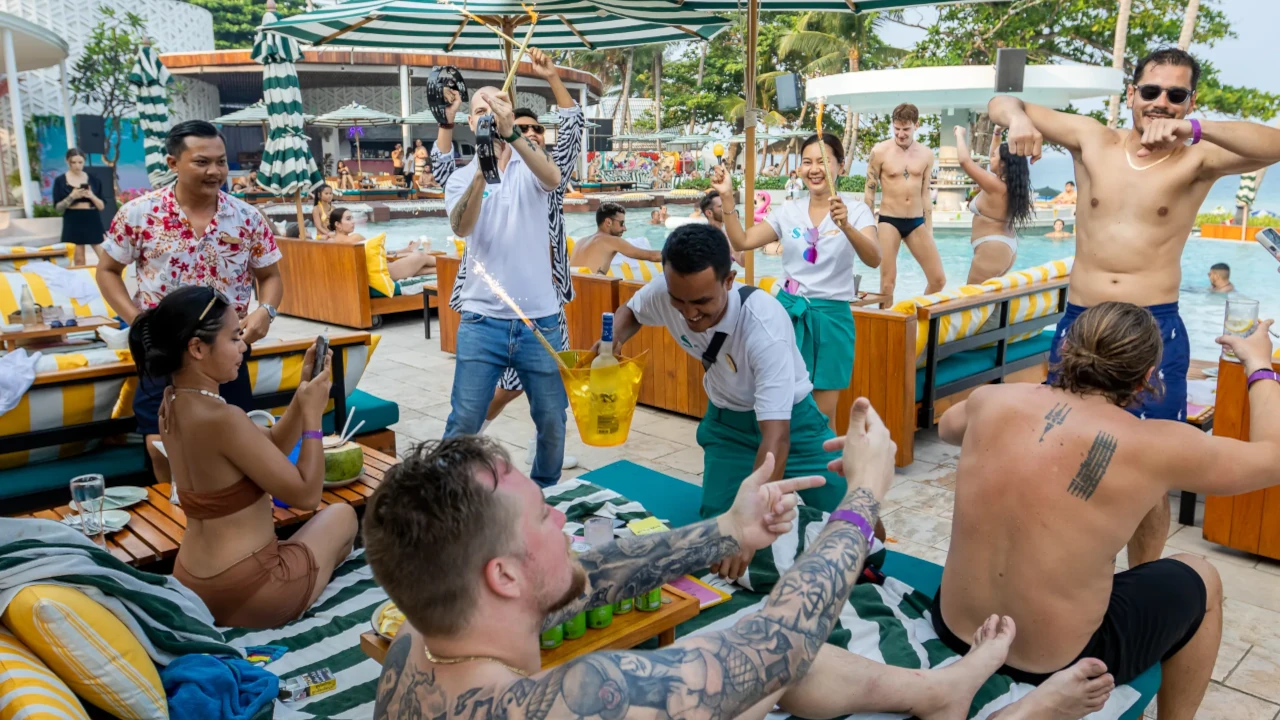 Koh Samui is quite similar to Phuket when it comes to luxurious villas, private yacht charters, and beach clubs.
However, Koh Samui is a little bit more laidback.
The nightlife party scene is there but not as crazy as in Bangkok, Pattaya, or Phuket.
There are pockets of areas that have bars and only a handful of nightclubs.
Chaweng is the most popular neighborhood with the best bars and beach clubs that are most suitable for a bachelor party.
As we mentioned earlier, Koh Samui is home to splendid private villas.
Some are by the beach while others dangle off a cliff, overlooking the ocean.
There are even a few that are hidden away in the jungle, offering a truly secluded oasis experience, if indeed that is your style of a bachelor trip.
No matter which type of villa you go for, they all have fantastic features, facilities, and VIP services to cater to every need.
For a crazier time, hop on a ferry or private boat and head over to Koh Phangan for the monthly Full Moon Party.
Finally, to cap off the bachelor trip, make sure you head out to sea on a private yacht for some sightseeing, water sports, and sightseeing.
FAQ
Is Thailand good for a bachelor party?      
Yes, Thailand is good for a bachelor party. It has a wide range of activities, experiences, and an extensive list of VIP nightlife options.
Why is Thailand popular among bachelors?
Thailand is popular among bachelors because it has a lot to offer.
It has a wide variety of nightlife venues, beautiful and elegant girls, exciting nightclubs, exotic beaches, and a diverse range of indoor and outdoor activities.
Contact Us To Plan Your Trip
Our team is at your disposal to help you plan your bachelor party trip to Thailand.
Talk to one of our concierges today.