Beach clubs are the next best thing in Thailand and Phuket has picked up on that vibe with a growing number of beach clubs that have popped up around the island.
There is nothing better than lounging on a comfortable daybed or cabana, sipping cocktails by the pool and even partying to groovy beats as the sun sets behind a stunning landscape of turquoise water and soft sandy beaches.
Phuket's gorgeous beach clubs make up for an ideal getaway from an already chilled vibe of the island that attracts everyone from locals and expats to travelers from around the world.
Join us as we explore and discover the top luxury beach clubs in Phuket.
Vacation mode – On!
Yona Beach Club Phuket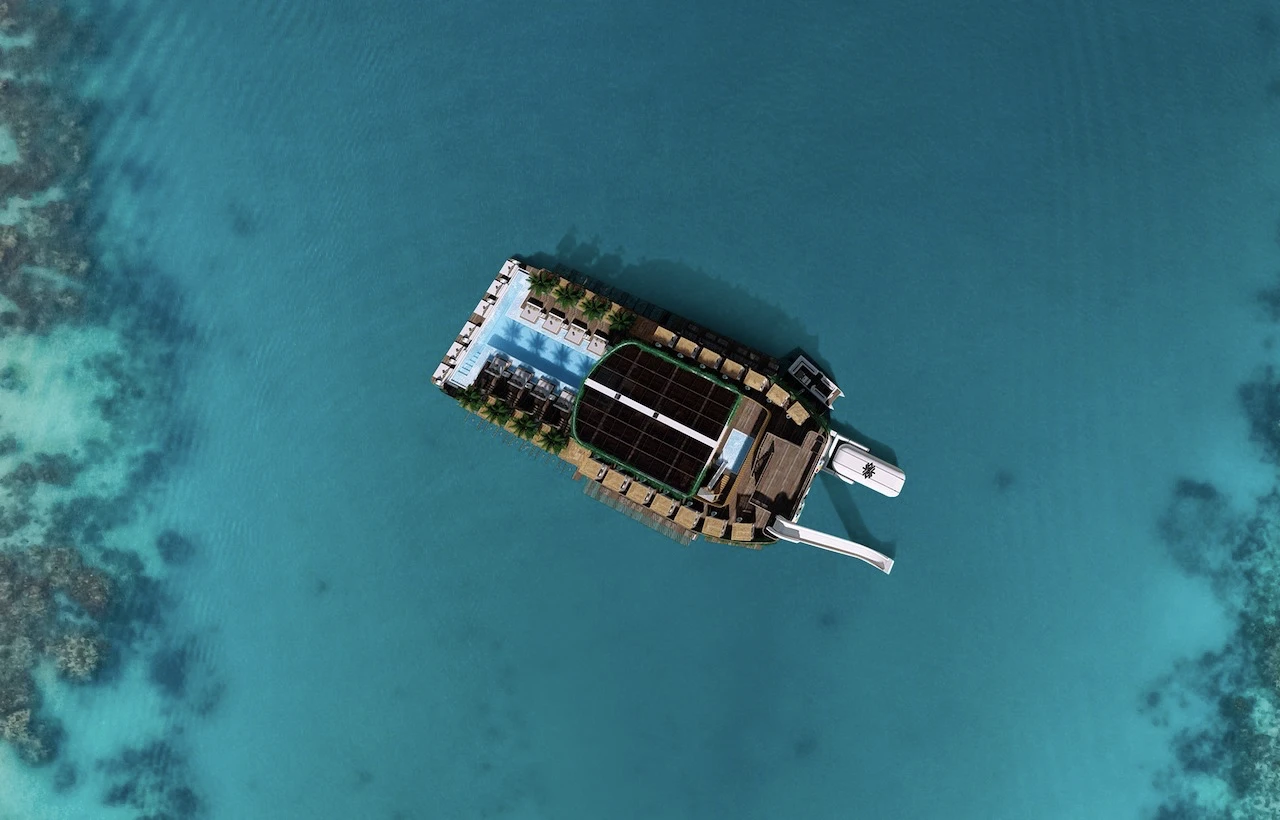 YONA Beach Club is a luxurious floating beach club that offers visitors a one-of-a-kind experience.
Located on the east of Phuket island, protected from the ocean, it offers breathtaking 360-degree views of the ocean.
With its 160m2 infinity pool, private cabanas, and fine dining restaurant, YONA is ideal for luxury travelers, especially those who love to party in the most beautiful places on earth.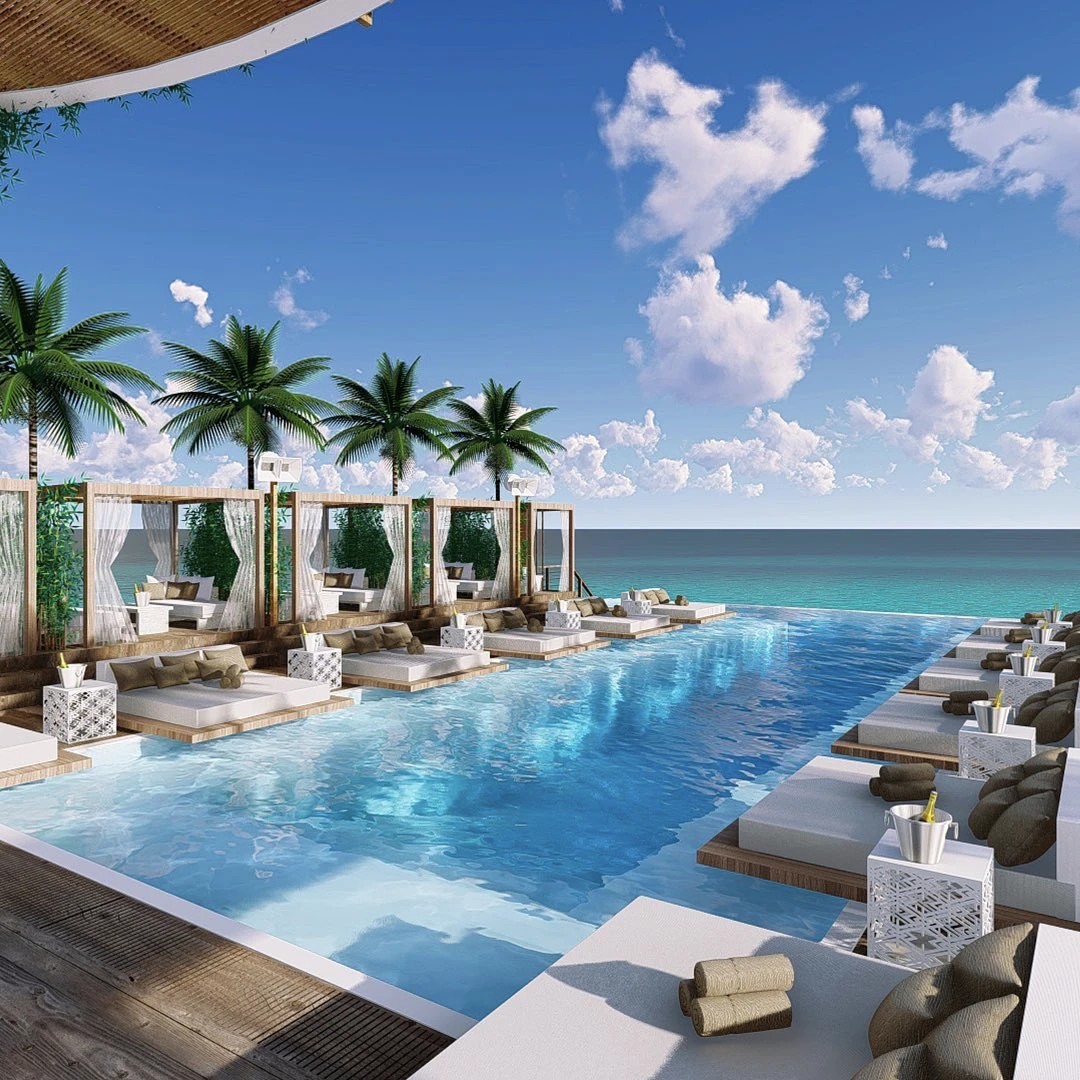 YONA also proposes a range of water activities and entertainment, including DJ acts and concept parties.
This unique beach club is the perfect luxury escape for those looking for the best that Phuket has to offer.
Café Del Mar Phuket (Kamala Beach)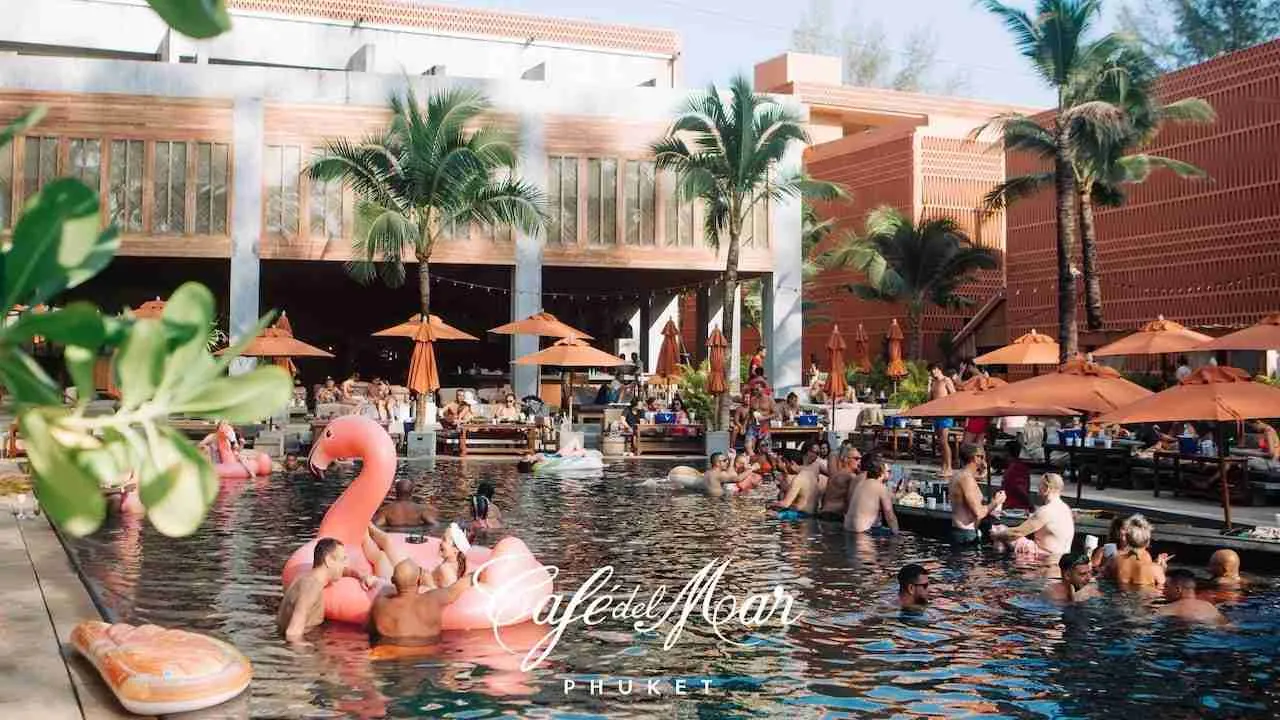 Café Del Mar is a world famous Ibiza style beach club that has locations all over the world.
Their beach club in Phuket is a tranquil oasis by day but can quickly transform into a buzzing party destination as the sun goes down.
The beach club has a sophisticated and tropical design that incorporates the natural surroundings with its décor.
That combined with delicious food, an excellent music collection, and stylish lifestyle experiences has made Café Del Mar a long-standing icon in the beach club scene of Phuket.
It is no wonder why it is popular among celebrities and influencers who like to organize private events here.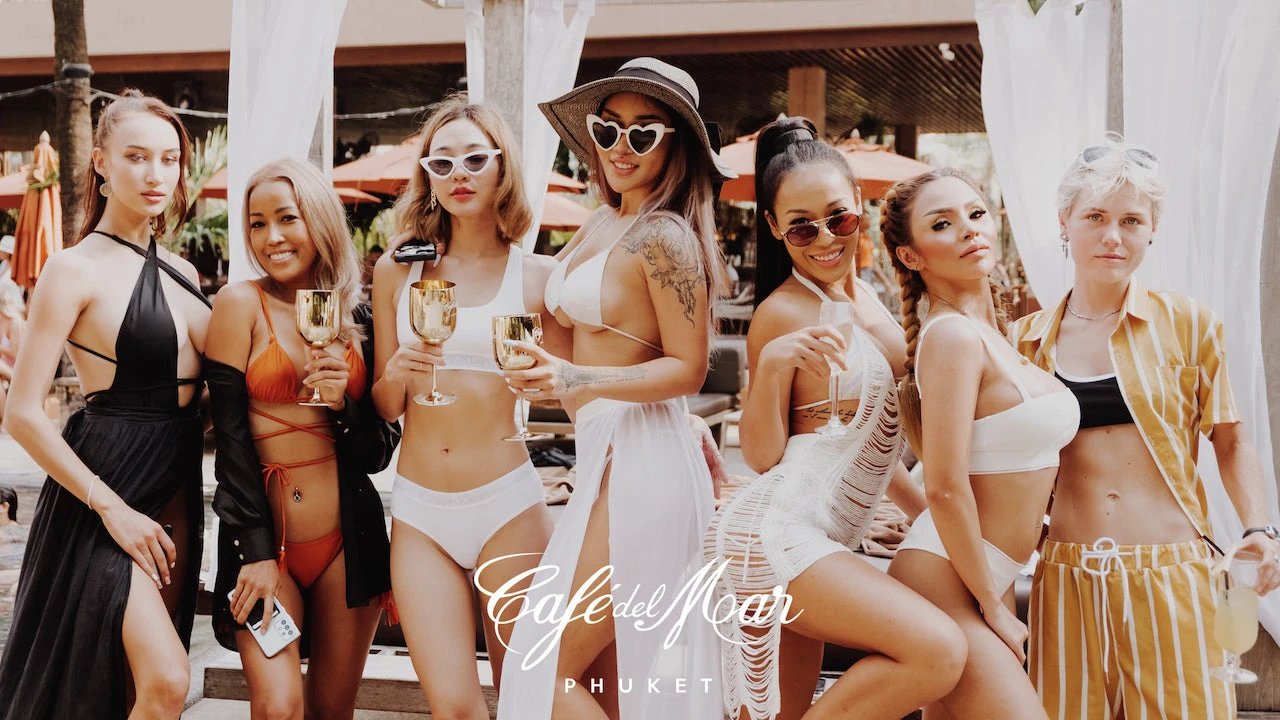 Café Del Mar does its own events too such as weekly Latino nights featuring DJs playing Latin music supported by live performers and salsa dancers.
They also have other regular events that bring talented local and international DJs.
Café Del Mar has even hosted the legendary Kolour Festival two years in a row.
That's the best time of the year to meet lots of gorgeous girls in sexy bikinis as well as a fun group of people who are passionate about house and techno.
If you are looking for a unique experience at a top notch beach club with a big pool and a deck where you can chill and party at the same time, Café Del Mar is definitely top tier.
Kudo Beach Club Phuket (Patong Beach)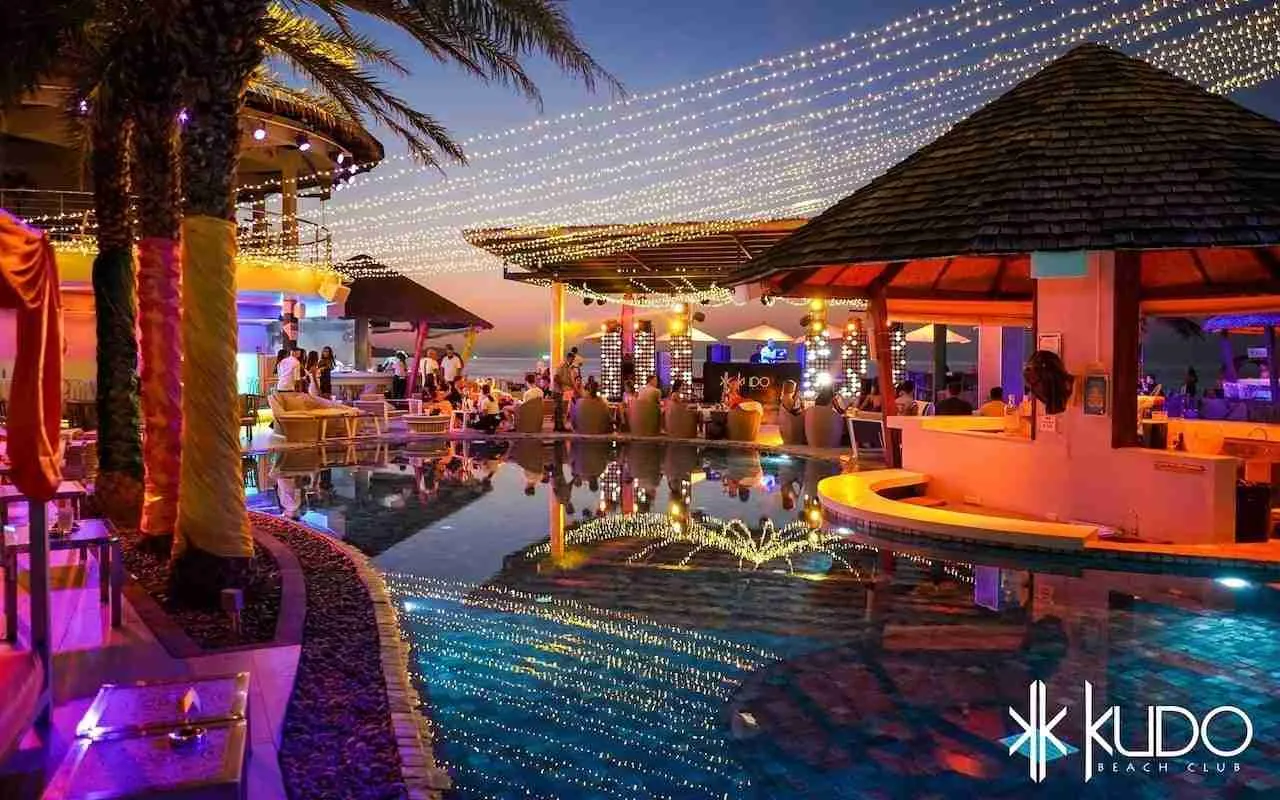 Patong Beach is well known for being the best place to party in Phuket with a lot of bars and clubs spread around the beach and in the nearby streets.
Among the local nightlife scene, Kudo Beach Club stands out as the best beach club in Patong.
Trendy and chic with hints of tropical vibes, Kudo Beach Club is the place to be if you are looking to unwind on a hot day or grab drinks during the sunset.
You can relax on one of the day beds, float around in the pool, or wine and dine by the beach.
While on most days, it has a very laid-back atmosphere, Kudo is best to visit when it hosts one of its special events or themed parties.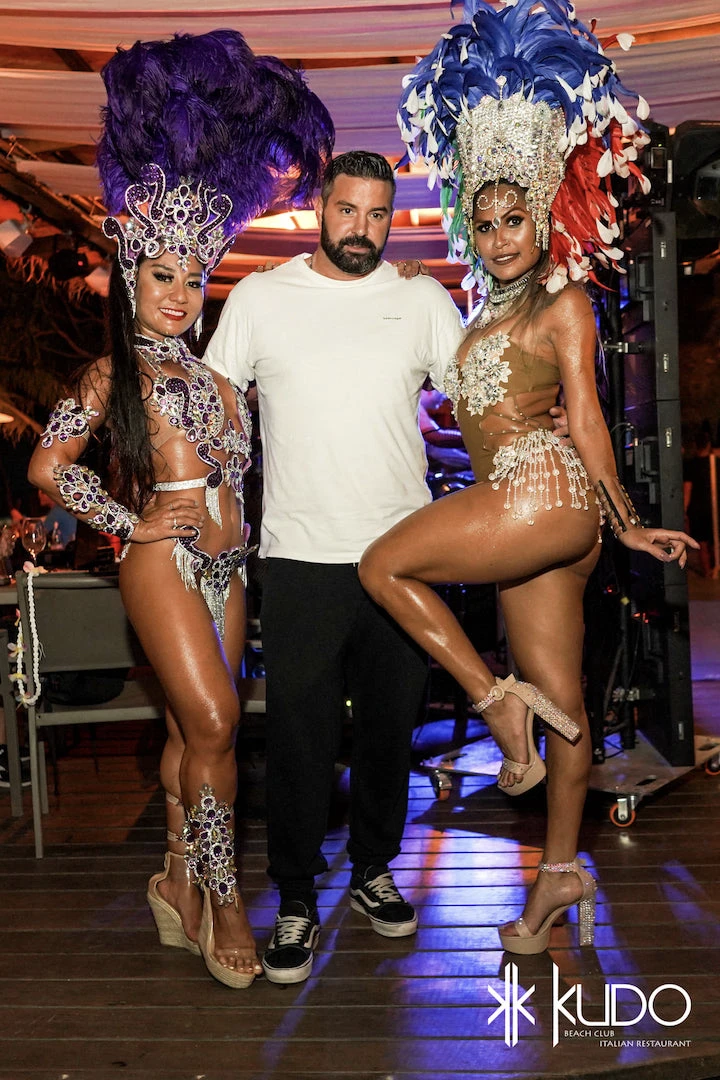 When it comes to throwing epic pool parties, they really know how to do it.
They put together a wide variety of entertainment that includes exotic dancers, international DJs, live performances, and drink specials.
The beach club is known to bring in all kinds of amazing musicians and DJs across a wide spectrum of genres, from tech-house to hip-hop and R&B.
This is one of many reasons why Kudo Beach Club attracts so many tourists, expats, and attractive girls from all over.
Catch Beach Club Phuket (Bangtao Beach)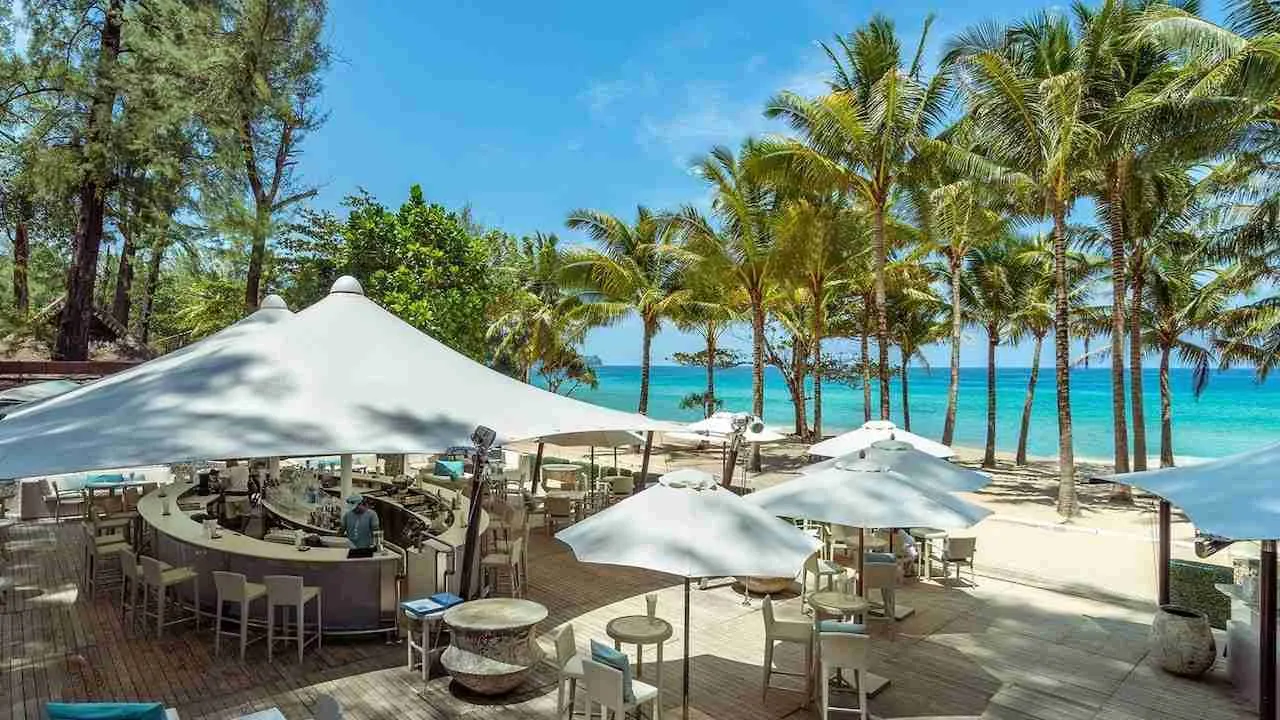 Catch Club is one of Phuket's leading luxury clubs that really knows how to create amazing non-stop entertainment and hospitality experiences.
Whether it is during a beautiful sunny day, a magnificent sunset or under a starry night, they are paving the way for ultimate beach club vibes.
As a beach club, Catch has an eye for details when it comes to their visual elements, comfortable cabanas and loungers, excellent food, sophisticated signature drinks, and wonderful ambiance.
You also won't be able to escape their gorgeous infinity pool that offers a beautiful panoramic view of the white sands and turquoise blue water of Bang Tao Beach.
When it comes to hosting events and parties, Catch Beach Club doesn't hold back.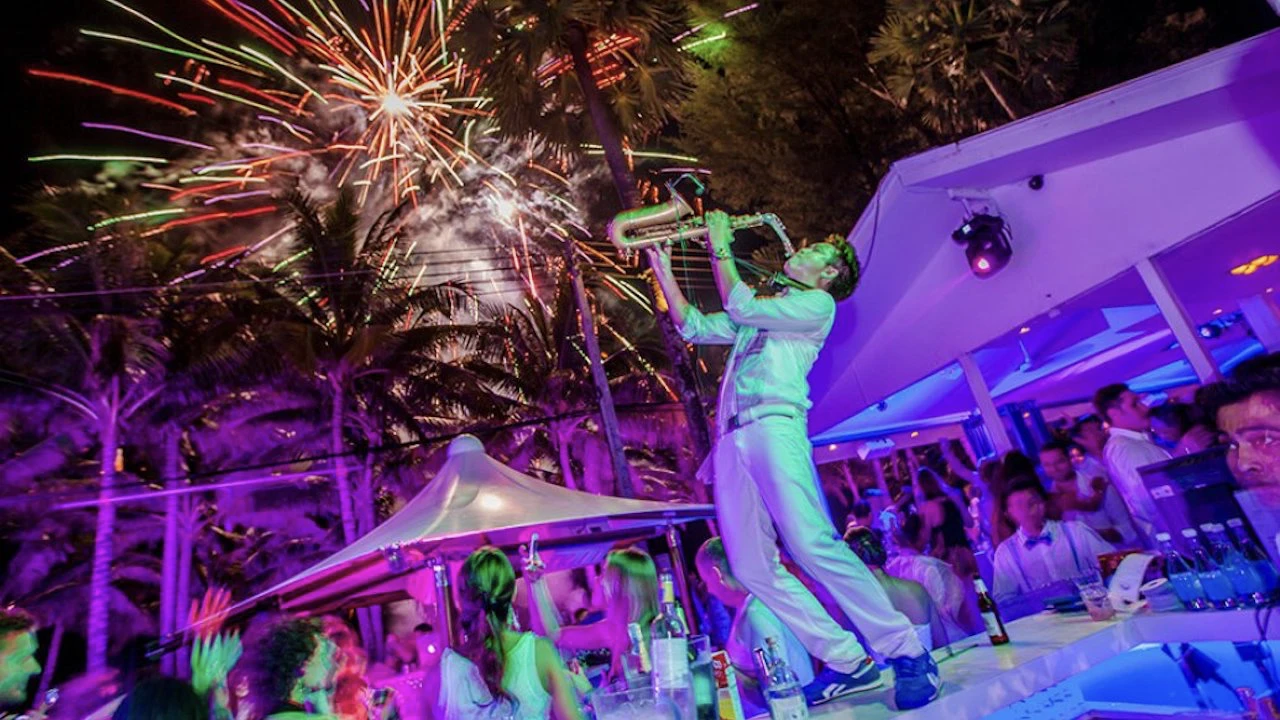 They organize regular exclusive events such as Friday BBQs and Sunday boozy brunches with high-value services.
Where else can you get a free neck and shoulder massage as you sip on champagne or cocktails by the beach?
They also have daily beach fire shows along with energetic beats from DJs and live saxophonists making it one of the top beach parties in Phuket.
If you are thinking of spending an entire day at Catch Beach Club, they have awesome day pass packages that are really interesting.
Baba Beach Club (Natai Beach)
Baba Beach Club is the name of a massive beachfront luxury hotel and residential area.
A luxury hotel that is also famous for its beach bar and unique events.
It is one of Phuket's most exclusive beach clubs that is often visited by the top celebrities and beautiful female influencers from Thailand and around the world.
Advertised as a loud and sexy music lover's hotel, you can expect the beach bar to be even more sexy and energetic.
Beautifully designed and overlooking a gorgeous panoramic view of unspoiled Natai Beach and the Andaman Sea, Baba Beach Club is surely a lovely place to be whether it is during the day or at night.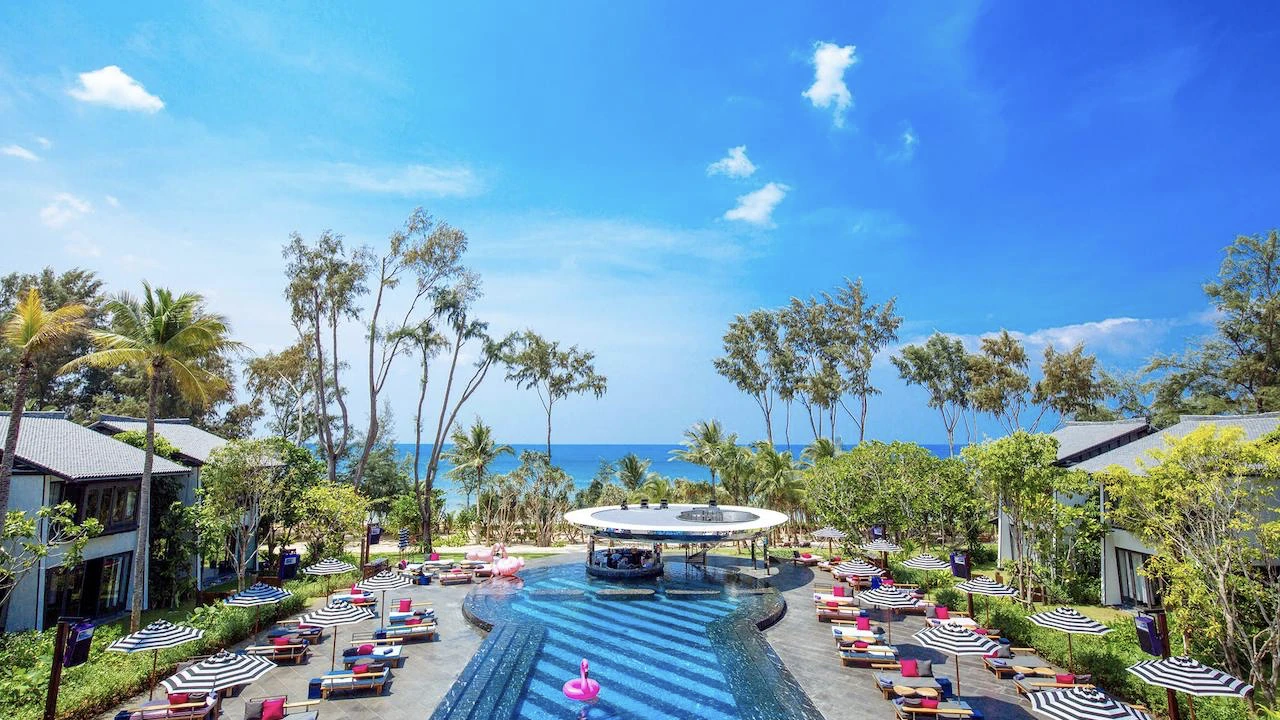 It has been organizing countless events for special occasions such as Christmas and New Year but what it is really known for is throwing insane music events featuring undiscovered talents as well as world-class DJs.
They even have their own Soundcloud mix if you want a taste of the music they play there.
Baba Beach Club is also home to Circoloco events in Thailand, a famous Ibiza-born electronic music party brand that puts together incredible festivals around the world.
M Beach Club (Mai Khao Beach)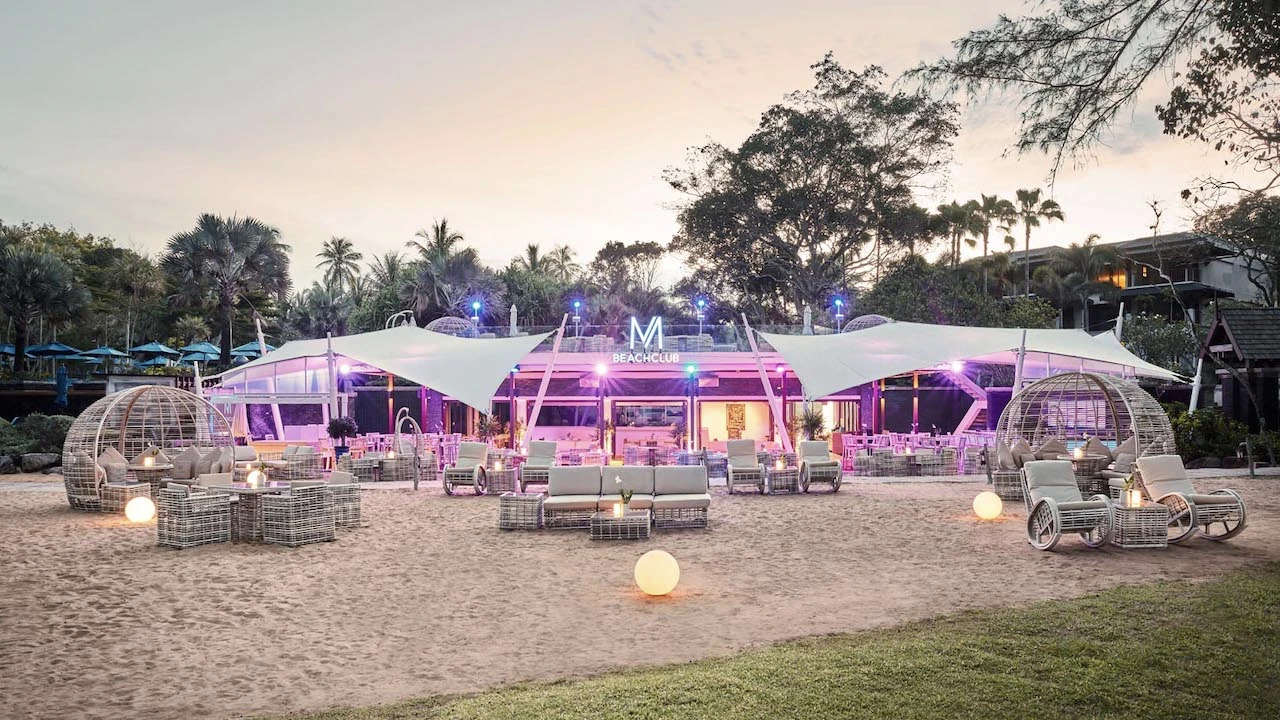 M Beach Club is a tropical paradise in the renowned JW Marriott Phuket Resort.
This minimal but magnificent beach club is set against a gorgeous Mai Khao Beach with pristine waters and powdery soft white sands.
It's the perfect place to escape if you are looking for boozy brunches, lazy afternoons or sundowner drinks.
Whether you like local beers, wine or signature cocktails, make sure you try out your favorite drinks during their happy hours from 5 to 6 pm.
In between drinks you can snack on well-crafted tapas or other delicious Spanish and Asian inspired main dishes.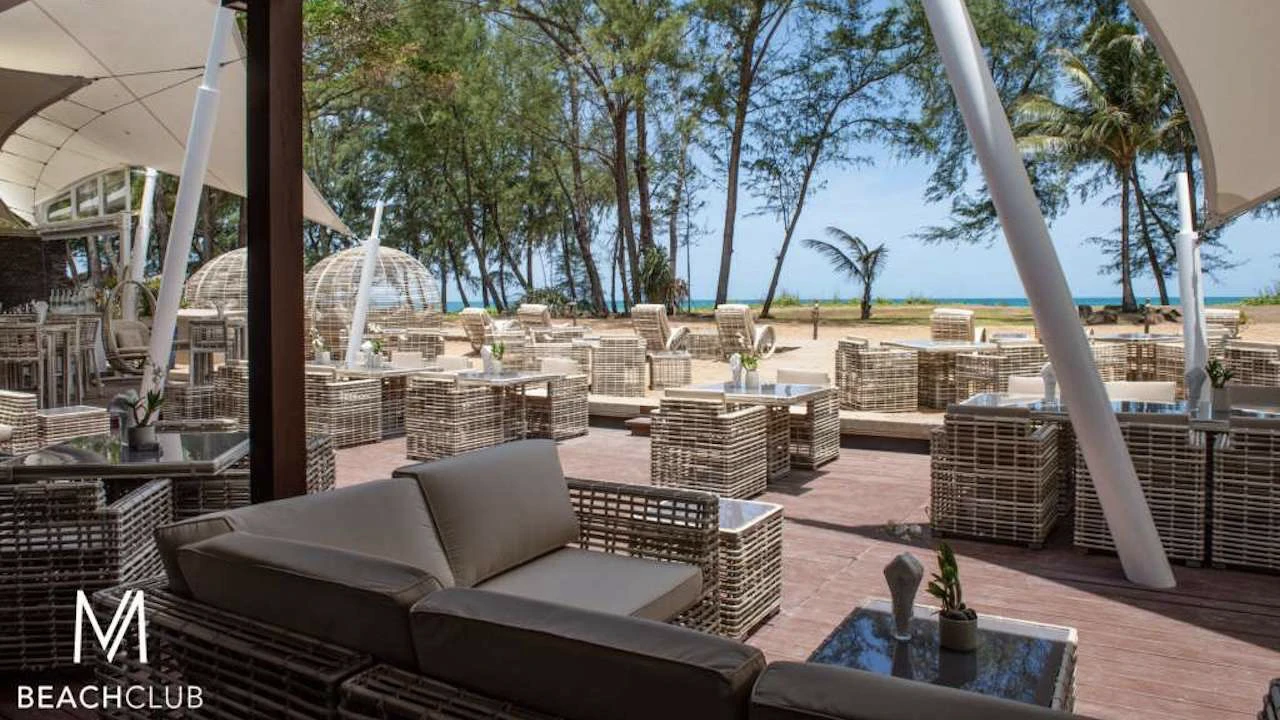 Or maybe you want to pump up that heart rate, break out some dance moves and get a bit wild.
No problem, M Beach Club turns it up with featured DJ acts, live performances, and other never-seen-before entertainment experiences during themed party events.
Every Wednesday and Saturday, they also host some of the most unique fire shows.
And on Fridays, don't miss out on their one-of-a-kind special beach theater event that brings together a collection of musical artists, theater sets, and cabaret-style acts.
The Nest Beach Club Phuket (Kata Noi Beach)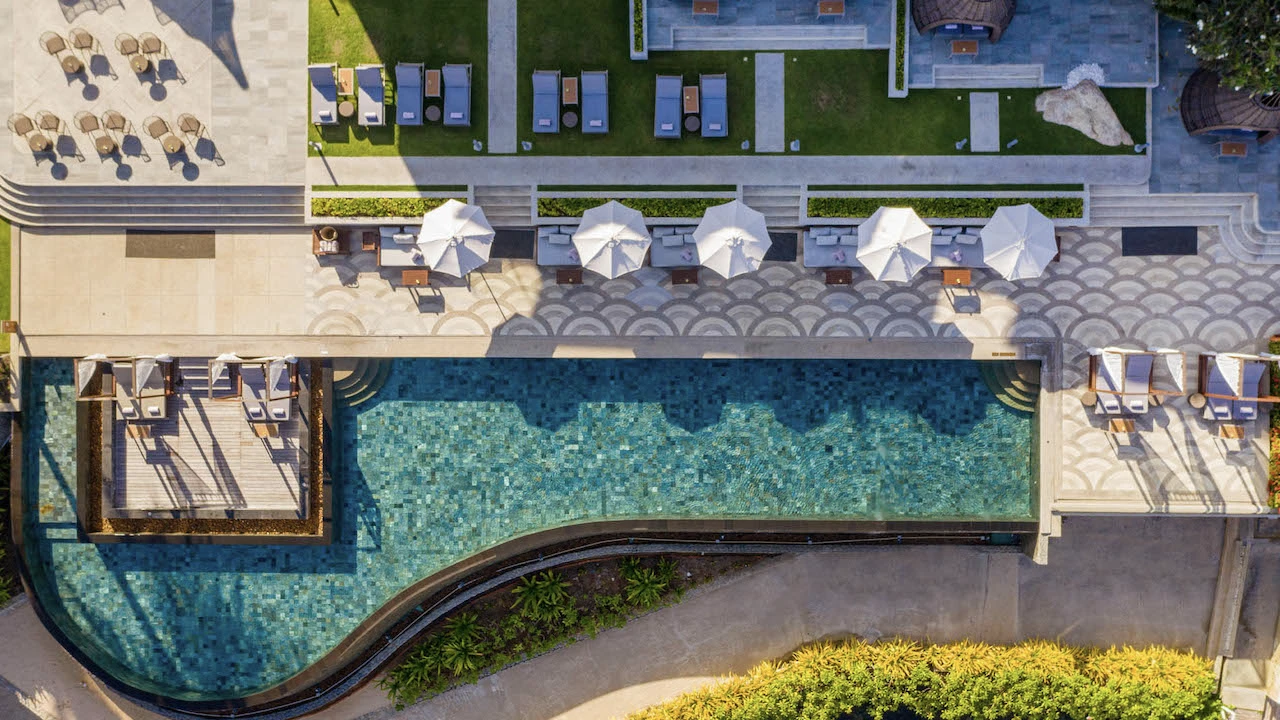 Located within the highly luxurious and romantic Shore at Katathani resort, The Nest is a dreamy beach club that is ideal for couples or adults looking for a place to relax and rest.
No matter which angle you look at this beach bar and club, it is absolutely stunning.
It is just that beautiful, almost with a seductive atmosphere.
It is seamlessly divided into zones with extremely comfy chairs, cabanas, day beds, and loungers.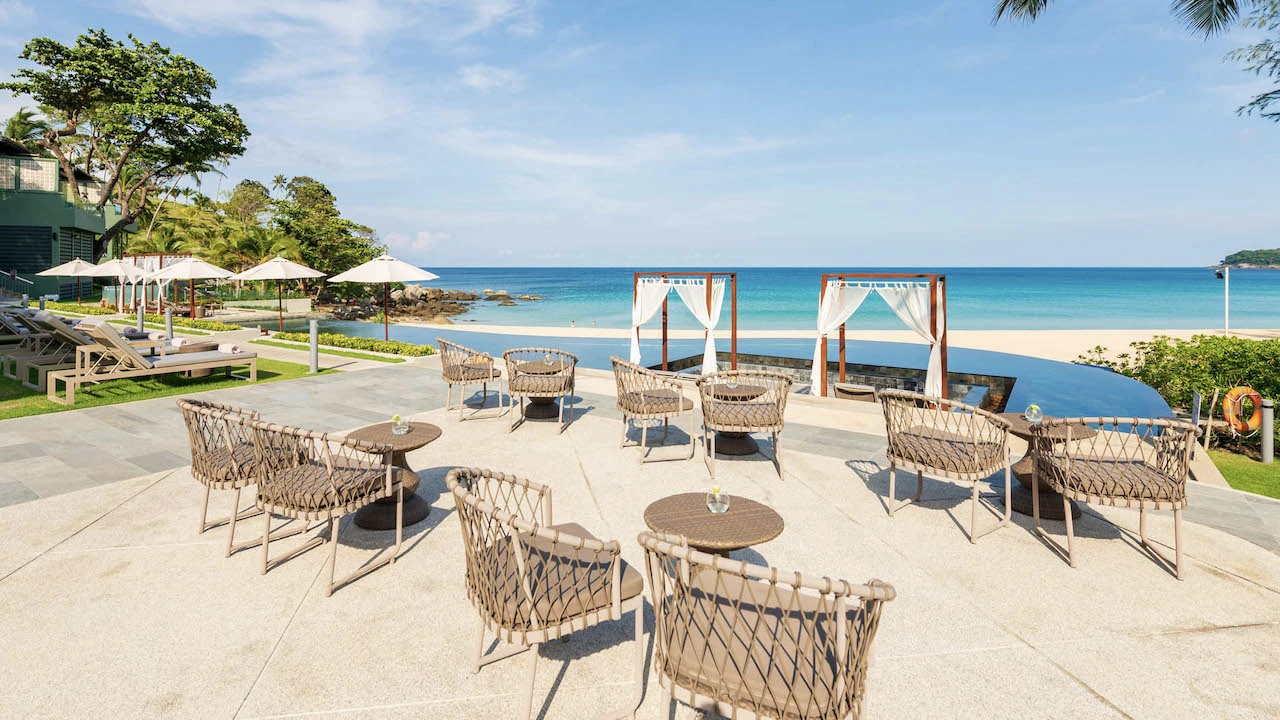 We recommend any of the loungers that surround the exquisite infinity pool, overlooking the beach and ocean.
Those blue skies and turquoise water are the picture-perfect backdrop to a white sandy beach and lush trees.
If there was a heaven on earth, this is where it is at.
Just make sure you order some cocktails to go with the view.
Tann Terrace Phuket (Karon Beach)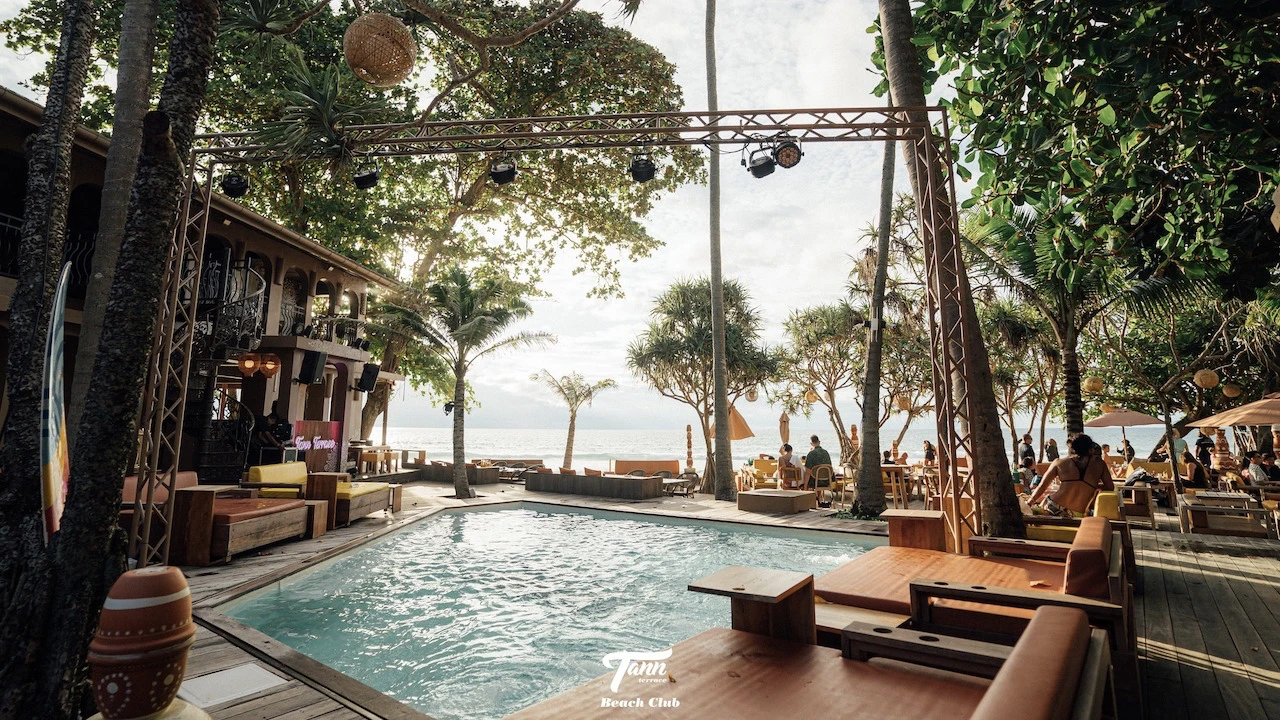 Tann Terrace is a local favorite with restaurant and beach club vibes.
It is a beautiful hidden oasis, tucked under palm trees.
Tann Terrace design is refreshingly different from other beach clubs.
It highlights wooden elements in its architecture and décor, from its floor deck to furniture to the structures.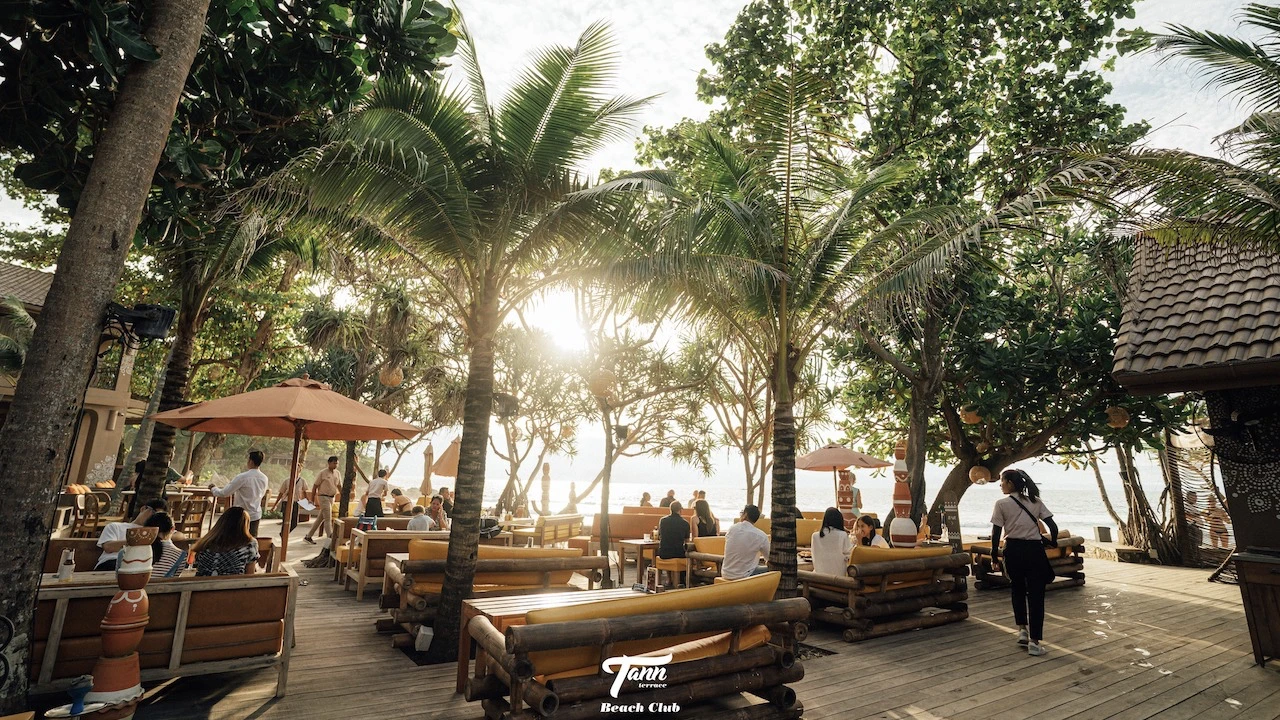 But don't let the laid back vibe fool you.
It's not completely toned down as they can throw some serious parties with world-class entertainment.
Tann Terrace regularly hosts beach and pool parties that feature tech-house DJ sets supported by live saxophone performances.
They even have brilliant fire shows, aerialists, and dancers.
In addition, they do other themed events as well such as Groovy Fridays, ladies nights, Latin nights, and even Full Moon parties.
While on most days, people come here to dine and have a few drinks, it is clear that Tann Terrace beach club goes all the way with their events too.
Xana Beach Club Phuket (Bangtao Beach)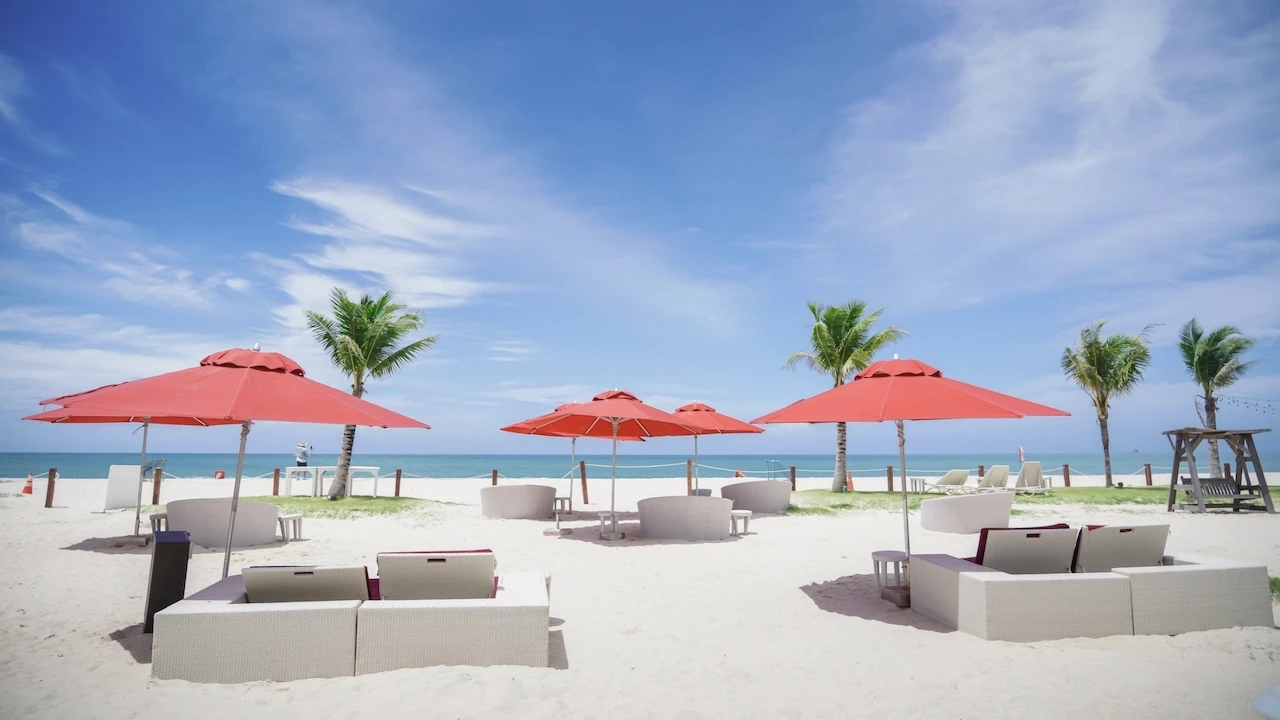 Xana Beach Club is arguably the most picture perfect beach club with a pool in Phuket.
It has a very modern and chic look that is designed for both relaxation and partying.
It is located on Bang Tao beach, which is one of most secluded but pretty beaches on the island.
But they also got the vibes down with super comfortable loungers, daybeds and sofas that are spread across the beach and the club itself.
This is great because then you can be as far or near from the beach club action as you like.
Xana's 35 meter pool is one of its best features as it runs almost the entire width of the beach club and has easy access to a poolside bar.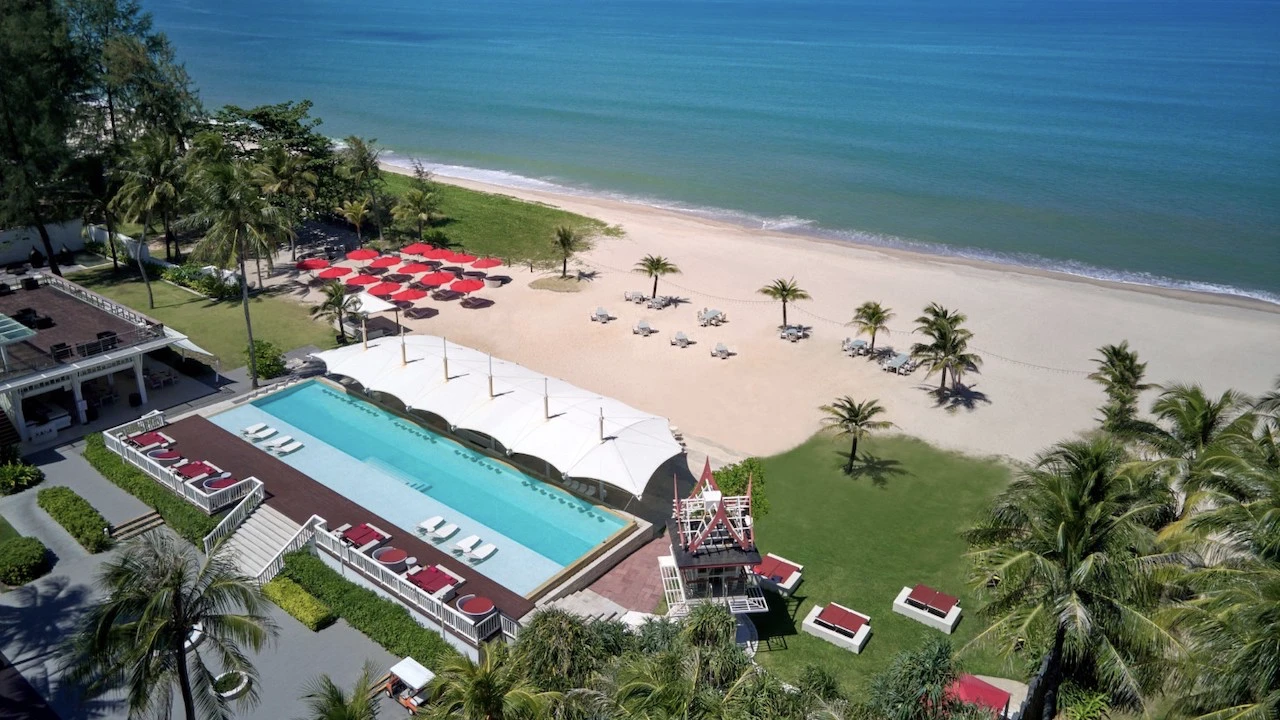 It's also close to all the live performances and DJ booth, making it a great spot to drink, swim, and party.
The beach club is known to organize several exciting events throughout the season.
They even co-hosted the Laguna Beach Festival that puts together music, fitness, well-being and more all into an epic 2-day fun-filled event.
Book A Table Or Organize Your Party At A Beach Club in Phuket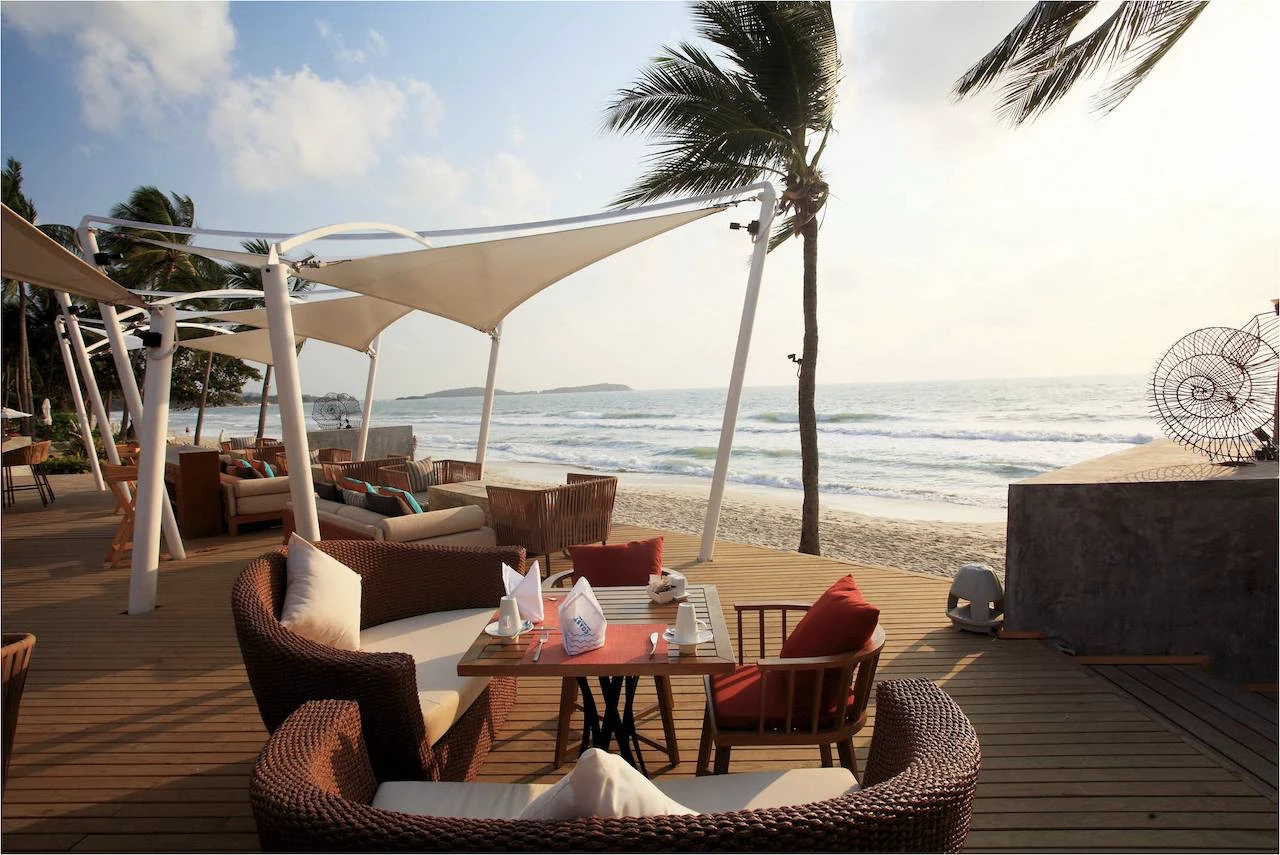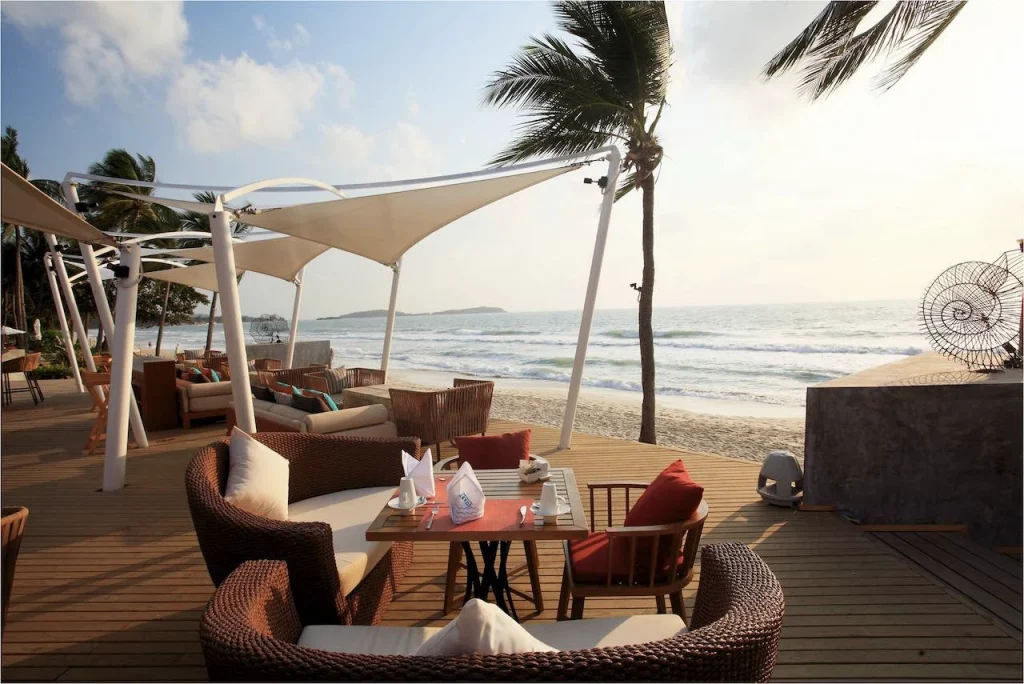 There it is, our list of top luxury beach clubs to relax or party, each with their own unique vibes and style.
Contact VLS to book your private party in Phuket, whether it's at a luxury beach club, a private pool villa, or on a yacht.
Our concierge is at your disposal to make your holidays in Thailand unique and memorable.
FAQ
Which Beach In Phuket Has The Most Beach Clubs?
The beach with the most beach clubs in Phuket is Karon Beach. That's where you can find Tann Terrace, Coast Beach Club and Ocean Ocean Beach Club.
Bang Tao Beach also has a few beach clubs, including Xana Beach Club and Catch Beach Club.
Which Beach Clubs In Phuket Are located At Luxury Resort?
Baba Beach Club (at Sri Panwa), M Beach Club (at JW Marriott Phuket Resort & Spa), The Nest Beach Club (at The Shore at Katathani), Tann Terrace Phuket (at Tann Terrace Phuket), and Xana Beach Club (at Angsana Laguna Phuket) are all located at luxury resorts in Phuket.
Which Beach Club In Phuket Has The Best Parties?
The beach club in Phuket with the best parties is Café Del Mar Phuket.
Which Beach Club In Phuket Has The Most Beautiful Beach?
Which Beach Clubs Are In Patong, Phuket?
The best beach clubs in Patong Beach in Phuket are Kudo Beach Club and The Deck Beach Club Patong.
For more places to explore at night in Phuket, read this post.
And learn about the best places to party in Thailand here.