The Best Luxury Penthouses in Thailand for Your Holidays or for Life
Experience Thailand from the top with a gorgeous space overlooking the city skyline or the ocean.
Live a luxurious life with the world under your feet at your very own penthouse.
There are plenty of establishments offering their esteemed penthouse to a select few. Whether for rent or sale, these lofty spaces can be your next home in Thailand, for a few days or for life.
If you need help to find a luxury penthouse for rent or sale in Thailand, please contact our concierge team who will be happy to help you find the perfect one.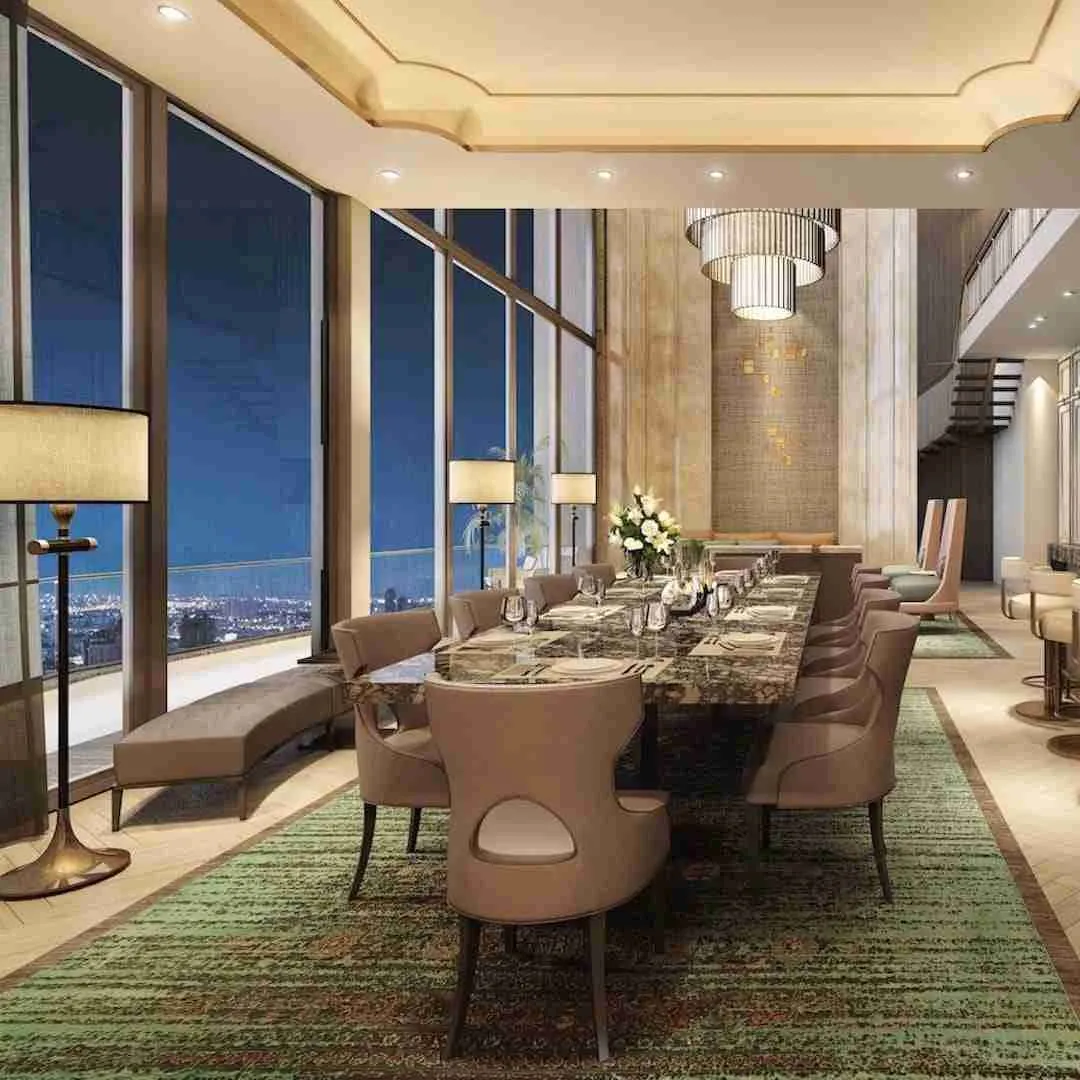 And in case you need inspiration, here's a list of the top penthouses in Thailand available for sale.
The 5 Best Luxury Penthouses in Thailand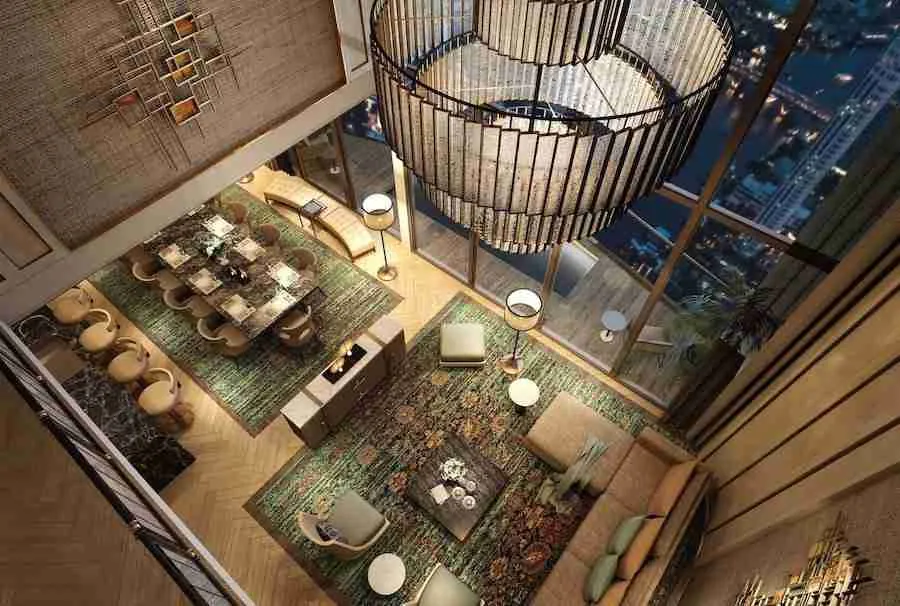 Mandarin Oriental Super Luxury Penthouse Suite
Mandarin Oriental is one of the most prestigious hotels in Thailand. Its world-class service and facilities truly deserve a 5-star rating, evident in the experience that it consistently provides to its guests.
Amazingly, they also have a residential complex with luxury condos where you can own its exclusive penthouse located on the 51st floor.
Unique in design and structure, this 2-story has everything you would want in a luxury home. Its carefully curated 710 sqm space includes 4 bedrooms, 7 bathrooms, a massive living room and dining area, and a private pool on the wide terrace. 
The design is catered to the rich, cosmopolitan lifestyle. Its European style decor tinted in heavy bronze and gold tones combines classy and comfort, making a memorable home where the possibilities seem endless in forms of relaxation and entertainment.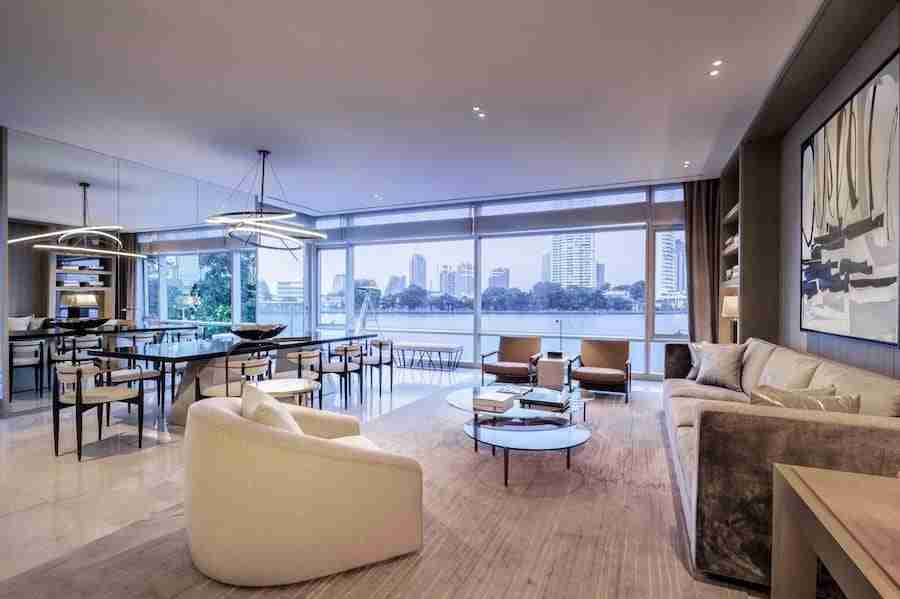 Four Seasons Private Residences Penthouse 5 Bedroom 7 Bathroom
More than a hotel, the Four Seasons Private Residences offers private residences to those individuals who prefer a modern luxury home overlooking a serene view of the Chao Phraya River.
Situated by the riverside, this 1009 sqm penthouse will greet you each morning with its spectacular scene from sunrise until sundown. Well-lit, extremely spacious, and embedded with elegant touches, this place represents luxury and taste.
It features 5 bedrooms, 7 bathrooms, a kitchen space, and a stunning living room leading to the open-air balcony. The Four Seasons Private Residences also has several facilities like the fitness centers and swimming pool areas found within their three zones: The River Lounge, The Amenities Deck, and the Four Seasons Club.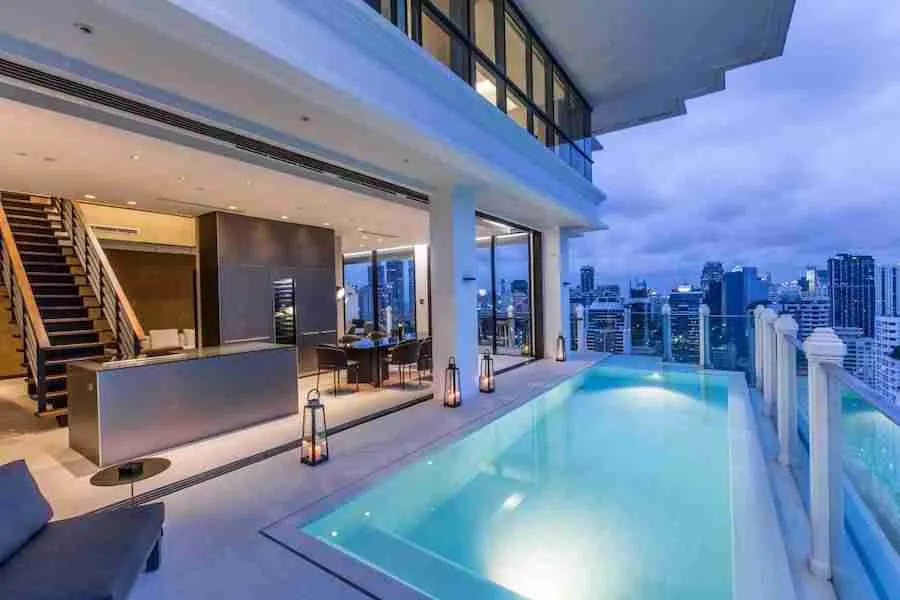 Private Pool Luxury Duplex
Akin to a fancy LA home, this penthouse along Sukhumvit will floor you with its modern luxury and contemporary interior. It has a minimalist overall tonality that exudes sophistication and excellence in every way.
The layout was curated masterfully as it has features you might want to enjoy the city life. To be distinct, it has its own sky saltwater swimming pool on the balcony and a custom-built sauna and steam room. This is perfect for the ultimate relaxation for the whole family.
To add to that, this high-ceiling penthouse has a cozy master bedroom showcasing a big walk-in closet and ensuite bathroom, another guest bedroom with an ensuite bathroom, and a stylish living and dining area.
This place is ideal for families and for business professionals who want to rise above the busy city.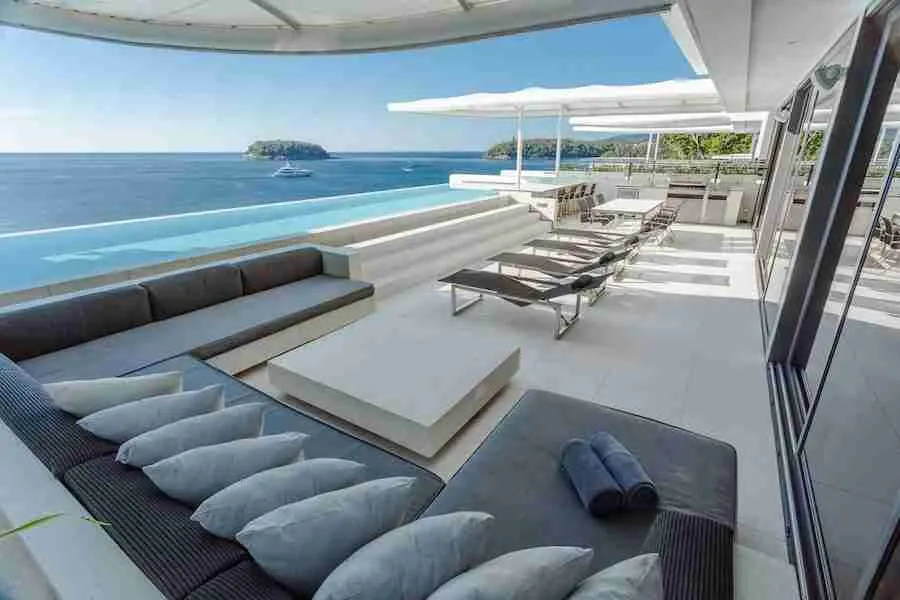 Sky Penthouse With Private 14 Meter Pool
Ever dreamt of living in your very own Malibu-inspired beach home in Thailand? There are plenty of options to choose from, especially in Phuket.
Living here is a great choice due to the unparalleled serenity that it brings.
This penthouse, for example, faces the great Andaman Sea set in a modern villa-like interior. The words soothing and relaxing will definitely come to mind. 
Overall, it has 4 bedrooms and 5 bathrooms inclusive of a private pool, jacuzzi, and a terrace with an outdoor grilling area.
Despite the natural set-up of the place, it makes use of high-end technology where you have touch control over the lighting, temperature, music, blinds, and more.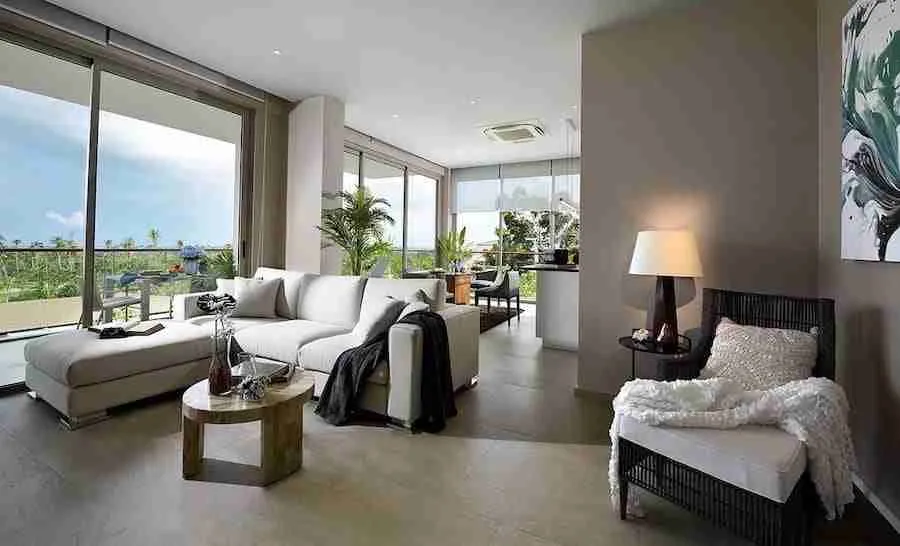 Bangsaray Luxury Penthouse
Step into the world of tropical sanctuary right in the heart of Pattaya City, the most iconic party destination in Thailand. This award-winning estate will win you over from its design down to the amenities it offers.
Right off the bat, you'll feel like you're in a luxurious treehouse with its tasteful natural ornaments. It's a beautiful concept that matches the panoramic rolling hills as the backdrop. It's 385sqm in size and features 3 bedrooms with multiple bathrooms and gorgeous living corridors. 
It's truly a home away from home if you prefer an escapade from the hustle and bustle of the city.
Whether in Bangkok, Phuket, or Pattaya, have the penthouse of your dreams come to life right here in the beautiful country of Thailand.
Contact us for more information.
The most expensive penthouse in Thailand is located in Bangkok and is priced at around THB 460,000,000. It's the biggest penthouse in The Residences at Mandarin Oriental Bangkok.
The luxury penthouses in Phuket are ideal choices for a perfect 
holiday getaway
. They offer a spectacular view of the sea whilst pampering you within its high-end and comfortable rooms.
Enjoy a privileged time in Thailand with the help of our concierge service.
Whether you're coming to The Land of Smile for holidays or you already live there, we have the best services to make the most of your stay.