There are several luxury condominium developments in Bangkok popping up year after year.
We understand that with so many choices in the market, it can be hard to choose a property to invest in. Fortunately, VLS knows best when it comes to helping clients find their dream condo.
Having extensive insider knowledge of the city and a network of connections established for over a decade, with the assistance of our concierge it is easy to find new homes that will suit your taste and preferences in no time.
Here's a list of the most exciting projects and premium condos in Bangkok to give you a taste of what's available and possible in the city.
The Ritz Carlton Residences
628,000,000 THB | 1152 sq m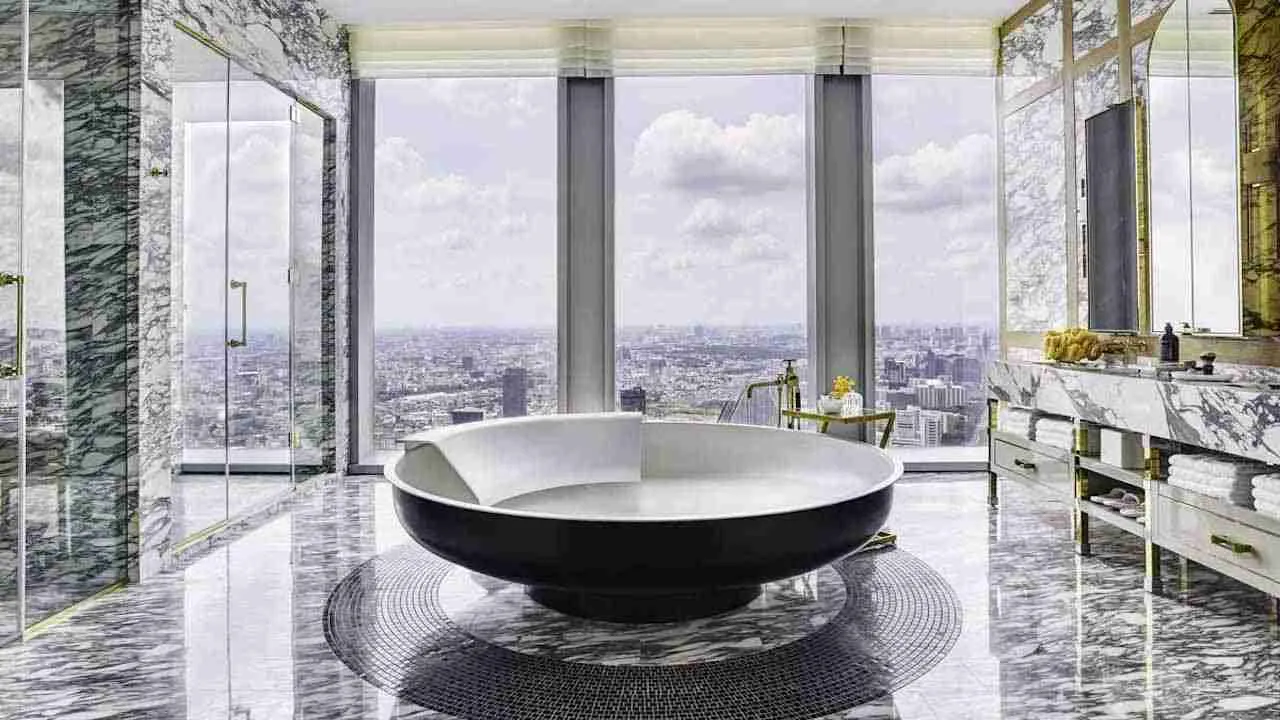 Located in the CBD of Silom/Sathorn, The Ritz Carlton Residences is the definition of luxury living. It's a massive architecture with only 200 residential rooms set in the second tallest building in Thailand, the King Power Mahanakhon Tower.
Being 314 meters high up in the sky, each room gives a penthouse ambiance that showcases the beauty of Bangkok and all its neighboring landmarks like the Chao Phraya River and Lumpini Park.
The 3-Bedroom Simplex available there is a sight to behold.
The place is like a sculptured marble with its sleek, minimalist design. It looks very neat yet fully functional to enjoy your day-to-day routine in utmost leisure and sophistication.
Enjoy the spacious and fully furnished residence to your heart's content, but be sure to check out their amenities and services, too.
Dip in their gorgeous swimming pool, watch a movie in the private cinema screening room, indulge in their in-residence dining, experience convenience with their 24/7 valet parking and concierge, and more.
The Sukhothai Residences
580,000,000 THB | 1182 sq m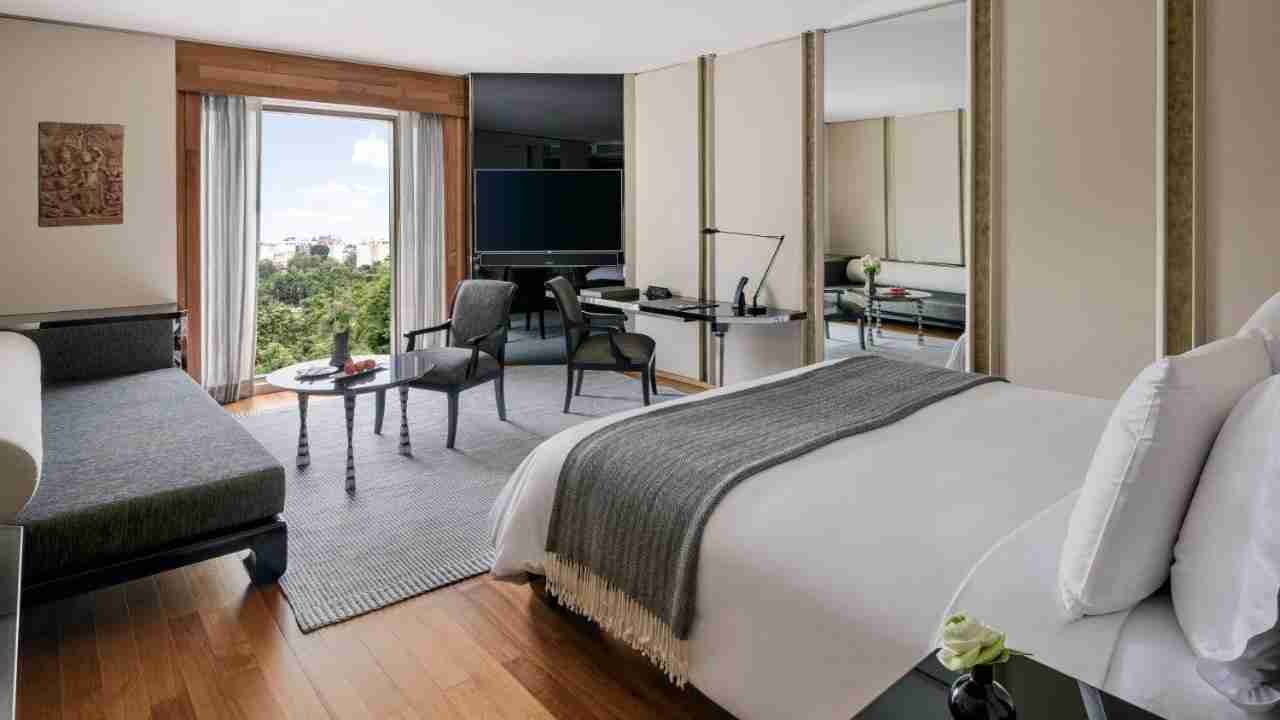 Looking for a more peaceful location but within reach of Bangkok's endless wonders? The Sukhothai Residences is the ideal choice.
This property may be familiar for many reasons, mostly because it's been one of the go-to holiday homes of many personalities including politicians and celebrities.
It's also associated with the Sukhothai Hotels & Resorts (in our top 8 best hotels in Bangkok) known for their warm hospitality and top-class offerings.
The Sukhothai Residences has a high-end atmosphere as soon as you enter its lengthy lobby. You will see 4 corridors leading up to the elevators of each building.
When you go up, it goes straight to the owner's room, which proves how secure and exclusive each room is– and probably why high profile individuals like it here.
The highlight is their majestic swimming pool complex that stretches 100m long. It's a great place to lounge and enjoy the sun in your own paradise. Just beside it is the fitness center complete with a sauna and steam room.
Four Seasons Residences
505,000,000 THB | 1008 sq m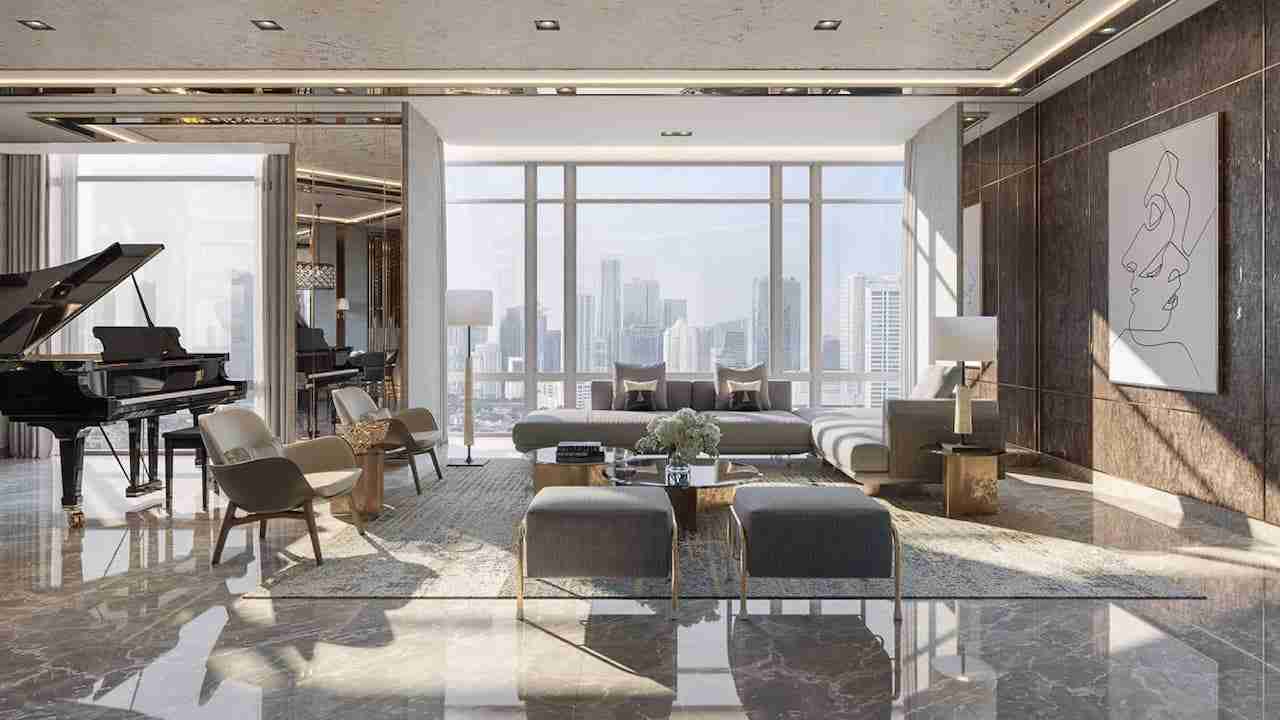 The Four Seasons Residences is a fairly new condo by the river that was finished just last 2018 and is Asia's first waterfront Four Seasons project.
It towers over its neighboring buildings being 73-story high, which makes it stand out along the Chao Phraya.
When you stay here, you'll revel in waterfront living at its finest. They capitalize on the beauty of the water bank and create resort-inspired residences that aim to refresh your senses and well-being.
Apart from their serviced accommodations, what makes residing in Four Seasons is their unmatched amenities and facilities such as:
Club areas (River Lounge, Sky Lounge)
Swimming pools (Sky Pool, Infinity Pool, and Teen Lounge)
Children's Playroom
Fitness studio
Cafes, restaurants, and bars (Cafe Madeleine, One Michelin star Côte by Mauro Colagreco, Riva Del Fiume, Brasseries Palmier, Phra Nakhon, BKK Social Club, Stella, Tea Lounge, and Yu Ting Yien)
Here at the Four Seasons Residences, every day feels like a vacation.
The Residences at Mandarin Oriental
489,000,000 THB | 709 sq m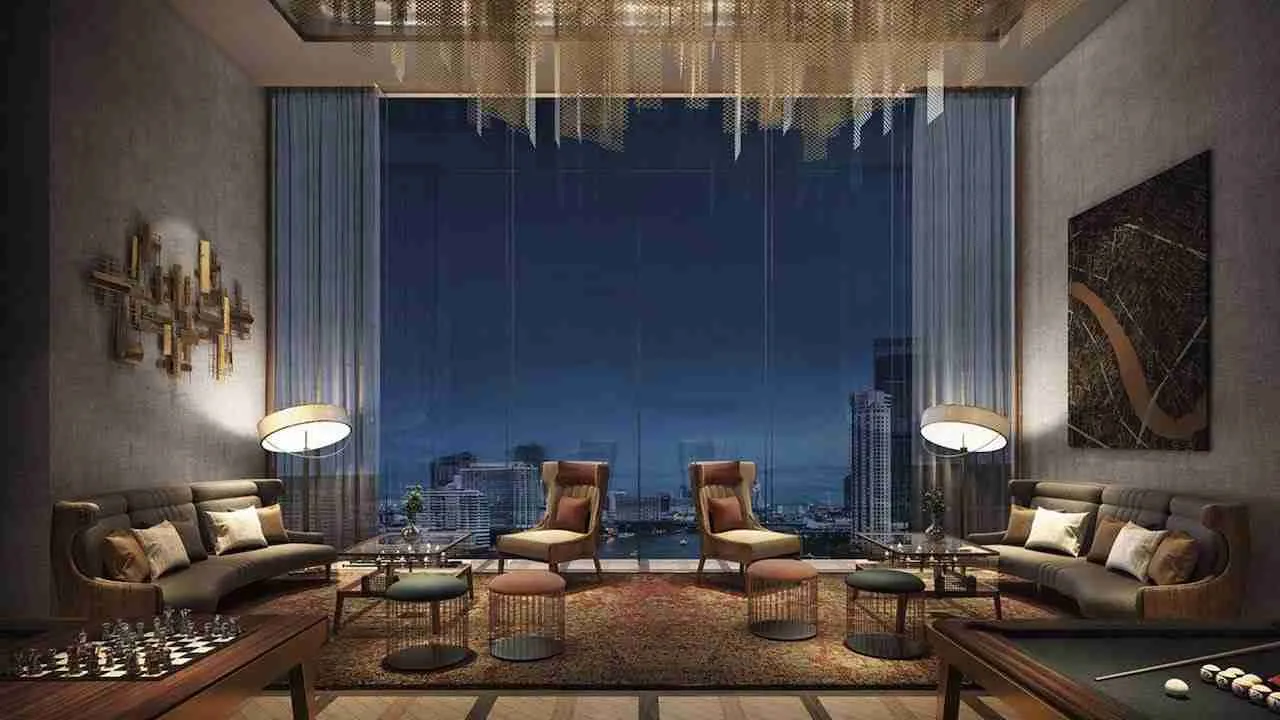 The Residences at Mandarin Oriental is quite on-demand since some of its room types are already sold-out.
That's why you wouldn't want to miss out on their 2-floor Heritage Penthouse Suite that spans 709 sq m wide and sits atop on the 51st and 52nd floor.
The master bedroom boasts a spectacular view of the Bangkok skyline, which is extremely pretty at night. It sets a romantic mood that will make you feel like royalty in this chamber.
The Penthouse Suite comes with 4 bedrooms in total, each with an ensuite bathroom.
It can be fully fitted (comes with necessities) or fully furnished (stylishly curated by Joyce Wang complete with carpets, curtains, wallpapers, lighting fixtures, and more).
Of course, the legendary Mandarin Oriental experience will also be within your grasp (like at their hotel or serviced apartments also available in Bangkok).
Enjoy their services, amenities, and facilities at your very home from the housekeeping to the Business Center lounge down to the recreational facilities (spa, fitness area, world-class restaurants, etc.).
Contact us immediately if you don't want to miss out on their prestigious rooms.
The Residences at The St. Regis
450,000,000 THB | 666 sq m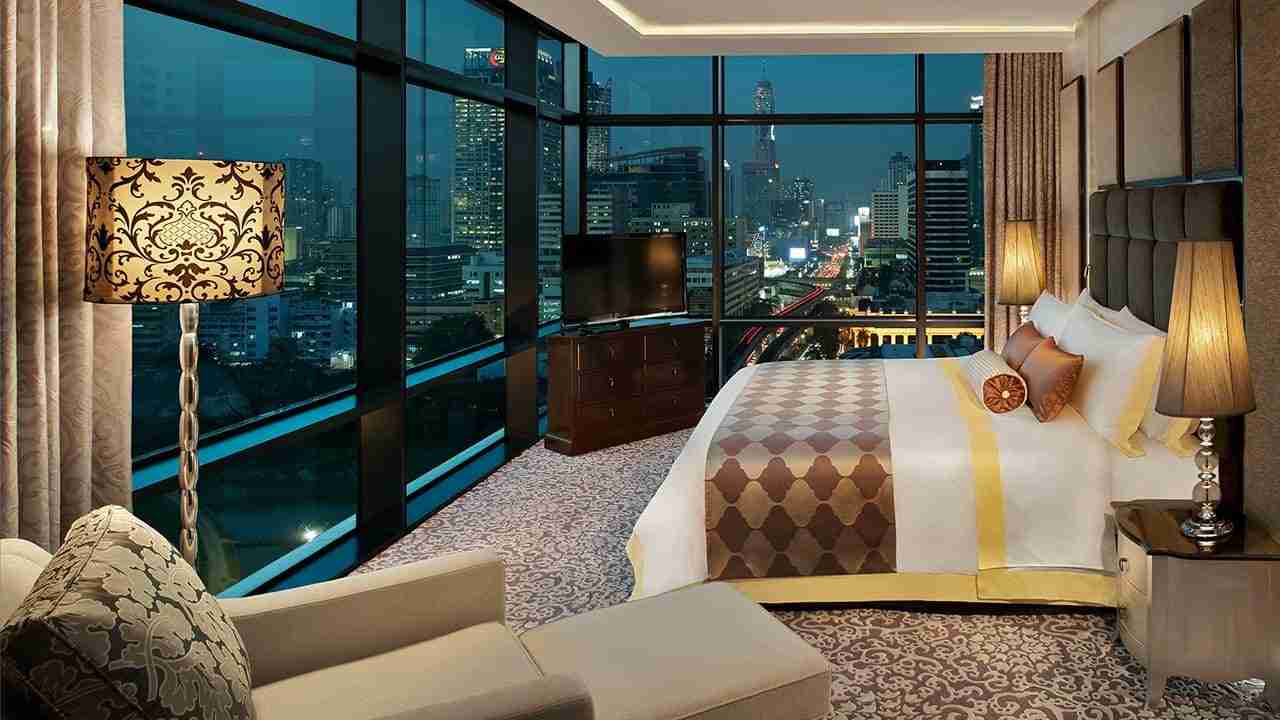 Do you prefer to be in the middle of the city?
Staying at The Residences at The St. Regis will open your world to endless possibilities being near so many office buildings, restaurants, luxury malls, recreational parks, and tourist landmarks.
The location is along Ratchadamri Road, a prime spot for executives and businessmen.
Apart from the convenience and accessibility, the room itself is equipped with everything you need for that work-life balance.
This duplex condo unit has 4 bedrooms, 5 bathrooms, and plenty of living rooms spread out in a mansion-like setting.
It has a high ceiling with a chandelier displayed above the grand piano– a nice touch that sets the fancy tone that St. Regis Bangkok is known for.
You'll also enjoy your own terrace and swimming pool, which allows you to sunbathe and go for a quick dip in privacy and seclusion.
The Monument Thong Lor
365,049,984 THB | 695 sq m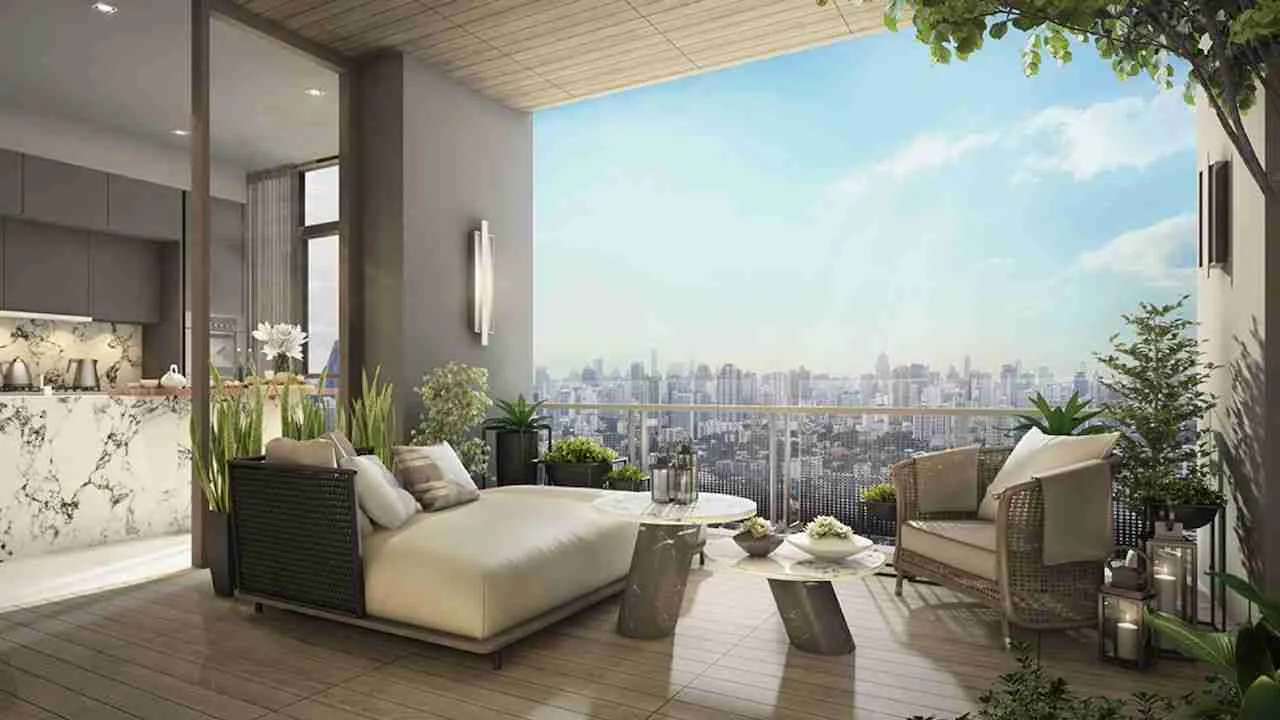 Moving along the Sukhumvit line, you can find the grand The Monument Thong Lo in the busy hip district of Thonglor, known for its vibrant nightlife.
It's already eye-catching due to its unique design and shiny, glass windows, but the rooms will take you by surprise.
There are only 127 rooms in this 45-story building, and each is veiled with a special glass that protects it from heat and noise.
The penthouse is the most extravagant among them all. Its interior gears towards modern elegance that matches the neighborhood's upscale market.
It is more than 600 sq m wide and is 5 meters in height, which makes this great for throwing parties or organizing dinners with friends and families.
You can dine under the stars or even host a swimming pool party on your balcony as you appreciate the sparkling beauty of the cityscape.
Other amenities found in The Monument Thong Lo include:
Swimming pool
Wide garden area
Lobby lounge
Children's playroom
Fitness studio
Private lift
… and more!
Banyan Tree Residences
342,000,000 THB | 844 sq m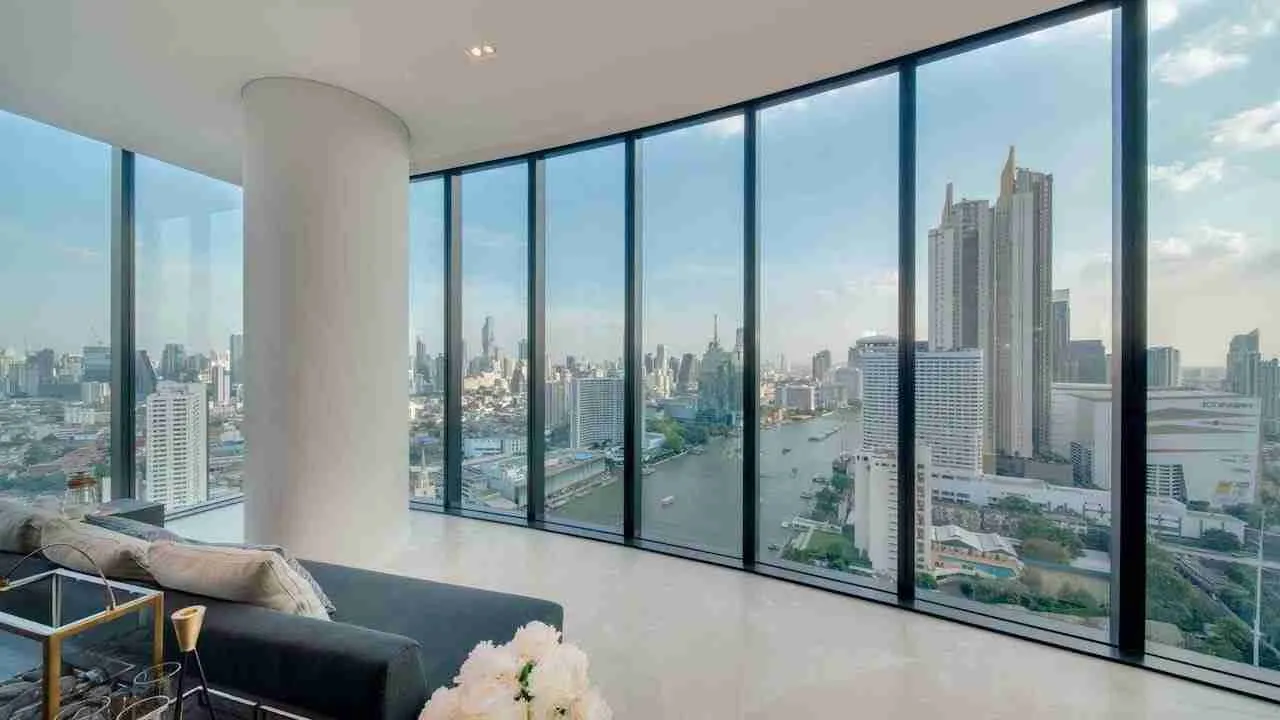 "Urban Sanctuary" is how you would describe Banyan Tree Residences.
True to its name, this condominium is all about giving you a peaceful and high quality of life with its picturesque beauty, world-class services, and modern facilities.
Starting with the rooms, each of its 133 units flaunts the scenic Chao Phraya River. Fall in love with the 844 sq m Penthouse Duplex on the topmost floors (44th – 45th) with its contemporary Thai design interior and minimalist touches.
It has 4 bedrooms with ensuite bathrooms, several living areas, a spacious fully-equipped kitchen, and a private pool to top it all off.
As for their services, you can fully maximize their housekeeping, laundry, spa center, private chef service, outdoor BBQ and lounge, business meeting rooms, self-serve mini bar, and private shuttle boat to locations along the river.
As a resident of this prestigious property, you will also get benefits in their 5-star hotels such as early and late check-in, free annual stay at any of their global properties, and discounts on selected services.
98 Wireless
250,000,000 THB | 292 sq m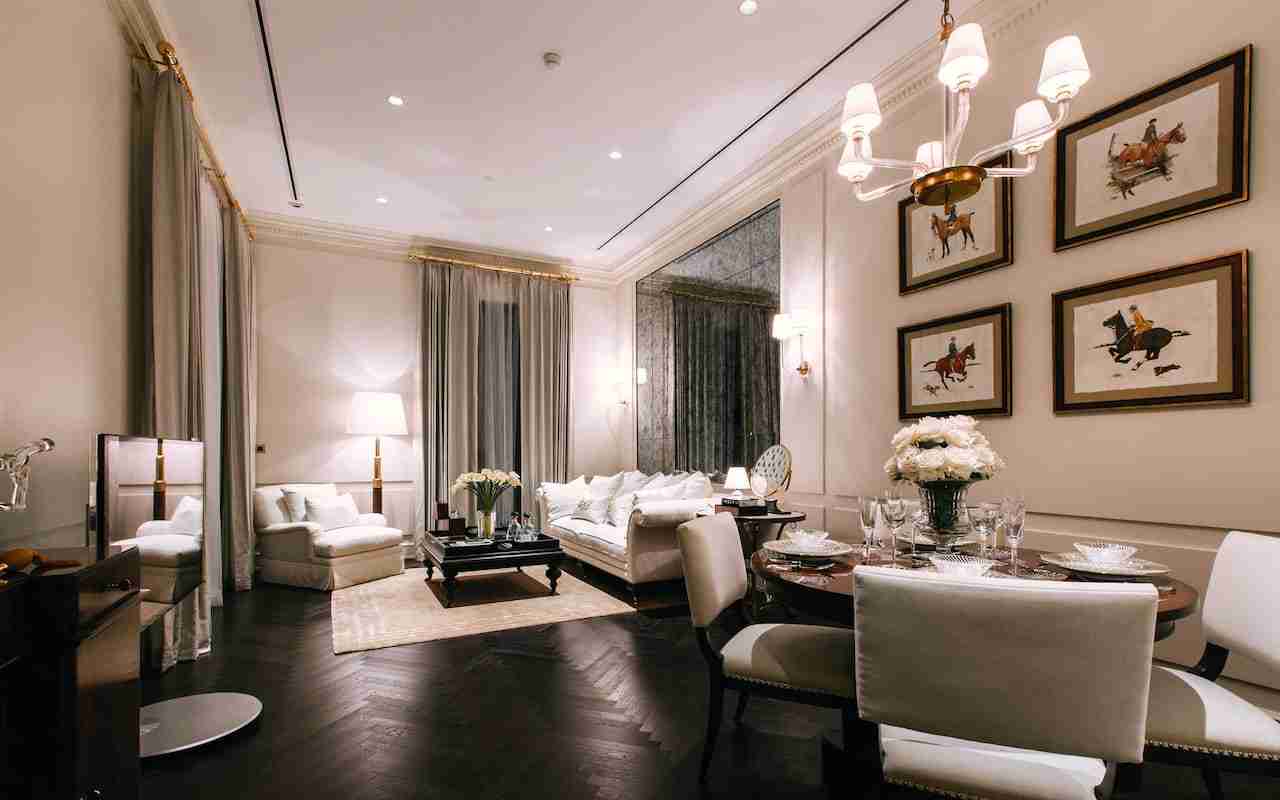 When it comes to upscale hospitality, Sansiri is one of the experts in the field. Staying at 98 Wireless will prove how they treat each of their staying guests with undeniable service and professionalism.
All the residents will experience exclusivity as a standard and will be greeted in the most aristocratic manner.
This includes having a dedicated butler service, chauffeured limo service, 24/7 valet parking, and the first "on-site Quintessentially concierge in Thailand".
To reflect their services, the atmosphere is very fancy with its chateau-esque decor. It's the ideal space to live luxuriously without compromising your work-life balance.
They have amazing business centers and high-end recreational facilities that you can use to make the most out of your stay.
Wireless Road is also a great location as it's a crossroad where the majority of the city's prime commercial, hospitality, and diplomatic districts intersect, as well.
FAQ
Can a foreigner buy a condo in Bangkok?
Yes, absolutely. There are no restrictions to foreigners when planning to buy a condo in Thailand. Contact us if you have any questions.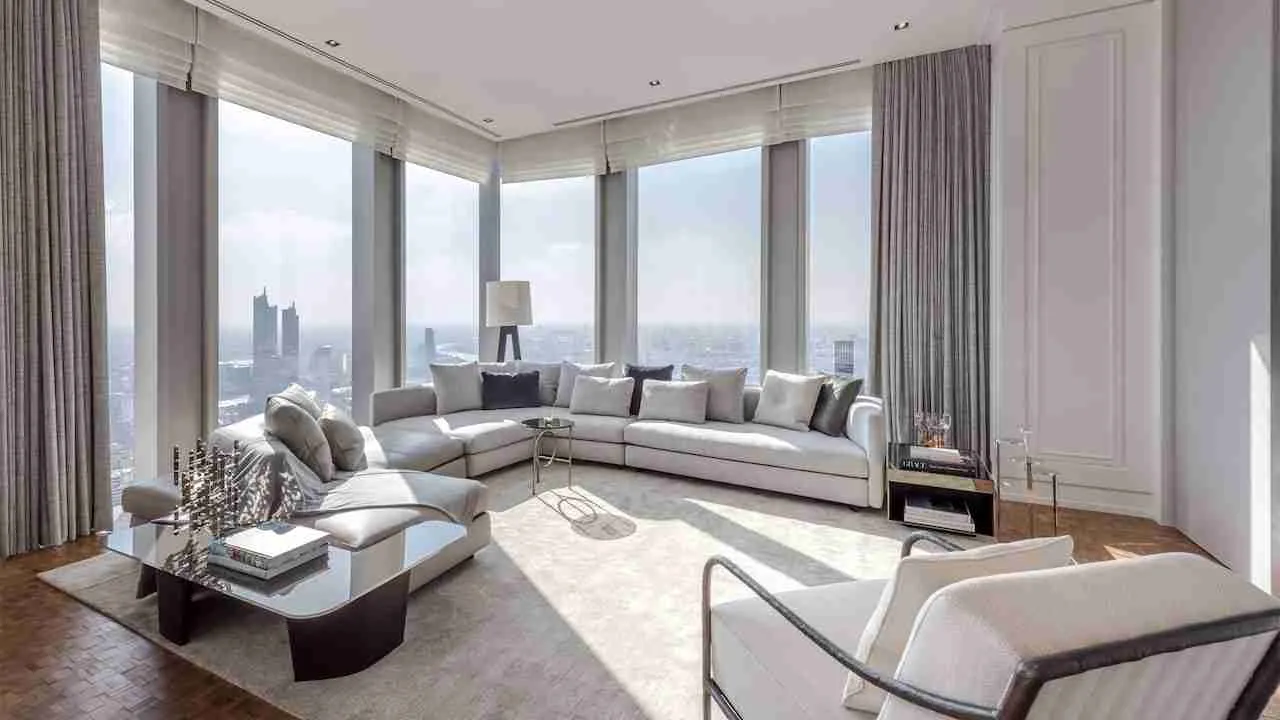 Luxurious Living at Your Fingertips
Let our concierge team help find the perfect luxury condo in Bangkok for you.
Depending on your budget and preference, we have prime selections of luxury penthouses, pool villas, and hotels that can guarantee an unparalleled residence to make your stay in Bangkok as enjoyable as it can get.