Thailand may be a travel destination known for its private islands, high-end resorts, and extravagant activities, but it's also home to some of the best luxury shopping malls in Asia.
With a variety of offerings from local shops to high-end international luxury brands, not to mention delicious restaurants and incredible activities, there are many reasons to make a stop at these top malls in Bangkok during your travels.
Here are the 5 best luxury shopping malls that our VIP guests absolutely love, and we have no doubt you will love them too.
And don't forget to talk to our friendly concierge team to guide you on how to get there and be your assistant for a convenient and enjoyable shopping experience.
Icon Siam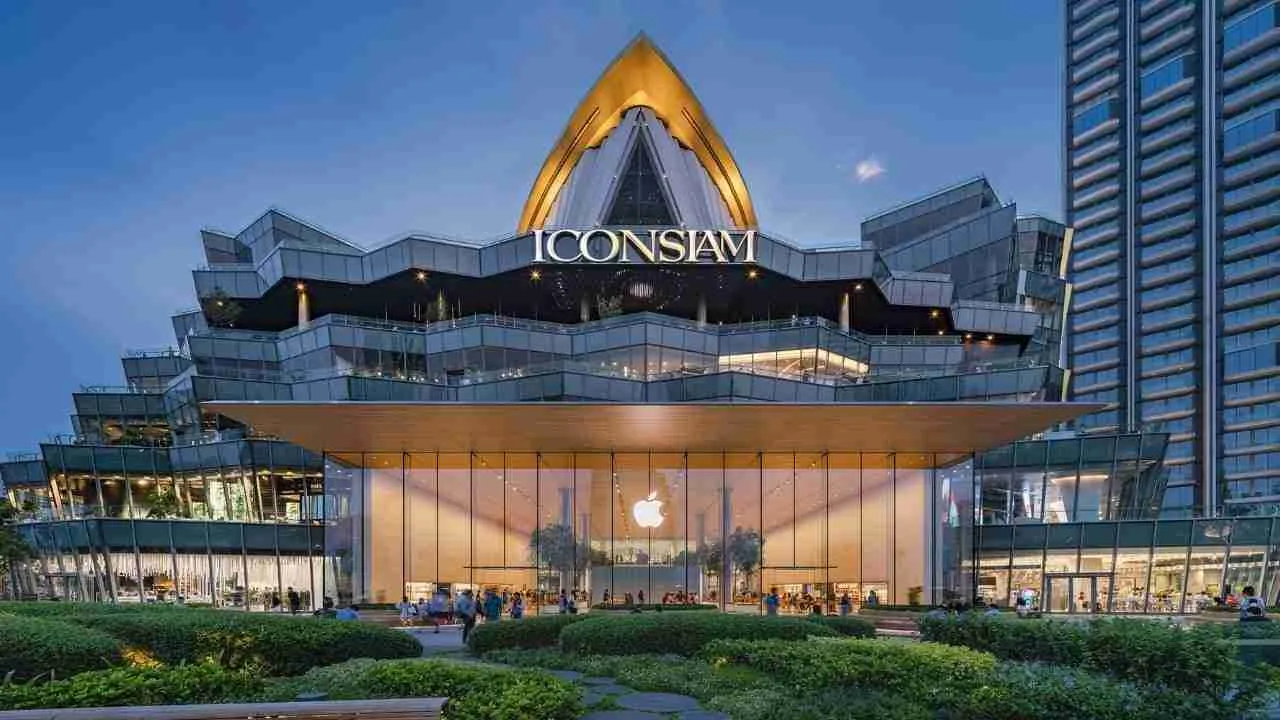 Let's start with a bang. ICONSIAM ranked fourth as the best shopping center in the global MIPIM Awards 2021. It's no surprise that it won this distinction because it truly is one of the most beautiful malls in the world.
Aside from the massive structure and gorgeous interior tinted in gold and bronze, ICONSIAM has over 1000+ stores inside its premises– earning it the title "Mother of All Malls" in the city.
With so many offerings, ICONSIAM can even be regarded as the biggest shopping mall in Thailand.
It has three major wings. The ICONLUXE is where you'll find major designer brands. If you want to shop 'til you drop, you can find Louis Vuitton, Bvlgari, Hermés, Cartier, Coach, Dior, Michael Kors, MCM, Bottega Veneta, Salvatore Ferragamo, Versace, Fendi, Gucci, and more.
Go down to the ground floor and find yourself amazed at the unique attractions at SookSiam. Here, you will find premium crafts and products that come from all over Thailand.
After touring the mini ancient Siam there, you can go outside the riverside area and appreciate Chao Phraya at its finest as you end your shopping spree with a beautiful display of lights and a fountain show.
The mall is also home to incredible restaurants, including Michelin star awarded restaurant Blue By Alain Ducasse, and to the biggest Apple Store in Thailand.
Gaysorn Village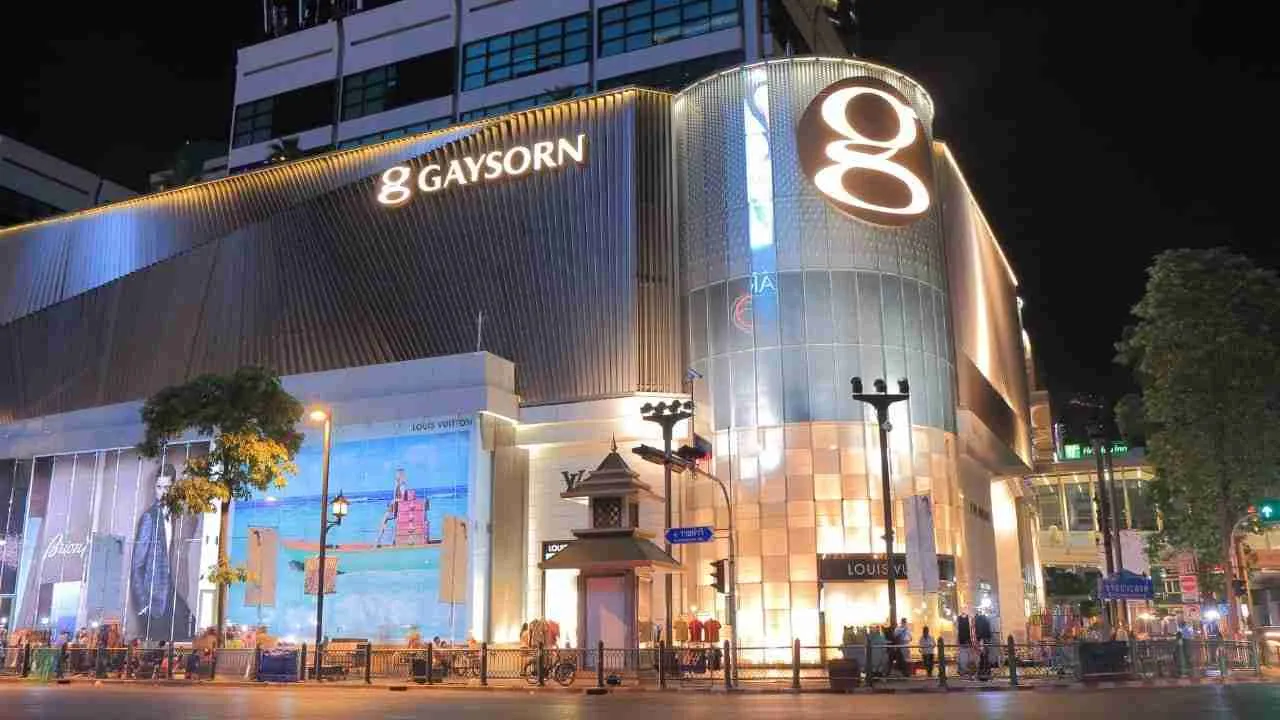 Gaysorn, a part of the Gaysorn Village complex, is arguably one of the best places to go when shopping in Bangkok.
Upscale Offerings
Almost all the outlets in Gaysorn are high-end; making it a great place to go for luxury goods. You can find names such as Gucci, Prada, Alfred Dunhill, Aigner, Porsche, Fendi, Tumi, and other popular designer labels.
If you're into jewelry, there is also a spectrum of choices from Swarovski to Olivia Diamonds, Bussarakam, PT House, and more.
Unparalleled Convenience
Being the smallest mall on the list is one of its biggest advantages.
This way you can conveniently shop for luxury products without walking for hours.Seeing your favorite stores lined up one after the other makes it extremely easy to see many shops in a short amount of time.
One-stop-mall
There are many cafes and restaurants that you can go to for nourishments and refreshments.
Have an afternoon tea at 1823 Tea Lounge by Ronnefeldt. Have steak and wine at Riedel Restaurant & Wine Cellar– an excellent place for an intimate and romantic dinner.
Do you feel like having a massage or getting some treatment? The famous PANPURI WELLNESS is at Gaysorn, too, for those looking to rejuvenate and refresh their senses.
They have onsen pools, massage rooms, treatment rooms, scrub rooms, and relaxation lounges all with a backdrop of the cityscape.
Central Embassy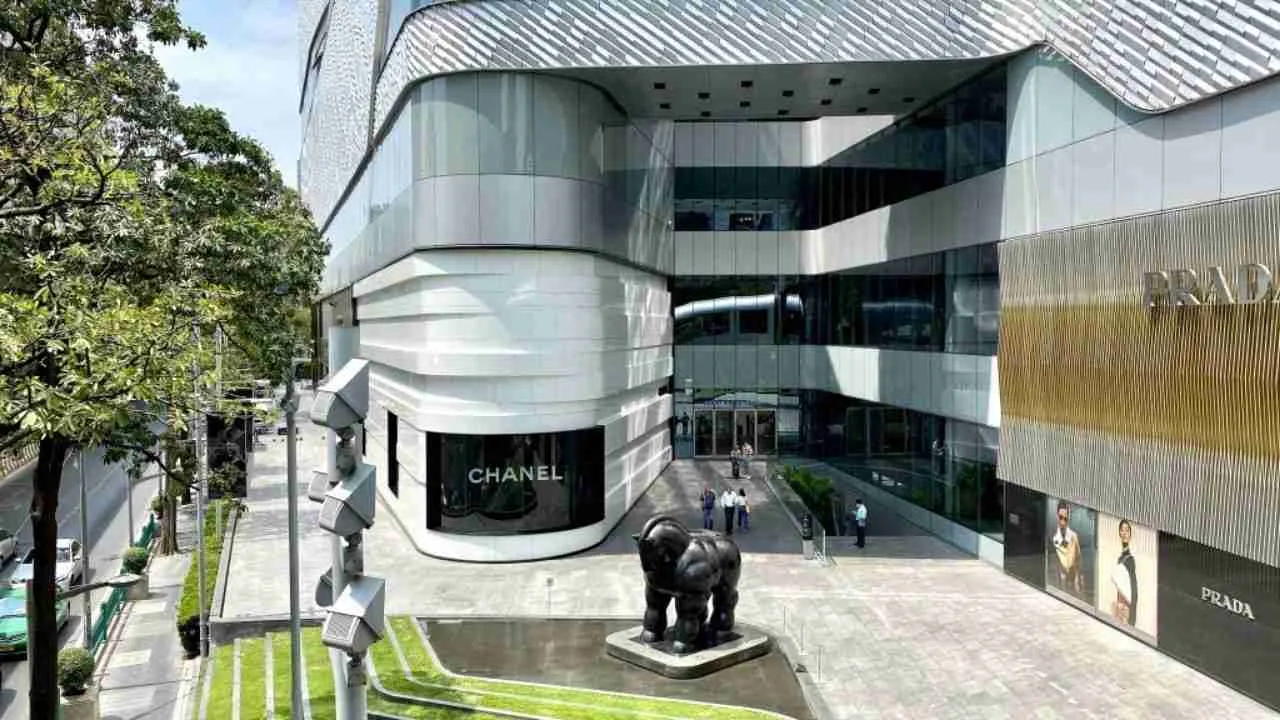 Central Embassy is the most luxurious brand of Thailand's leading retailer, Central Group.
It's a 37-story establishment that features an 8-floor lifestyle shopping complex and is home to the prominent Park Hyatt Bangkok, one of Bangkok top 5-star hotels (see our list).
On its retail floors, there are 200+ stores featuring some of the famous brands.
What's impressive about their designer brands is that some of them are duplex stores, which is bigger compared to other malls. It has names such as Prada, Gucci, Bottega Veneta, Chanel, Miu Miu, and Hermes.
Another main highlight of Central Embassy is the Open House on the 6th floor. Here, you can immerse yourself in the rare book collections, premium novelties, and more. The best part? You can wine and dine there as well.
They offer all types of food. From Thai to Italian, and have all sorts of premium offerings. If you're craving seafood like oysters and lobster rolls, they have it. Don't forget to order champagne while you're at it!
Siam Paragon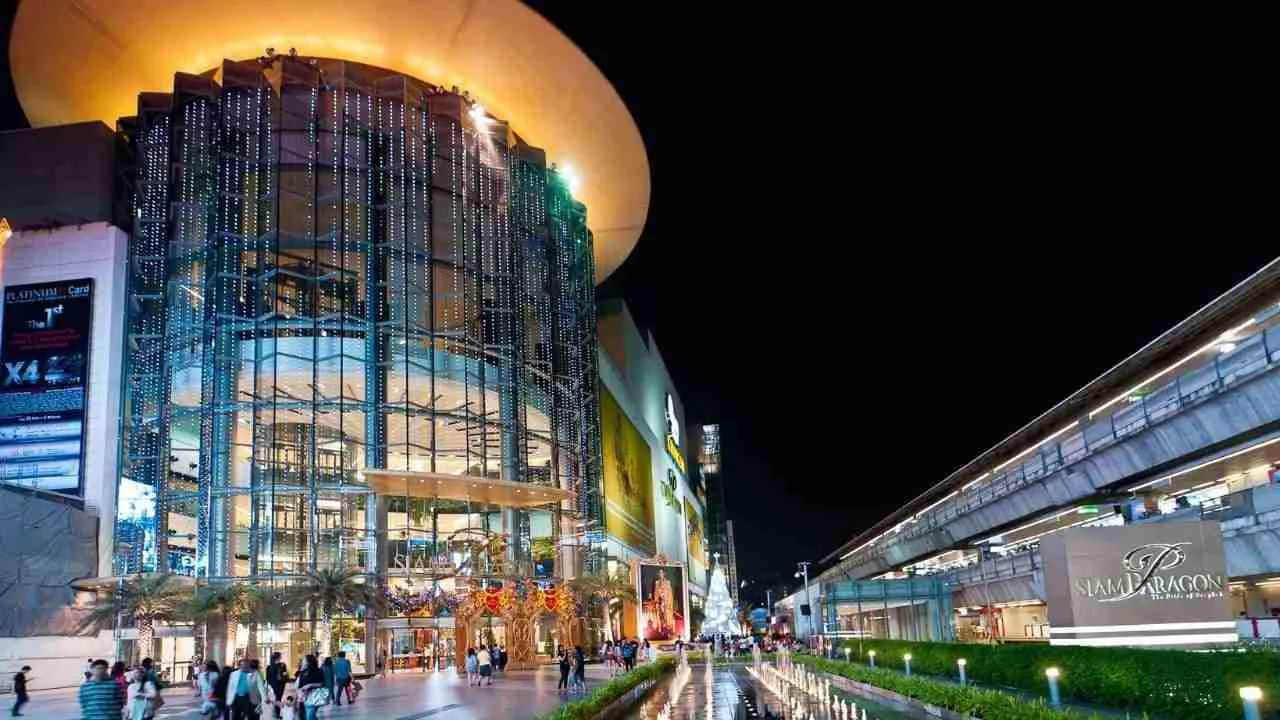 The iconic Siam Paragon is another shopping mall not to be missed in Bangkok. Located within the Siam complex, this mall is a classic go-to establishment for locals and tourists alike.
With its signature signage visible even from far away, it makes for an enjoyable destination to complete your Thailand experience.
There are many commercial retail stores and chains here, but so are the luxury brands.
Designer labels include Balenciaga, Bottega Veneta, Burberry, Bvlgari, Cartier, Chanel, Christian Dior, Dolce&Gabbana, Ermenegildo Zegna, Givenchy, Gucci, Hermes, Jimmy Choo, Karl Lagerfeld, Loewe, Longchamp, Louis Vuitton, Miu Miu, Mulberry, Off-White, Paul Smith, Prada, Saint Laurent, Salvatore Ferragamo, Furla, and Max Mara.
The location is ideal, too, since it is in the central area of Bangkok. You can easily access other attractions such as:
SEA LIFE Bangkok Ocean World
Madame Tussauds Museum BANGKOK
Queen Savang Vadhana Museum
Bangkok Art and Culture Centre (BACC)
… and others
EmQuartier and Emporium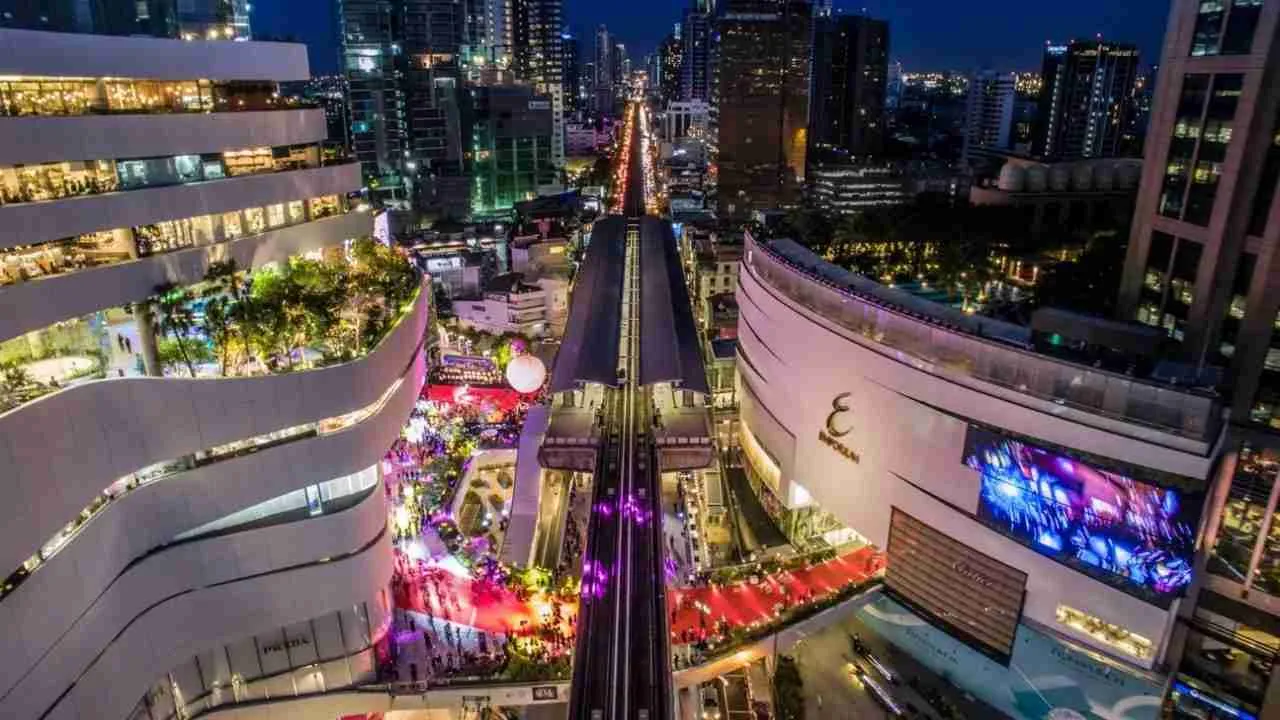 This duo is a relatively new shopping mall in Bangkok, but is a fast-rising commercial hub, especially for expats and foreigners.
Emporium should be your first stop if you're hunting for iconic brands.
Here, you'll find stores like:
Rimowa
Dapper
Van Cleef & Arpels
Omega
Cartier
Dior
Emilio Pucci
Gucci
Rajdamri Gems
Tiffany & Co.
… and more
On the other hand, EmQuartier is more lifestyle and caters to the younger crowd with brands like Off-White and Saint Laurent.
That makes it an interesting place to meet single girls in Bangkok whether they're Thais or foreigners.
Aside from shopping, there's a lot to do at EmQuartier. You can get physical and sweat it out at Virgin Active and BOUNCE Inc.
Hungry? Go to the beautiful spiral food hall called Helix Dining or explore its choice of trendy restaurants like Mozza by Cocotte or D'Ark by Phillip Di Bella.
You can then carry on the night with drinks at the Escape rooftop bar on the 5th floor.
There are even serviced apartments above Emporium, named Emporium Suites, which is an excellent place to stay whenever you're in Bangkok. Especially if you come here for shopping.
FAQ
Where can one find the most impressive malls in Bangkok?
The most impressive malls in Bangkok can be found in various parts of the city. Along the river, there is ICONSIAM. If you go down Sukhumvit, there are EmQuartier and Emporium. And then you have Siam Paragon in Siam and Central Embassy in Chit Lom.
Which mall in Bangkok has the most luxury brands?
The mall with the most luxury brands in Bangkok is ICONSIAM. It's home to brands like Louis Vuitton, Bvlgari, Hermés, Cartier, Coach, Dior, Michael Kors, and 1,000 more shops.
Have A Luxury Shopping Experience With VLS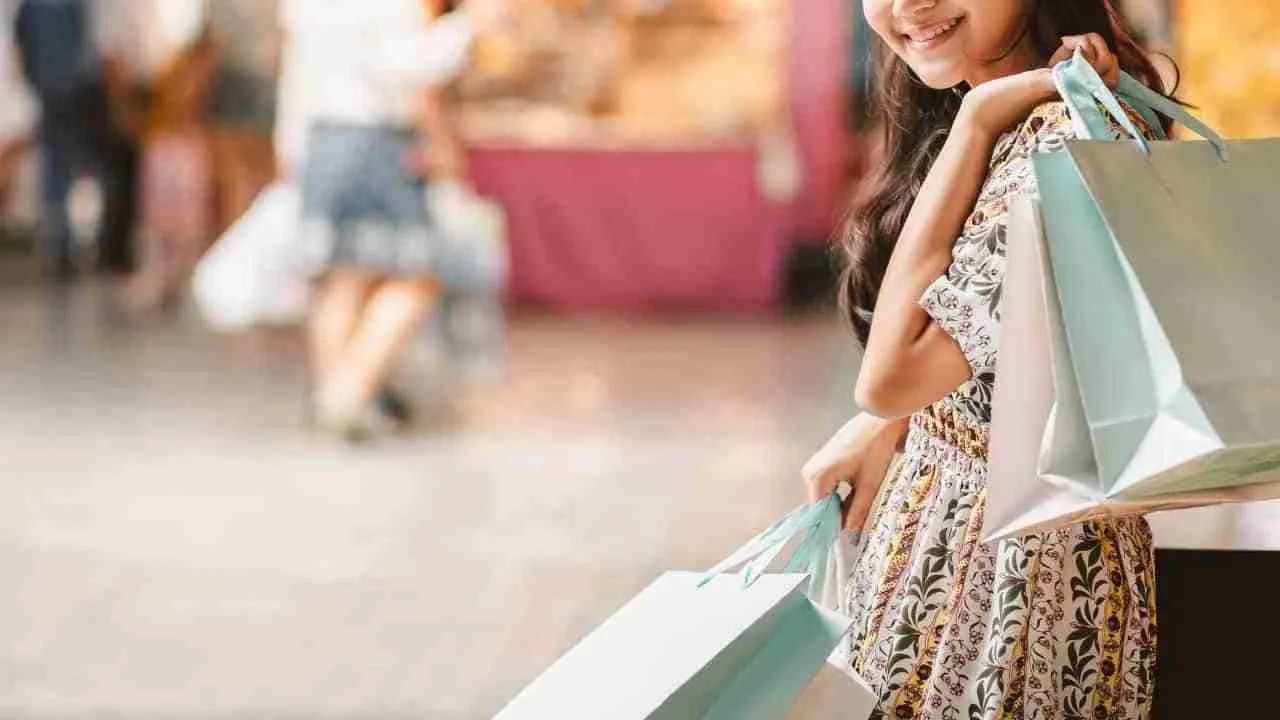 Let us take care of your shopping needs.
Through VLS, our friendly team can guide you where to go and help you buy what you want fast and easily.
We also offer:
Luxury transportation rental (with or without chauffeur)
Bespoke concierge services
Accommodation arrangements
Restaurant booking
… and more!
Contact us today to experience Bangkok like a true VIP from luxury malls to high-end clubs and 5-star hotels.
You'll see how life can be so much sweeter here in the Land of Smiles.