Make the most out of your stay in Bangkok by indulging yourself in a luxury staycation at the city's finest hotels.
Whether you like high-rise buildings overlooking the cityscape or showcasing a view of the majestic Chao Phraya River, there are plenty of great choices depending on your preference.
Here's a list of the 8 best luxury hotels in Bangkok that are worth staying at.
Mandarin Oriental Bangkok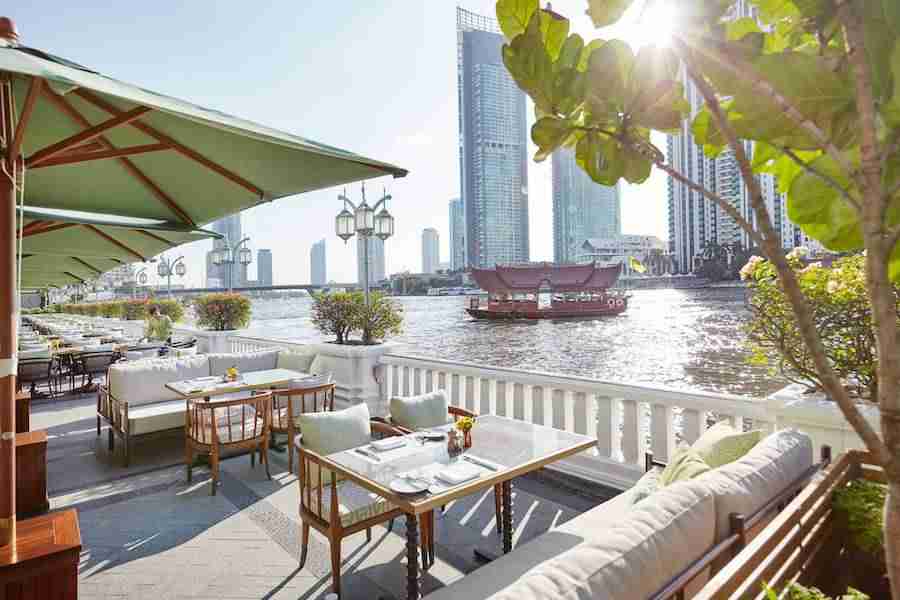 This iconic brand from Hong Kong has been around for more than 145 years.
Since then, it's been continually providing world-class service with unparalleled ambiance and amenities to guests from all over the globe.
The Mandarin Oriental Bangkok has spacious rooms and all have signature designs that truly capture the beauty of the orient.
Boasting an elegant and colonial-inspired decor, it's truly a sight to behold especially with the view of the Chao Phraya river.
It's also home to Le Normandie, one of the best only two Michelin Star restaurants in Bangkok.
Nearby Attractions: Chao Phraya River, ICONSIAM, Asiatique: The Riverfront
Siam Kempinski Hotel Bangkok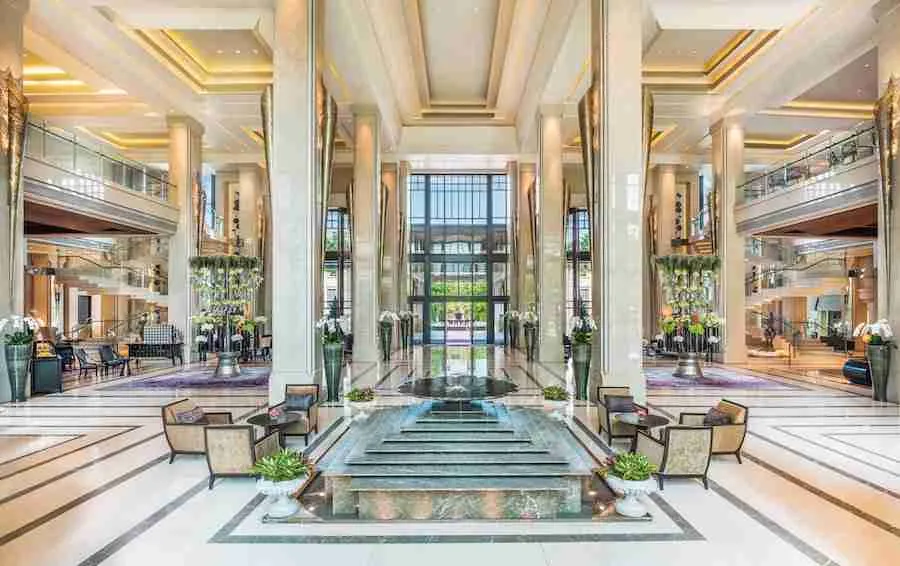 Siam Kempinski Hotel Bangkok is a five-star resort-like establishment that is perfect for all types of travelers looking for a complete experience. Within its fine quarters, guests have full access to state-of-the-art business spaces, excellent restaurants and bars (including one Michelin Star restaurant, Sra Bua), incredible wellness and health spa center, and more.
Each of its 397 luxury rooms and suites all has great views of the hotel's garden and free-form swimming pool, too.
It even has one of the most impressive presidential suites in Bangkok.
Feeling like exploring the city? Siam Kempinski is located at the city center, so landmarks like the Siam Paragon, Lumphini Park, and even the Nana area are only minutes away.
Nearby Attractions: Siam Paragon, Central World, Gaysorn Village, Lumphini Park, Nana
Kimpton Maa-Lai Bangkok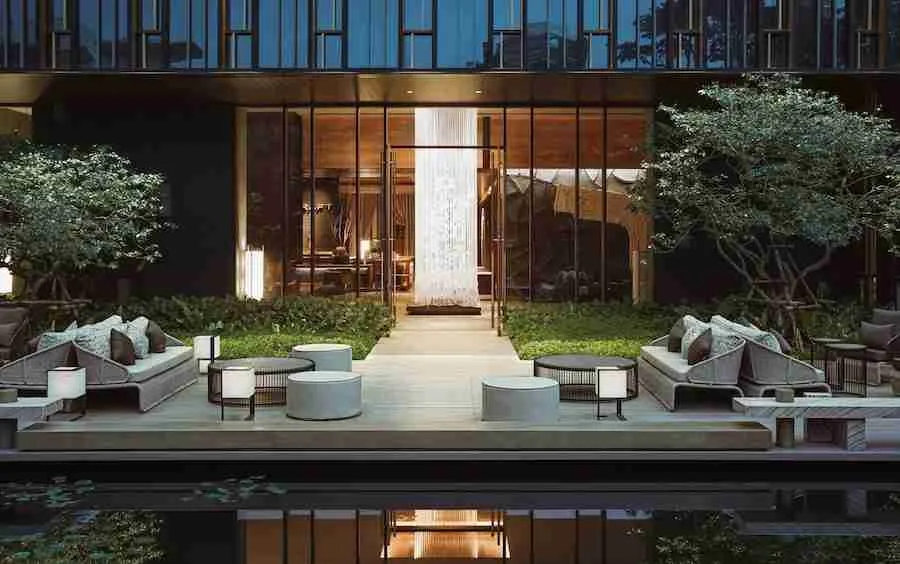 This is a new luxury hotel in Bangkok that should be under your radar. The Kimpton Maa-Lai Bangkok is the sister hotel of the Siam Kempinski Hotel Bangkok. You can expect the same outstanding service and amenities but expect a different atmosphere.
Priding itself as a luxury and pet-friendly urban oasis. It has a light-hearted ambiance with its gorgeous earth tones and laidback design that is ideal for a city getaway. Although it's a new hotel, it is already becoming a hotspot for many elites along with their furry friends. This even includes celebrities!
Nearby Attractions: Siam Paragon, Central World, Gaysorn Village, Lumphini Park, Nana
Waldorf Astoria Bangkok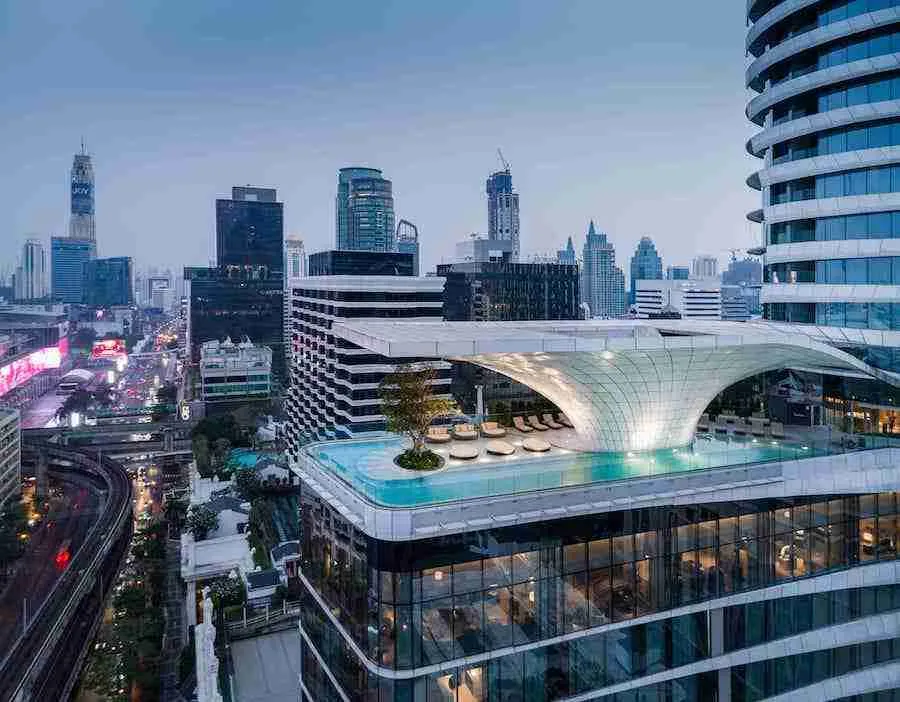 Originating from the Empire State of New York, the Waldorf Astoria Bangkok sticks true to its brand: modern, glamorous, and elegant. You can expect top-notch hospitality throughout your stay as you immerse yourself in the upscale city life within Bangkok CBD.
This hotel has an amazing spa center, on-site restaurants, meeting rooms, and a gym. Its rooms are amazing, as well, which showcases a scenic view of the golf course across the road. They even have an outdoor pool with floating cabanas!
137 Pillars Suites & Residences Bangkok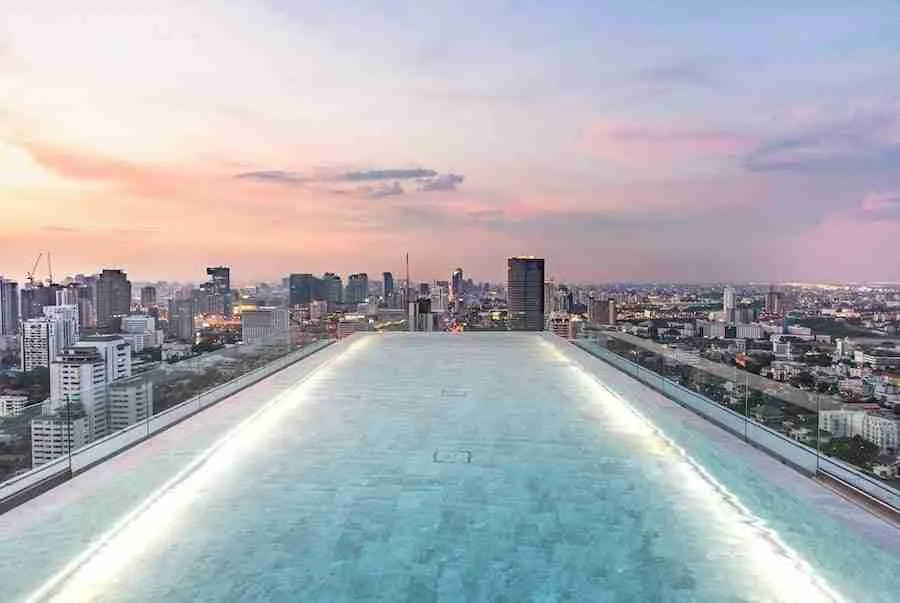 When you think of luxury and exclusivity, the 137 Pillars Suites & Residences Bangkok should be one of the first that comes to mind.
With its seamless and sophisticated touches of design, every guest will surely feel like royalty coming here.
Upon arrival, you'll immediately see their top-class restaurant serving intercontinental food. When you go up to the room, you'll be amazed by the exquisite taste of the suites.
It highlights a spacious and well-lit place with a gorgeous bathtub overlooking Sukhumvit.
The rooftop bar and pool are not to be missed, too!
It's central location makes it super convenient to meet girls in Bangkok whether it's at a shopping mall, at a bar, a club, or in a gentlemen club.
Nearby Attractions: Thonglor, Emquartier, Emporium, Benjasiri Park, Nana, Asoke
The Sukhothai Hotel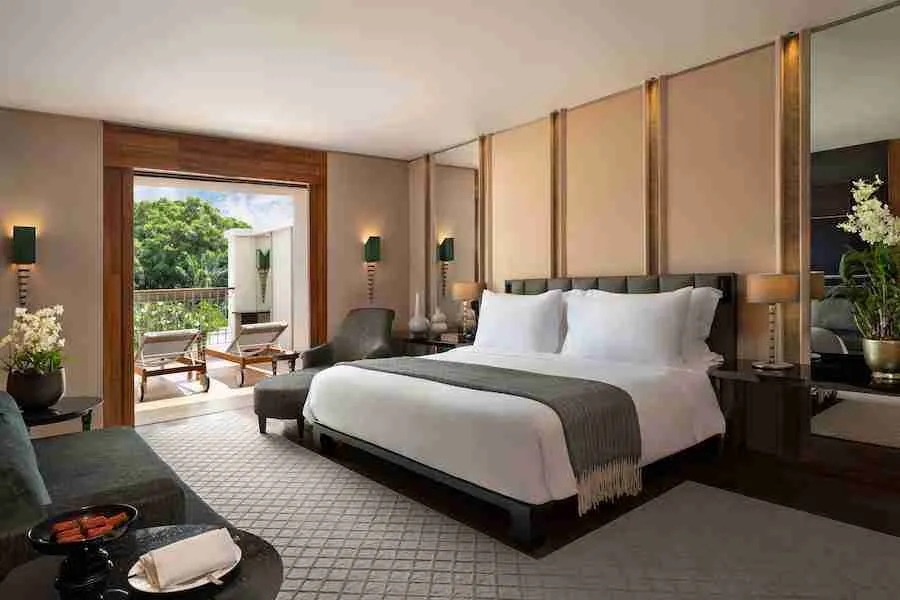 The Sukhothai Hotel is amongst the nicest hotels in Bangkok.
The highlight here is the outstanding hospitality it offers. Aside from the lush greens surrounding the area, the food and service here are what draw people in.
It's truly a relaxing sanctuary for a quick getaway in the city where every aspect of the hotel from the infinity pool to the spacious garden to rooms will remind you of the flourishing beauty of Thailand.
Even Miss Universe contestants had their stay here back in 2018, including Miss Universe Catriona Gray.
Nearby Attractions: Silom Road, ICONSIAM, Chao Phraya River, Asiatique: The Riverfront, Lumpini Park
Capella Bangkok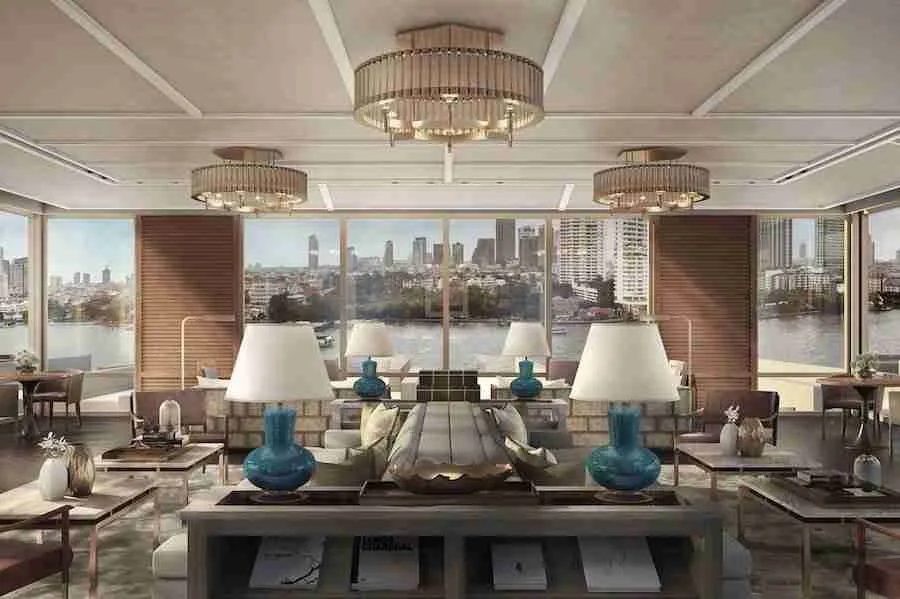 This is one of the rising hotels in the city with its well-designed architecture by the river. The Capella Bangkok is every elite's go-to hotel for a staycation that doesn't feel like you're in the city.
Instead, you'll be greeted by an astounding establishment with plenty of greeneries all around, especially at their dreamy villa along the Chao Phraya.
You'll have your sanctuary as you swim at your private pool and delight in your outdoor sala. The room interior is equally, if not more amazing due to its exquisite quality and impeccable designs.
Nearby Attractions: Chao Phraya River, Silom Road, ICONSIAM, Asiatique: The Riverfront
Four Seasons Hotel Bangkok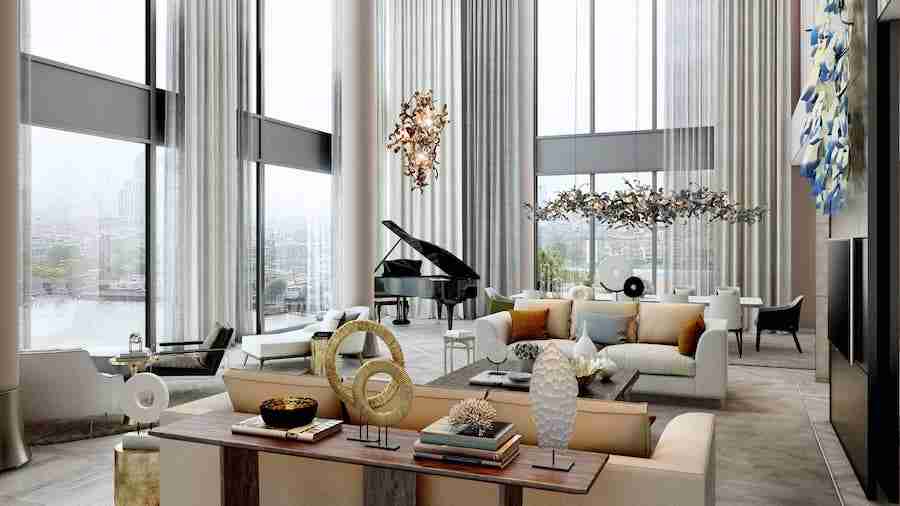 Another iconic destination near the river, The Four Seasons Hotel Bangkok is an ideal choice for travelers looking for a relaxing staycation in their trip.
This hotel echoes the beauty of nature and is visible in its regard for both design and hospitality.
The infinity pool, rejuvenation spa and wellness center, world-class restaurants, and more are enough to give you the satisfaction and rest that you need. Their bespoke rooms, on the other hand, combine comfort and luxury with their high-end amenities and technologies.
Nearby Attractions: Chao Phraya River, Silom Road, ICONSIAM, Asiatique: The Riverfront
Let us help you book one of these luxury hotels to make your stay in Bangkok even more exciting.
Contact us today for more information.
And if you're looking for other options for a luxury stay in Thailand, click here.
FAQ
What is the best luxury hotel in Bangkok?
The Mandarin Oriental Bangkok is one of the most amazing hotels in Thailand. With world-class service and amenities overlooking the beautiful Chao Phraya River, this hotel continually provides the best of the best and complete experience for all types of travelers.
What is the most expensive hotel in Bangkok?
The most expensive hotel in Bangkok would arguably be Capella Bangkok. It is one of the few luxury hotels in the city with rooms having their private pool (not to mention it is right by the river, too), like its Presidential Villa.
For more luxury hotels recommendations, check our concierge's list of the top hotels in Thailand and in Pattaya.