You can never run out of luxury hotels to stay at in Thailand, which makes it difficult to pick which ones to book during your travels. Fortunately, we're experts in this matter.
With over a decade of organizing luxury trips around Asia, we're able to round up the crème de la crème.
Plus, we have close connections with all the hotels on this list to give you guaranteed booking at the best price possible. Check them out.
Mandarin Oriental Bangkok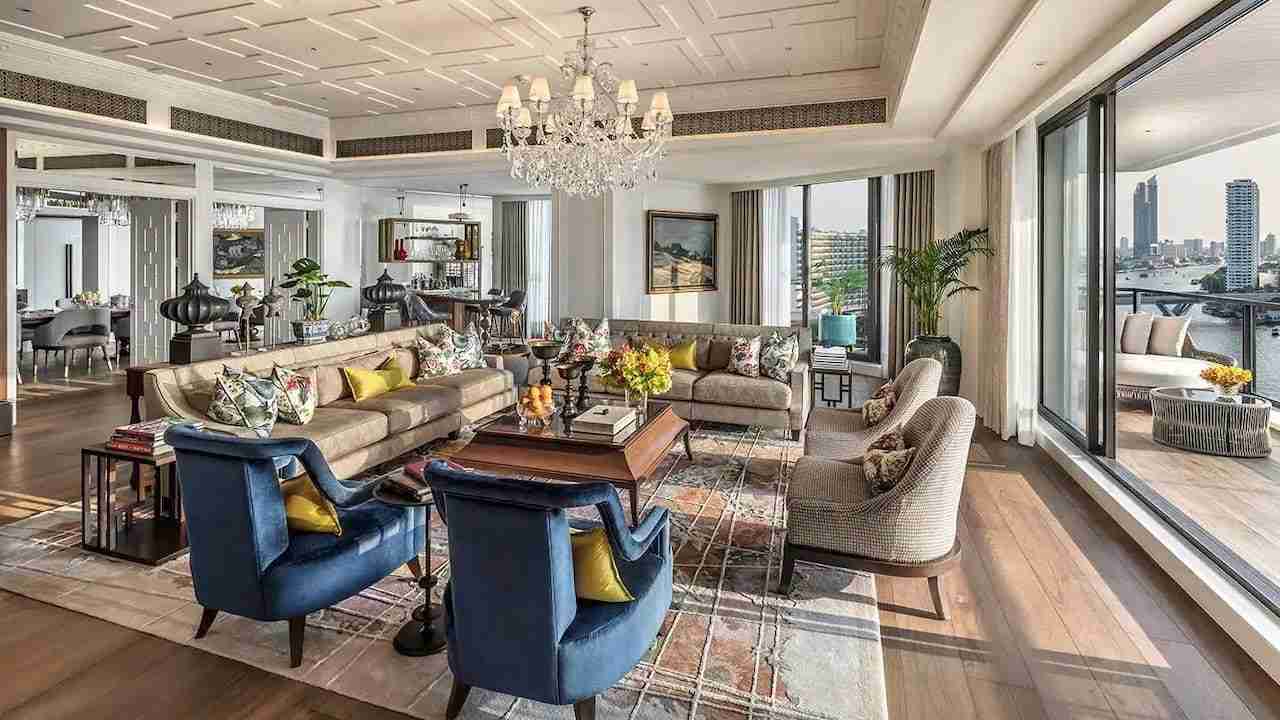 Must-book: Oriental 2-Bedroom Suite
Highlight: This penthouse spans 376 sq m and is complete with 2 bedrooms, 2 bathrooms, kitchen, dining table for 12, spacious living rooms, 2 balconies, and entertainment room.
It's also the most expensive presidential suite in Bangkok.
The Mandarin Oriental Bangkok is the home of many firsts since 1876.
It was the first luxury hotel in Thailand, the first hotel to open up by the Chao Phraya River, and the first to have electricity, air-conditioning, spa center, hotel bar, and many more.
On top of their rich history, what makes them special is their continuous pursuit of excellence.
Year after year, this famous hotel in Thailand makes sure that they uphold and improve their legendary style and service.
This is evident from their signature rooms down to the world-class amenities and facilities available.
The Siam Hotel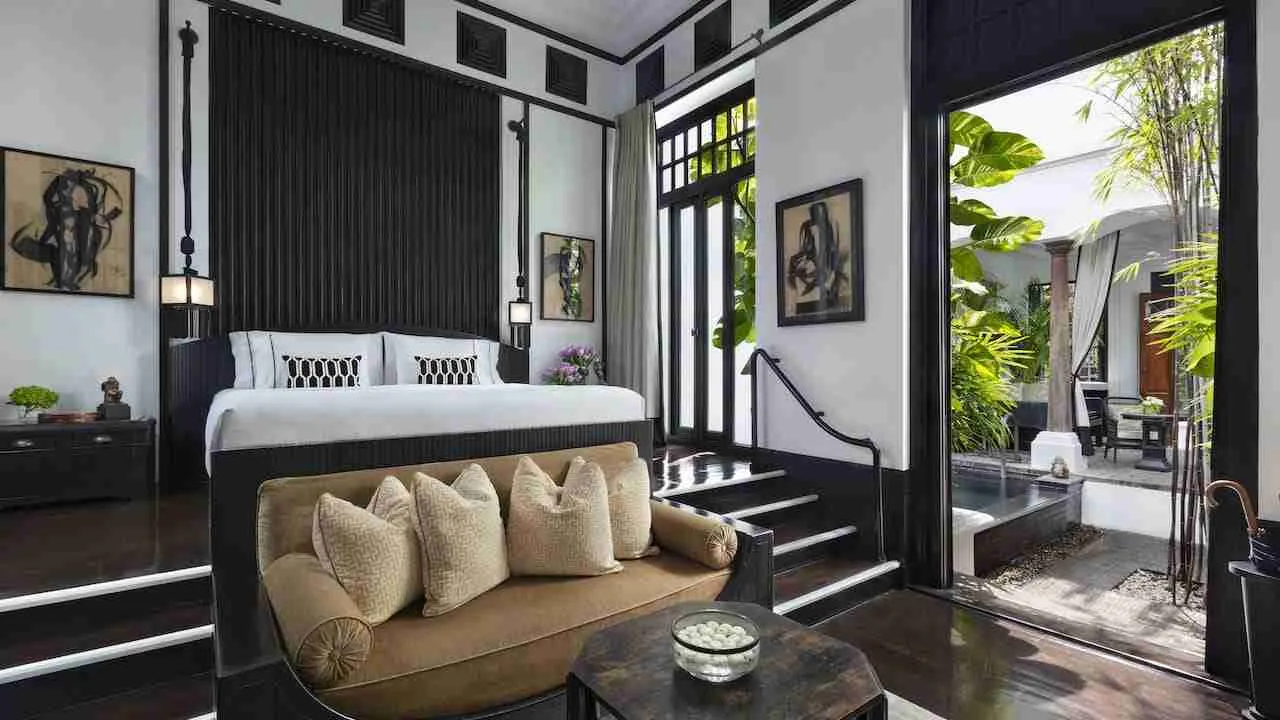 Must-book: Bangkok Riverside Pool Villa
Highlight: This pool villa is an urban sanctuary with its elegant decor, color scheme, and indoor garden featuring a private pool– all set beside the river for a full nature view.
The Siam Hotel is where art meets nature. Nestled in a secluded neighborhood, you'll enter lush greeneries hiding within a contemporary luxury hotel with upscale and unique designs from its lobby down to its various rooms.
All its rooms are art-inspired in monochromatic tones, which brings out its sophistication further. It's beautiful as it is, but then it's enhanced by the Chao Phraya river as its backdrop.
This explain why it is well ranked in our selection of the best luxury hotels in Bangkok.
While their villas have their own private pool, The Siam's infinity pool is worth lounging at, as well.
Sindhorn Kempinski Hotel Bangkok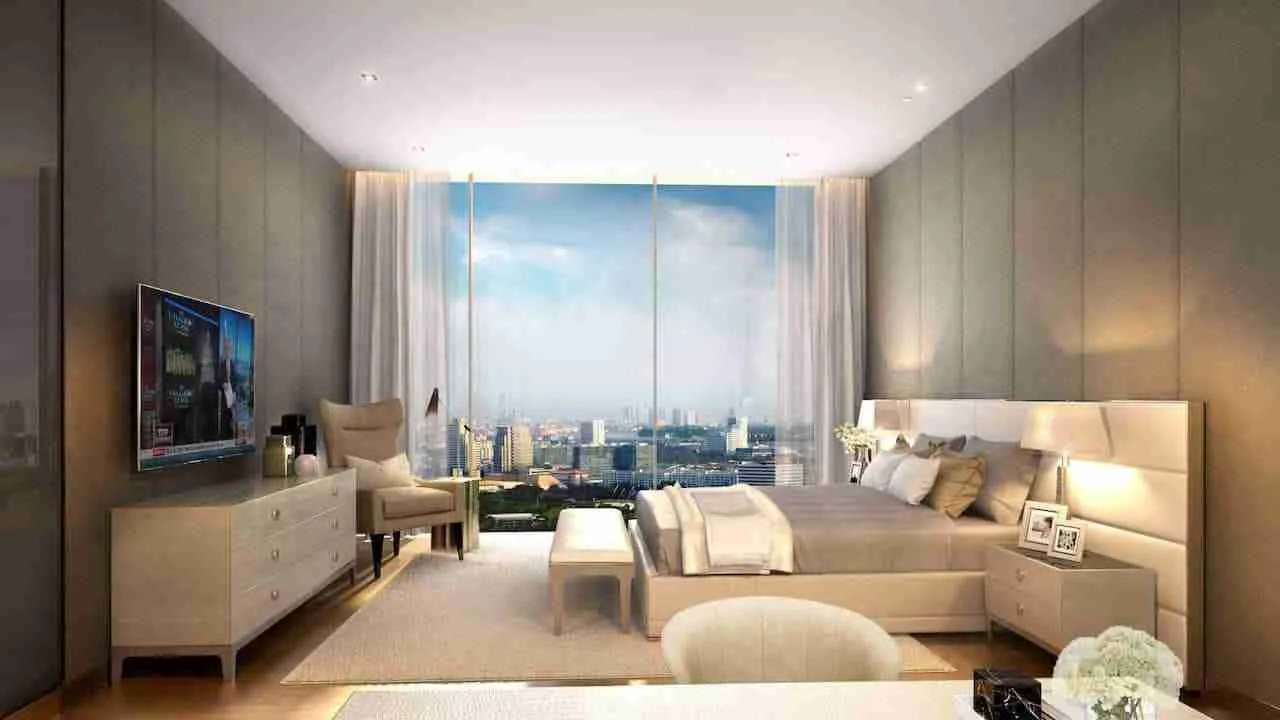 Must-book: Three-Bedroom Royal Suite (starts at 208,500 THB)
Highlight: This is the biggest room in the hotel which is complete with 3 bedrooms with ensuite bathrooms, powder rooms, walk-in closets, kitchenette, dining area for 8, and more.
Located in the prime neighborhood of Lang Suan, Sindhorn Kempinski Hotel Bangkok has everything you need for a complete work-life balance.
The property has services such as concierge, limousine, shuttle, and executive lounge privileges that support you in your day-to-day tasks.
You can also find the same level of services in their serviced apartment building next door, which is one of the best option for long term stay in Bangkok amongst other serviced apartment residences in the capital.
If you want to unwind, you can visit their hotel spa center, wellness studio, and even its pet-friendly mini park within the vicinity where you can walk your furry companion.
Movenpick Siam Hotel Pattaya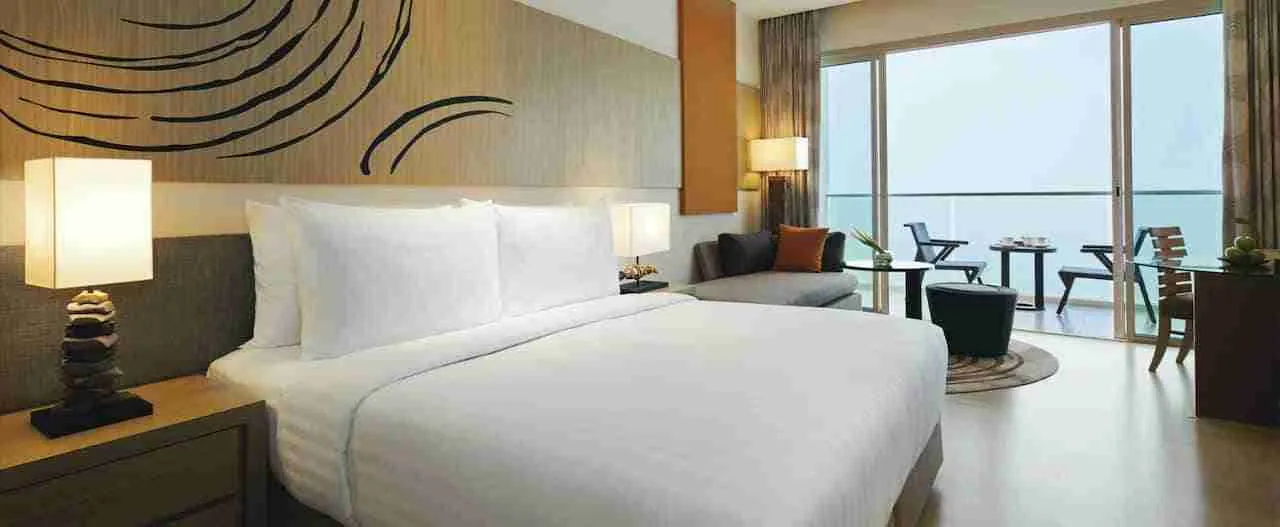 Must-book: Presidential Suite (starts at 16,000 THB)
Highlight: This suite has a private balcony showcasing the Gulf of Thailand as you revel in its fully-furnished 154 sq m space good for a family of 4.
Pattaya might be infamous because of its bustling red-light district, but you can also find high-end properties there for a relaxing and enjoyable trip like at Mövenpick Siam Hotel Pattaya along the Jomtien beach.
This world-class hotel takes pride in its warm Swiss hospitality. The atmosphere of the place combined with their professional service prove how much they want all their guests to feel at home.
InterContinental Khao Yai National Park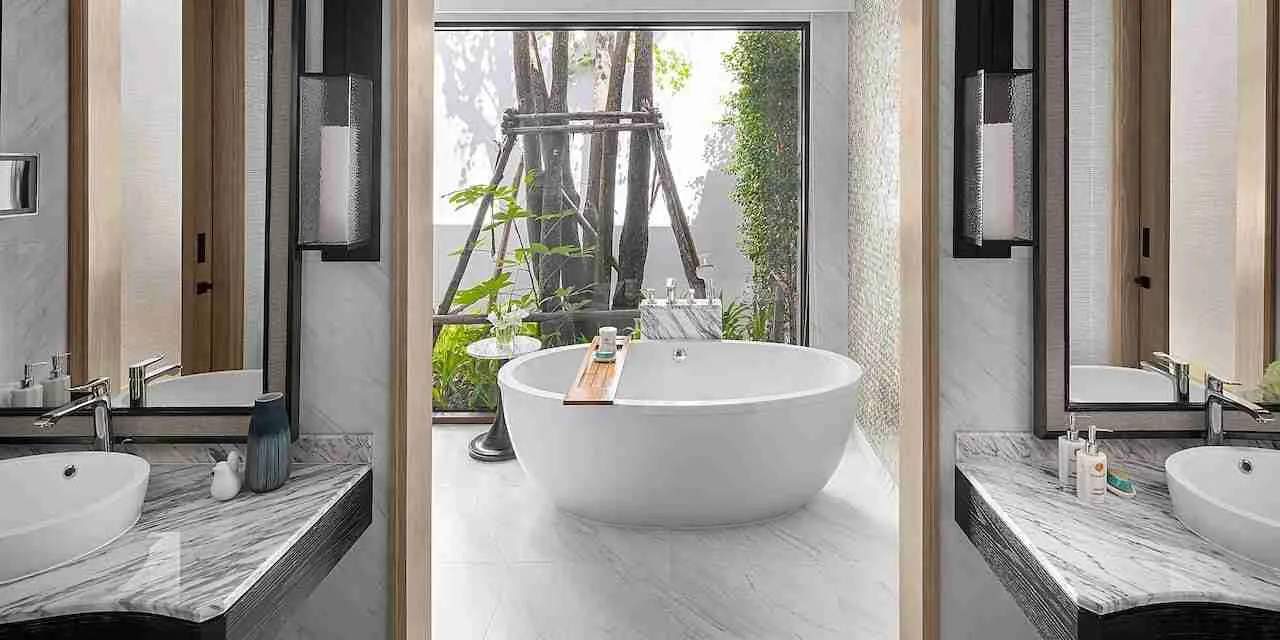 Must-book: Swan Lake View Suite (contact us for starting rates)
Highlight: Refresh your senses in this hillside paradise as you appreciate the scenic beauty of Khao Yai and its national park from the comforts of your expansive living room and patio.
Khao Yai is one of the most peaceful places in Thailand, being surrounded by green pastures and forests.
There's no better way to appreciate this picture-perfect destination than by staying at the InterContinental Khao Yai National Park designed by award-winning designer, Bill Bensley.
The rooms and facilities are gorgeous and modern in every sense.
Their main objective is to make you feel relaxed whether you enjoy your time indoors, swim by their swimming pool, or just view sunsets after sunsets in this hilltop sanctuary.
137 Pillars House Chiang Mai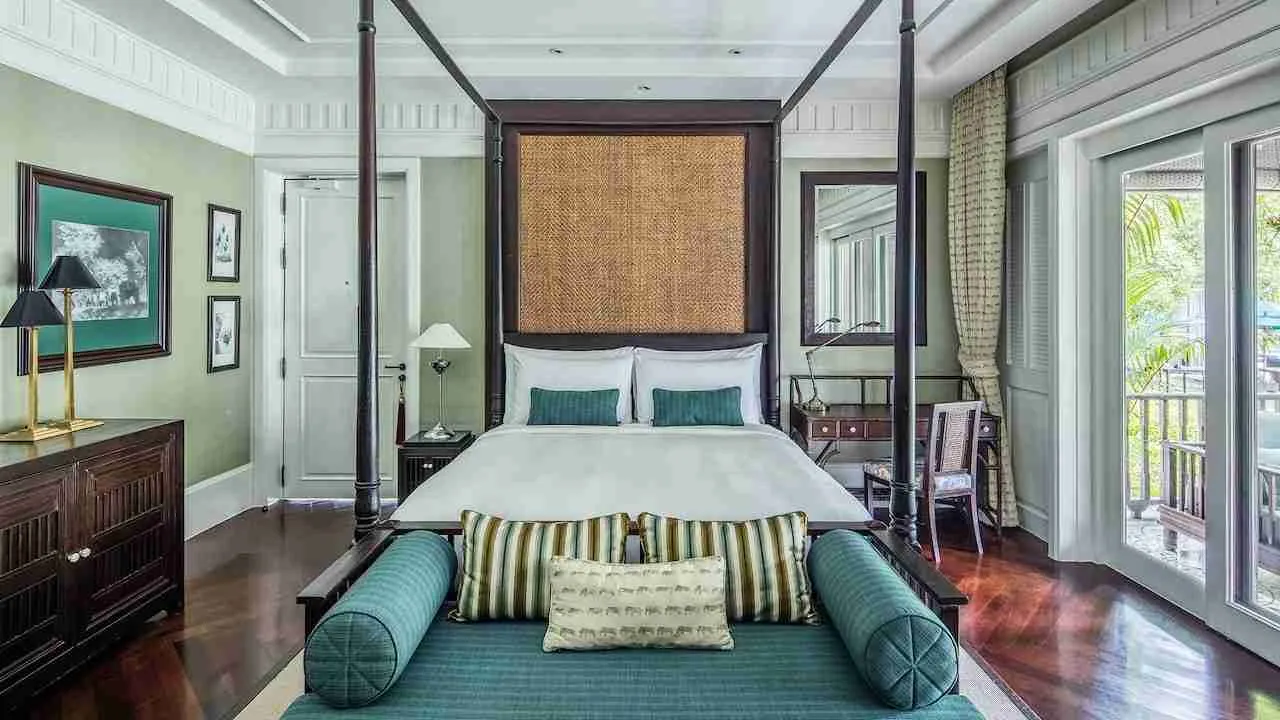 Must-book: Louis Leonowens Pool Suites
Highlight: Feel like royalty in this English-style suite furnished with massive king bedrooms, spacious living rooms, modern bathrooms, walk-in closets, a private pool, and more.
Looking for luxury vacations in Thailand isn't hard if you know where to look. Like at the 137 Pillars House Chiang Mai, you'll find yourself in awe of the castle-like structure of the hotel with rooms that will make you feel like a true aristocrat.
Apart from the rooms, the highlights are their wellness centers. Keep the blood pumping in their 5.5m pool and 24/7 gym.
After that, experience the "Seven Pillars of Wellness" at their Nitra Serenity Centre and other must-try luxury travel experiences during your stay.
Anantara Chiang Mai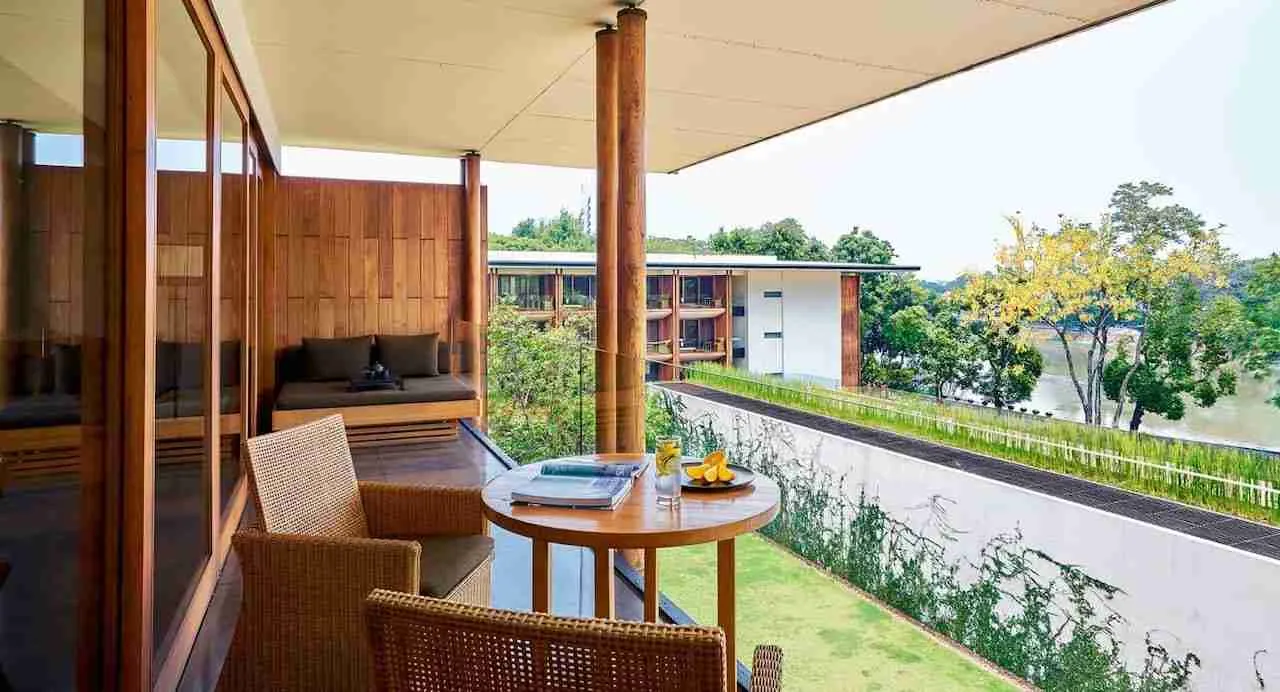 Must-book: Three Bedroom Suite
Highlight: Socialization or seclusion– choose the purpose of your stay in this 3 bedroom suite as you appreciate Chaing Mai at its finest through their world-class services and offerings.
If you're looking for the best place to stay in Thailand, choosing a property by Anantara can give you just that, especially in Chiang Mai.
This hotel has only 24 suites to focus on the guests and exceed their expectations with their signature hospitality.
The decor of this contemporary residence is nature-inspired yet luxurious to give you a feeling of home throughout your travels.
As you stay inside their beautiful rooms and maximize their facilities and amenities, you'll find yourself wanting to stay in Chiang Mai longer and longer.
Cape Nidhra Hotel, Hua Hin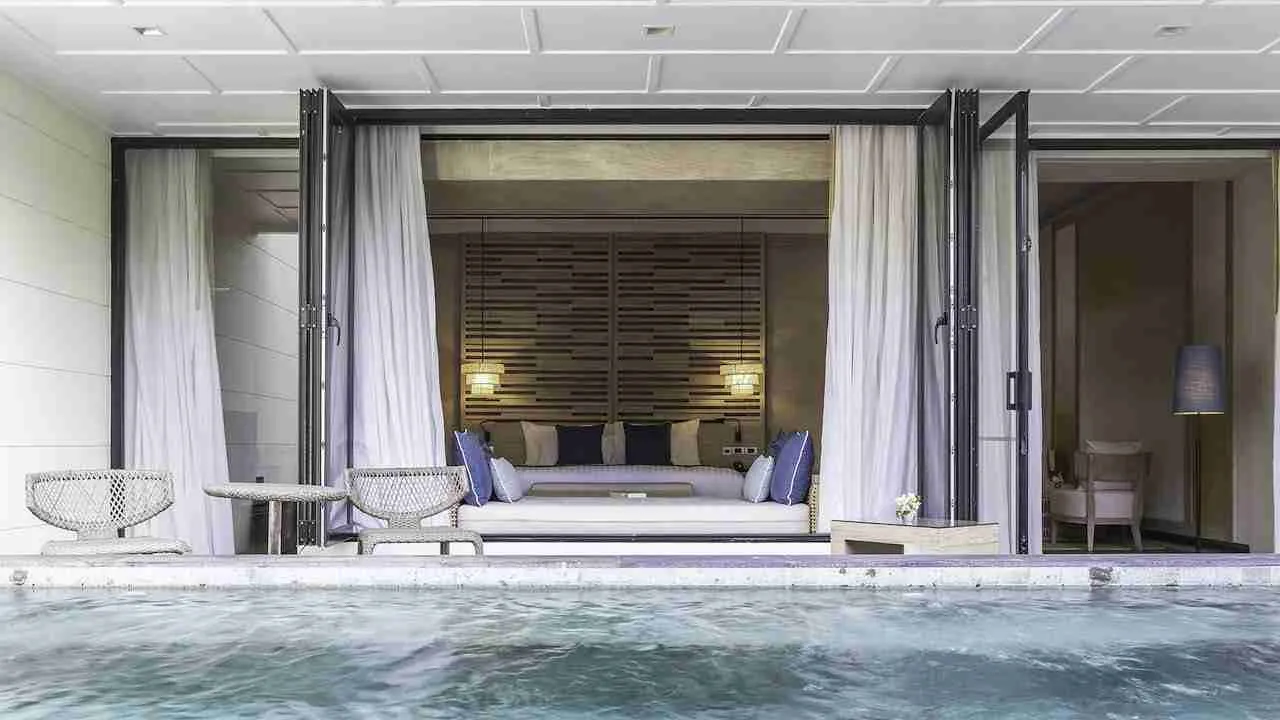 Must-book: Nidhrarom Suite
Highlight: This 300 sq m hotel flagship offers a fully-furnished private villa that will make Hua Hin one of your go-to destinations for a city escape.
Hua Hin is a laid-back beach town, which is the exact opposite of Pattaya. Expect to unwind and relax as you get pampered by the sight of its clean, peaceful shores and, of course, a plethora of quality establishments, such as the Cape Nidhra Hotel.
This hotel has beach-front access, swimming pool, fitness center, Cape Spa, reading room, limousine rental, golf cart rental, and many more.
As if those aren't enough, the Nidhrarom Suite will make you want to spend all day in this private villa composed of a large master bedroom, living space, two ensuite bathrooms, and private pool.
Want to explore Hua Hin? Let our lifestyle concierge book for you the best activities in and around the city for a truly unique holiday customized to your liking.
Cape Panwa Hotel Phuket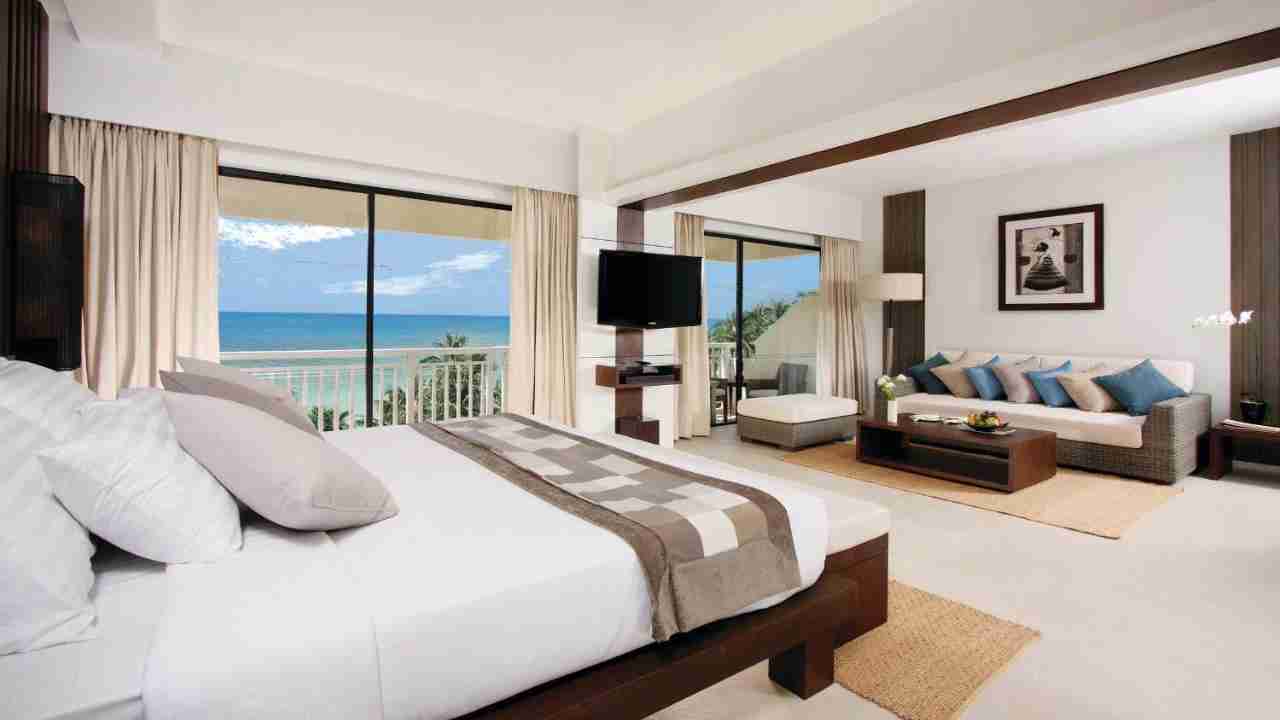 Must-book: The Cape Absolute Suite
Highlight: This 530 sq m penthouse boasts a 360 view of the spectacular Andaman Sea in its two-bedroom suite with a private lift, infinity pool, spa facilities, and many more.
Looking for a honeymoon place? Cape Panwa Hotel Phuket is a romantic hotel that will impress your loved one the moment you enter its property, especially their The Cape Absolute Suite.
This sole penthouse will make you feel like you're on top of the world with its breath-taking views, 90 sq m infinity pool, private spa facilities, and private lift leading to a room you can call yours.
The venue is also perfect for holding weddings with its lush garden and 5-star services. If you want to do some activities, you can rent a yacht in Phuket and do water activities such as diving, snorkeling, and more.
Cape Kudu Hotel, Koh Yao Noi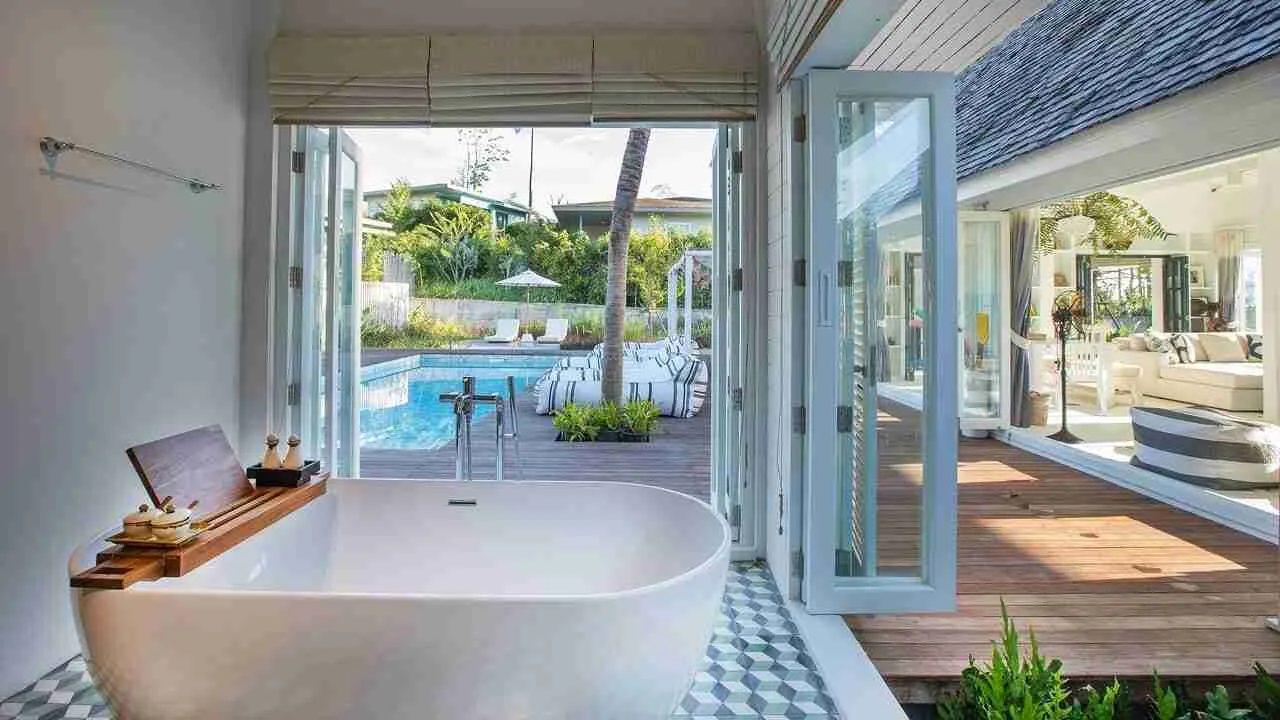 Must-book: Baan Yu Yen
Highlight: Set in arguably the most beautiful hotel in Thailand, the fully-furnished interior, the golden nature environment, and global hospitality make Baan Yu Yen the ideal holiday home.
Crystal clear water and flourishing wildlife are what surround the beautiful Cape Kudu Hotel at Koh Yao Noi.
Every day can be an adventure and will give you a 5-star luxury experience whether you explore the island of Phang Nga via private yacht, enjoy all the facilities of the place, and, of course, stay indoors in your private villa.
The 2-bedroom Baan Yu Yen is the perfect family-friendly holiday home for everybody. It's fully furnished already complete with everything that feels familiar like books, toys, and decorations– but with a sophisticated touch.
You will also have 2 pools on the property and a 25 sq m fully equipped kitchen area, so you can freely host an intimate gathering for friends and family.
The Pavilions Anana Krabi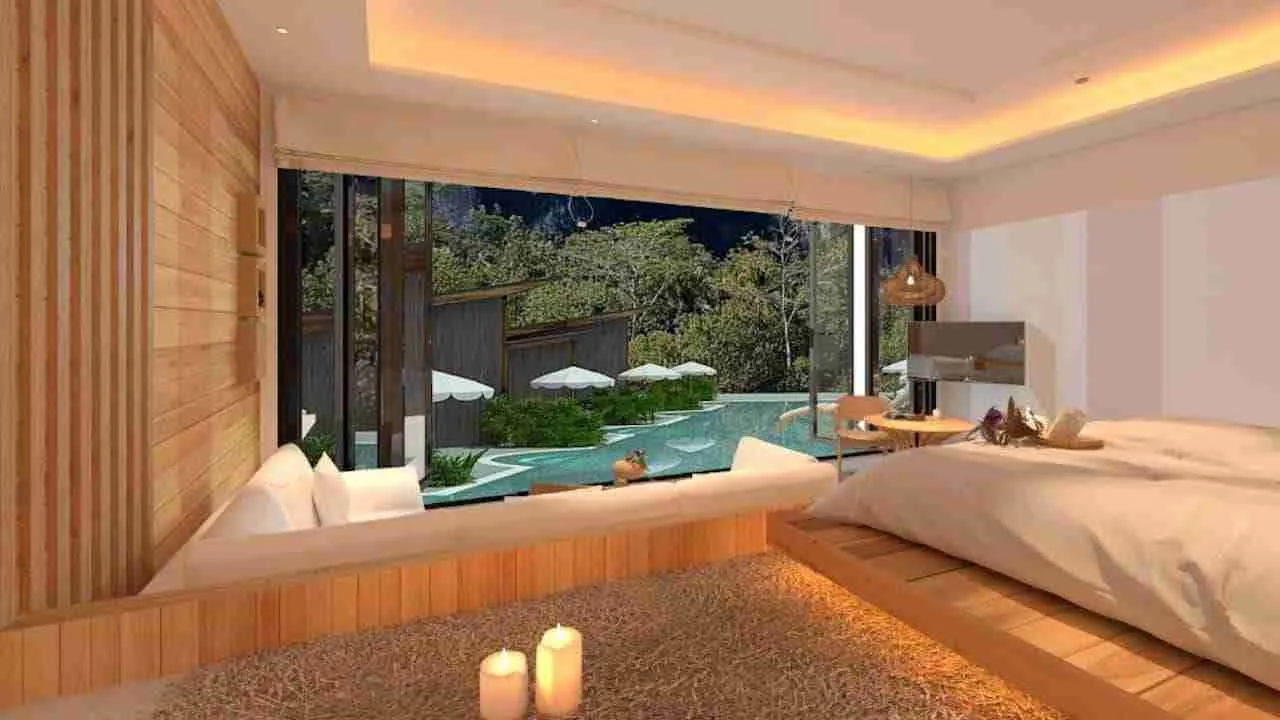 Must-book: Pool Access Suite
Highlight: Have direct access to the pool in your cabana-inspired suite with tones that will remind you of a tropical staycation at Canyon Point Utah.
Krabi is famous for adrenaline-seekers looking for an adventure.
After a long day of exploring, stay at The Pavilions Anana Krabi to refresh your mind and body.
The architecture and interior are very pleasing to the eyes, which has earth pastel tones that will remind you of Canyon Point Utah.
The rooms are modern with a cabana-inspired design. You will feel like you're in a luxury staycation but still geared up for a day filled with excitement and fun.
Able to compete with the best luxury pool villas in Krabi, their Pool Access Suite is the best choice so you have direct entry to the pool whenever you feel like going in for a dip.
Hyatt Regency Koh Samui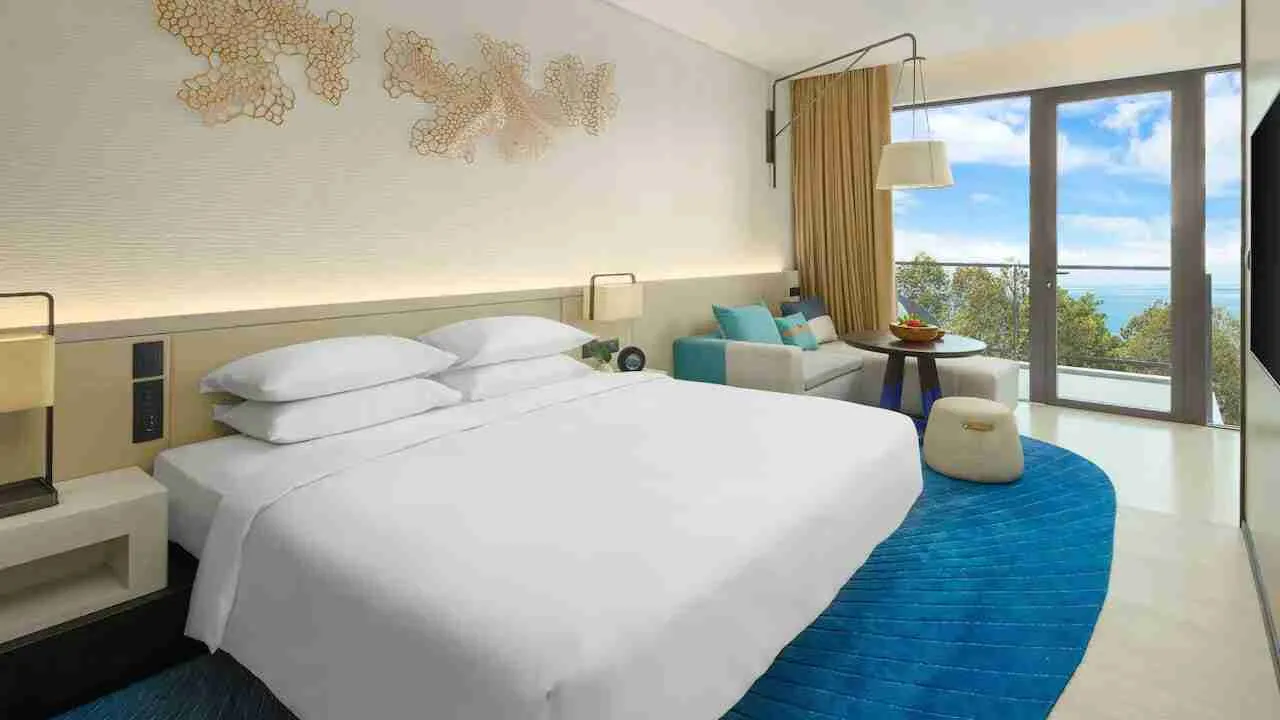 Must-book: 1 Bedroom Presidential Pool Villa
Highlight: This 386 sq m presidential pool villa will impress you with its modern living design, state-of-the-art amenities, and Regency Club benefits that come along with your stay.
Koh Samui is the best island to go to for a balance of nature and party life.
You'll find all sorts of fun there, but it can start in your own 1 Bedroom Presidential Pool Villa at Hyatt Regency Koh Samui. As you can see, it showcases a contemporary beachfront villa that is luxurious in all ways.
You'll enjoy the expansive space from bedroom to patio, swimming in the beautifully-designed infinity pool, and enjoying sips and eats at the exclusive Regency Club.
When you're hungry, you can visit their highly-rated restaurants and bars for a nightcap.
Then to immerse yourself in the island life, there are tons of nearby attractions that you can visit conveniently from your location.
Luxury Hotel for Everyone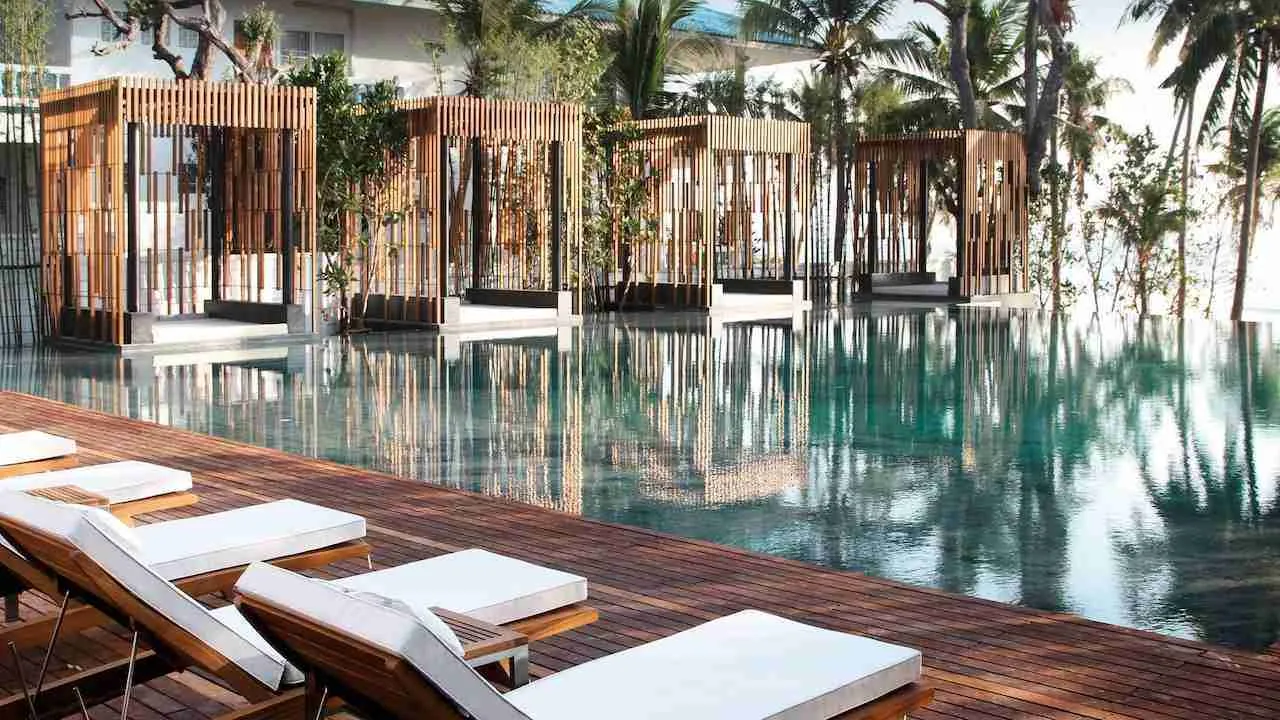 Whatever your preference and budget are, there are countless luxury hotels in Thailand we can arrange to suit your liking.
Our concierge works closely with the best hotels in the country to secure your booking at any date with complementary deals, packages, and gifts.
We can assist you with way more than bookings such as:
Transportation arrangements
Visa preparations and processing
24/7 concierge
Security assistance
Entertainment add-ons (bikini models, DJs, private chefs, etc.)
… and more!
Contact VLS today to get your adventure started!
FAQ
What is the best hotel to stay in Thailand?
The Cape Panwa Hotel Phuket is the best hotel to stay in Thailand.
What is the most expensive hotel in Thailand?
The Mandarin Oriental is the most expensive hotel in Thailand with suits starting at 432,000 THB per night.
Where are the best luxury hotels in Thailand?
Bangkok is the city with the most luxury hotels in Thailand like The Mandarin Oriental, The Siam Hotel, Sindhorn Kempinski Hotel Bangkok, and more.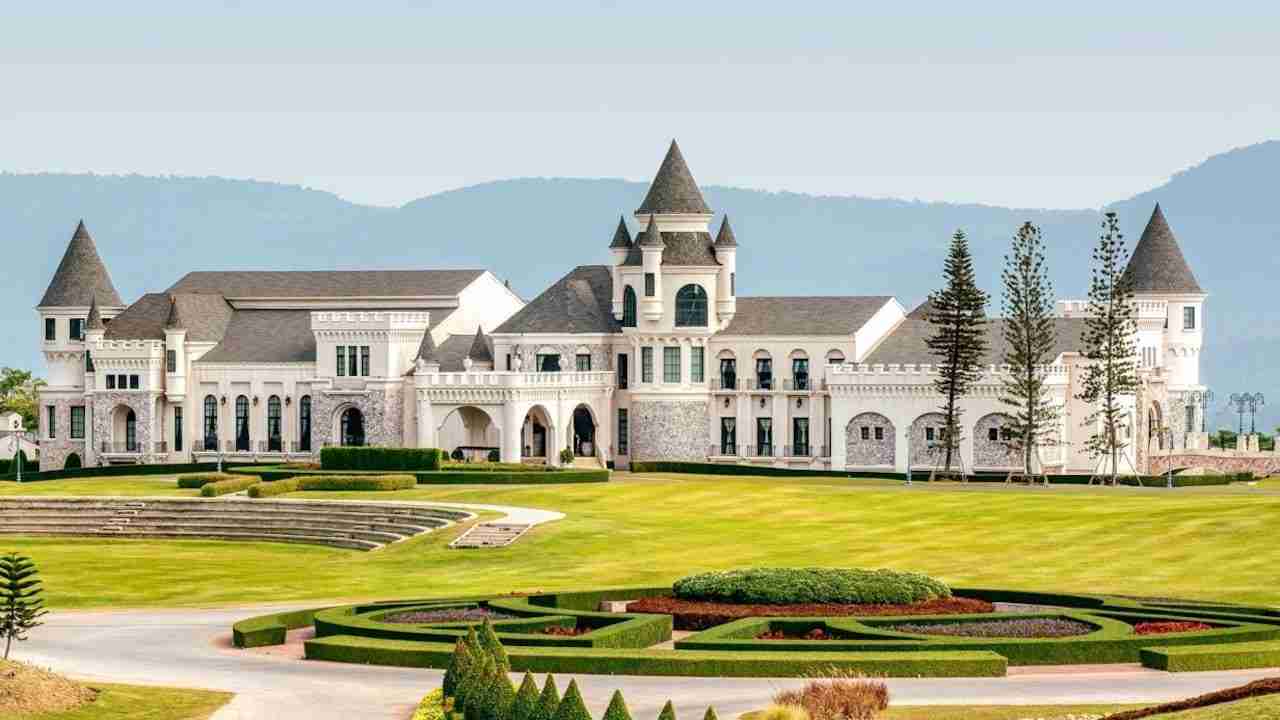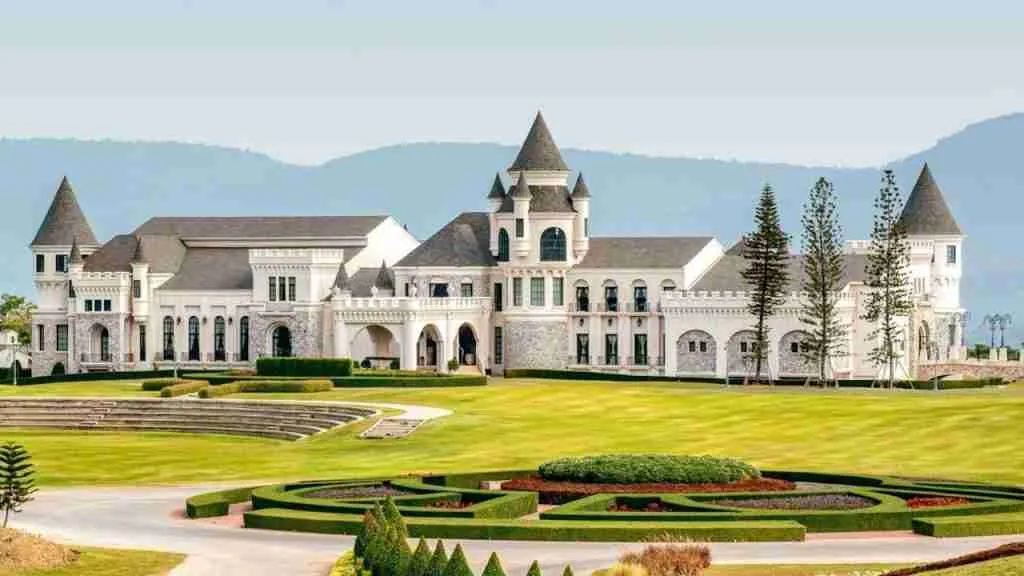 Planning your stay in Thailand?
Our concierge is there to help you at every step of your trip, with luxury accommodations, VIP bookings, staff, and more.