Pattaya is a vibrant city that thrives along Thailand's eastern Gulf. It's a great destination to go to if you're looking for a mix of urban pleasure and nature retreat that is only 2 hours away from Bangkok.
The city can be categorized into three main beach areas, which are Naklua, Central Pattaya, and Jomtien. Each has its own characteristics, which can be great to narrow down where you plan on staying during your trip.
If you're looking for the best place to stay in Pattaya, you're at the right place.
VLS has access to exclusive prices and special benefits of high-end hotels and resorts that you won't find anywhere else.
Check them out:
Intercontinental Pattaya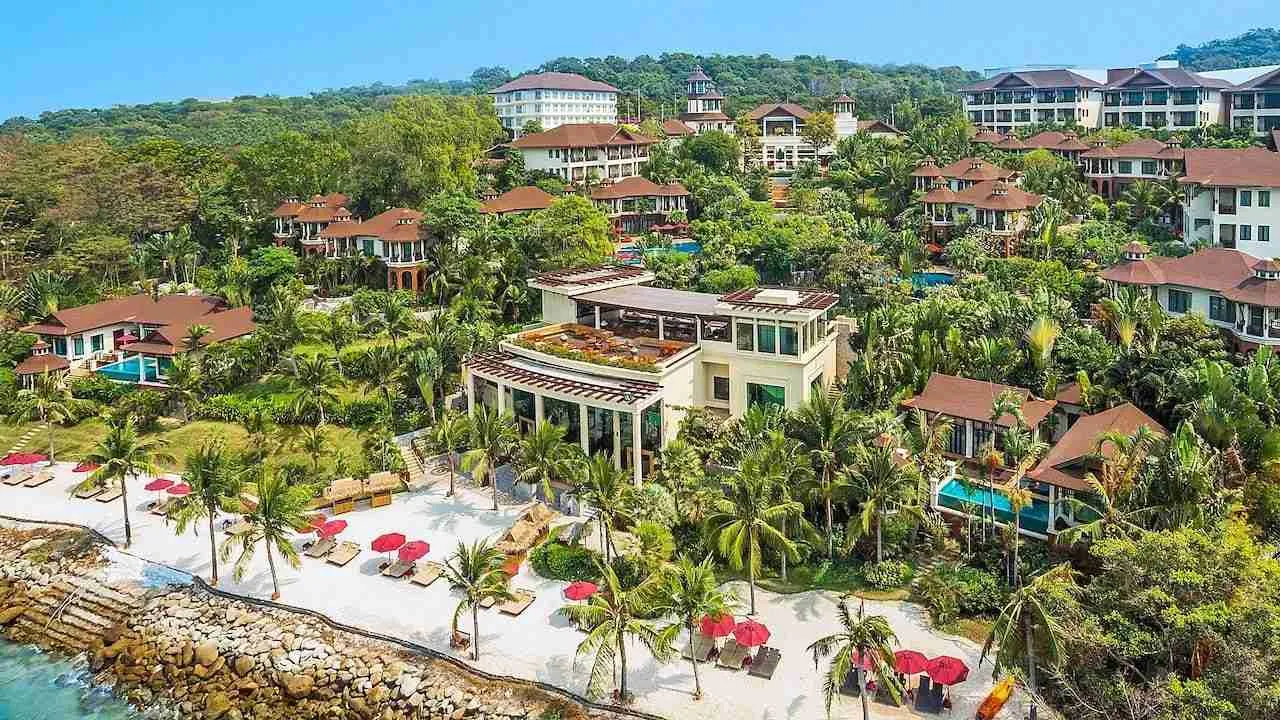 Location: Central Pattaya
Central Pattaya is the ideal location to stay at if you're into the party scene. It is near Walking Street and all the main bars and clubs in the city.
Find yourself in a luxurious stay at Intercontinental Pattaya, especially at their Baan Sai Nam 2 Bedroom Pool Villa. It's 210 sqm indoors and has a 50 sqm outdoor terrace overlooking the ocean and neighboring islands such as Koh Larn.
Apart from the private plunge pool and sundeck area, the facilities are amazing and they provide countless club privileges for executives who want that ideal work-life balance.
Hilton Pattaya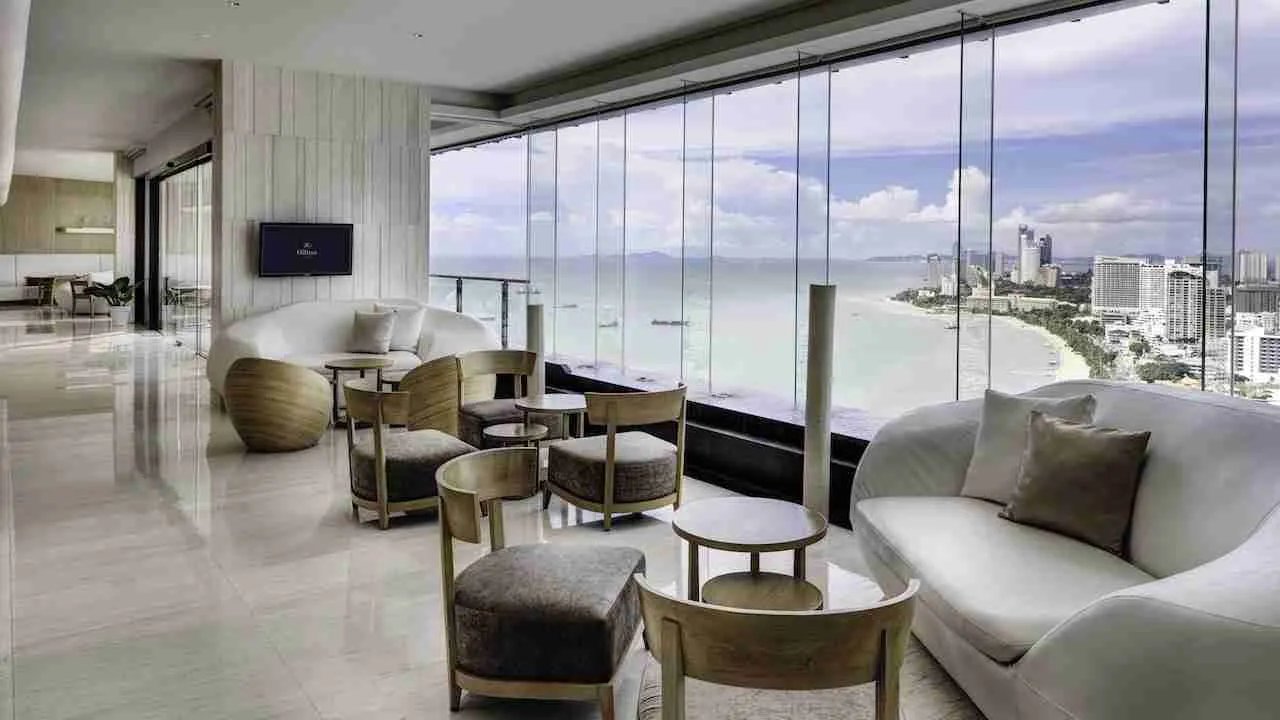 Location: Central Pattaya
After a long night of partying and drinking, you can unwind and relax in Hilton Pattaya's Ocean Residence.
It has 2 bedrooms, a spacious living room, and a kitchenette– complete with everything you might need for an upscale stay. You also have access to their executive lounge on the 33rd floor, which includes daily breakfast, afternoon tea, and evening cocktails.
The best part? You get a good view of Pattaya in its glory from this 34-story hotel.
You can also elevate your experience by arranging special requests with VLS, like private parties, special treats, and more.
Mason Pattaya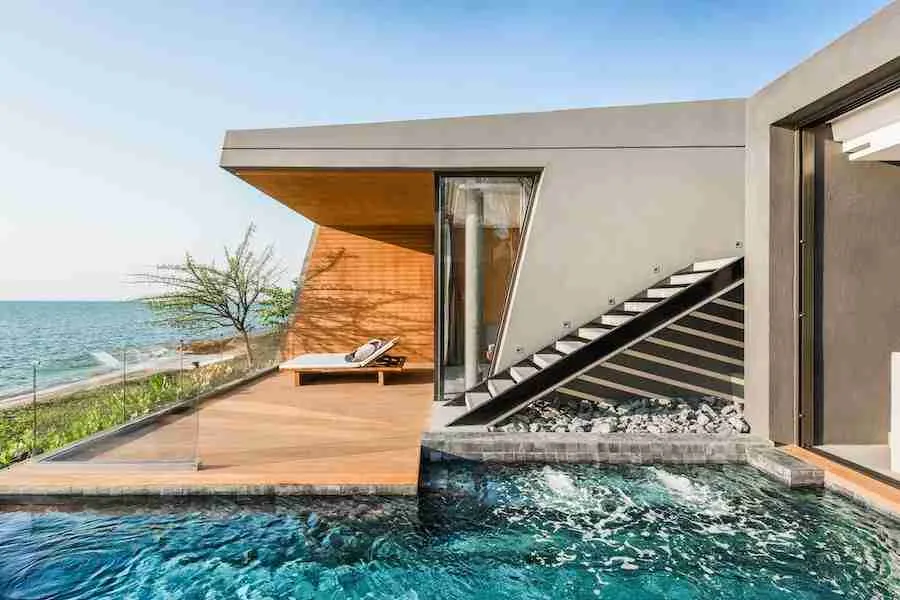 Location: Jomtien Beach
MASON Pattaya is both stylish and ultra-luxurious. The architecture and interior of this incredible resort alone would make you feel like a true VIP with its modern and lofty decor.
They only have villas varying in size. The Double Grand Pool Villa has 2 master bedrooms, 2 large bathrooms, and 1 spacious living room.
It's strategically-structured so that all corners of the place showcase the stunning view of the ocean with a private pool and jacuzzi to top it all off.
Do note that this resort is close to the Marina, perfect for a yacht party in Pattaya. It's also always in very demand. VLS can help you book with a guarantee.
Centara Grand Mirage Pattaya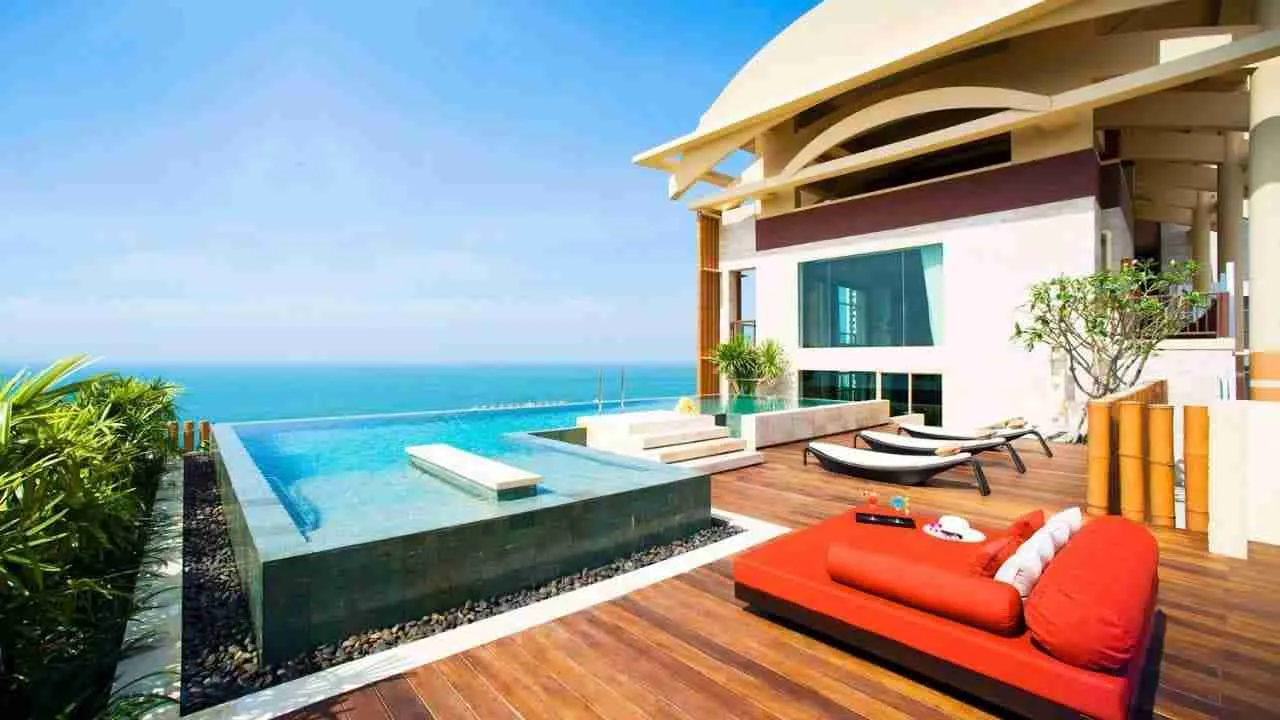 Location: Central Pattaya
Want to experience the best of the best in Pattaya Beach? The Club Mirage Royal Suite Ocean View at Centara Mirage Pattaya stays true to its name and will make you feel like royalty.
With an astounding size of 326 sqm and starting at 76,000 THB per night, this two-story suite has everything that you need to feel world-class hospitality. The design is very contemporary with backdrops of nature.
It has a gorgeous chandelier, jacuzzi in the bathroom, and unique designs that make the room feel upscale. It's worth noting that they have daily maid services, too.
Movenpick Siam Hotel Pattaya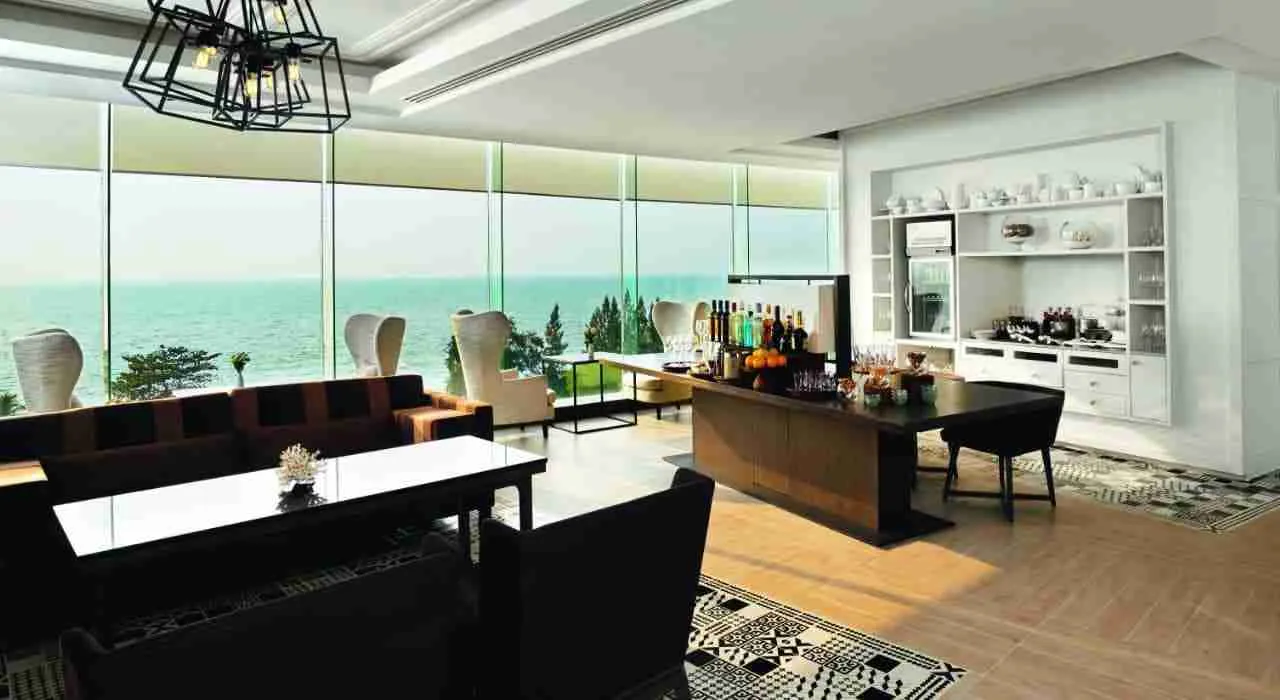 Location: Jomtien Beach
Jomtien Beach is a laid-back area in South Pattaya with a good mix of locals and tourists. It's a few distances away from the main street, but you'll find its luxurious facilities and warm Swiss hospitality rewarding.
Movenpick Siam Hotel Pattaya is a relatively new luxury hotel and is the "region's only international five-star hotel outside of Central Pattaya".
It consists of 260 stylish rooms that all offer the ocean view and cool amenities like their Wave Spa and lagoon swimming pool.
The Wave Spa is their wellness center where they make sure that the treatment artfully blends techniques and procedures that are inspired by the ocean. It's relaxing and, above all, top class on many levels.
It's also near Pattaya International Airport and other attractions such as the Sanctuary of Truth, Khao Chi Chan, and more– perfect if you're up for more adventure during your stay.
The Monttra Pattaya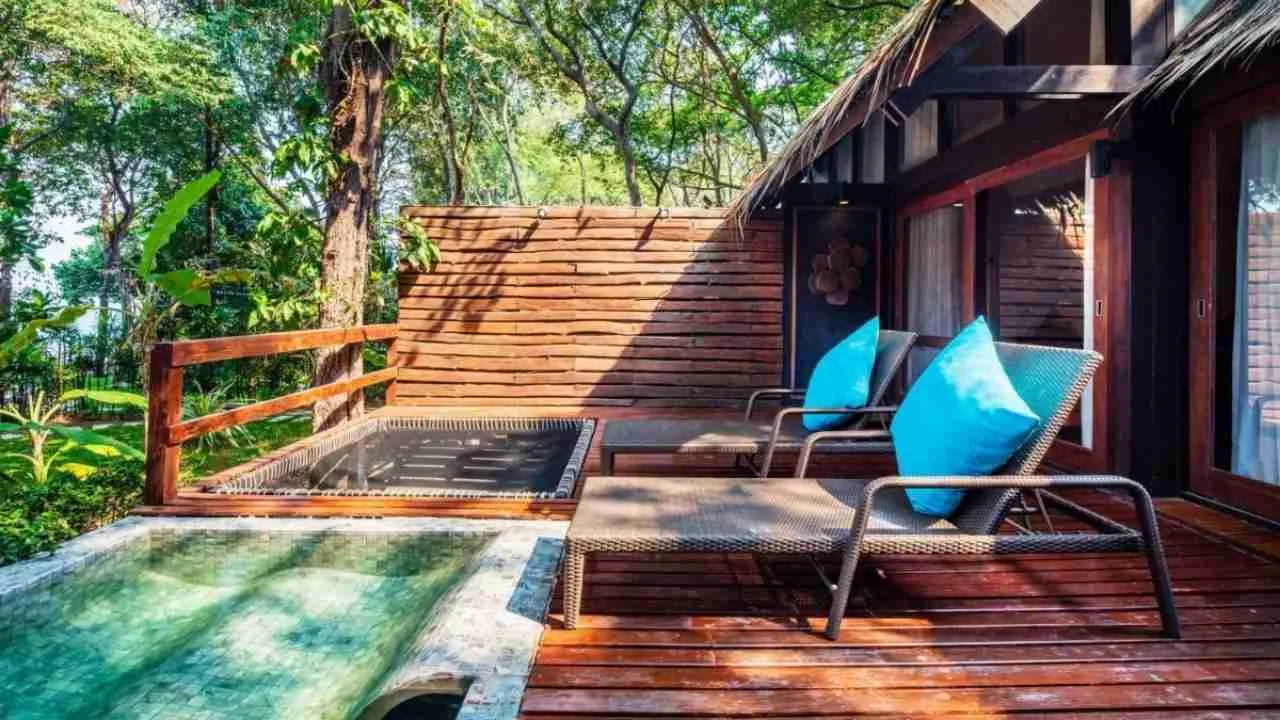 Location: Central Pattaya
The Monttra Pattaya is a terrific beach hotel choice for lovers. It's secluded on a mini cliff, so it gives a breath-taking scenery of the eastern gulf for a romantic and intimate moment.
The must-book room here is their Canopy Plunge Pool Suite. The interior is similar to a cozy cabin with a high ceiling and a sleek bathroom. Upon going to the patio, you have a private pool in your own backyard.
The composition of the pool is unique, which makes it a good spot for lounging and sunbathing.
If you want to go and explore, their infinity pool is also nice. The golden hour hits this spot, so it's an excellent spot to catch the sunset with a few drinks on hand.
Renaissance Pattaya Resort & Spa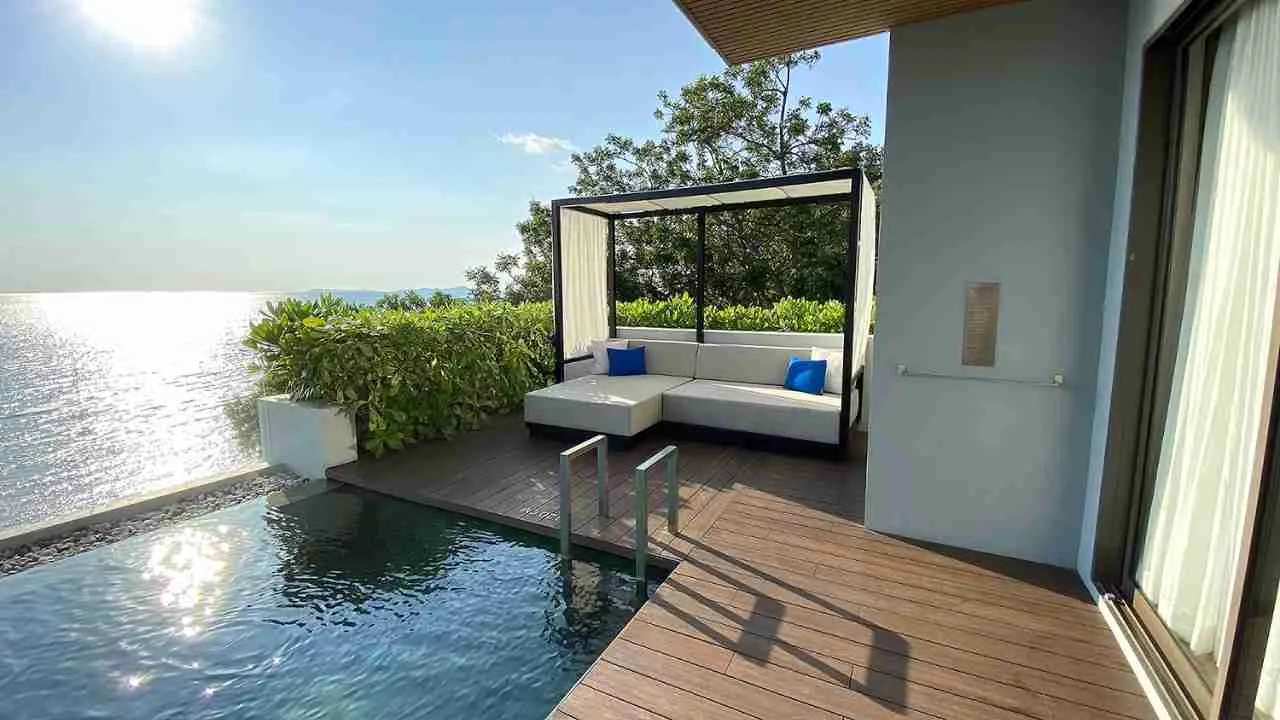 Location: Jomtien Beach
The Renaissance Pattaya Resort & Spa is a 5-star ocean-front paradise and is a must-visit travel destination.
It has a variety of rooms, suites, and villas with outstanding amenities and facilities that will make your stay worthwhile.
The Beachfront Pool Villa Bedroom is not to be missed.
It's similar to a penthouse with incredible lighting, an oversized loveseat, and a spacious balcony overlooking the seascape. The bathroom is very eye-catching, as well, with its majestic tiles featuring a walk-in shower and separate bathtub.
Want to do some activities? There are many aquatic sports available near the hotel so you can soak up the sun to your heart's content.
When you get back, treat yourselves to some scrumptious feast at their in-house restaurant. Don't forget the champagne!
Cape Dara Resort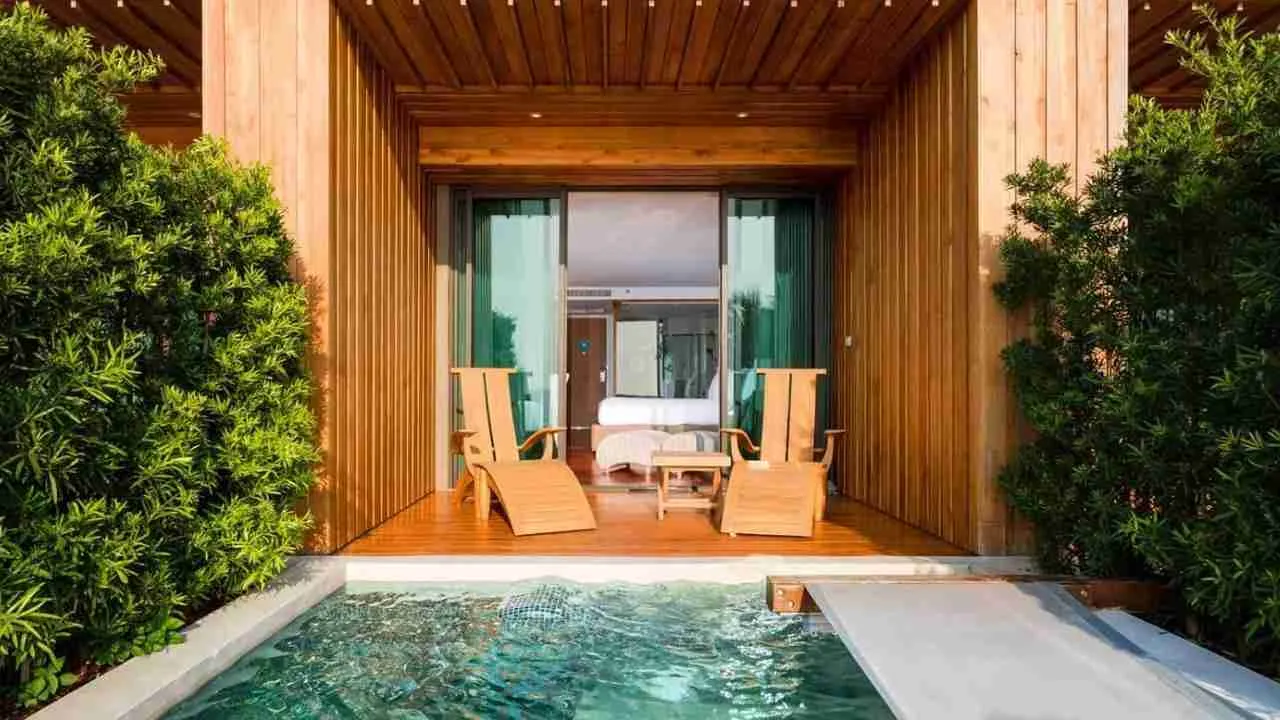 Location: Central Pattaya
Cape Dara Resort is the only resort that offers pool residence on a private beach in Pattaya. They have a 3-story mansion that you can rent all to yourselves.
With a size of 855 sqm, it can fit up to 10 persons. It has a total of 5 grand bedrooms with ensuite bathrooms, spacious living room, full kitchen & dining room, and a private swimming pool.
It's the type of home that you would see in Los Angeles with its modern furnishings and high ceiling structure– ideal for parties since the beachfront is yours, too!
Don't worry if you don't know how to host your party. Contact VLS to help you organize the hottest private event yet.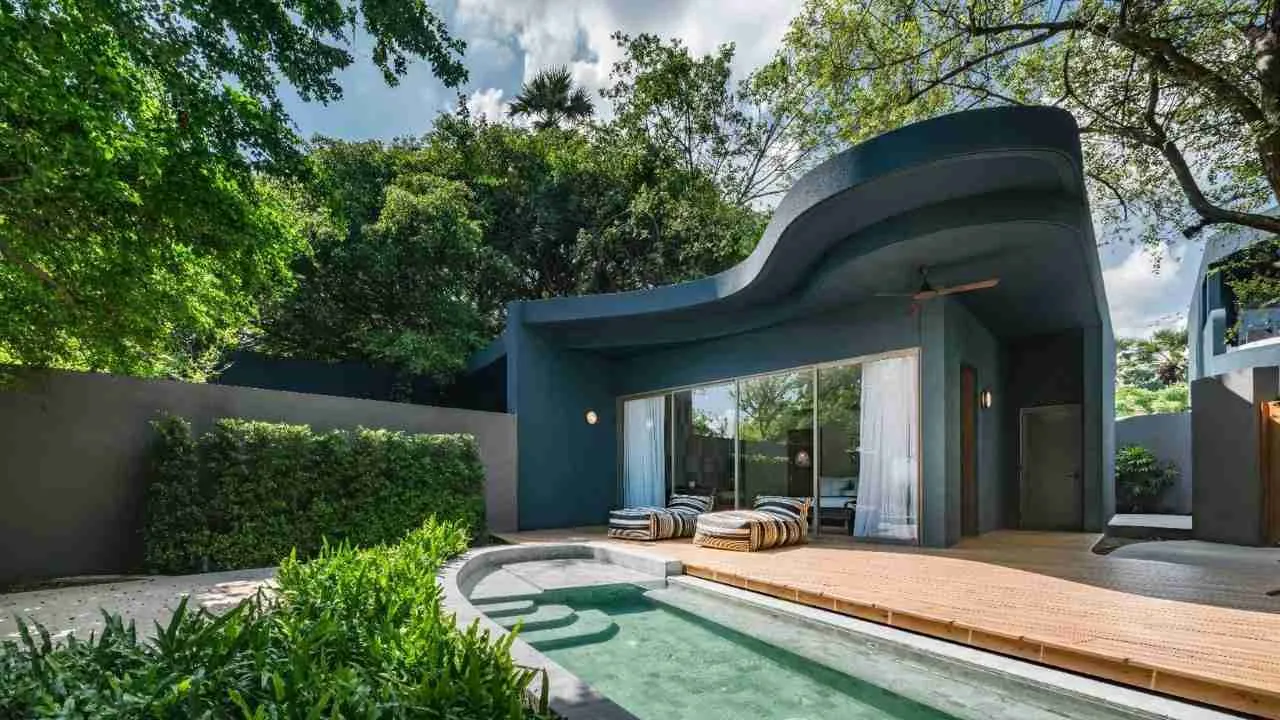 Location: Naklua
Going a bit north in Pattaya, enjoy a tropical retreat at Navana Nature Escape. This part of the city is more local and quieter than other beach areas, so the ambiance of the resort is very fitting.
Upon entering the haven, you'll find yourself in a quiet beach cove with an ultra-luxury resort that stands out.
If you check out the Grand Beachfront Pool Villa, this 223 sqm room is striking day or night.
In the morning, you'll find the sun shining on its unique design under the tree shade. At night, the place lights up with popping colors.
Staying here will surely impress your date or loved one.
What more if you take them to their Sky Lobby Bar, Wine Bar, and Meen Restaurant? It's a sure spot that will leave a positive impression on anyone.
Avani Pattaya Resort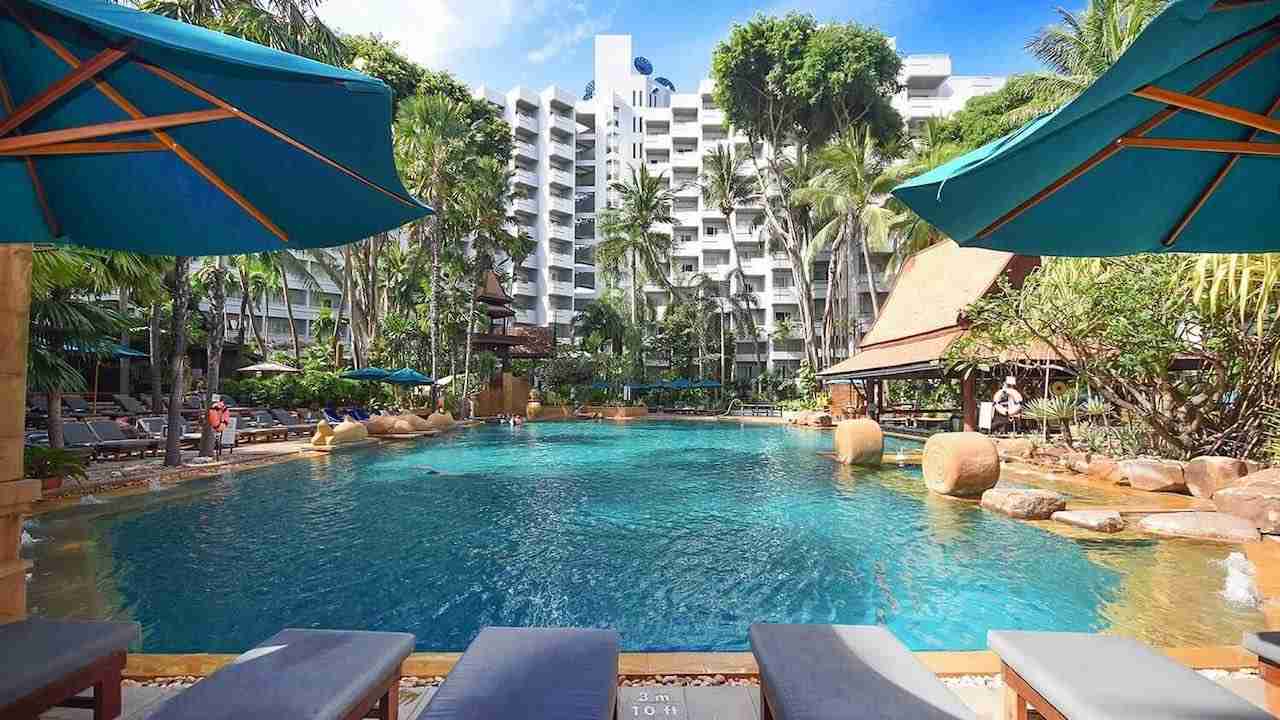 Location: Central Pattaya
The Avani group is known in Bangkok for throwing extravagant parties. It's the same at the Pattaya resort branch.
If you're into the party scene, staying at Avani Pattaya Resort will give you convenient access to the many events they organize. The crowd that goes there knows how to have fun, so that can be a good reason to stay there if you want to meet people.
Check-in at their Presidential Suite for the whole package. You will feel like a true VIP with their outstanding hospitality. The room is 120 sqm in size and has a private jacuzzi inside the bathroom.
FAQ
What is the most expensive hotel in Pattaya?
The most expensive hotel in Pattaya is Cape Dara Resort with its residence totaling up to 300,000 THB per night.
What is the best luxury hotel in Pattaya near the beach?
The best luxury hotel in Pattaya near Walking Street is Centara Grand Mirage Pattaya. It's the perfect hotel in Pattaya for those who want to explore Walking Street without compromising on the quality of their rest.
What is the best luxury hotel in Pattaya near the beach?
The best luxury hotel in Pattaya near the beach is Mason Pattaya. It offers incredible private villas with a private access to the beach only a few meters from its sea view terrace.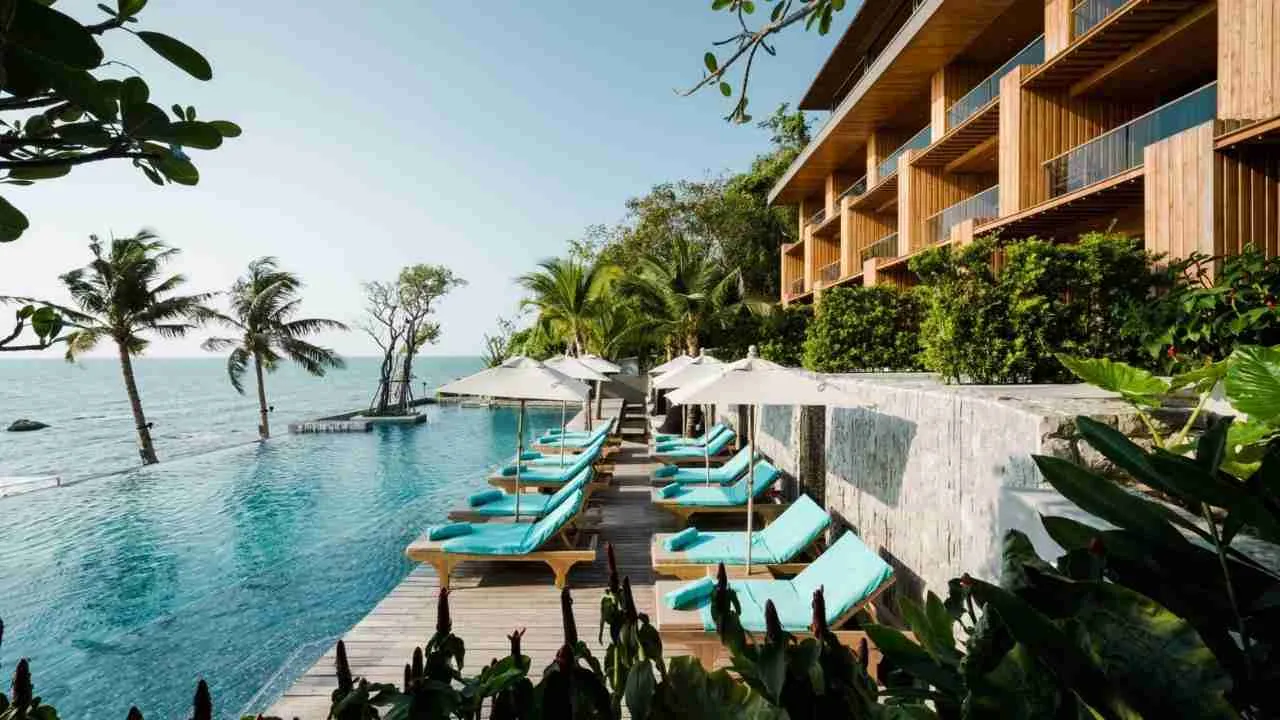 What Are You Waiting For?
Book now with VLS and get exclusive prices and access to these luxury hotels and resorts in Pattaya.
We can also plan your whole stay in the city. Apart from the accommodation, we offer:
Transportation services
Events management
Entertainment packages (bikini models, DJs, etc.)
Supercar rental (with or without chauffeur)
Travel tours
Chartered trips (yacht, private jet, etc.)
… and more!
Whether it's a pool villa or a presidential suite in a hotel, contact us for more details on how VLS can make your stay in Thailand as awesome as it can get.
And for more recommendations on where to stay in Thailand, don't forget to check our lists of the best luxury hotels in Bangkok and in Thailand.
Also, if you want our concierge service to sort out options for a luxury stay in Thailand, click here.