Book Your Luxury Villa in Thailand
Thailand is a tropical paradise. With countless immaculate beaches boasting azure waters and powdery-white sands, it has so much to offer for every traveler looking for a summer holiday getaway.
Spending a few nights or weeks at luxury villas will complete the experience, and we can help you make that happen.
Contact us today to explore the options for your stay.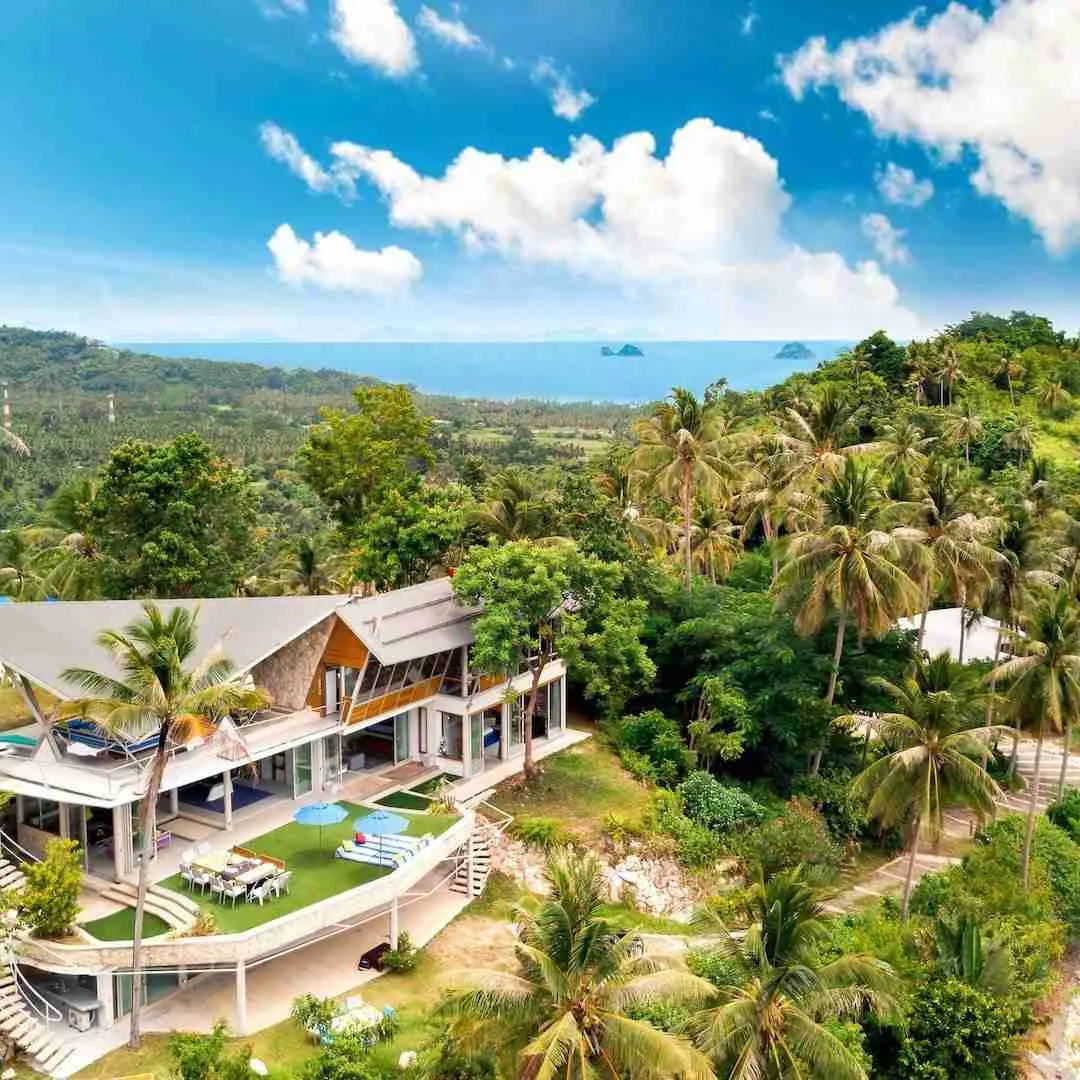 5 Incredible Luxury Villas in Thailand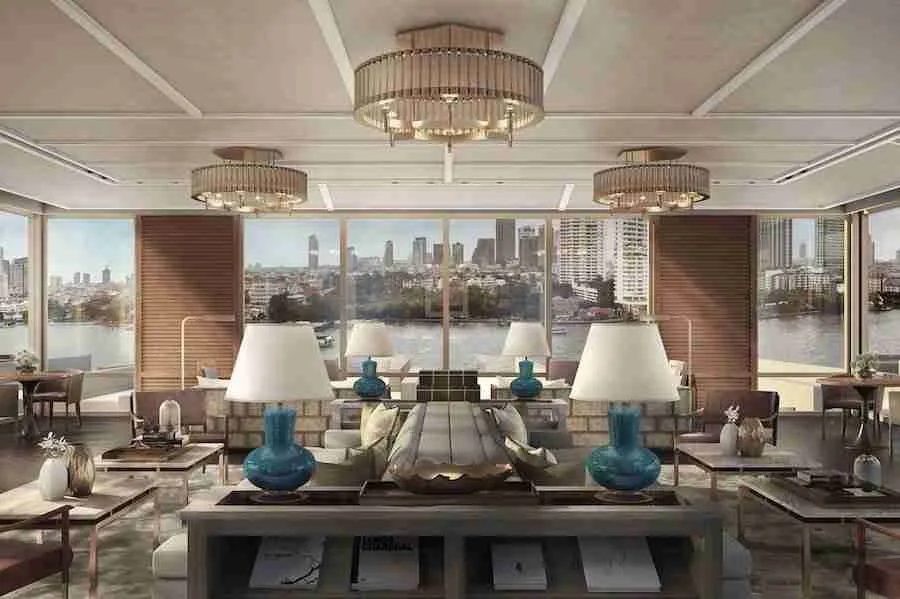 Presidential Villa
Who says Bangkok is just an urban jungle? In the very heart of the city, discover a riverside retreat at one of the best 5 star hotel in Bangkok. It's a luxury hotel that offers state-of-the-art facilities and modern elegance nestled in nature. There are 101 rooms to choose from, but the Presidential Villa is the crème de la crème.
The Presidential Villa can be compared to a boutique hotel on its own. Discover a living room, dining area, and a gorgeous sala and jacuzzi plunge pool in a private garden– all spaciously set in a 595 sqm riverfront room good for 4 adults and 1 child.
Everything is exceptional down to the little details. Take pleasure in velvety-soft Egyptian cotton linens for a peaceful slumber. Its premium in-room technology will give you maximum comfort and convenience too. Enjoy some bubbles and bonbons upon arrival and feast on their complimentary mini-bar.
Plunge into the ultimate indulgence in this villa.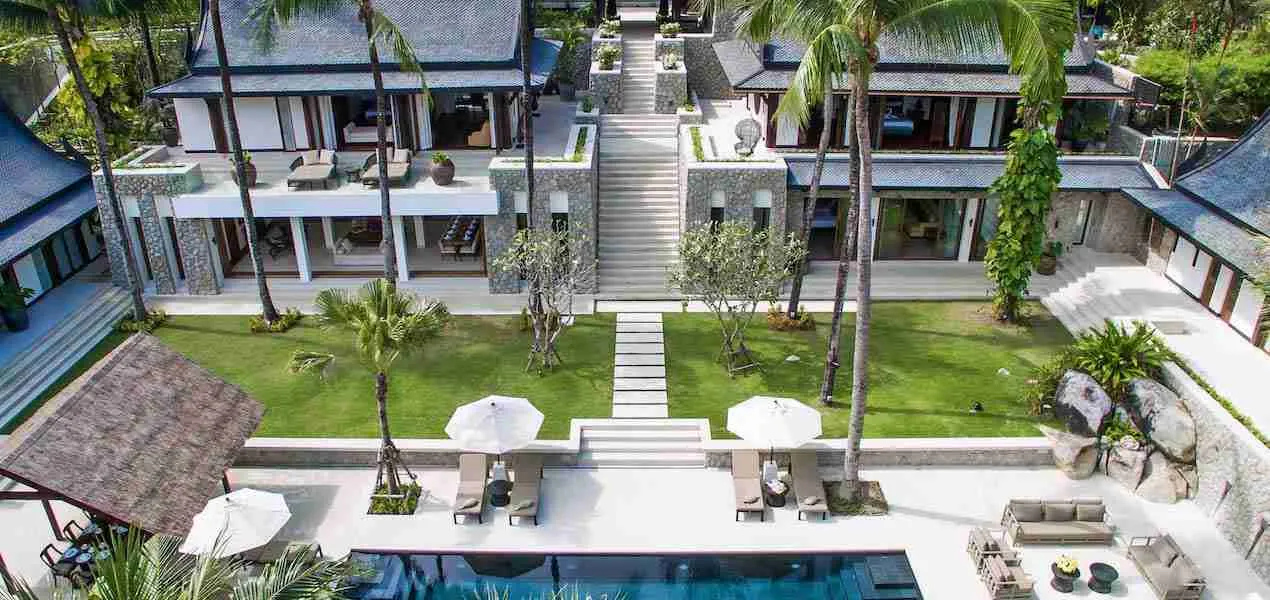 6-Bedroom Villa
This luxurious villa is like a dream for many. It is situated along the exclusive Laemson Estate on Phuket's Millionaire's Mile. This summer destination is complete with everything needed for a lavish stay.
Upon entering, you will be greeted by 5 dedicated staff and a massive infinity pool in fine marble and stone. Surrounding it are the tasteful suites equipped with sophisticated amenities and top-notch technologies.
There are 3 master bedrooms with elegant bathtubs, rain showers, spacious sofa, terraces, and balconies in each. Plus, there are guest rooms connected to the main ones– perfect for people coming in big groups.
Other highlights include a private tennis court, an in-villa fitness room, a spacious outdoor area, a poolside dining sala, and water activities (e.g. kayaking).
Indeed, an exclusive all-in-one dream destination.
Luxury Villa in Koh Samui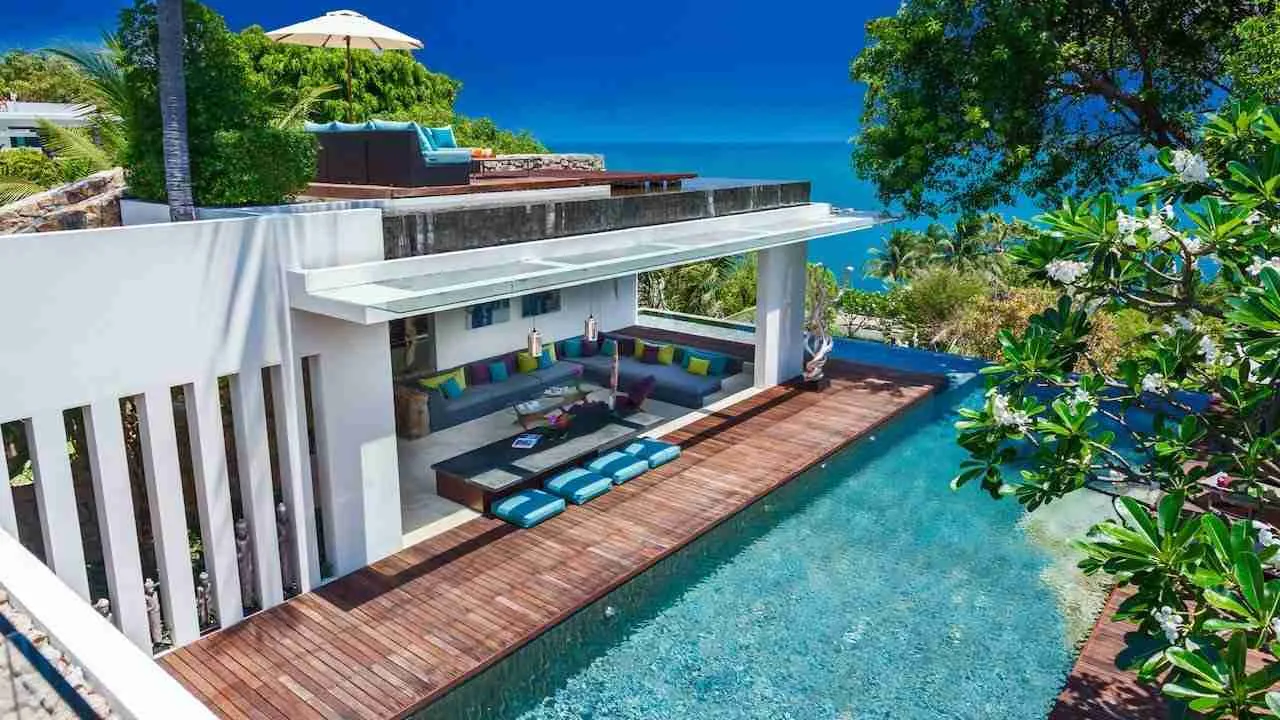 6-Bedroom Villa
This superb villa cannot be missed when talking about luxurious stays in Koh Samui. Being just an hour and a half away from Bangkok, find grand splendor in this unforgettable and incomparable estate in Asia.
The unique selling point of this villa is its incredible, artistic architecture. The design takes advantage of the natural rock formation to create stunning beauty. With its wooden theme and tropical ornaments, it's easy to fall in love with the place.
Everything is made to be minimalistic whilst incorporating modern touches. Inclusive of 1 master bedroom and 4 guest rooms, a fancy dining area overlooking the infinity pool and the sea, and a cozy theater room, each sight is an opulent spectacle that's worth going to.
Find the perfect blend of privacy and relaxation.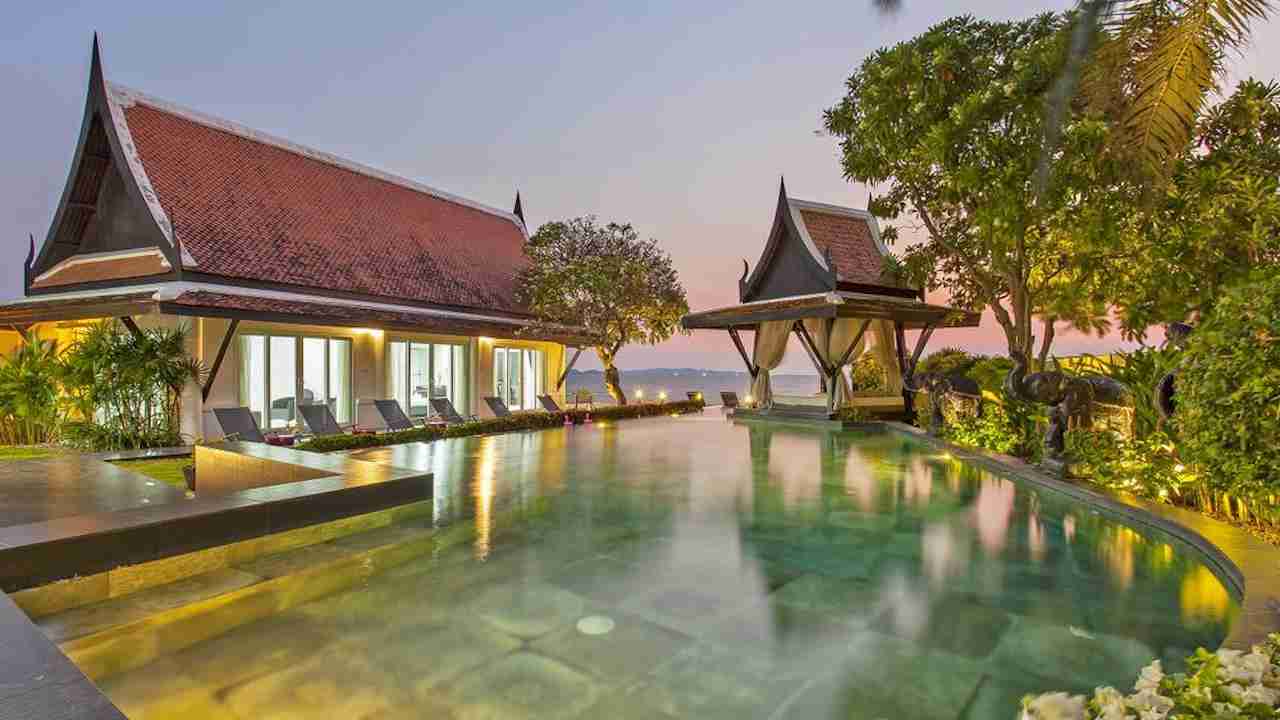 Private Villa
No need to go far from Bangkok to seek a tropical oasis. The beautiful villa is a must-visit destination for an authentic Thai island experience.
They offer world-class luxury to each guest whilst incorporating touches of Thai specialties in its design and decor. The buildings, the sala, and many more will surely be the true definition of "The Land of Smiles".
This is a spacious beachfront villa overlooking a gorgeous pool and clear waters. It has 6 bedrooms, deck terraces, and plenty of lovely bathrooms suitable for 12 people.
Extra requests are also available for an even more enjoyable experience such as airport transfers, car rental, private chefs, babysitters, tour packages, etc.
Discover oriental beauty just a few hours away from Bangkok.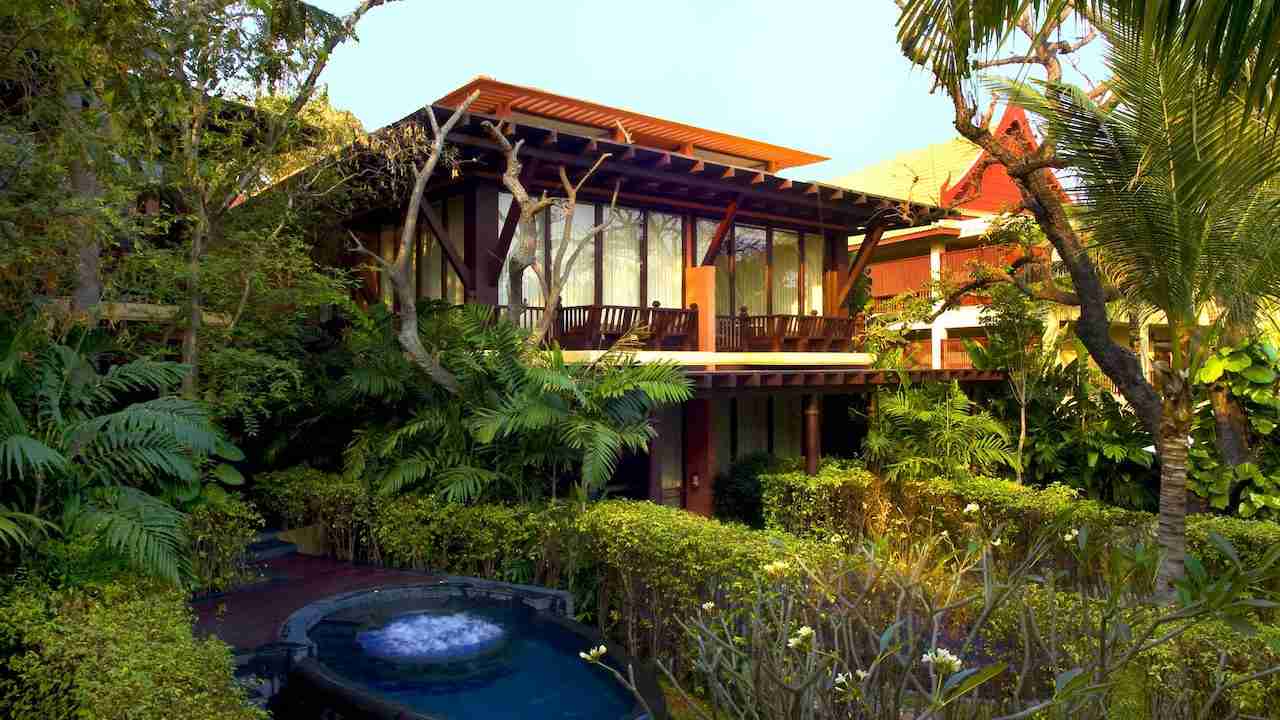 Presidential Pool Villa
Despite its extravagant atmosphere tinted in bronze and gold highlights, The villa hotel is anything but. It exudes a homey feel yet boundless in eternal evergreens. Be surrounded by the serenity of nature, cocooned in a modern and exclusive pavilion.
Enjoy a private plunge pool enclosed in an ornate landscaped garden for a satisfying sun session. Indoors is just as refined as the outdoors with its amazing interior. It features a pretty bathtub and a grand master bedroom showcasing a picturesque view.
Don't miss out on one of the resort's best amenities, which is the spa services. It's like the Garden of Eden filled with soothing visuals and energizing ambiance. The villa hotel offers a range of treatments that will invoke all senses for a much-deserved pampering from head to toe.
Look no more for the ultimate luxury destination for spa and wellness.
Plan your next holiday now and book directly with us for a seamless and worry-free travel experience.
We have access to the largest collection of luxury vacation rentals in Thailand. Plus, each booking gives you a direct line to our VIP concierge service to accommodate every request you might have during your trip, from luxury cars to private chefs.