There are several advantages to staying at serviced apartments, especially in Bangkok.
You won't be tied to any long-term contracts, you get daily/weekly cleaning, and, lastly, you get more of your money's worth than with hotels.
But with so many options out there it can be hard to find the right one. That is why we made for you a list of the best serviced apartments in Bangkok to help you decide on where to stay to make residing in Thailand convenient, comfortable, and classy.
These listings were curated based on VLS' reliable repertoire as a luxury concierge and takes into consideration the amenities, facilities, and location (near malls, landmarks, nightlife, activities, etc.). Check them out!
137 Pillars Suites & Residences Bangkok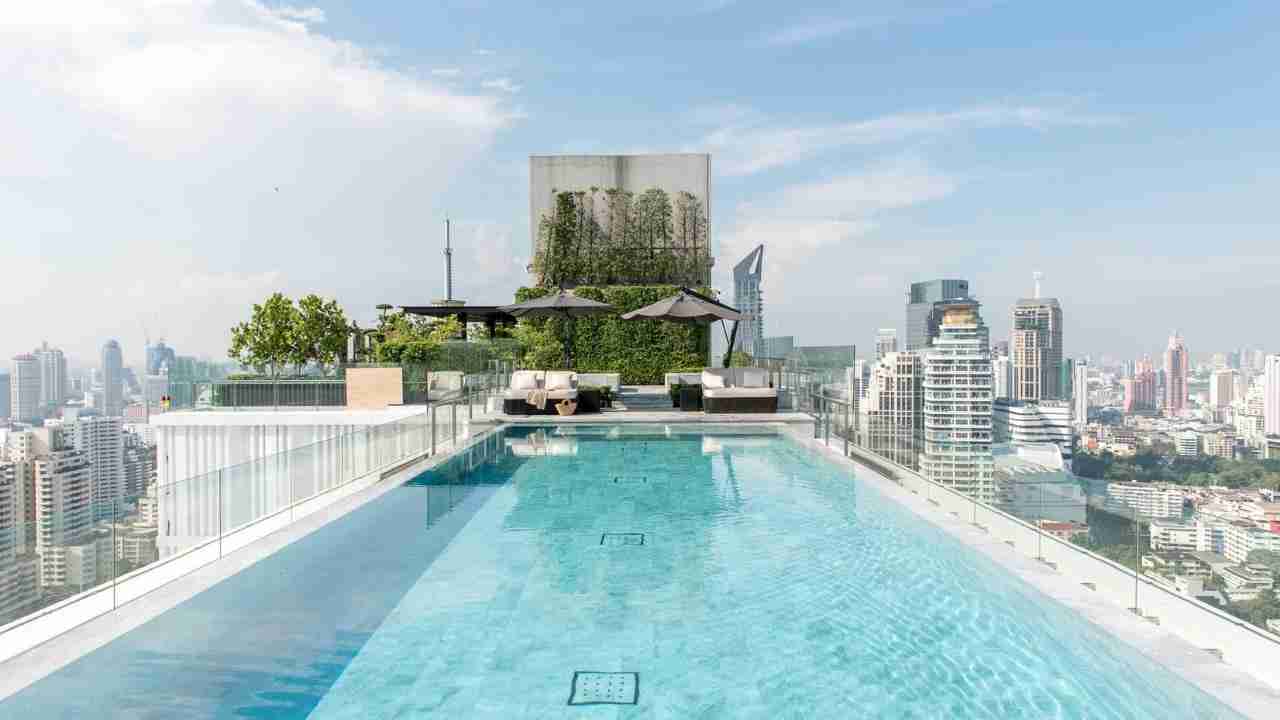 Location: Thonglor (Lower Sukhumvit)
If you want a good work-life balance, 137 Pillar Suites & Residences Bangkok is one of the best serviced apartments in Thonglor. It's suitable for those seeking a space that can be for both business and pleasure because of its corporate-friendly set-up and prime regards for the people's general well-being.
There are three options to choose from Studio Apartments, One-Bedroom Residences, and Two-Bedroom Residences. All with an ultra-modern decor to give a warm and comforting atmosphere.
Residents can enjoy all of the property's amenities and facilities to perform their best at work including the daily housekeeping services, 24-hr in-residence dining, and the free transfer to the nearest BTS Skytrain Station (Phrom Phong).
After a tiring day, they can unwind and do some recreation at the infinity pool, indoor golfing facilities, gym, and wellness center.
Nearby landmarks: Emquartier, Emporium, Soi Cowboy, The Commons Thonglor
Sindhorn Kempinski Hotel Bangkok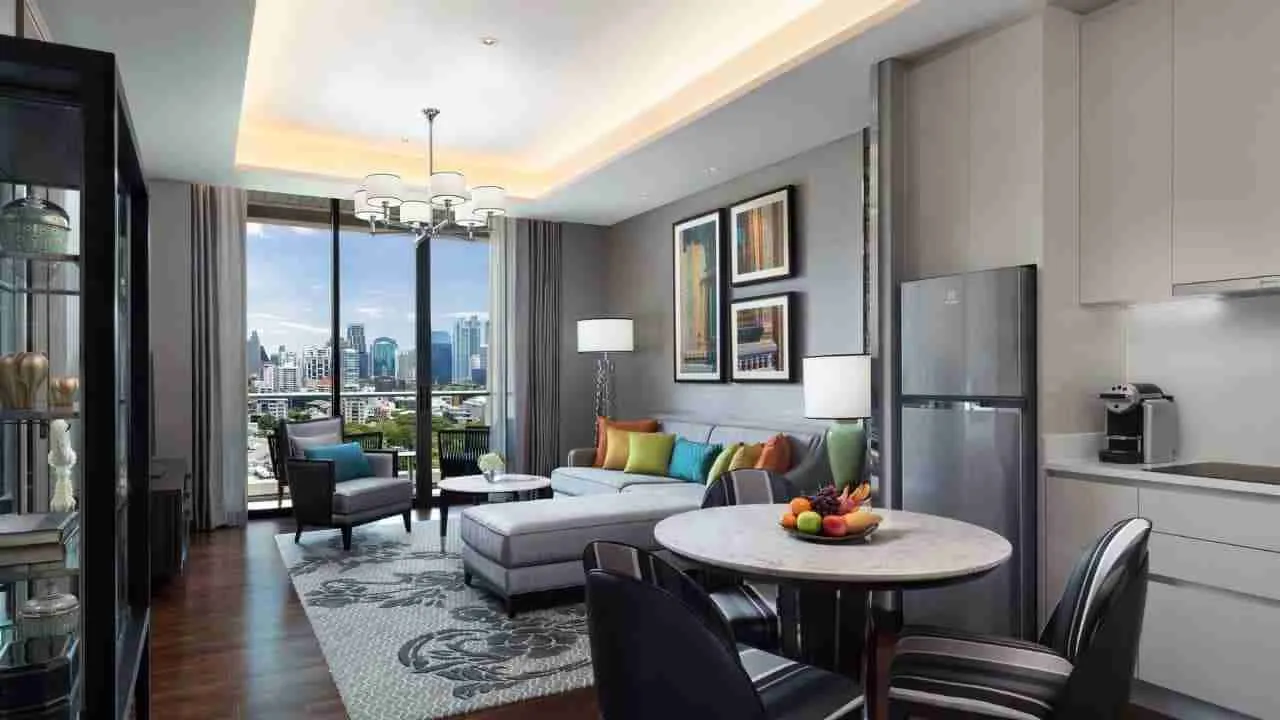 Location: Siam Area
Do you like privacy and seclusion? Sidhorn Kempinski Hotel Bangkok is like an oasis in the urban jungle.
Tucked within lush greeneries, you'll see a magnificent building away from the hustle and bustle of the city.
This 5-star hotel has breathtaking architecture and interior with equally impressive rooms. It's world-class on many levels, which is why it's a go-to venue for staycation and events for many people, including celebrities.
They offer flexible monthly and yearly rates for their residential rooms: Premier Residence Room, Two-Bedroom Residence Suite, and Three-Bedroom Sindhorn Suite.
The latter is a good choice if you want a lofty space (270 sqm in size). It's great because you have a separate study for work purposes. Plus, daily housekeeping with towel and bed linen changes and water and electricity charges are included.
Nearby landmarks: Velaa Sindhorn Village, Lumphini Park, Central Embassy
St Regis Bangkok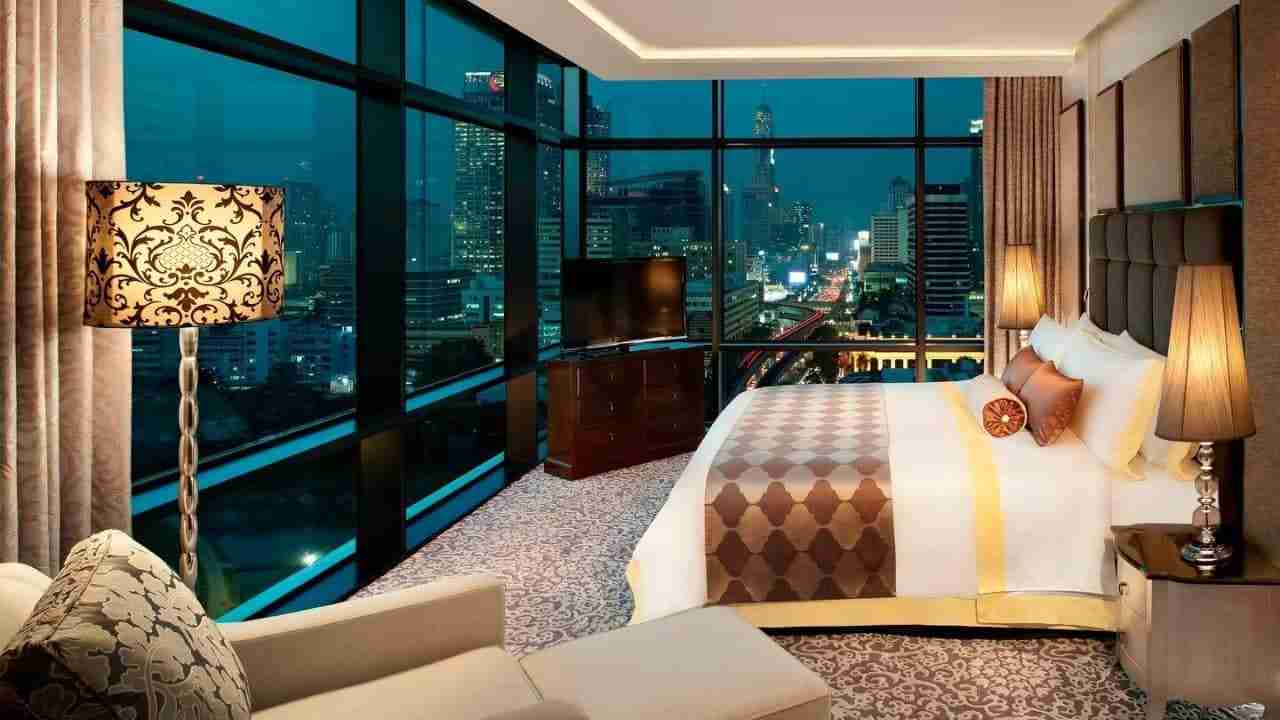 Location: Siam Area
With so many luxury apartments in the neighborhood, it's easy to overlook St. Regis Bangkok.
However, it should be under your radar now because you can expect an extraordinary experience here showcasing spectacular views of the city's skyline.
Like with their Caroline Astor Suite, you get a full glass window that's as gorgeous at the day as it is at night. After a long day of work, you'll immediately feel relaxed by the sight from your very room.
The highlight of the room includes its feather-soft mattress with 300-thread-count linens and down-filled pillows– guaranteed to give you a good night's sleep every time. It's also home to IGNIV Bangkok, a newly crowned 1 Star Michelin Restaurant in Bangkok.
Nearby landmarks: Lumphini Park, Central World, The Royal Bangkok Sports Club
The Okura Prestige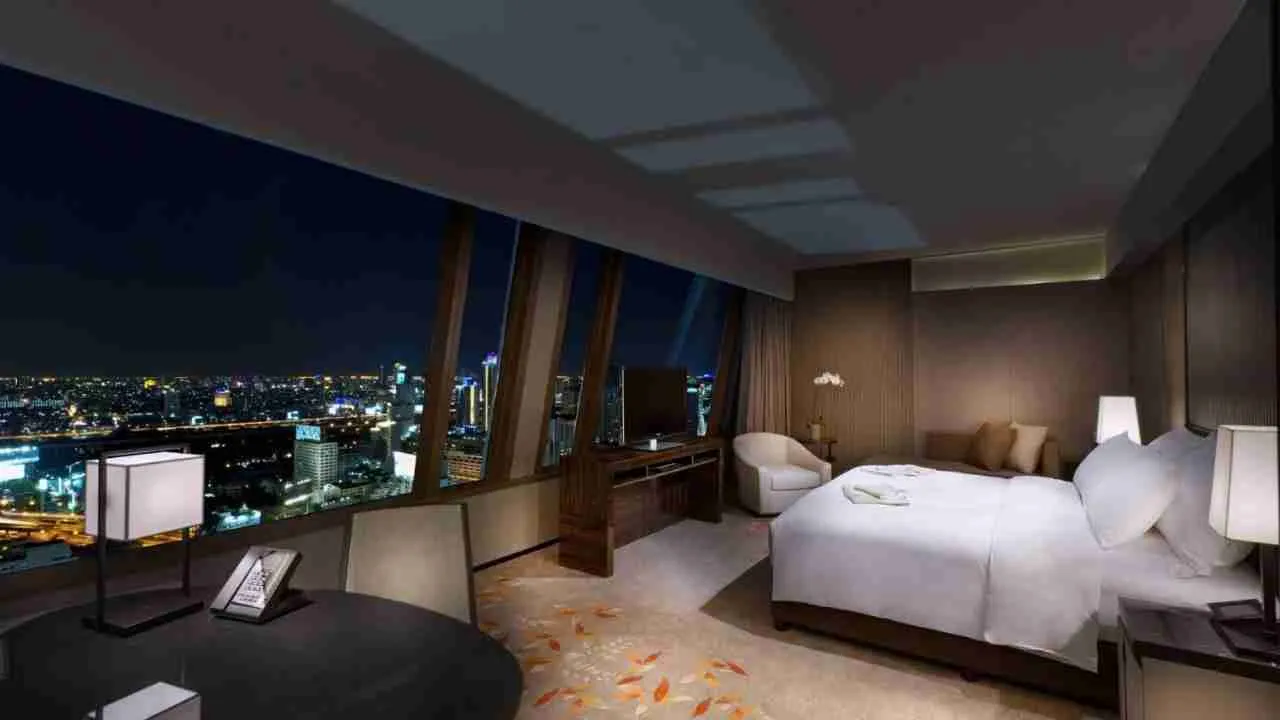 Location: Siam Area
For those that love the city and all its pleasures, The Okura Prestige is an excellent choice.
Although it is located in the center of Bangkok, all of its rooms are protected by triple-glazed tinted panoramic windows that insulate both heat and noise. This allows you to enjoy the scenic view of the cityscape in luxury, comfort, and utmost convenience.
They have deluxe rooms, club rooms, and suites available for short-term and long-term stays. The most extravagant among them all is the Imperial Suite, which is 302 sqm in size.
Their complimentary Okura Club Lounge access, Japanese Yukata room set-up, and hypoallergenic pillows may be the highlight, but the private office, private pantry, and twice turndown service might be of interest to you, as well.
Nearby landmarks: Lumphini Park, Central Embassy, Nana Plaza
Kimpton Maa-Lai Bangkok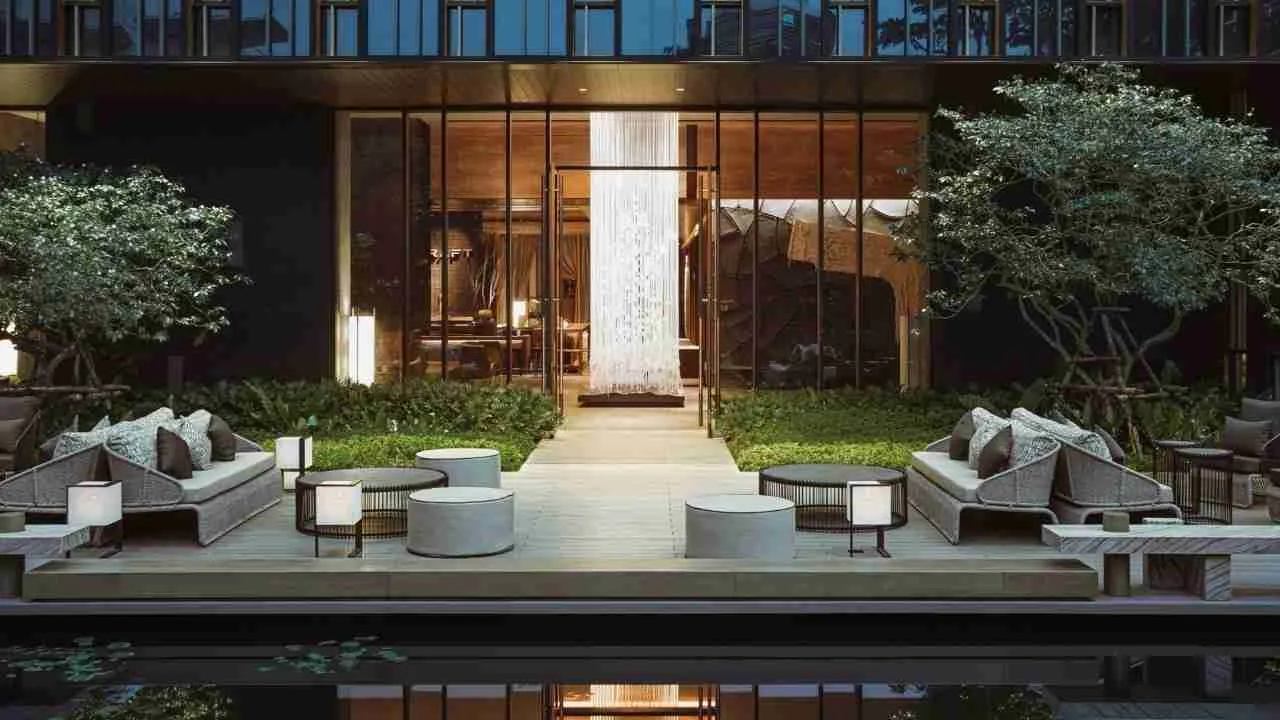 Location: Siam Area
Kimpton Maa-Lai Bangkok is the sister hotel of Sindhorn Kempinski Hotel Bangkok, which is also located in the same complex. The main difference is the ambiance.
Here, they have a separate residential building with 131 luxury rooms with choices of one, two, and three bedrooms.
All of them have a fully-equipped kitchen, contemporary furnishings, and garden view for a pleasant and peaceful sight.
Best part? It's pet-friendly. You can freely own a furry friend and stroll him within and around the vicinity.
Nearby landmarks: Lumphini Park, The Royal Bangkok Sports Club, Erawan Shrine
Oriental Residence Bangkok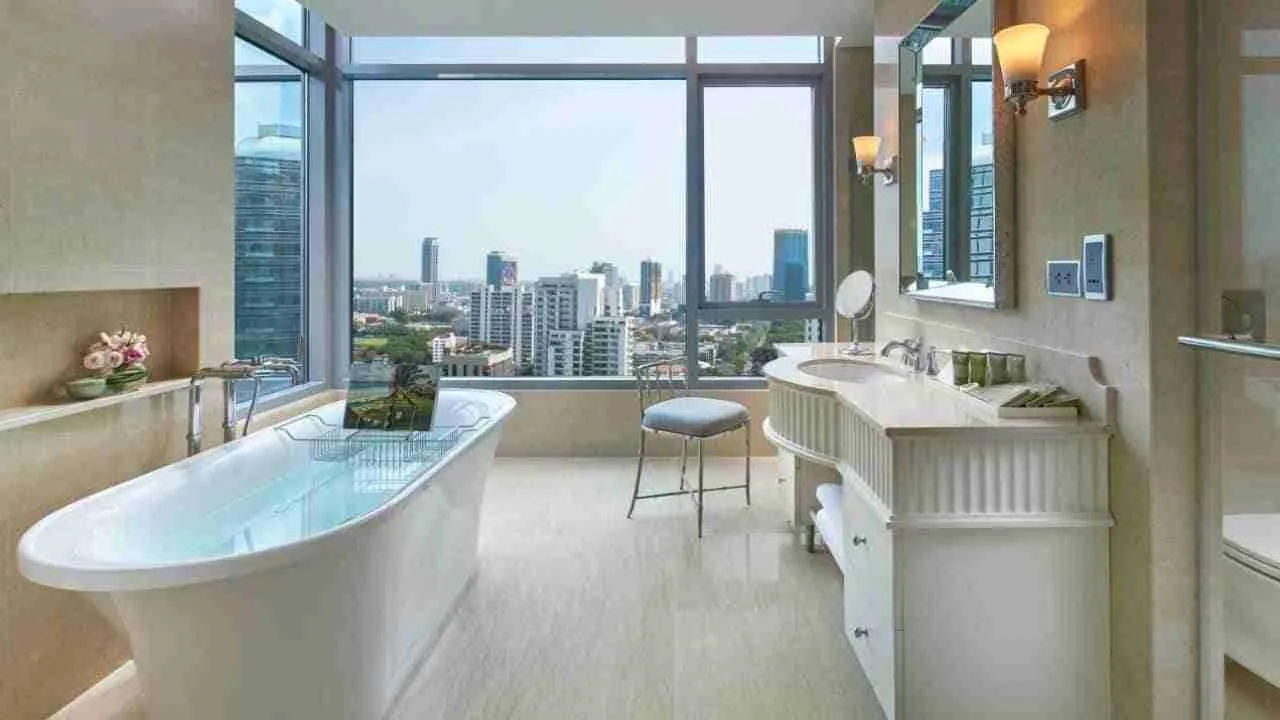 Location: Siam Area
Not to be confused with Mandarin Oriental (which sits at the top of our list of the best luxury hotels in Bangkok), this property in central Bangkok is optimal in terms of location and offerings.
Inside this reimagined traditional luxury space, you can find fully furnished rooms at Oriental Residence Bangkok complete with workspace, separate living room, and bedroom.
They also have two in-house restaurants and an indoor lap pool if you need to refuel yourself.
Going out, you can find a lot of things in the area.
The apartment is right in the business district and near establishments such as shopping malls, hospitals, supermarkets, fine dining restaurants, parks, and cocktail bars.
There will never be a dull day here!
Nearby landmarks: Lumphini Park, Central Embassy Mall, The Royal Bangkok Sports Club
Siam Kempinski Hotel Bangkok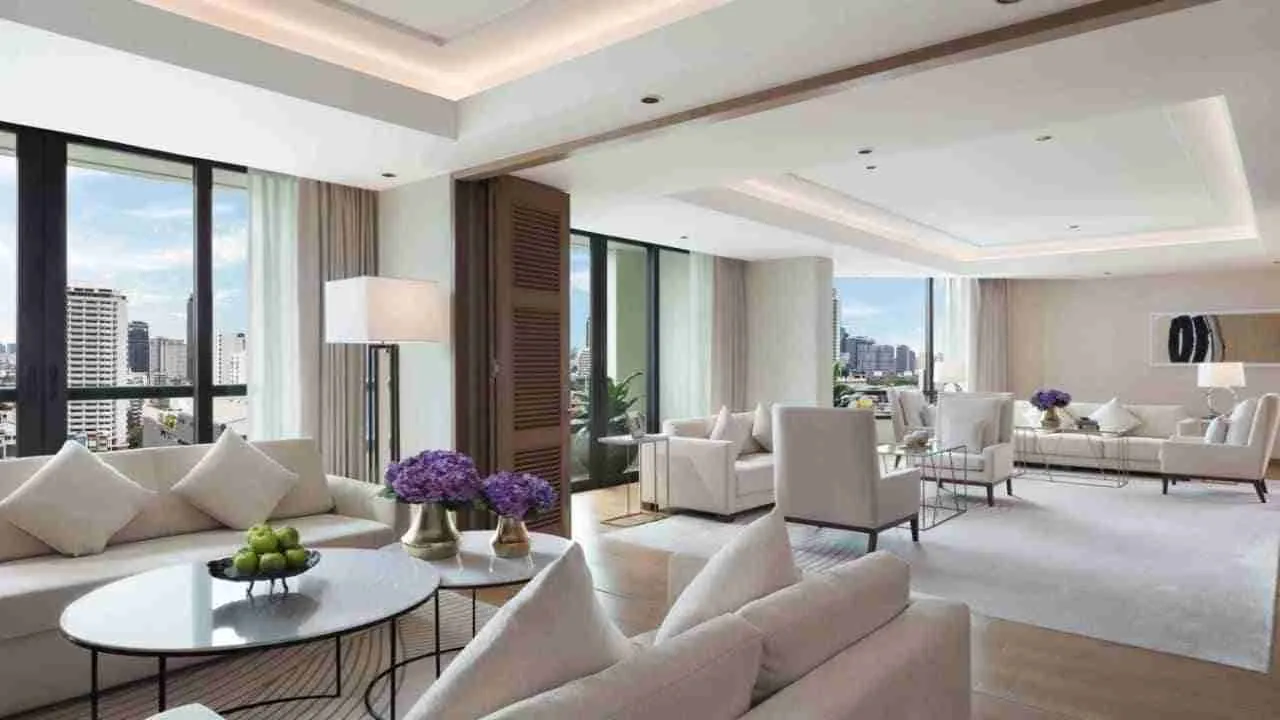 Location: Siam Area
Being under the Kempinski group, you already know that Siam Kempinski Hotel Bangkok would have global standards in their offerings and hospitality. That's why it's worth checking out your options in their fine living quarters
They have 5 types of rooms: Deluxe Room, Family Suite, Two-Bedroom Family Suite, Penthouse Suite, and Royal Suite (for us, one of the best suites in Bangkok).
The Penthouse Suite is unique as it has a floor-to-ceiling window framing Bangkok in panoramic beauty.
It spans 260 sqm in size and you can expect the following benefits:
Daily breakfast for 2 pax
Daily house cleaning (with towel and bed linen changes)
Unlimited water
Inclusive water and electricity utilities
1 parking slot
Additional basement storage
Discounts to restaurants, spa centers, and more
Nearby landmarks: Siam Paragon Mall, Bangkok Art and Culture Center, Central World
Ascott Sathorn Bangkok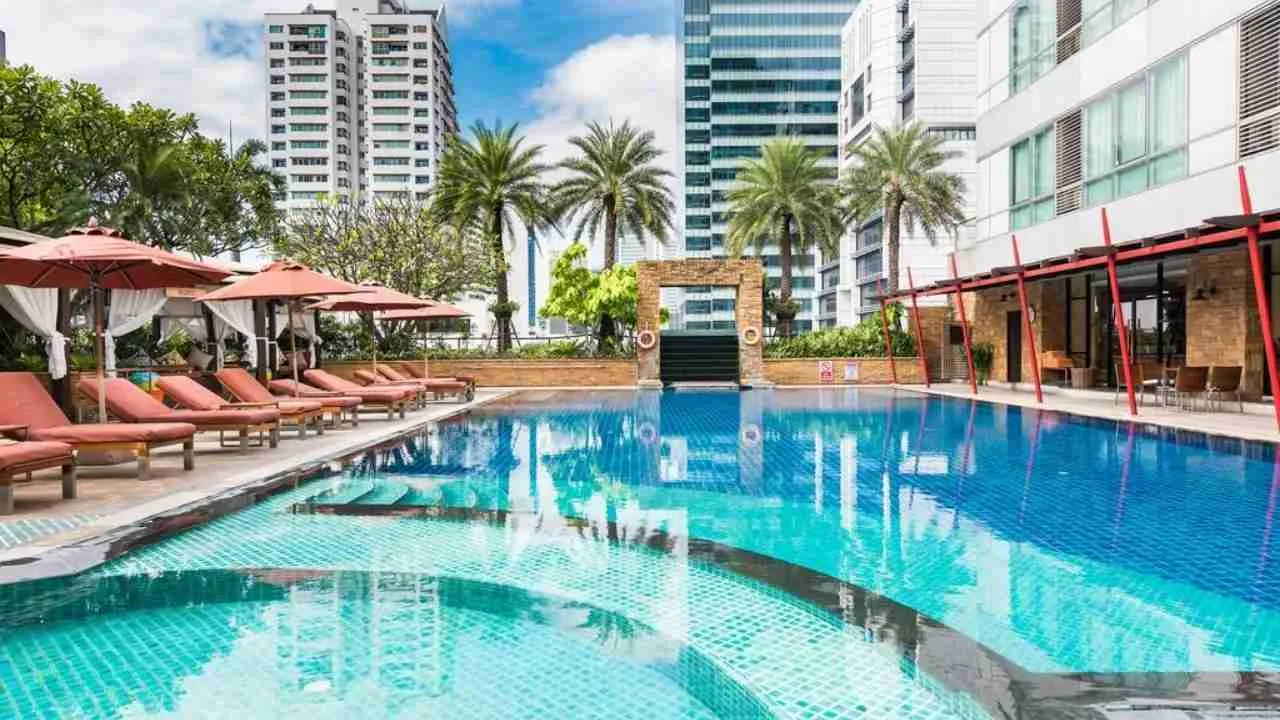 Location: Sathorn
The neighborhood at Sathorn is very laid back. Despite being the biggest business district in Bangkok, the canopy of trees along the alleys make Ascott Sathorn Bangkok a relatively peaceful place to live for a few weeks, or months.
They take pride in their promise of rejuvenation and relaxation. Their serviced apartments are all wide and spacious– incorporating modern furniture for a global feel for all sorts of travelers.
You can choose from a studio room up to a three-bedroom apartment– all fully furnished. You can expect a kitchenette, washing machine, dryer, home entertainment system, ensuite bathrooms, workroom, housekeeping service, and more.
Nearby landmarks: King Power MahaNakhon Tower, Lumphini Park, Chao Phraya River
Avani River View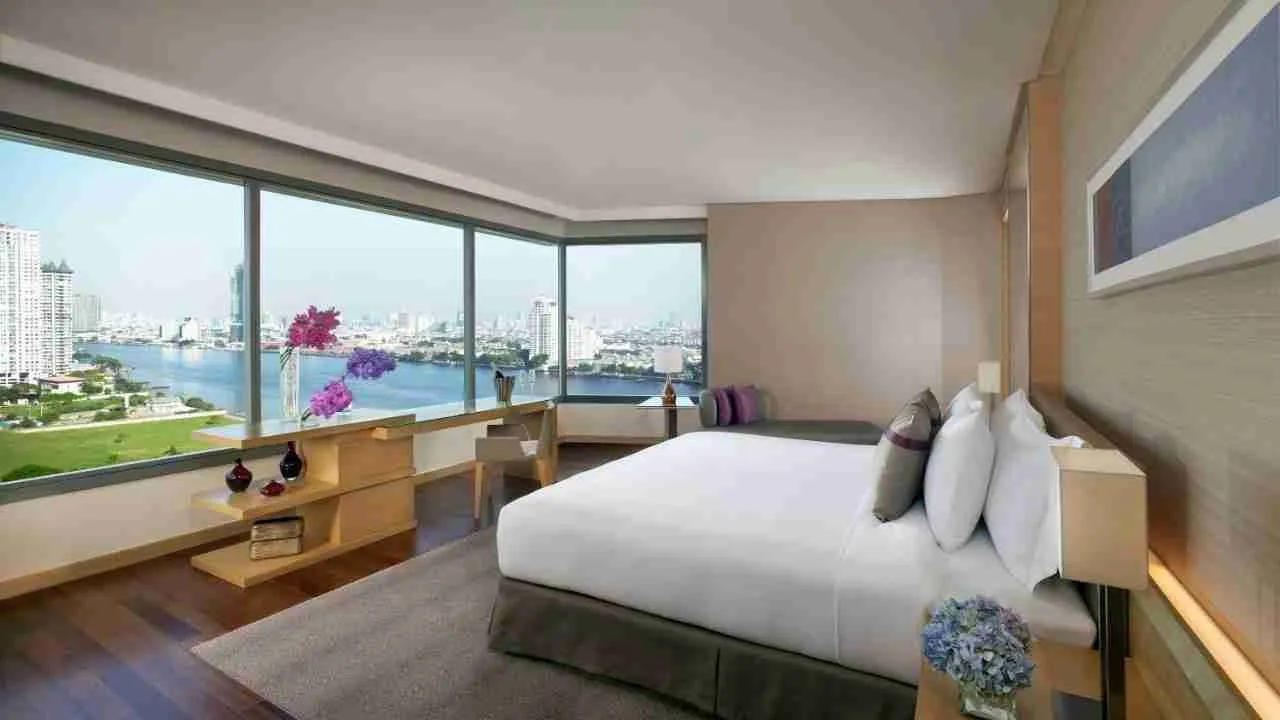 Location: Thonburi
While it may be quite far from the city center, the Avani+ Riverside Bangkok Hotel promises much more than a luxurious stay. It can be your home away from home.
It's a great property for work and play, as it has complete facilities to promote all-around, healthy well-being for its residents.
Need to work? They have coworking lounges and meeting rooms for you to use.
Want to destress? Go on a river cruise or sweat it out at the gym.
Avani+ Riverside Bangkok Hotel also organizes a lot of cool events, so that's a good way to meet new people, network, and, ultimately, have fun.
The Avani River View Three Bedroom Suite is available for long-term stays. Here, you will have 3 bedrooms overlooking the Chao Phraya river, 2 bathrooms with showers, and 1 bathroom with shower and bathtub.
Nearby landmarks: Chao Phraya River, ASIATIQUE: The Riverfront, Wat Bukkhalo
Emporium Suites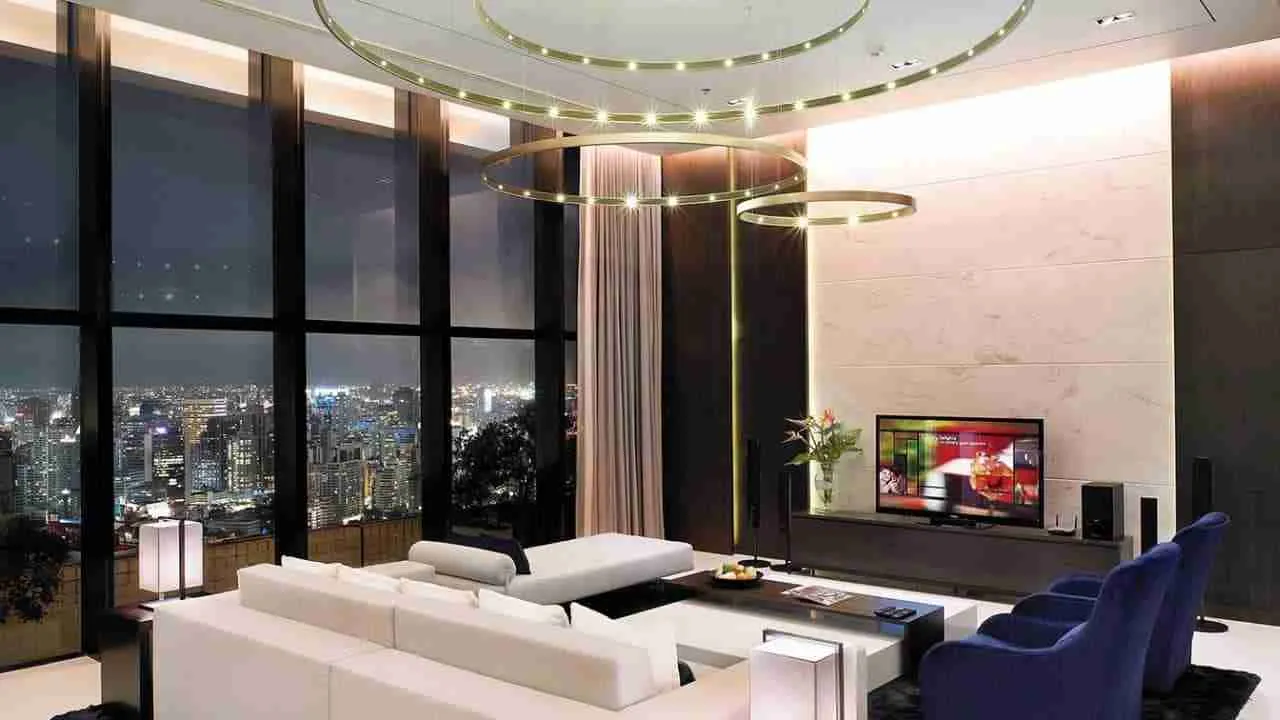 Location: Lower Sukhumvit
Serviced apartments in Sukhumvit can be quite common as it is inhabited by a lot of expats. The Emporium Suites is a 5 Star Hotel that shouldn't be missed out on.
Located just above the high-end Emporium Mall and in front of EmQuartier, this award-winning property intertwines upscale royalty and convenience. Inside the rooms, you have fully-furnished quarters with great lighting and stylish decor.
When you step outside, you'll find yourself basking in life's pleasures. Be it in the shopping mall, lifestyle park, or the trendy restaurants and bars in the neighborhood, you'll enjoy every minute of city life.
It's great for solo travelers out to make more meaningful connections or families who want everything in one complex.
Nearby landmarks: Emquartier, Emporium, Benchasiri Park
FAQ
What is the monthly rate of a serviced apartment in Bangkok?
It's between 10,000 THB and 30,000 THB per night, and around 100,999 THB per night for a luxury one. Contact our team to find something within your budget.
Which serviced apartment in Bangkok is pet friendly?
Kimpton Maa-Lai Hotel is a pet-friendly serviced apartment in Bangkok. They also have a garden and play area where you can walk your furry companion.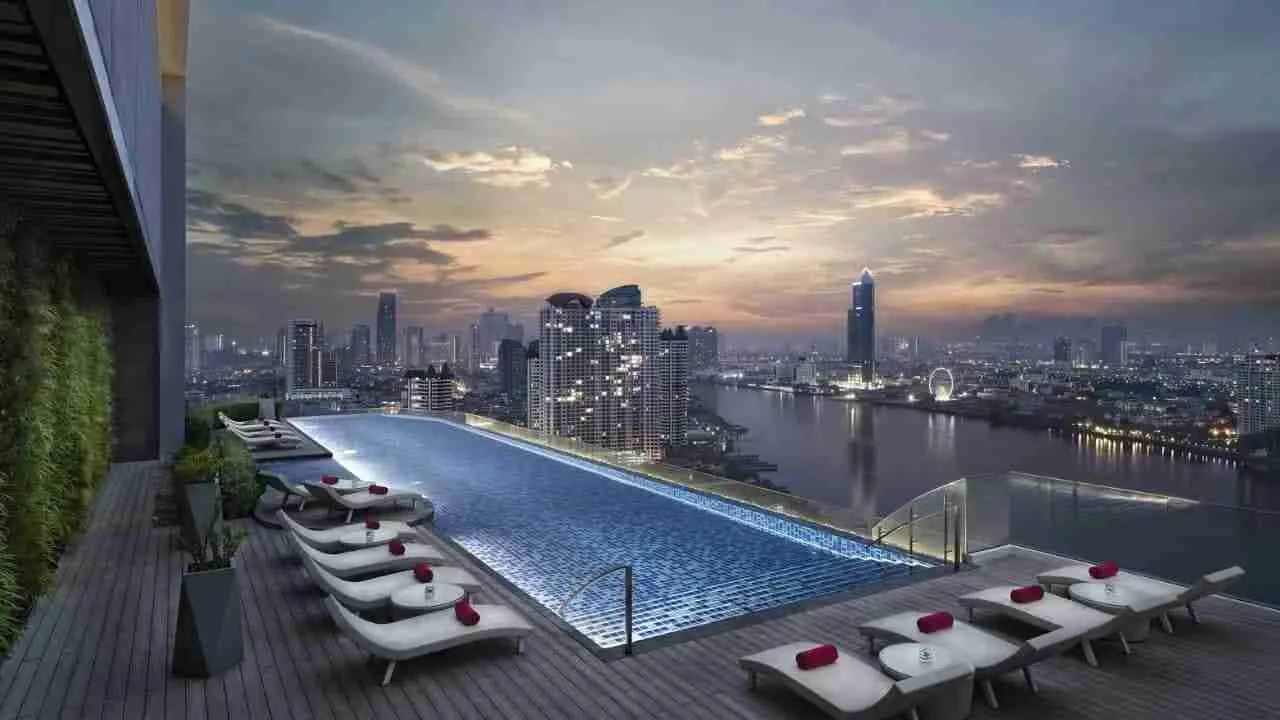 Make The Most Out Of Your Stay In Bangkok
Finding a short term apartment in Bangkok can be difficult, but not with VLS.
With our network of connections, we have exclusive prices and benefits that can help book the most suitable place for you according to your budget.
Contact our concierge service to assist you today and feel free to check our other services to make your stay in Thailand more comfortable.
Now if you want to buy a property in Bangkok, look at our list of the most expensive condominiums in Bangkok to get a taste of how the richest people in Thailand live.