There's no better way to appreciate the beauty of Bangkok than by spending an evening at one of the best rooftop bars in the city.
From all the things the city has to offer, rooftop bars are some of the most exciting and should be at the top of your list when visiting the city.
Enjoy a breathtaking view of the city skyline and sip on world class cocktails and fine bubbles while you watch the sunset.
Whether the rooftop bar you're visiting is facing the majestic Chao Phraya river or showcasing the beauty of the city skyline with an incredible 360 view, the top bars in this list will not disappoint.
We've rounded up for you the top 8 rooftop bars in Bangkok you should visit for a luxury experience.
Mahanakhon Bangkok SkyBar
Opening Hours: 11:30 AM – 3 PM (Lunch) | 5 PM – 1 AM (Dinner)
Dress Code: Smart casual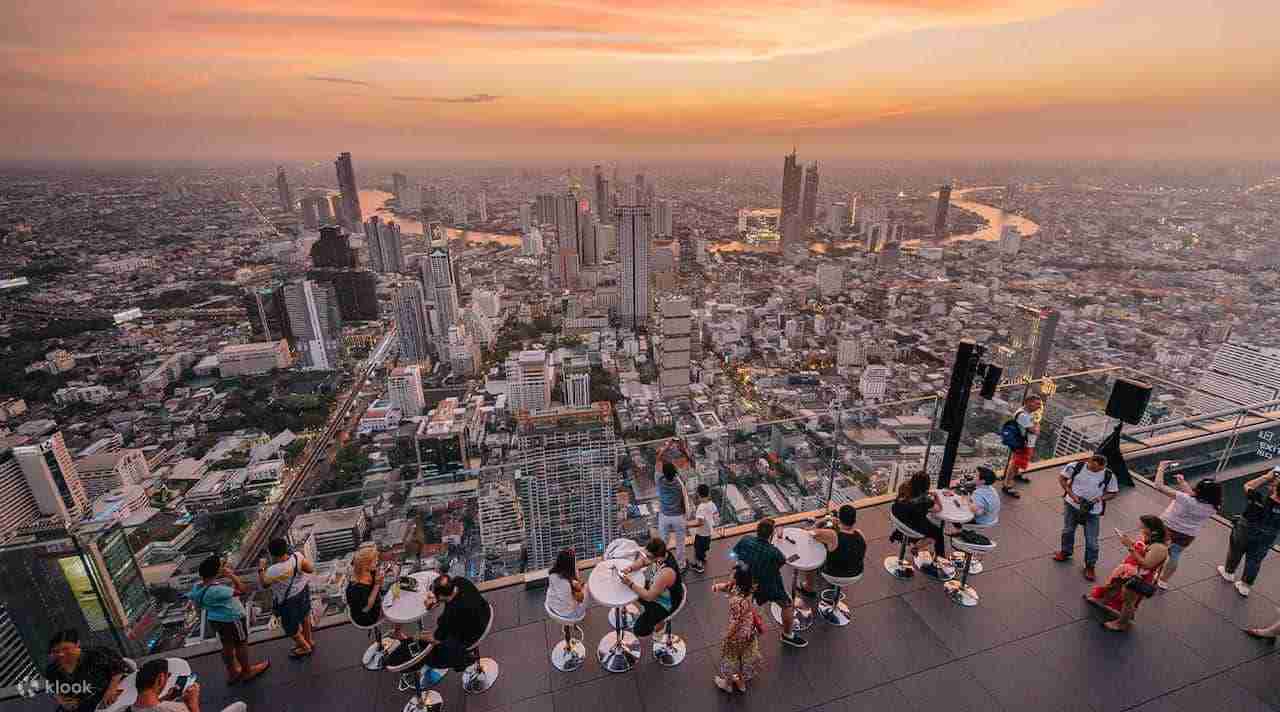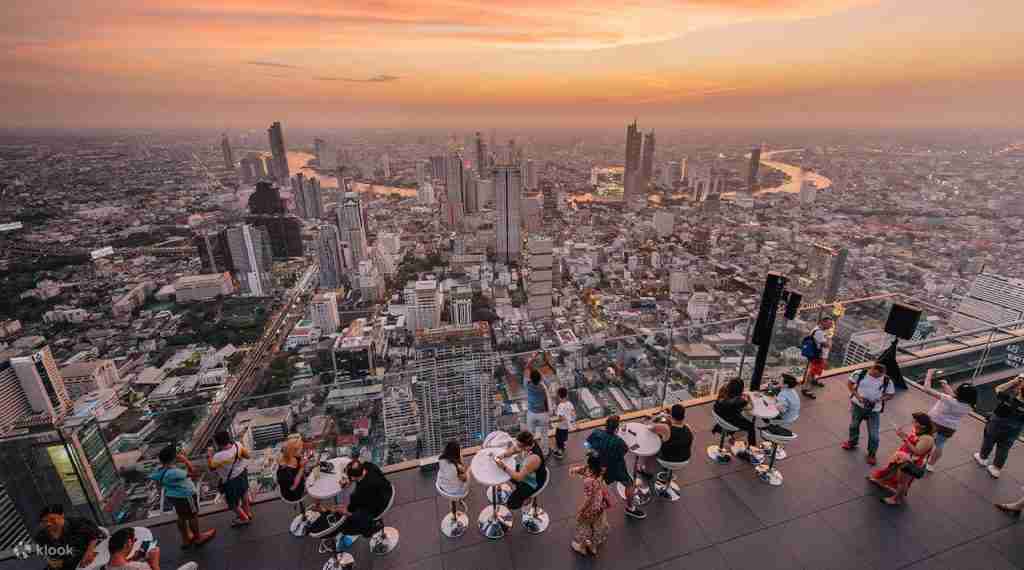 Among the top bars in Bangkok, Mahanakhon Bangkok SkyBar is arguably one of the most popular.
It is the highest rooftop bar in the city, and the country, situated on the 76th floor, at a mere 316 meters above from the ground.
It is quite an experience the moment you enter the building.
Even the elevator going up to the sky deck is awesome with its futuristic design covered with LED screens playing a video presenting the city as you climb to the top of the building.
When you get to the 76th level, you will be greeted by a view that will leave you speechless.
It is like a modern garden with a unique interior that is hundreds of meters above the ground.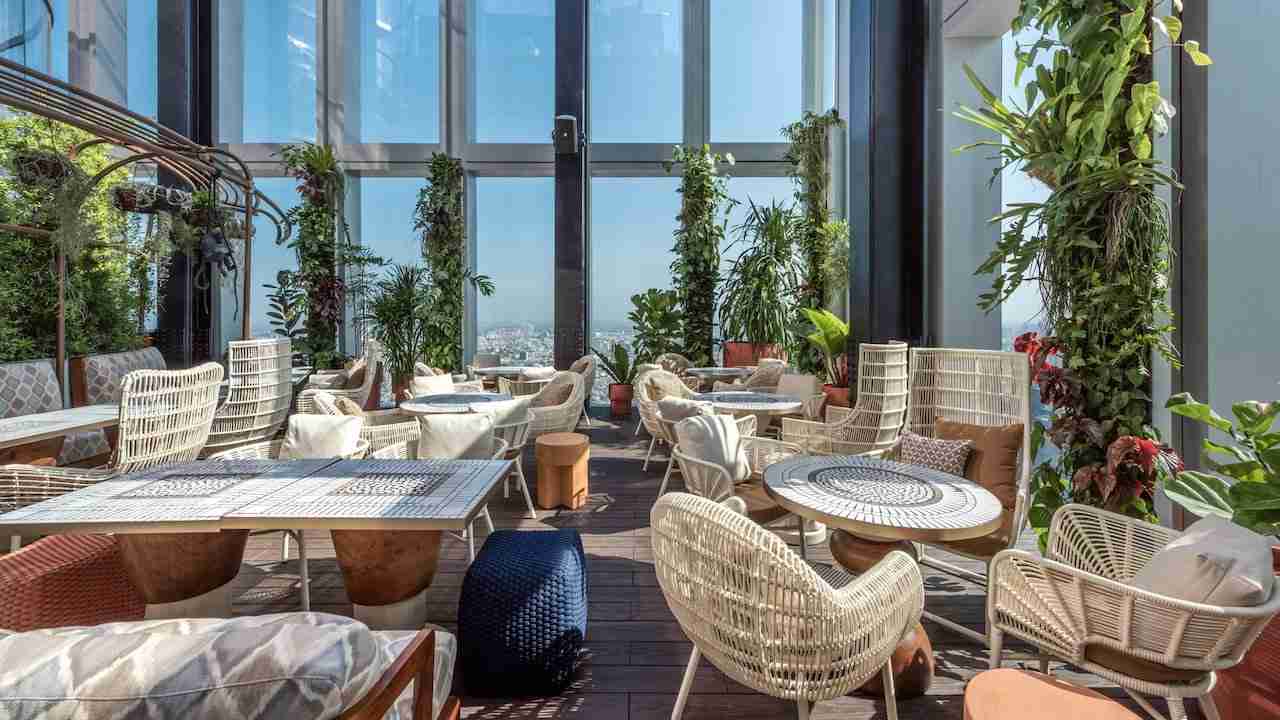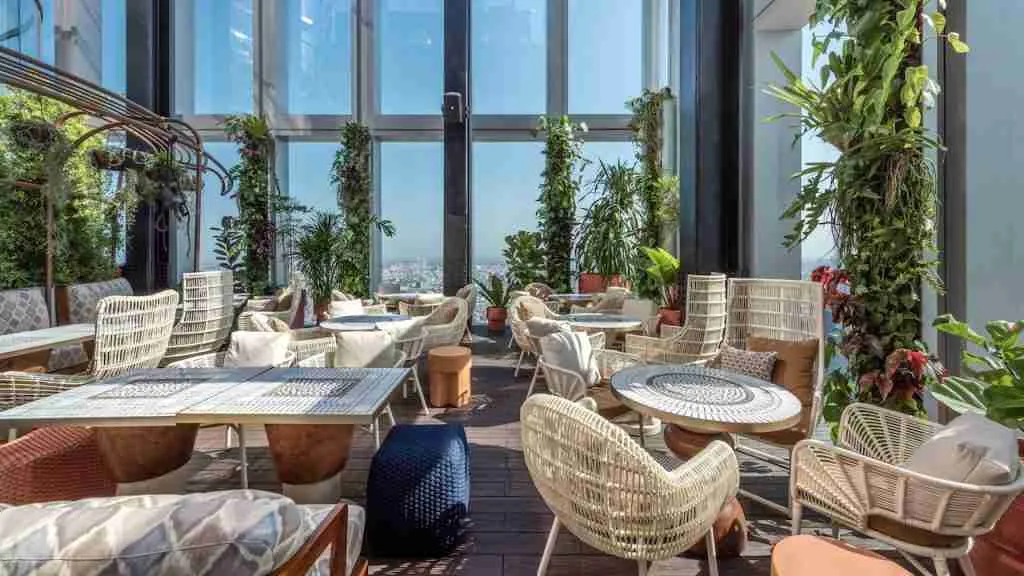 But don't stop there, be sure to check out the Skywalk & Skyrides.
Here is where you'll find the transparent glass floor 78-stories high.
Dare to step on the impressive skywalk and enjoy a fine drink while enjoying a 360 degrees unblocked view of Bangkok.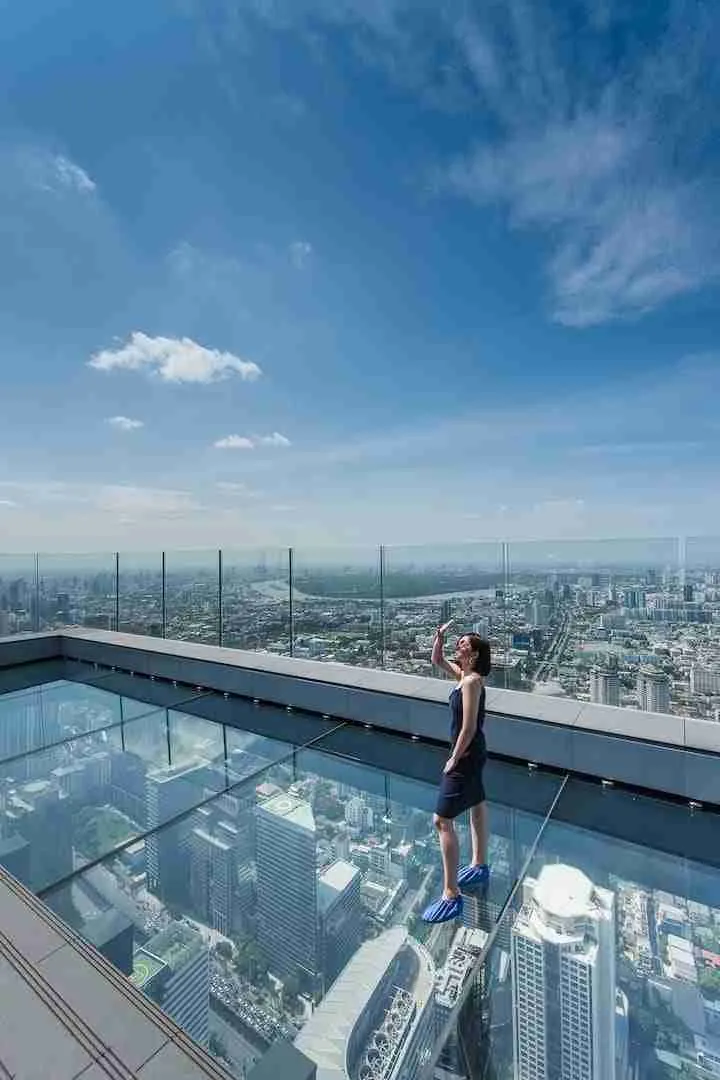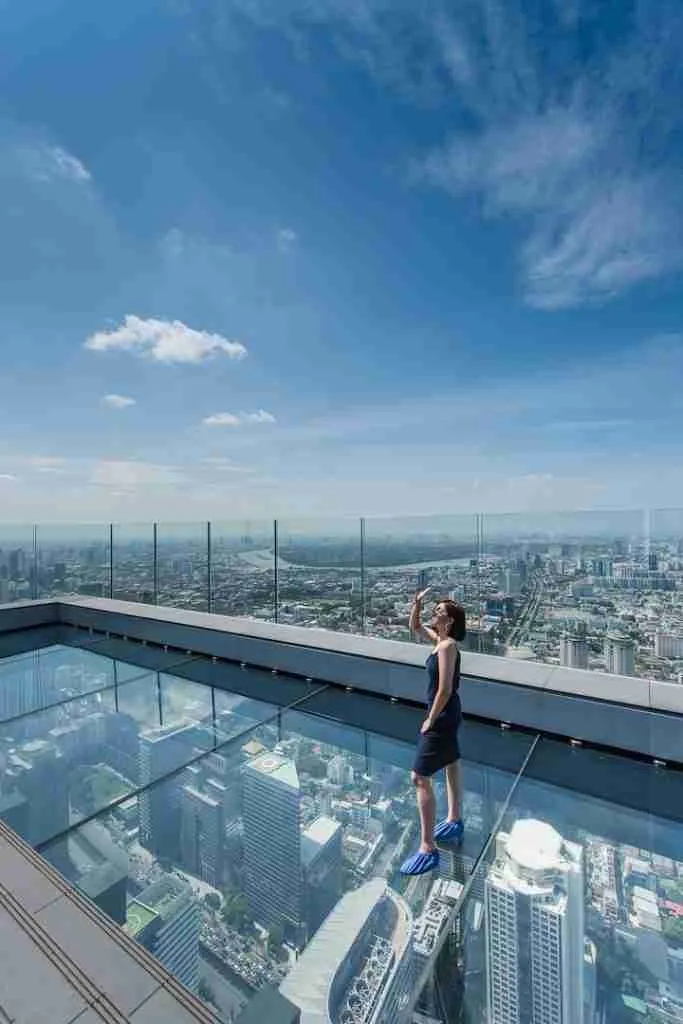 The only thing is it can get very touristy, so don't forget to buy tickets in advance or ask our concierge to arrange a booking for you.
Vertigo and Moon Bar
Opening Hours: 5 PM – 12 AM (midnight)
Dress Code: Smart casual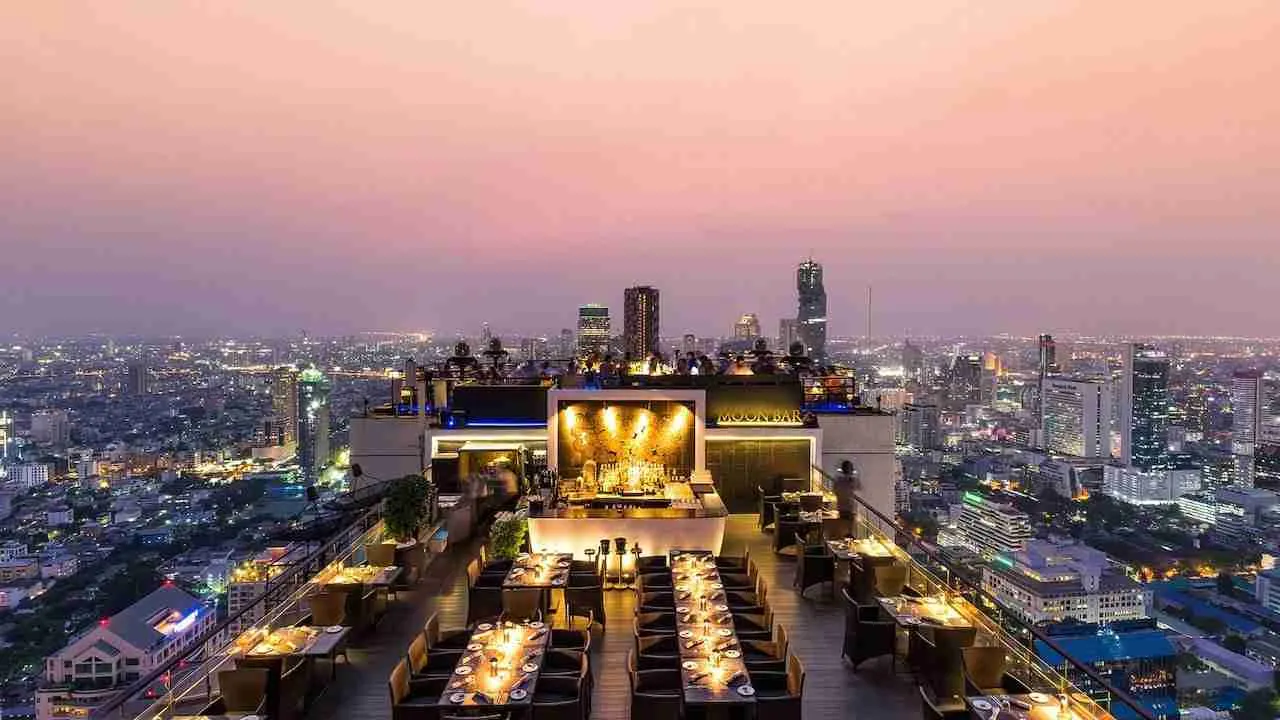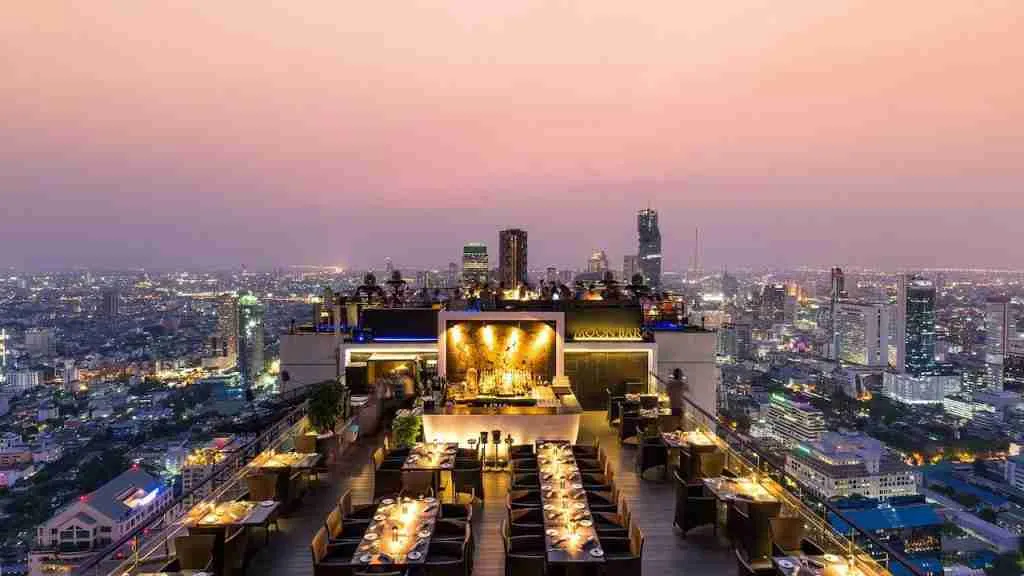 Located on the 61st floor of Banyan Tree Bangkok, this hotel rooftop bar in Bangkok is an excellent place to take your partner out on a date.
The ambiance of the place is very sophisticated, plus the sunset here is incredible.
You will fall in love with the sky as you watch the sun slowly set while the buildings glow like fireflies at night.
To differentiate, Vertigo is the alfresco restaurant of the place where you can sit and dine. They serve international food here, so it can cater to everyone's preference.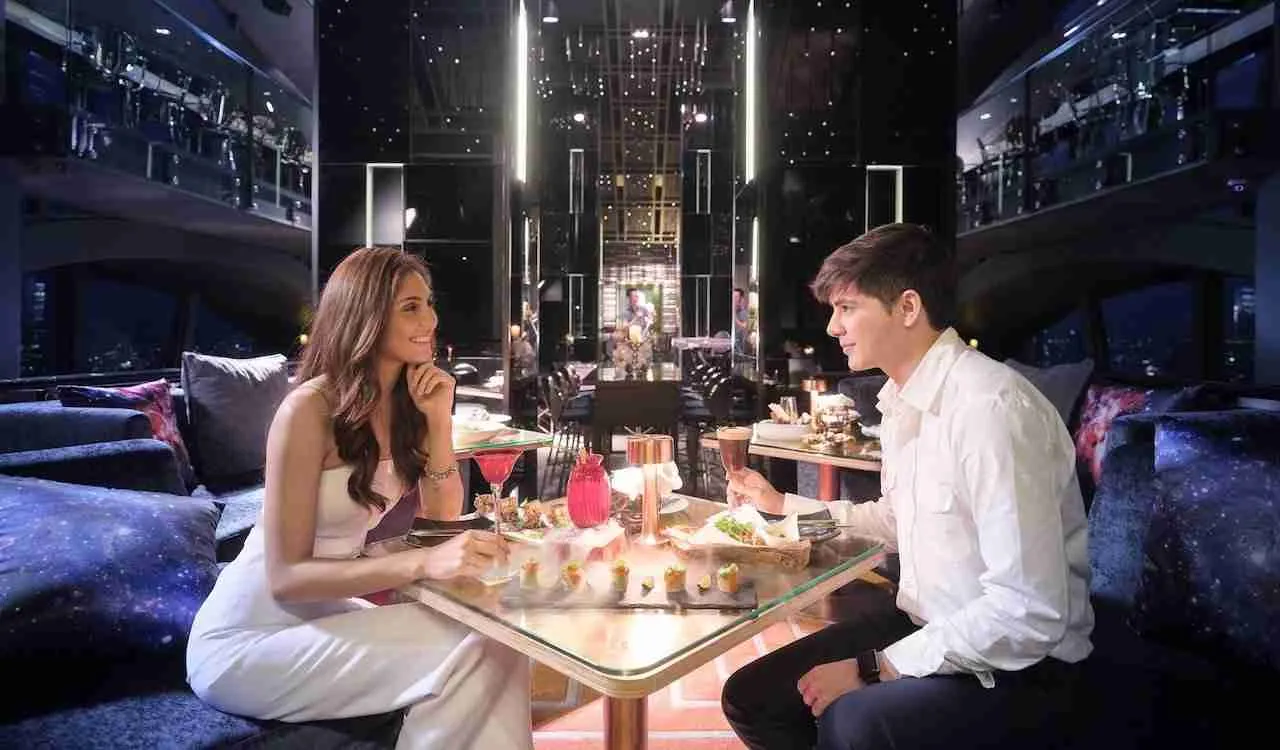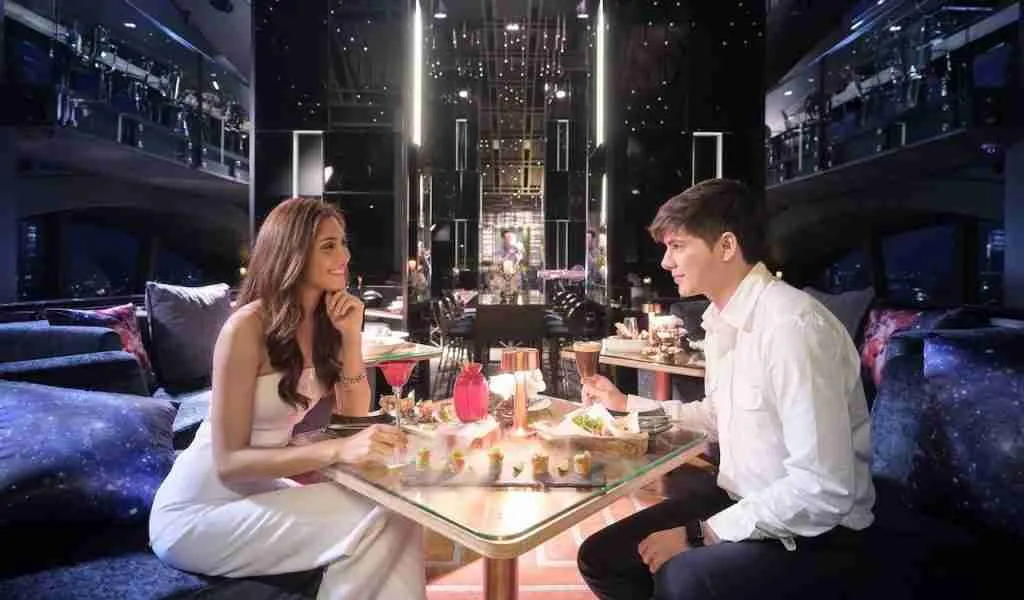 Moon Bar, on the other hand, is the open bar one platform higher. It features a 360 view of the city.
They also have tables and seats available, but they only serve cocktails here.
Everything at Moon Bar is upscale, from the service to the drinks.
Sky Bar
Opening Hours: 5 PM – 12 AM (midnight)
Dress Code: Dress to impress (no shorts, flip flop, tank tops, sportswear…)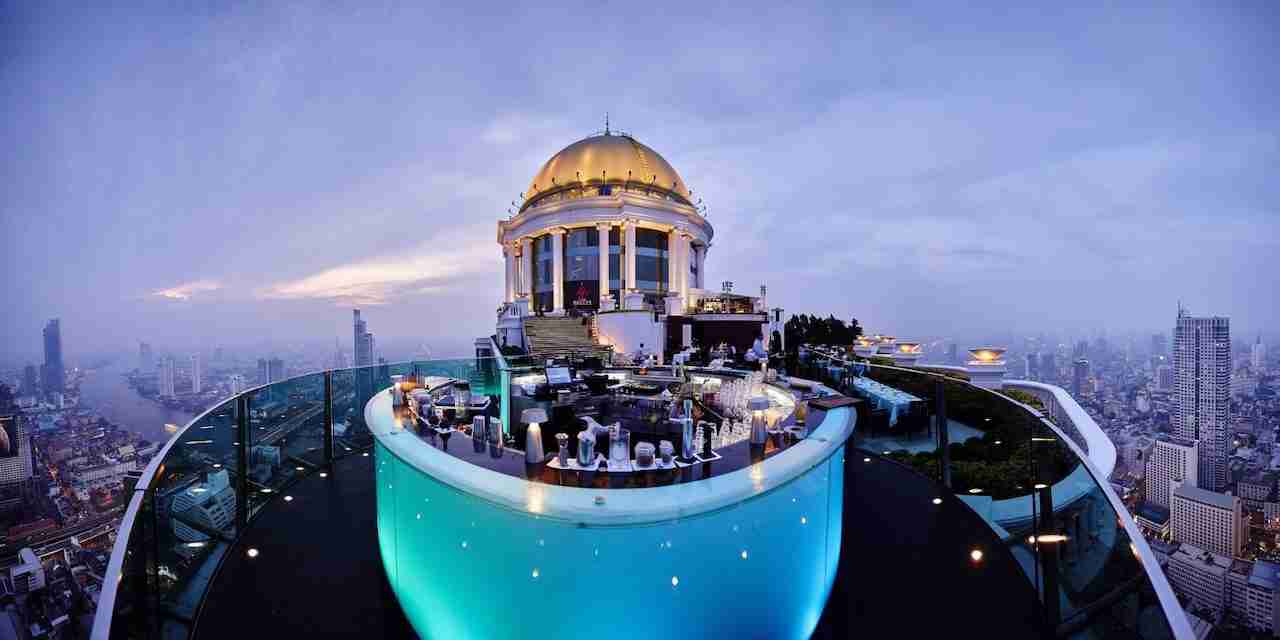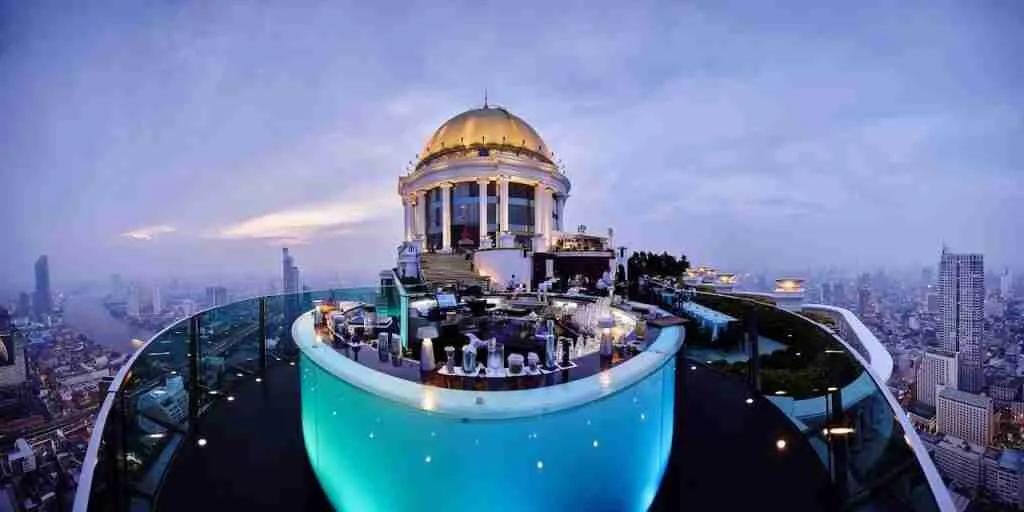 A lot of people and media publications rate this as the best rooftop bar in Thailand.
This includes The New York Times, Harper's Bazaar, Condé Nast Traveler, The Telegraph UK, and many more.
Sitting on the 63rd floor of the Lebua State Tower, Sky Bar is very iconic and offers an impressive view over Bangkok's Chao Phraya river.
First and foremost, it was featured in a film called "Hangover 2". Second, its Greek-inspired look glowing bright gold at night is truly a memorable sight.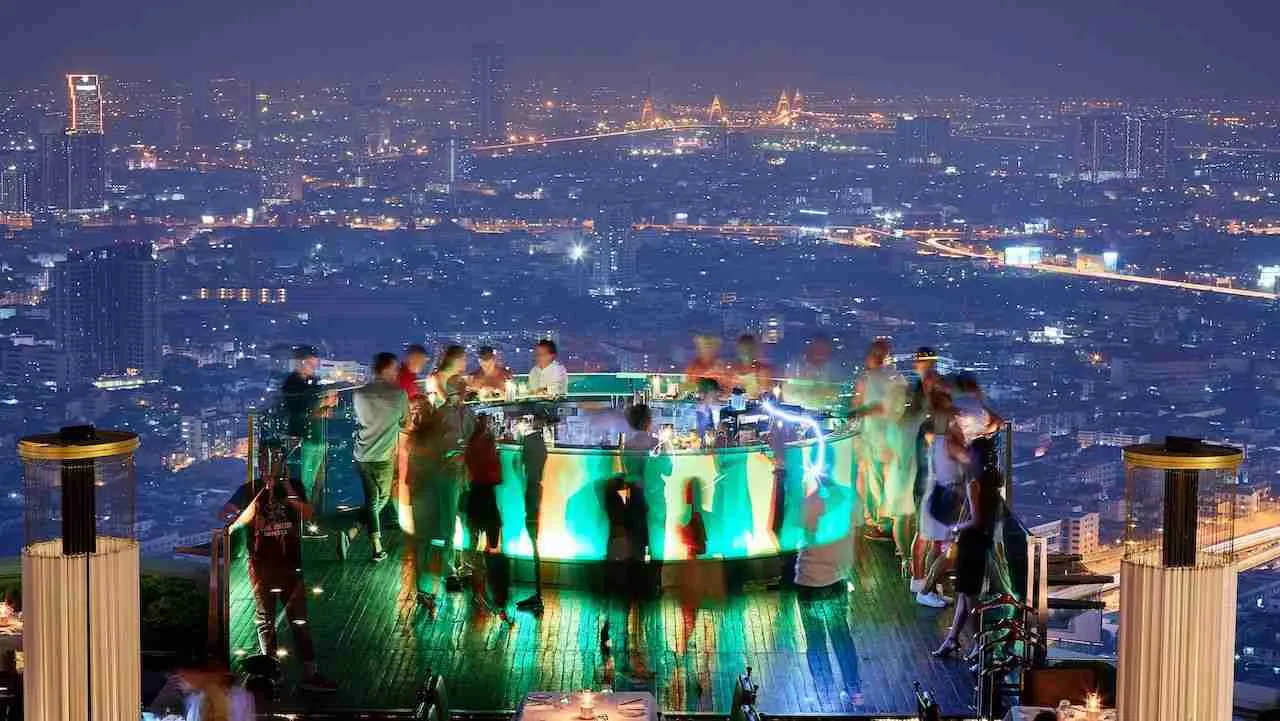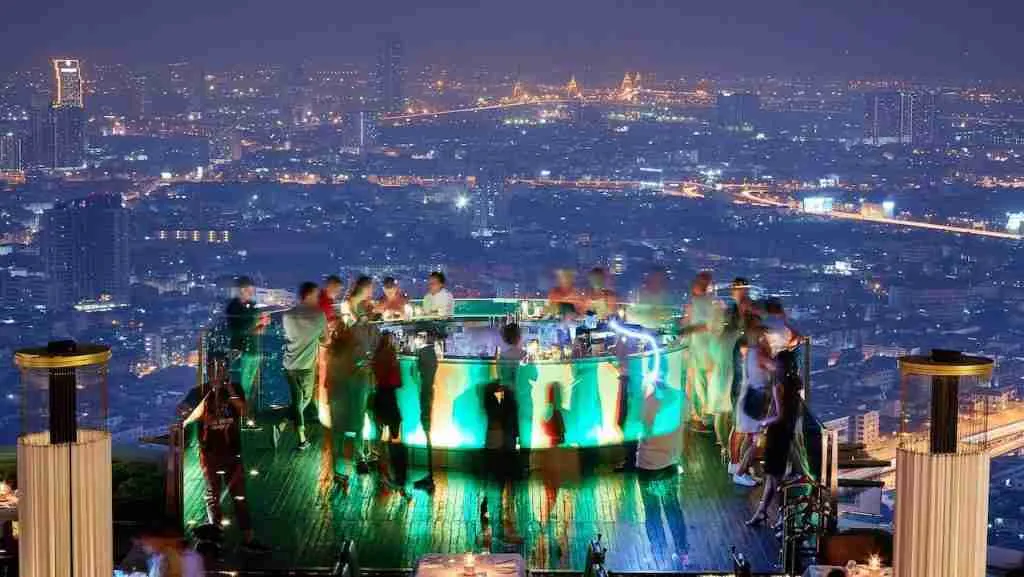 However, it's not all looks and glamor here. Even the cocktails are great.
You would find yourself appreciating the drinks 250 meters in the air.
Whether you go here during sundown or dinner time, the sight here is perfect.
The Sky Bar should be a staple in your Bangkok itinerary at least once.
And if you want to dine there, go down a few floors to eat at Mezzaluna, one of the few two Michelin Star restaurants in Bangkok.
HI-SO Rooftop Bar
Opening Hours: 5 PM – 12 AM (midnight)
Dress Code: Dress to impress (no shorts, flip flop, tank tops, sportswear…)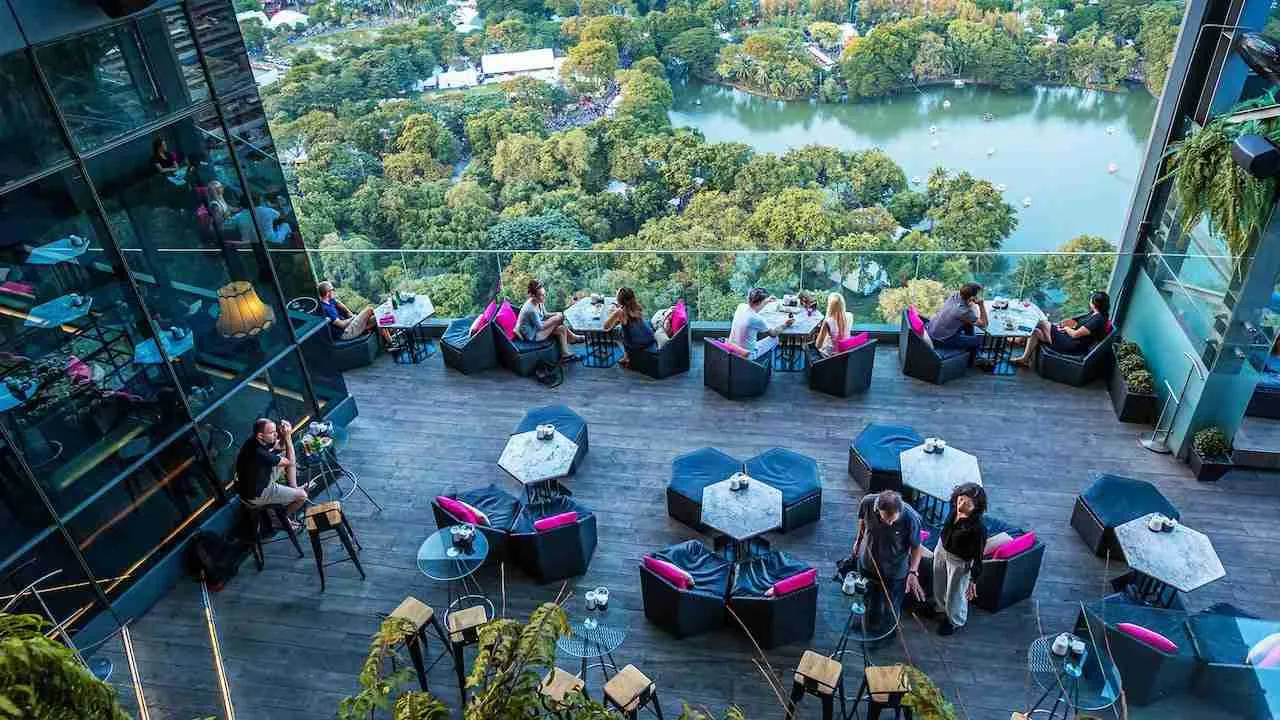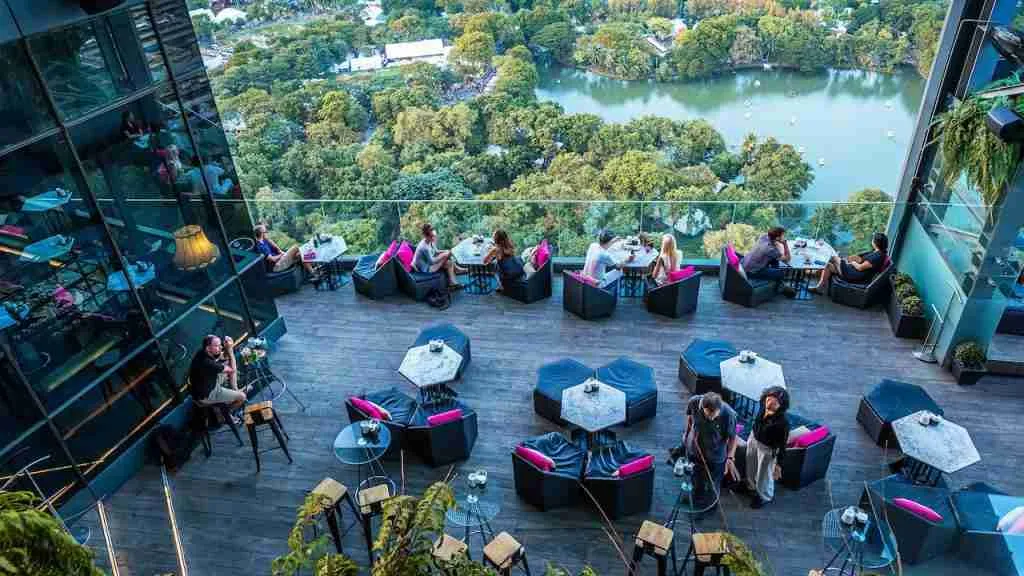 You might think that So Bangkok is another hotel with a rooftop bar in Bangkok, but they offer something that others don't: a fun nightlife experience.
HI-SO Rooftop Bar specializes in organizing events, often for the wealthy, called Hi-So in Thai (Hi-So stands for "High Society").
They have special parties every month, and it is always packed with the hottest people (influencers, models, and even celebrities) and the best DJs.
This rooftop bar is ideal for meeting young and pretty women who know how to enjoy themselves.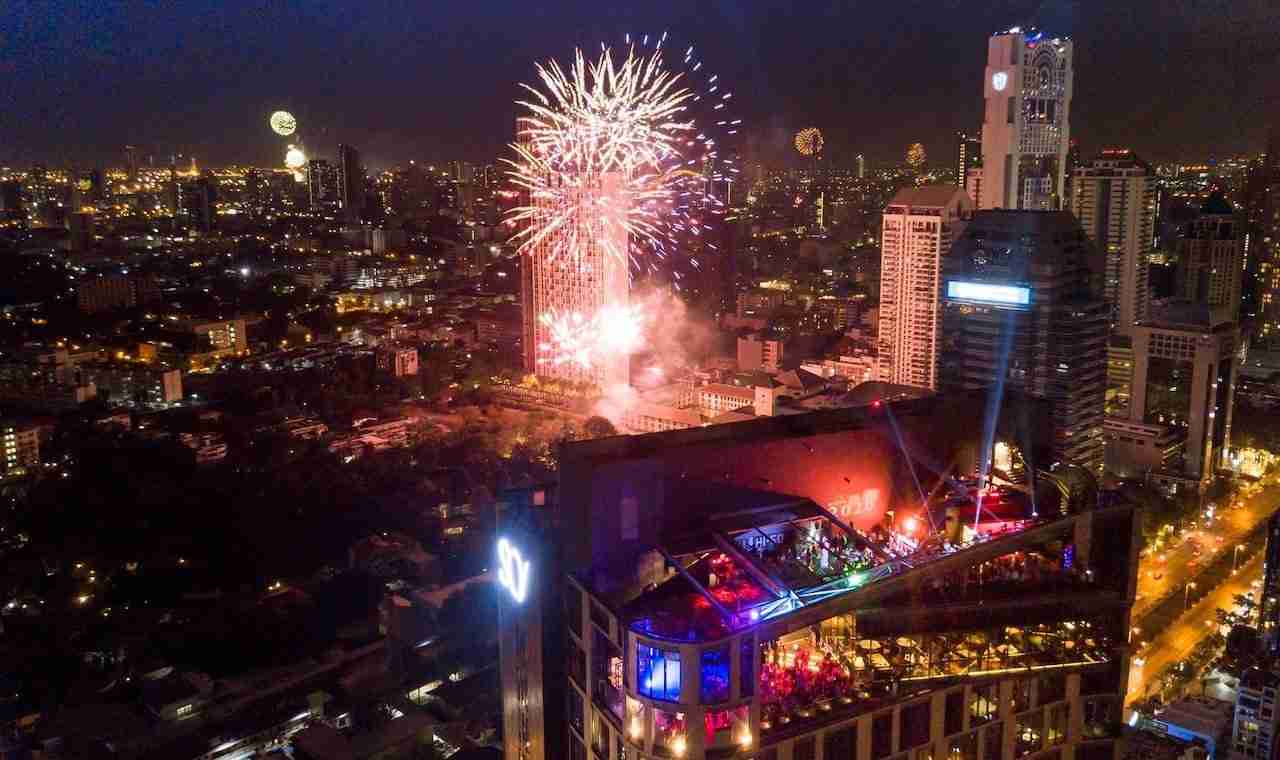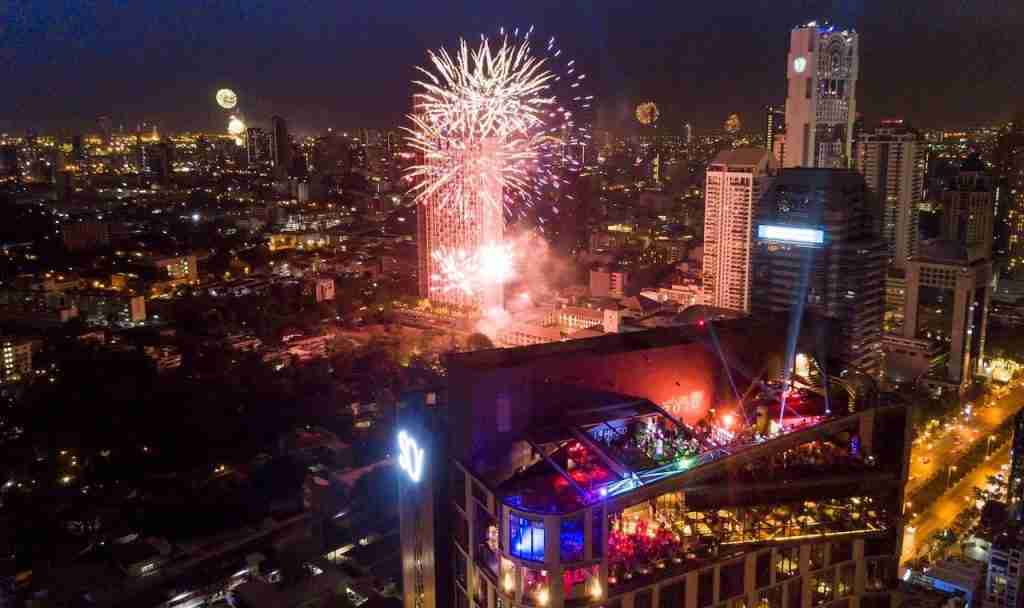 This is very different from other rooftop bars because others are more of a date place, whereas this is where you can easily interact with others.
The parties vary depending on the theme, but you will always be guaranteed to have a good time here.
For example, the NYE party there is always one of the biggest in Bangkok.
It is best if you book a table in advance to have a nice spot and view. Plus, it is a smart way to impress the ladies.
CRU Rooftop Champagne Bar
Opening Hours: 5 PM – 1 AM
Dress Code: Dress to impress (no shorts, flip flop, tank tops, sportswear…)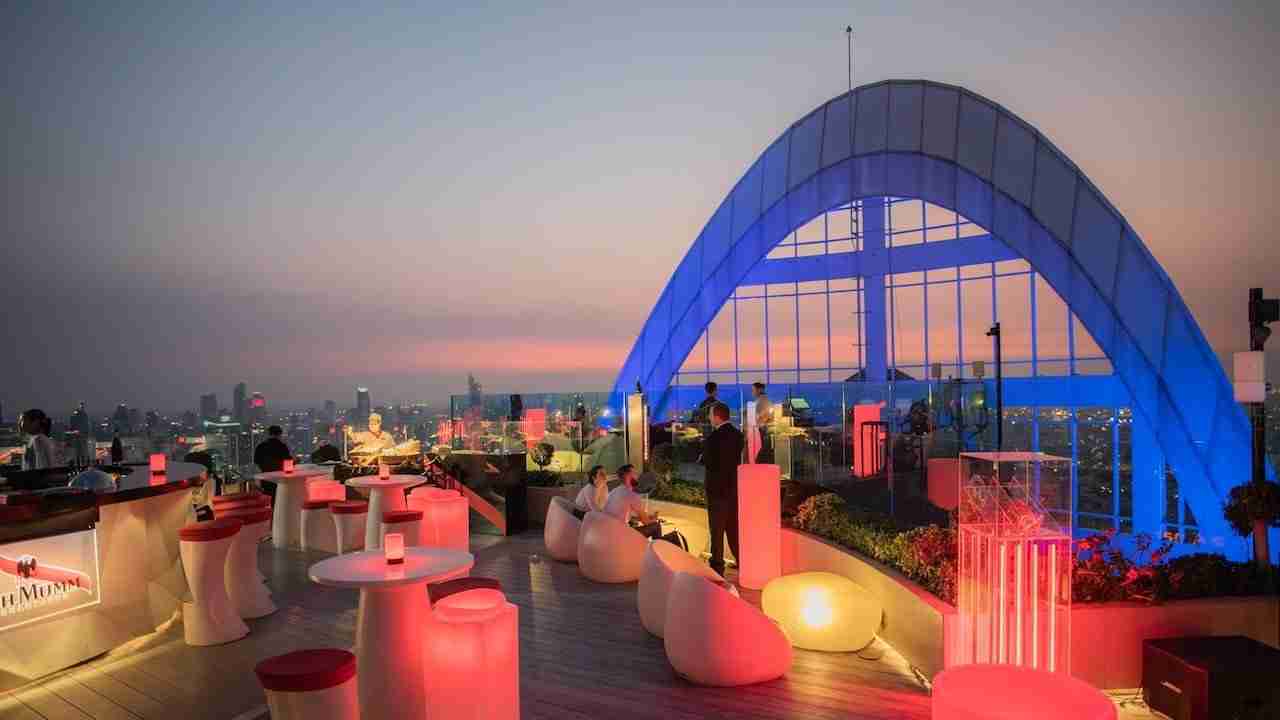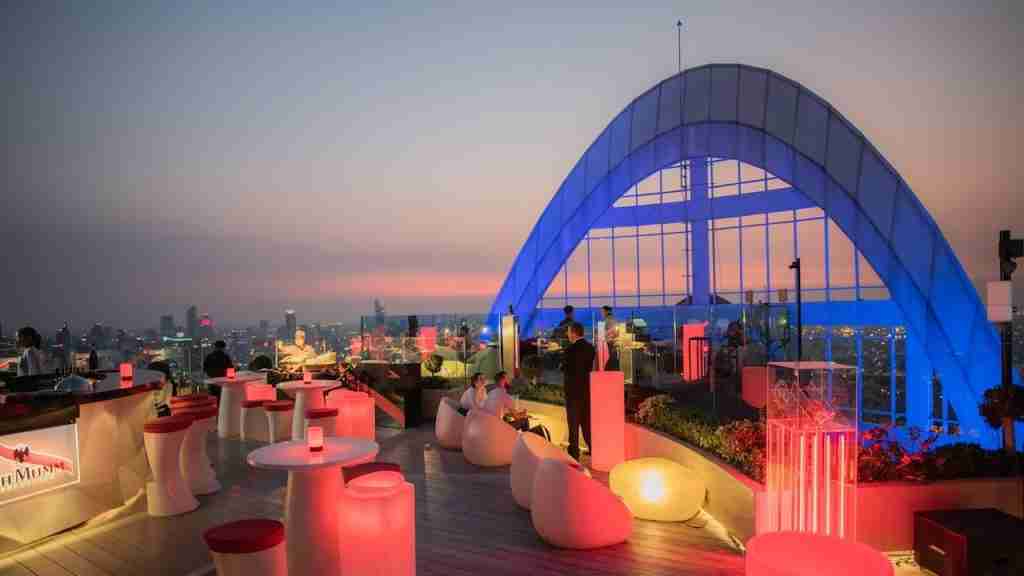 This aerial bar on top of Centara Grand at CentralWorld is one of the latest additions to Bangkok's rooftop roster. As new as they are, it is still a dreamy destination that you will adore.
As the name suggests, they specialize in Champagnes.
In fact, they have an extensive drinks menu where they use G.H. Mumm Champagne and other bespoke brands that you can only find at CRU Rooftop Champagne Bar.
The food here is great, as well. It's recommended that you pair your champagne with fresh oysters. It will be a match made in heaven.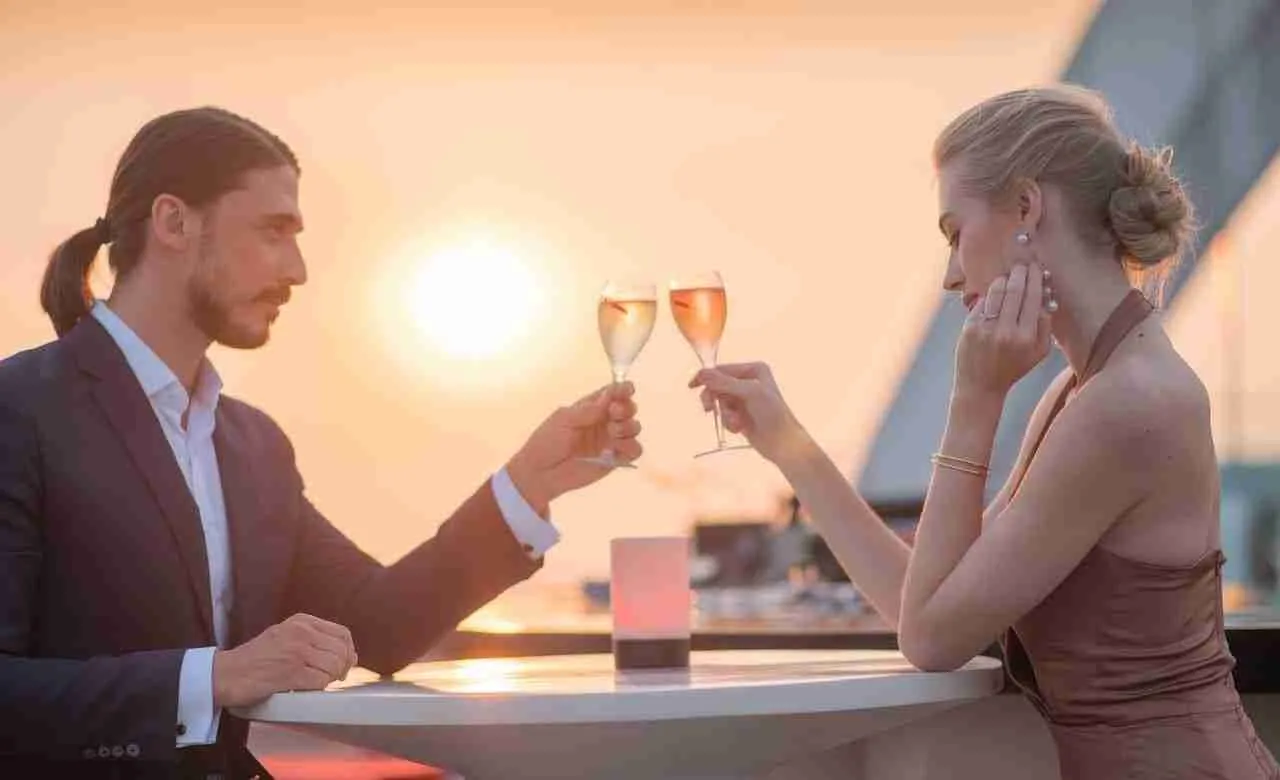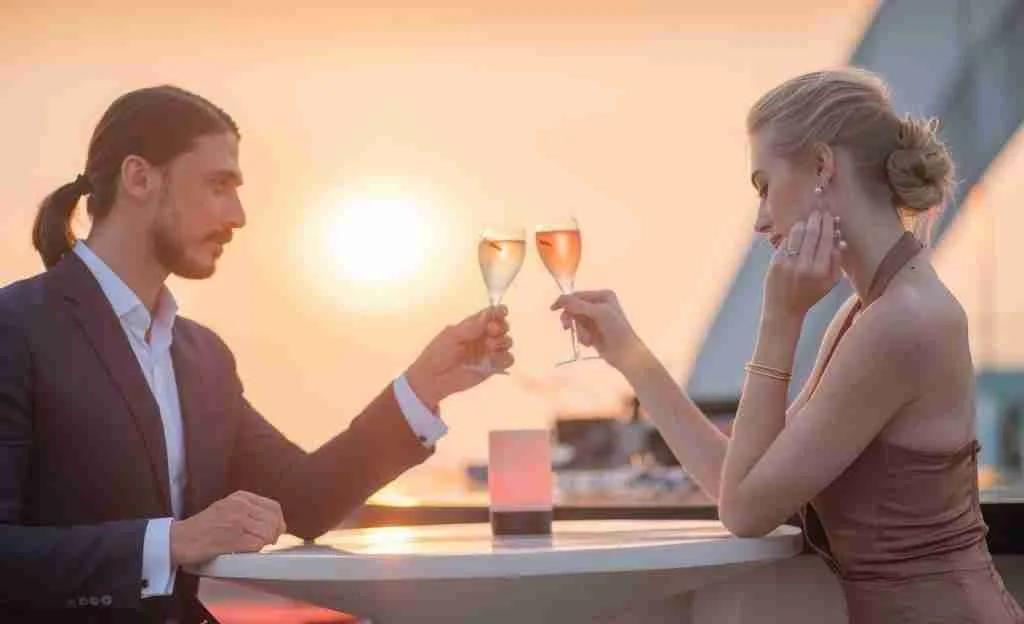 With such a fine selection of items, this place is perfect for lavish celebrations.
It can be for your anniversary, birthday, product launch, or any other special occasion!
You can book the whole area if you want to.
Contact us to get started with all the planning and other necessary arrangements.
And don't forget to get a custom suit from Bangkok's best tailor to look perfect for the event.
Tichuca Rooftop Bar
Opening Hours: 6 PM – 12 AM (midnight)
Dress Code: Smart casual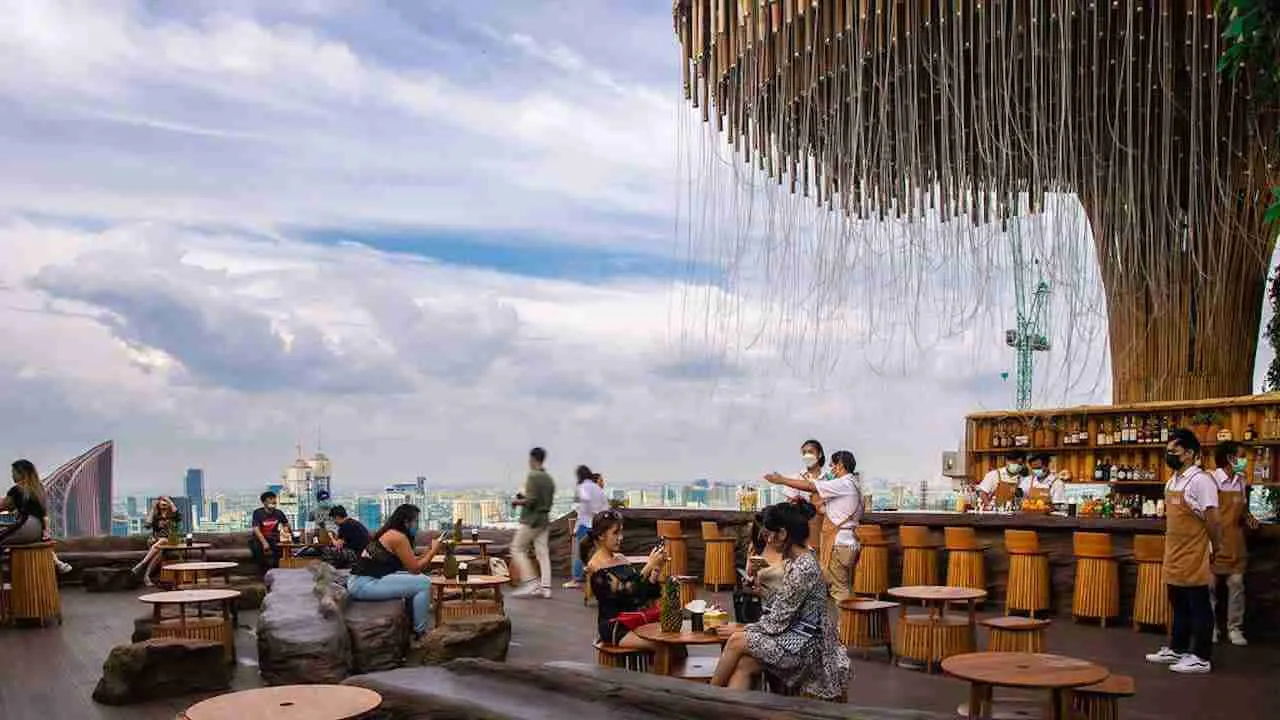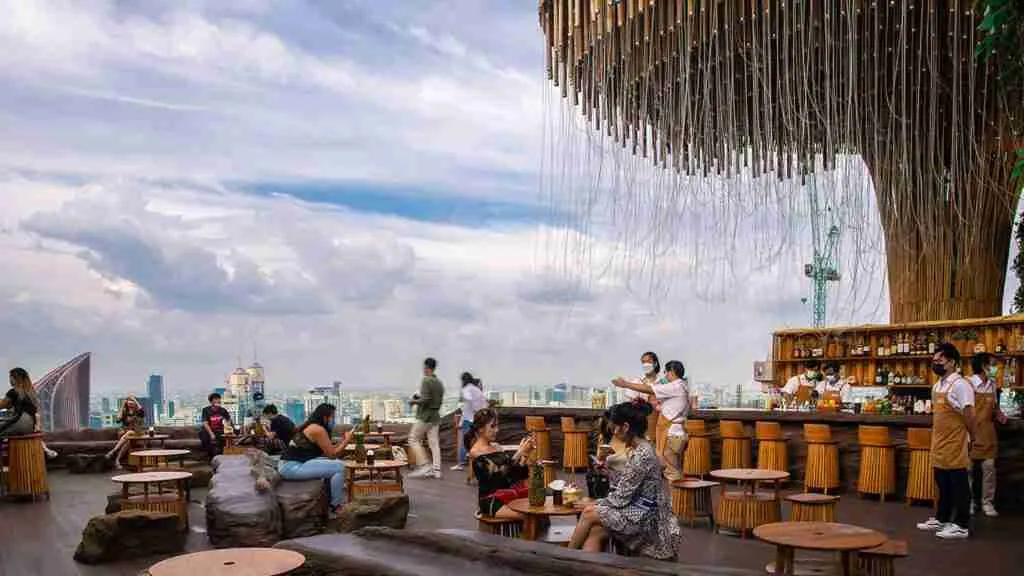 Do you want to know where the young and attractive Thai girls go for a fun night out in Bangkok? Tichuca rooftop bar is one of their favorite spots.
This is one of the bars that opened during the COVID period. Despite the timing, it remains popular up until today because of many reasons.
The first one is mainly the unique and cool design of the establishment.
It looks pretty with its pink-ish hanging lights coming from a tree making it the most instagrammable rooftop bar in the city.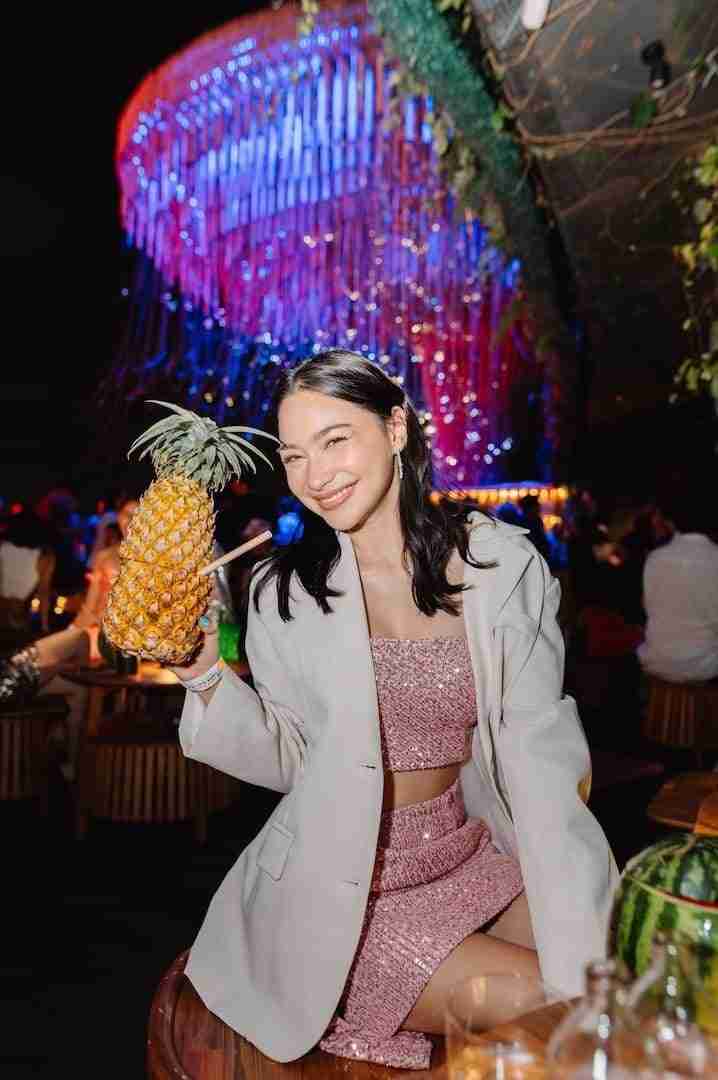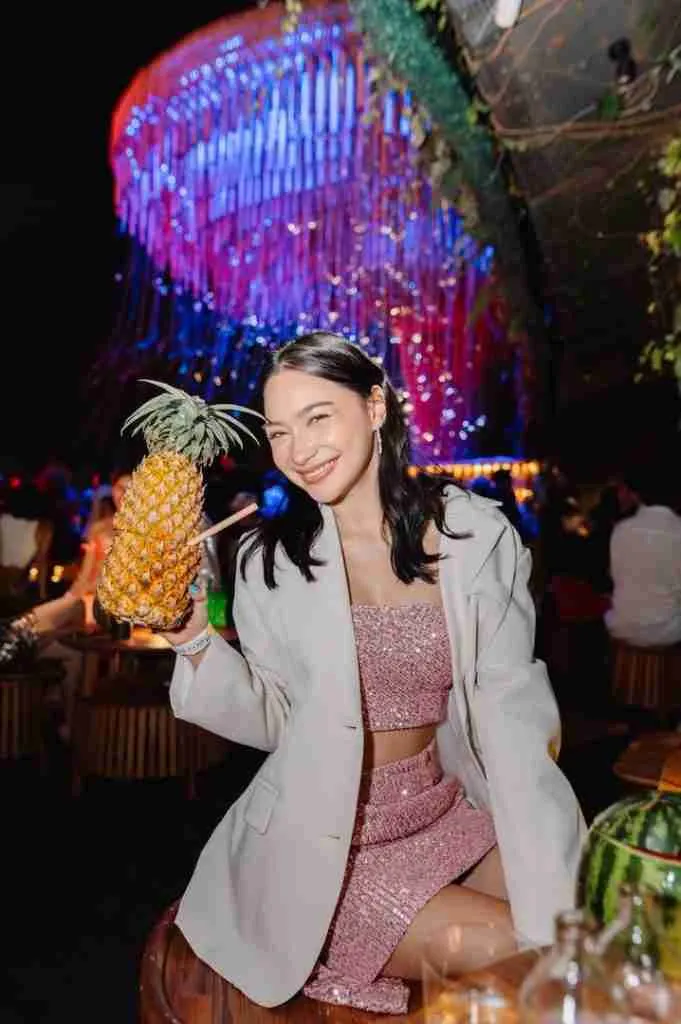 Second, the music is very good. You might hear a mix of pop music with a little bit of tropical techno.
The beats of the place will make the people dance, but so will the good cocktails that they serve.
That is the third reason.
Not only do the drinks taste good, but the presentation is spot-on, too.
Lastly, the location is very convenient and is near many of the city's top cocktail bars and clubs.
Go down and grab a taxi and you'll be right in Thonglor and Ekamai, which are two of the top places in Bangkok for VIP parties.
Or you can skip the taxi and contact us to arrange a limousine to take you around town.
Regardless, Tichuca is definitely a casual rooftop bar Bangkok should be known for.
Char Rooftop Bar
Opening Hours: 5 PM – 12 AM (midnight)
Dress Code: Smart casual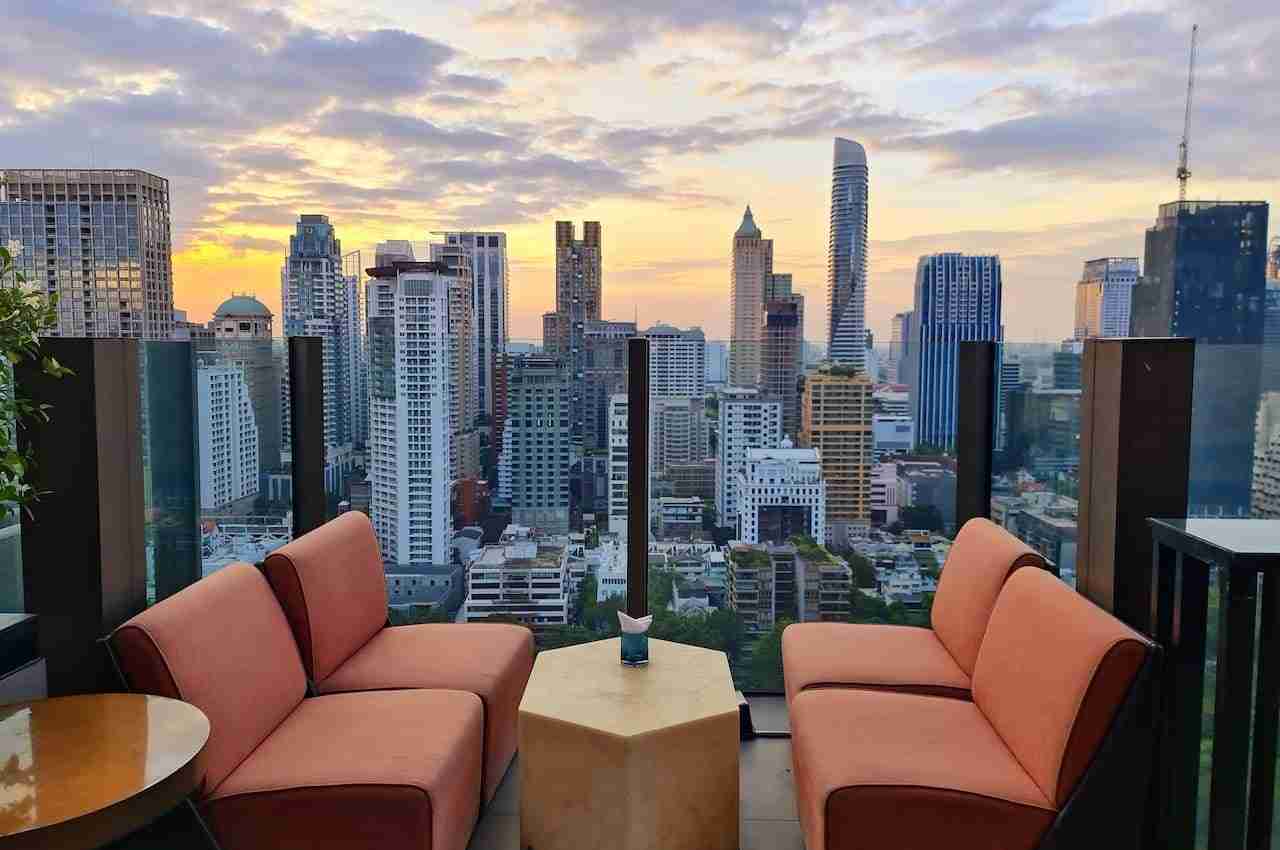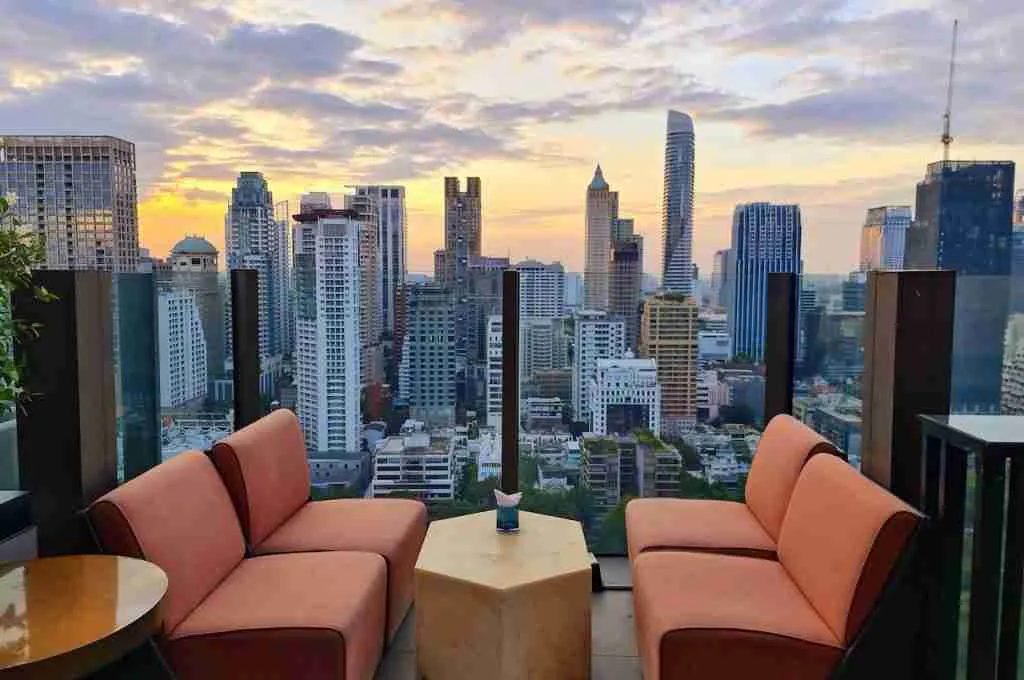 Char Bangkok is a casual rooftop bar that serves good food and drinks.
It is located on the 25th and 26th floors of Hotel Indigo Bangkok, a 5-star luxury hotel in the center of the city.
Start with culinary delights prepared by their world-class chefs. Their main specialty is perfectly-grilled meat with bold flavors and strong aromas.
After eating, you can go ahead to the rooftop area where you can sip on enjoyable cocktails until midnight.
You can also sit indoors if you want to revel in the beauty of the city with a cooler temperature in case it is hot outside.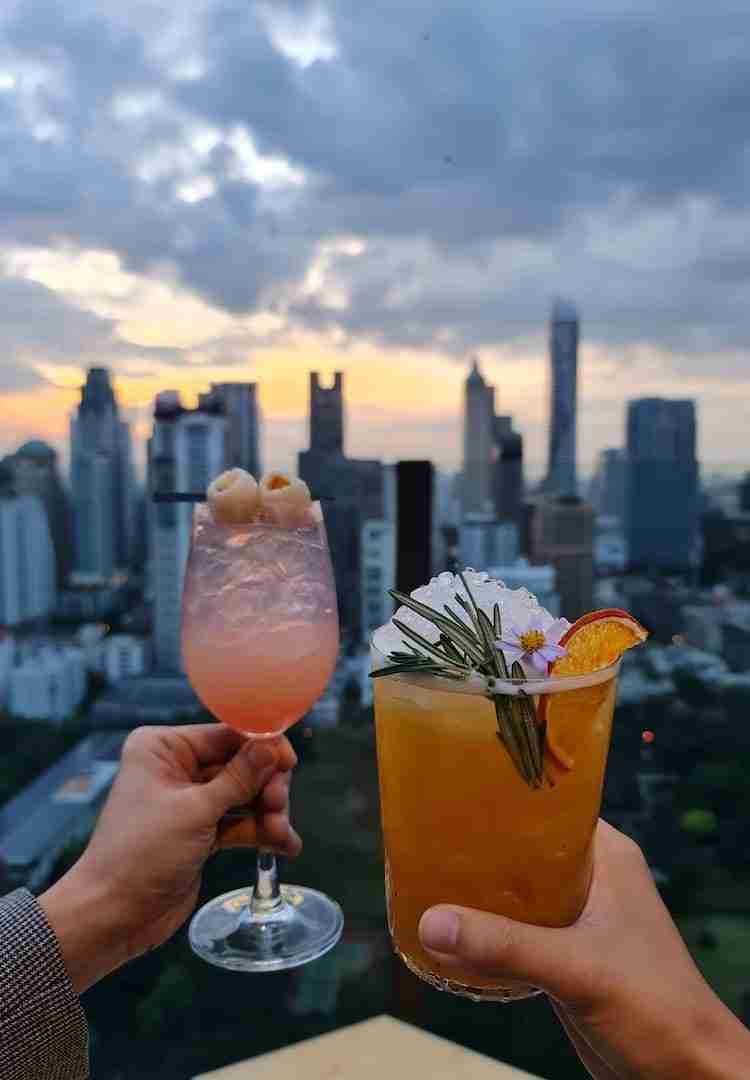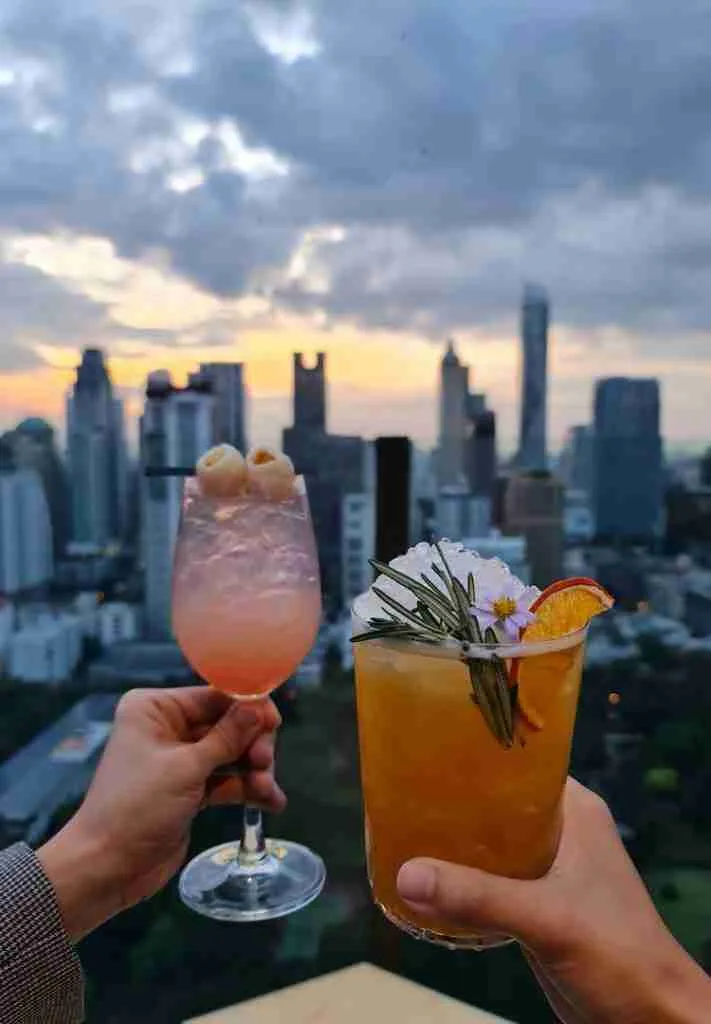 Char Rooftop Bar also has CHAR Private, a cozy and casual space where you can hold mini parties, client meetings, and business lunches.
They make sure to tailor your dining experience exactly how you want it. That is a testament to their outstanding hospitality!
SEEN Restaurant & Bar Bangkok
Opening Hours: 11 AM – 12 AM (midnight)
Dress Code: Smart casual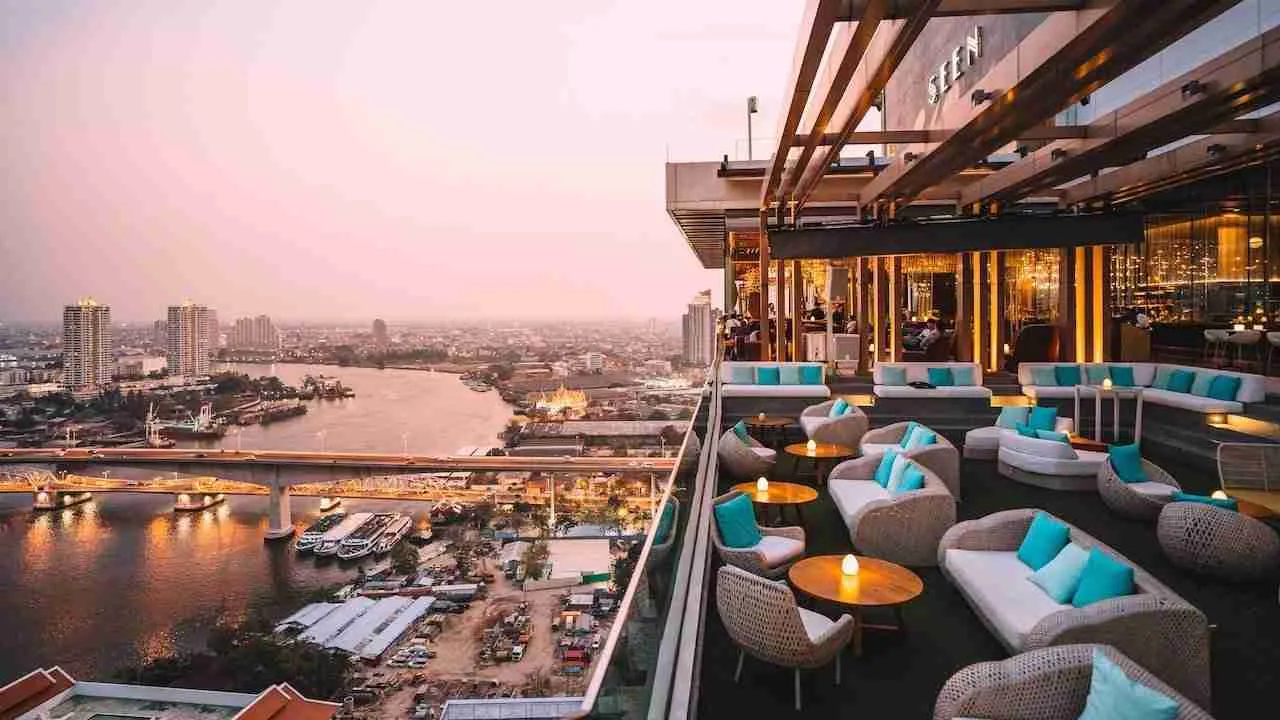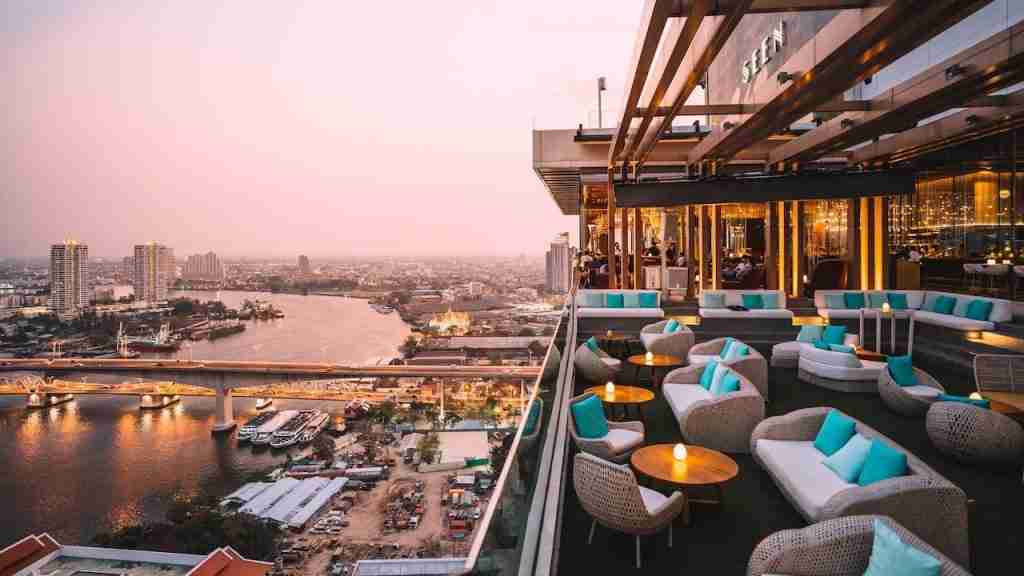 SEEN Restaurant & Bar Bangkok at Avani Plus Riverside is as beautiful as it is in photos. Its sleek, gold-tinted decor set in a luxurious space is a sight to behold.
There are many areas where you can chill in this multi-story and multi-sensory playground.
The best corner is by the bar counter because you will get to see their award-winning mixologist team put on a show while they prepare the cocktails.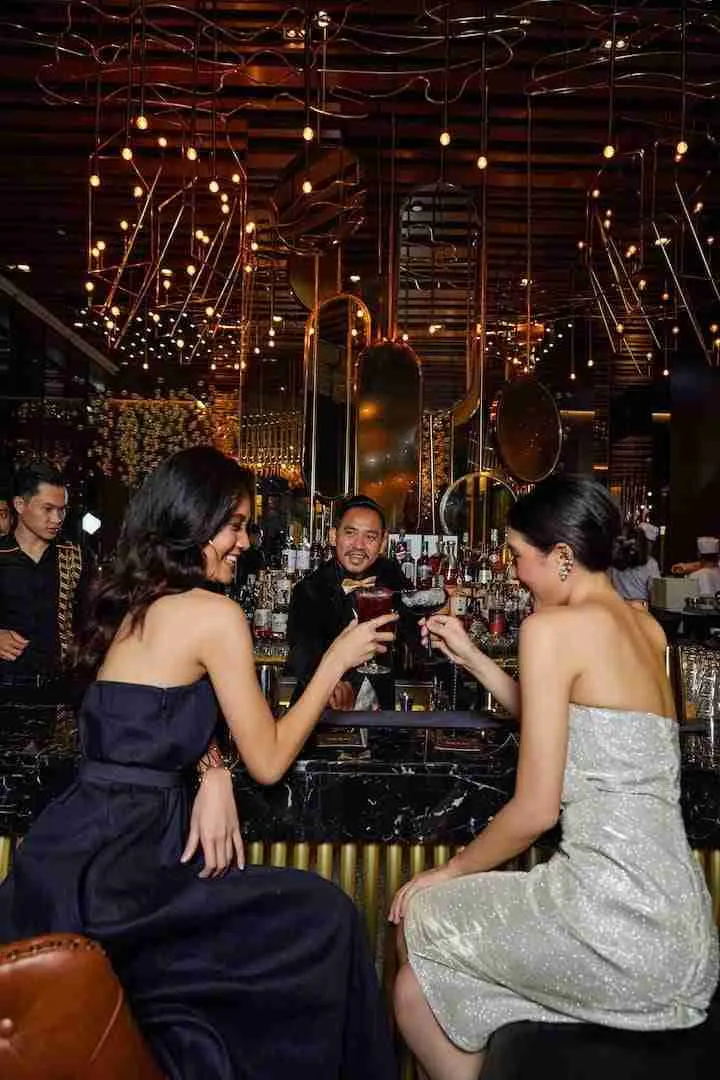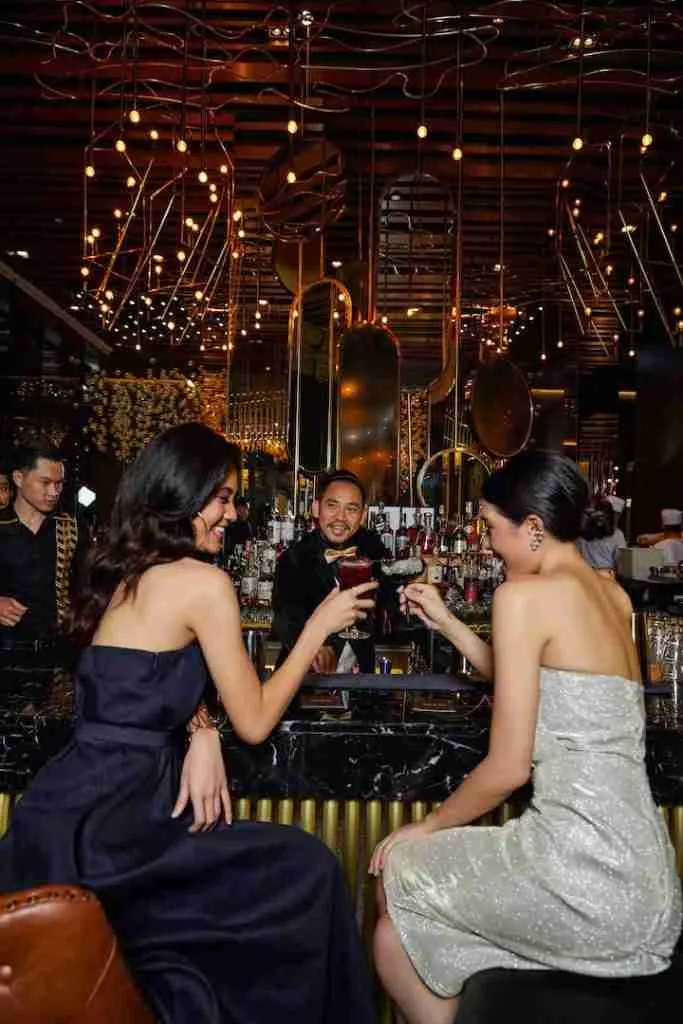 If you want to sit down and enjoy drinks with Portuguese-Brazilian food, there are numerous designated tables in the area.
If you want to enjoy some live music or performances, there is a central area with VIP couches.
Feel like appreciating the city skyline? You can go to the rooftop for a higher and unblocked view.
It might be good to note that this is a good place to watch the sunset in Bangkok, especially when it is facing the Chao Phraya river.
It's also the best rooftop bar in Bangkok for private parties with enough space to host events with hundreds of people.
Contact us if you need help with luxury event planning in Thailand.
Book A Table With VLS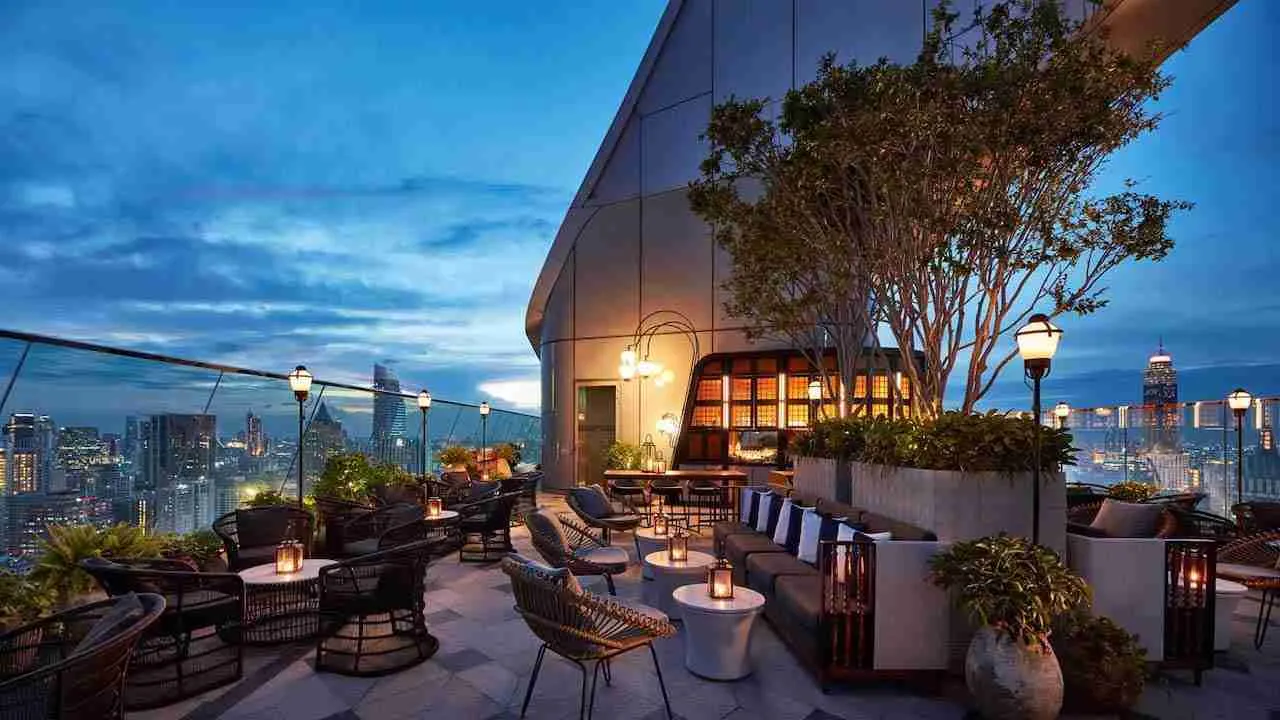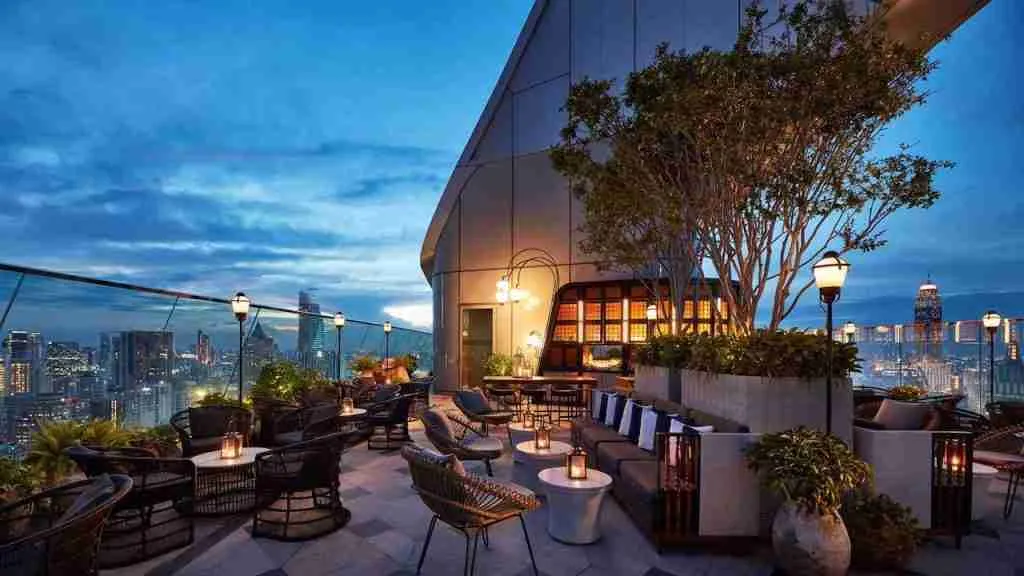 These luxury bars are almost always hard to get into, so you need to book in advance.
Let us take care of that for you.
We guarantee that you will get the best seats in these luxurious rooftop bars regardless if it's the peak season or not.
We can help with:
Land, Water, or Air Transfers
Visa and Immigration Assistance
Events Planning & Management
Luxury Car Rentals (with or without chauffeur)
24/7 Concierge
… and many more!
Make your rooftop bar experience more memorable with VLS.
FAQ
What is the highest rooftop bar in Bangkok?
The highest rooftop bar in Bangkok is currently the Mahanakhon Bangkok SkyBar at 316 meters above the ground. 
Which rooftop bar in Bangkok has the best cocktails?
SEEN Restaurant & Bar Bangkok has the best cocktails prepared by their award-winning mixologist team.
Which rooftop bar in Bangkok is the best for a luxury private party?
You can rent the entire space of any of the rooftop bars mentioned above, but the best one would be at HI-SO Rooftop Bar. Your guests will love the ambiance and cocktails there.
Bangkok nightlife has a lot more than rooftop bars, read our guide here.
Explore the best destinations to party in Thailand during your trip.
Read our post on Thailand nightlife.