Nothing can beat nightlife in Thailand. There are just so many things to do, see, and experience here.
With all the beautiful scenery and girls around, you will want to party until the sun rises.
That's why we're rounding up the best of the best, so you can maximize your time here in the Land of Smiles.
From the stunning island of Phuket down to the busy streets of Bangkok, the possibilities are endless for a guaranteed night of fun and excitement.
Read on!
Nikki Beach Club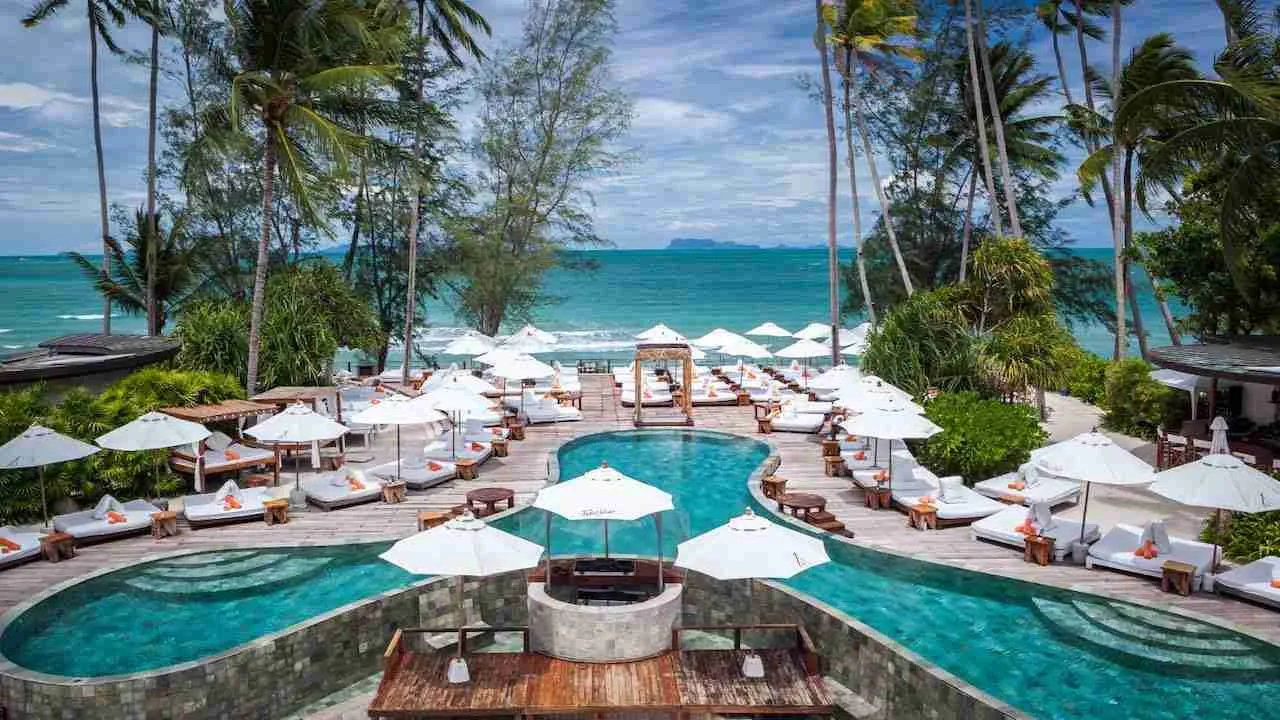 Location: Lipa Noi, Koh Samui
From all the islands in Thailand, if you love to party, the one you need to visit is Koh Samui.
This is where people go for festivals or parties by the beach. The people you'll meet here are fun, vibrant, and outgoing.
Nikki Beach brand is renowned worldwide for the quality of its service and entertainment, and their beach club in Koh Samui lives up to this standard.
They have beautiful rooms and great lounges ideal for drinking and chilling. This unpretentious atmosphere gives men the confidence to come up to girls and buy them drinks.
Enjoy the stunning island landscape and dreamy setup that the resort offers while you party all day and all night around the pool.
it's a must-visit place for all.
Cafe Del Mar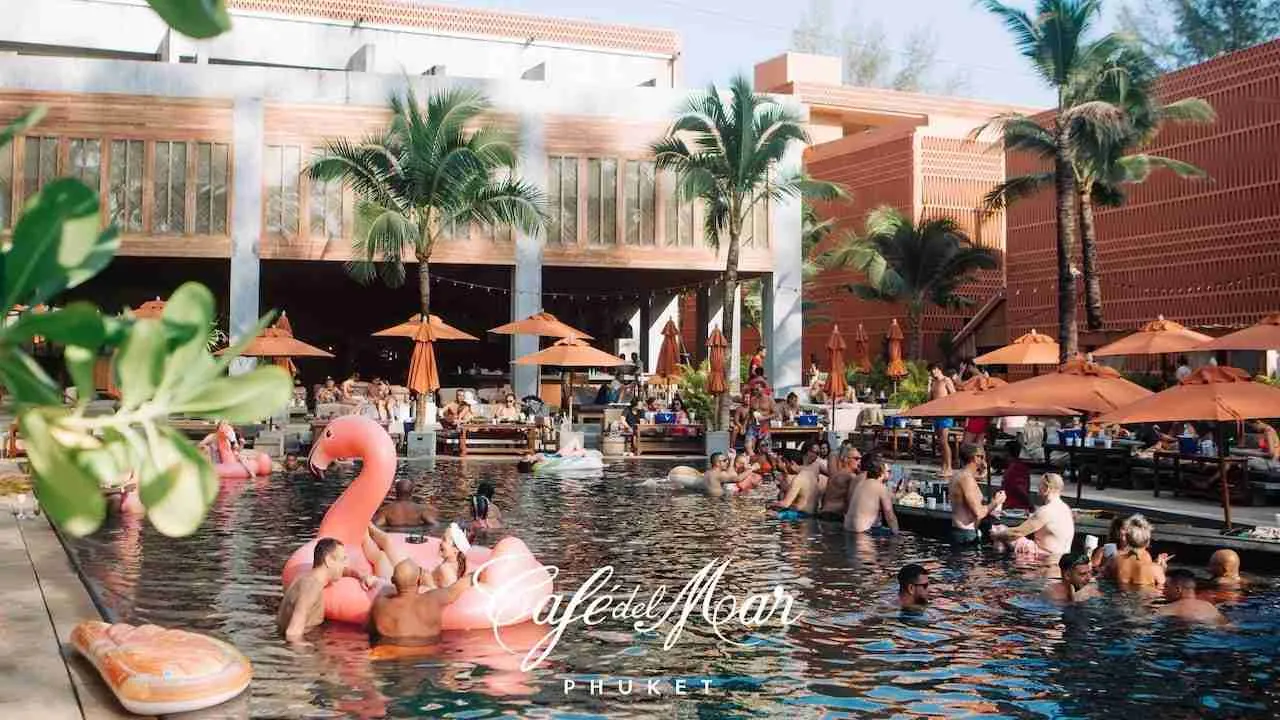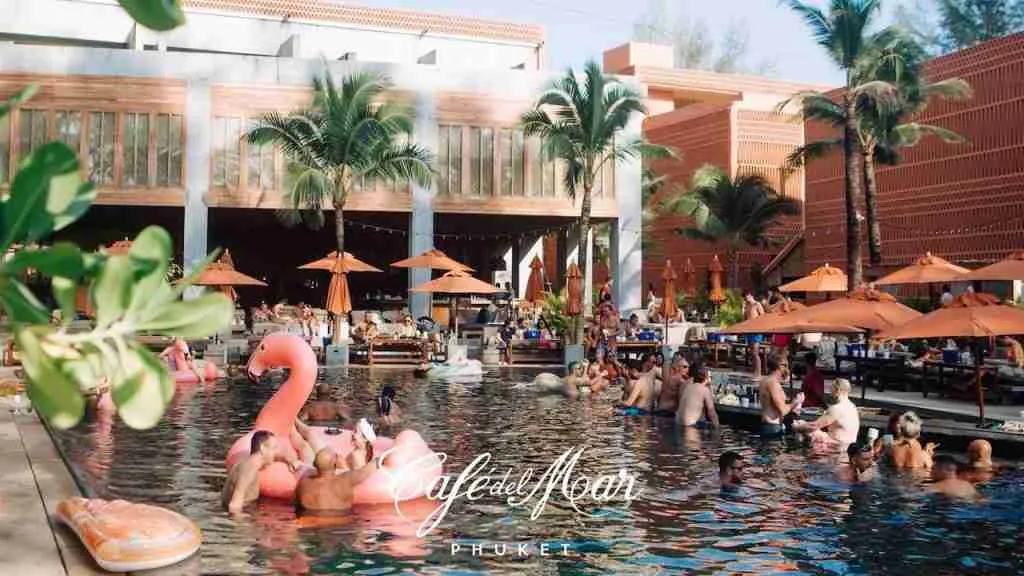 Location: Kamala, Phuket
Trendy, tropical, and top-notch. Cafe Del Mar is one of the pioneer beach clubs in Phuket that is often visited by influencers, celebrities, and the likes.
It has a breathtaking contemporary nature decor from the entrance down to the beachfront opening to one of the most beautiful beaches in Thailand.
The ambiance is very beautiful and relaxing, which makes it an ideal place to party.
They also have a big pool area where guests can freely swim and sip to their heart's content.
Cafe Del Mar also hosts several events. They even invite local and international DJs, do boozy brunches, and organize insane parties to the sound of Latino music, Afrobeats, or EDM.
If you like trendy beach clubs, and gorgeous bikini girls, both local and foreign, this is the place to be.
KUDO Beach Club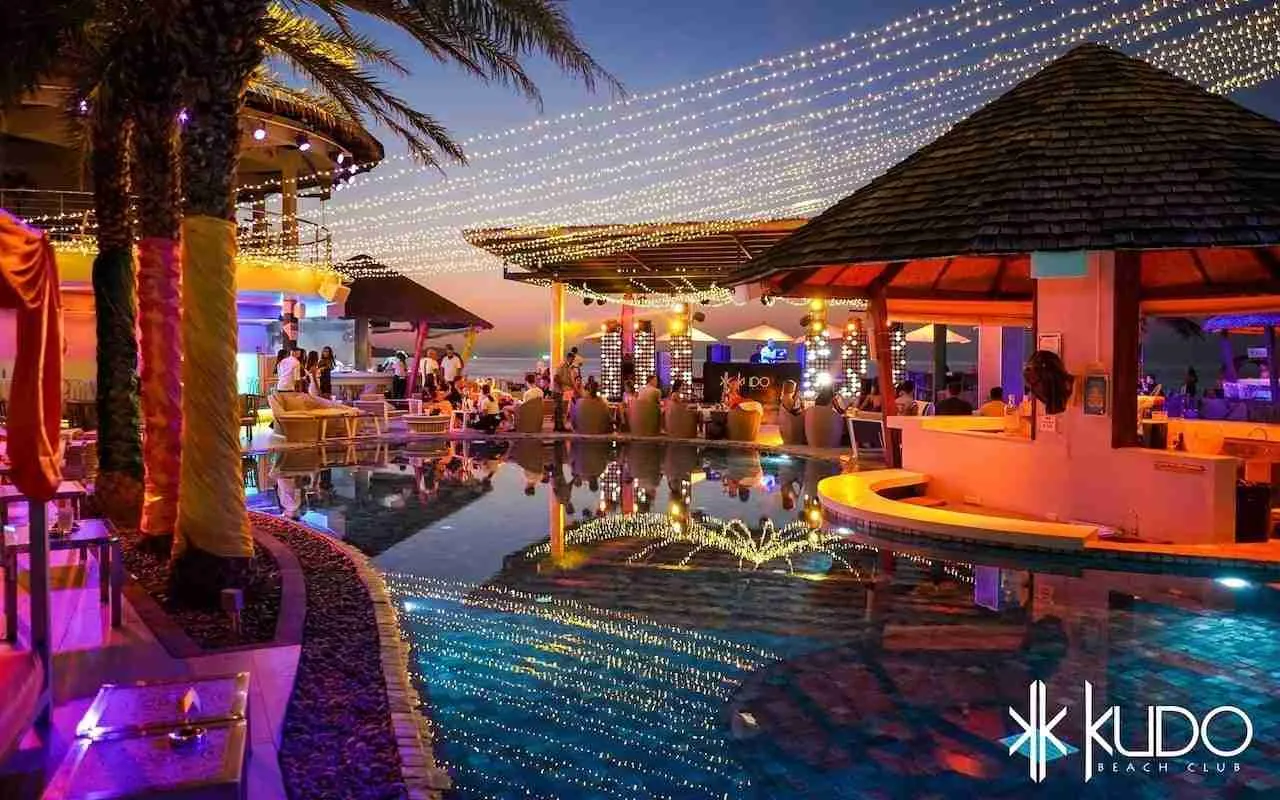 Location: Patong Beach, Phuket
Aside from Pattaya, Patong Beach is a Thai haven for men who want to party.
You'll see people in casual wear looking for establishments to hop one after another, but KUDO Beach Club is where it all goes down.
It's one of the top nightlife destinations in Thailand that promises an unforgettable moment for everyone.
It's very trendy with its tropical vibes, so expect a lot of young girls. The main suggestion would be to catch the club when they have events.
They do pool parties, Sunday boozy brunch, and tons of themed nights with exotic dancers and international artists.
This is when there are a lot of visitors from all over: locals, from Bangkok, and, especially foreigners.
Book in advance with VLS to have a table when you visit.
Baba Nest Rooftop Bar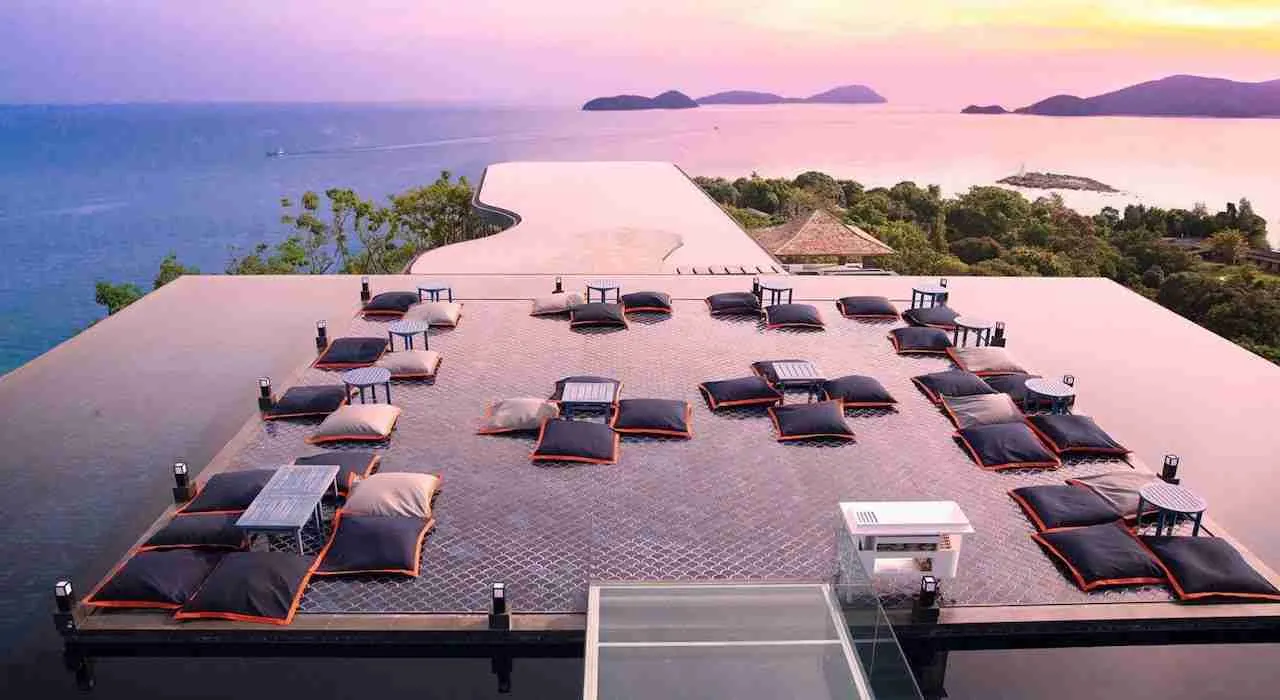 Location: Sri Panwa, Phuket
If you want a more high-end bar in Phuket, Baba Nest Rooftop Bar is the place to be. Plus, the crowd here is upscale.
This makes it a preferred location to meet sophisticated Thai girls.
The place is extremely stylish and exclusive. They also have a wide selection of premium food and drinks.
You can enjoy all of these while watching the sunsets from the most spectacular viewpoint in Phuket.
Pick a night when they have a DJ to party there until late, but don't forget to book in advance for those as tables are super limited.
It would also be good to note that Baba Nest is part of the Baba property.
It has tons of villa options, including some of the best pool villas in Phuket, restaurants, lounges, and bars.
This can be an all-in-one place for party-goers.
Let us help you create a convenient and worth-it travel itinerary for a worry-free trip.
The Roof @ Sala Lanna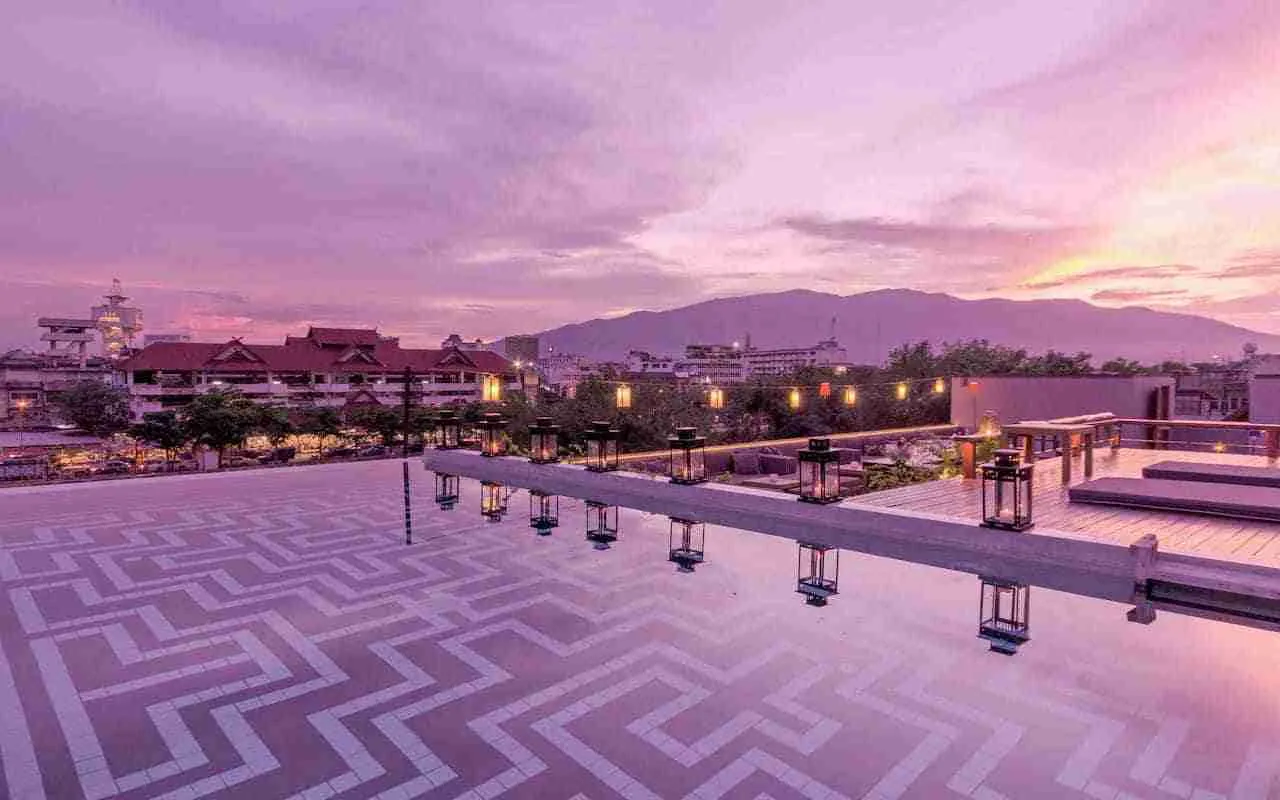 Location: Chiang Mai, Chiang Mai
The rooftop bar in Sala Lanna is an excellent location to enjoy panoramic 360 views of the Ping River and the beautiful city of Chiang Mai.
That's why a lot of people go there to have fun and drink.
They have good cocktails but don't miss their premium wine selection to enjoy a fine drink as you catch the sunset.
Visit The Roof during Songkran, Halloween, or NYE for the best upscale parties in Chiang Mai.
While you're there, don't forget to have a look at Sala Lanna, which is one of the top boutique hotels in Chiang Mai.
The contemporary Thai design is seen also in the rooftop bar, so expect equally gorgeous designs that your Thai date would adore.
Horizon Rooftop Bar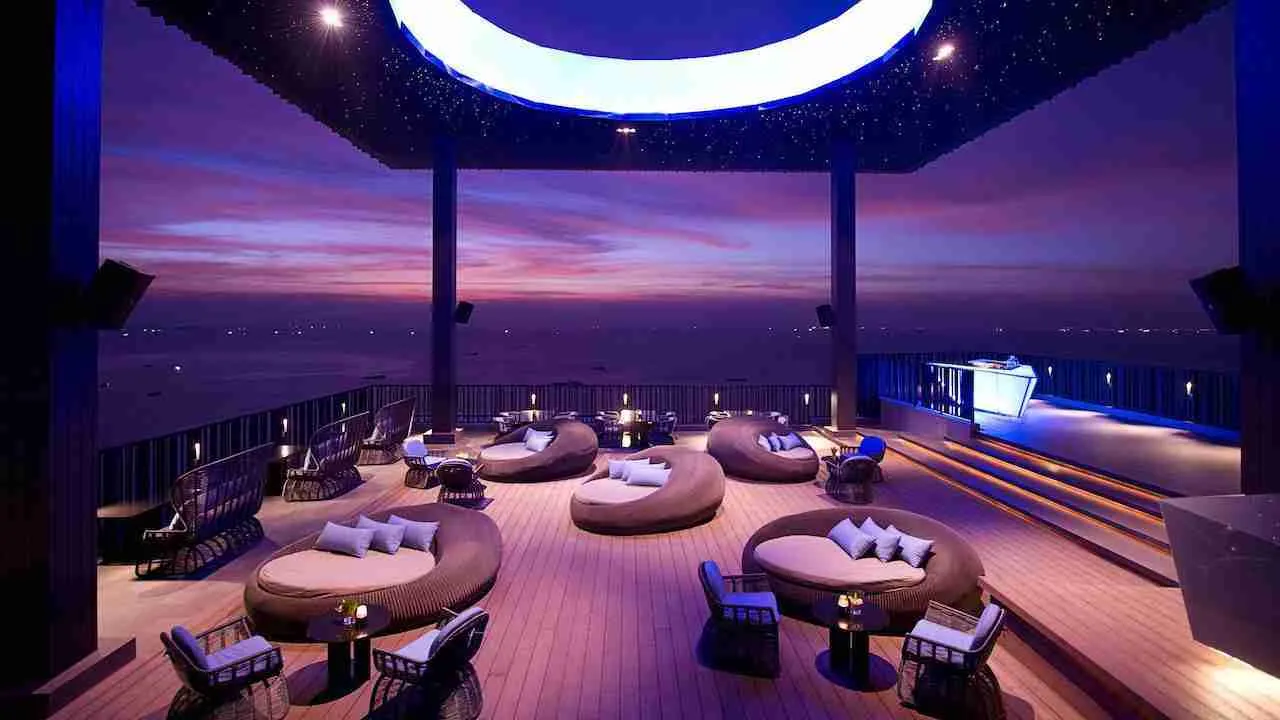 Location: Pattaya City, Pattaya
Pattaya is one of the most iconic party destinations in Thailand. It has a long walking street for guaranteed good fun.
But for premium service and ambiance, head to Horizon Rooftop Bar at Hilton Pattaya.
It's on the 34th floor of one of the most luxurious hotels in Pattaya, so it offers a spectacular scene of the Gulf of Thailand.
Furthermore, the ambiance is very sophisticated as compared to the busy streets below.
The rooftop bar serves food and drinks. Take it to the next level and impress the girls there with a full table with booze and bites.
Most importantly, keep an eye out for their special events like NYE, Songkran, or their DJ nights for the best rooftop parties in Pattaya.
Red Sky And Cru Champagne Rooftop Bar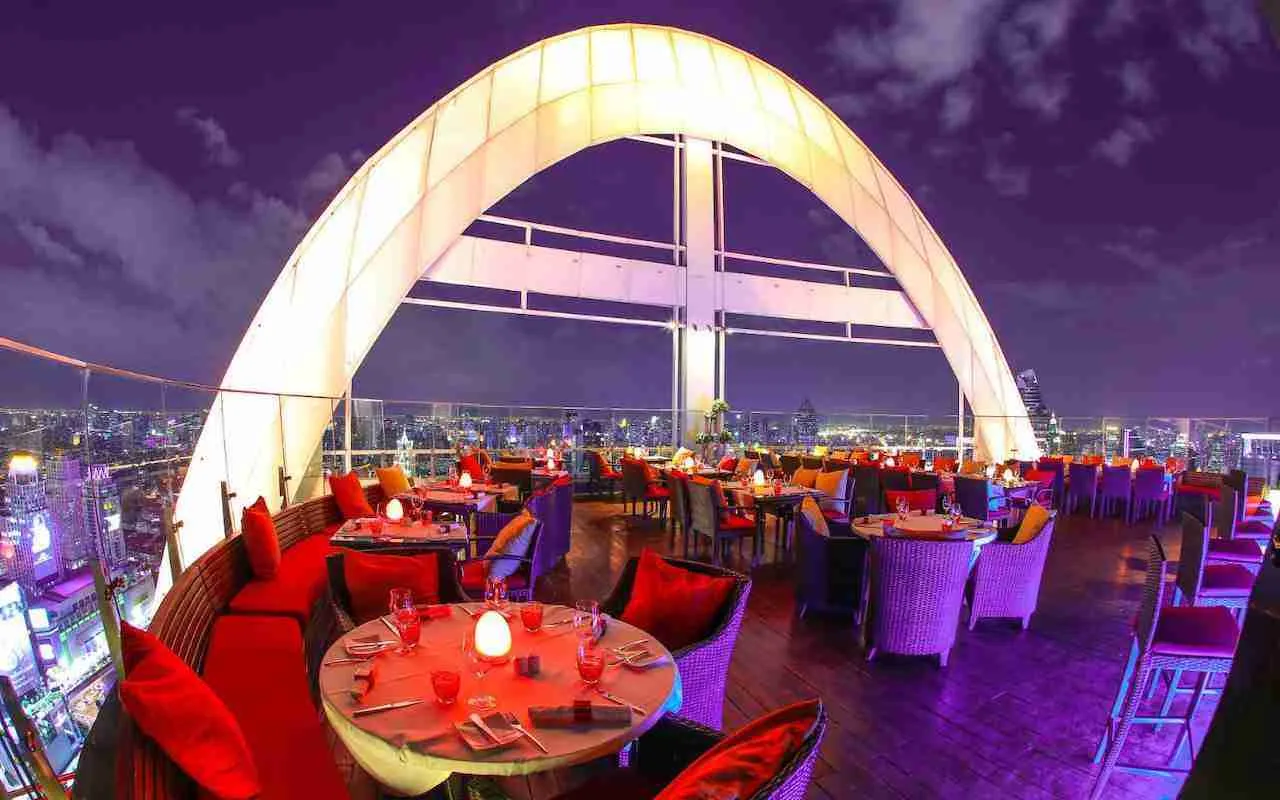 Location: Pathum Wan, Bangkok
Drop the shopping bags and end the day around the Siam district at Red Sky and Cru Champagne Rooftop Bar.
This fancy bistro is nested on the 55th floor of Centara Grand at CentralWorld, one of the top shopping malls in Bangkok.
Despite the breathtaking panoramic views and elegant dining set-up, the place can get pretty wild when they have events on.
It makes for a great place for first-time dates and meet-ups on normal nights, and for a crazy Thai nightlife experience when they go all in.
Not only that, they serve fine drinks and, if you are hungry, food, too.
You will get to taste signature dishes by Chef Christian Ham, a French chef with experience leading Michelin-starred restaurants around the globe.
It's important to book a table in advance to ensure good views. VLS can make that happen.
Spectrum Lounge & Bar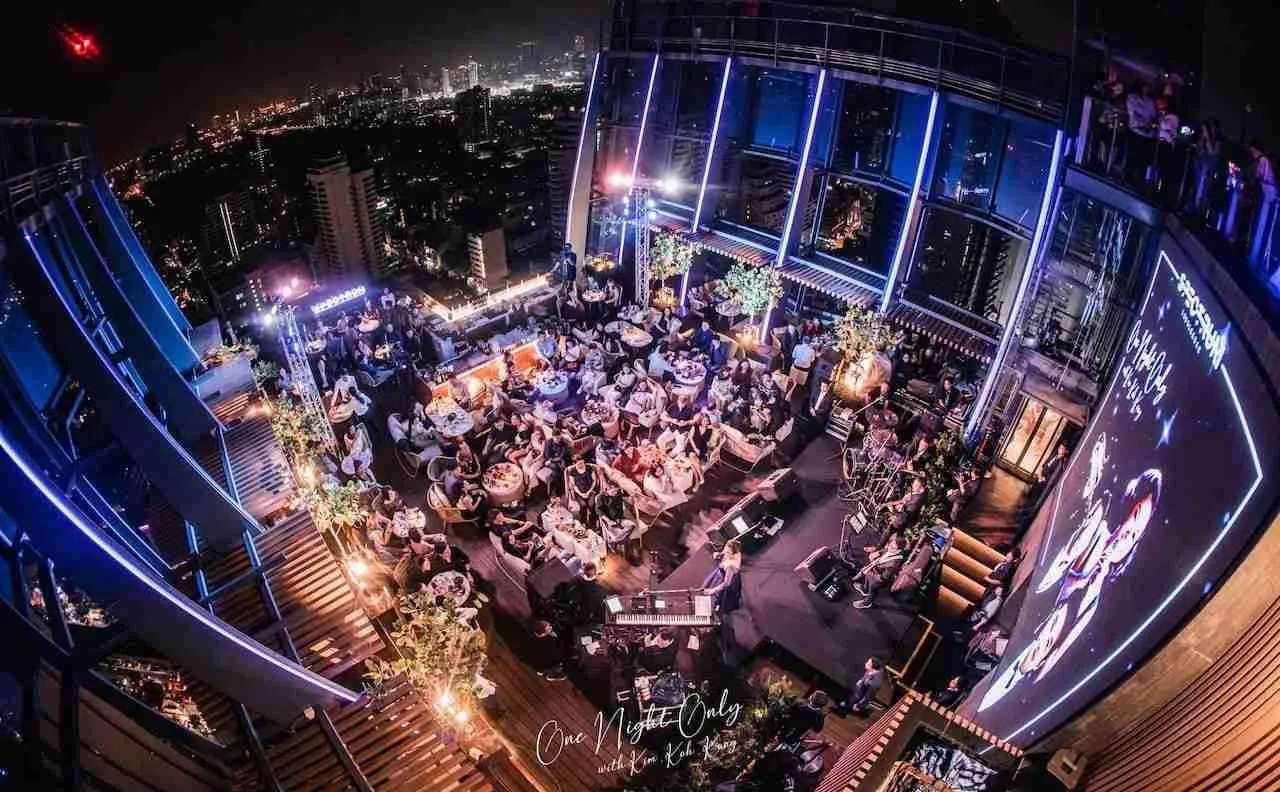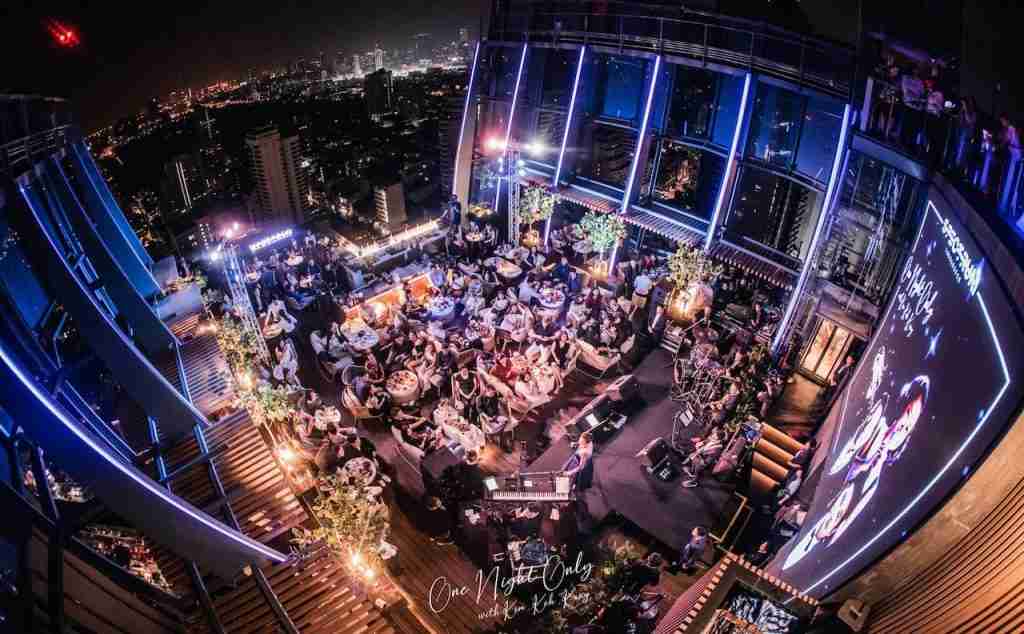 Location: Sukhumvit, Bangkok
Nana has a lot of choices for everyone. There are very local shophouses, and there are high-end bars rooftop bars like Spectrum Lounge & Bar.
Located in Bangkok luxury hotel Hyatt Regency Bangkok, this popular establishment sits on the 29th and 30th floors. It provides a terrific view of the Bangkok skyline.
What makes Spectrum Lounge & Bar amazing is that it can be a one-stop shop for party-goers. On the 29th floor, you can enjoy a fine selection of food while listening to live music.
For a livelier atmosphere, go one floor up to enjoy good beats as you dance and mingle with people.
Keep an eye on Spectrum's Facebook page for their takeovers events by locals clubs like Mustache and Sing Sing which is when the bar is the busiest.
Want to enjoy your experience here better? It is recommended that you book in advance to have good views and seats in the house. Contact us for more details.
Whisgars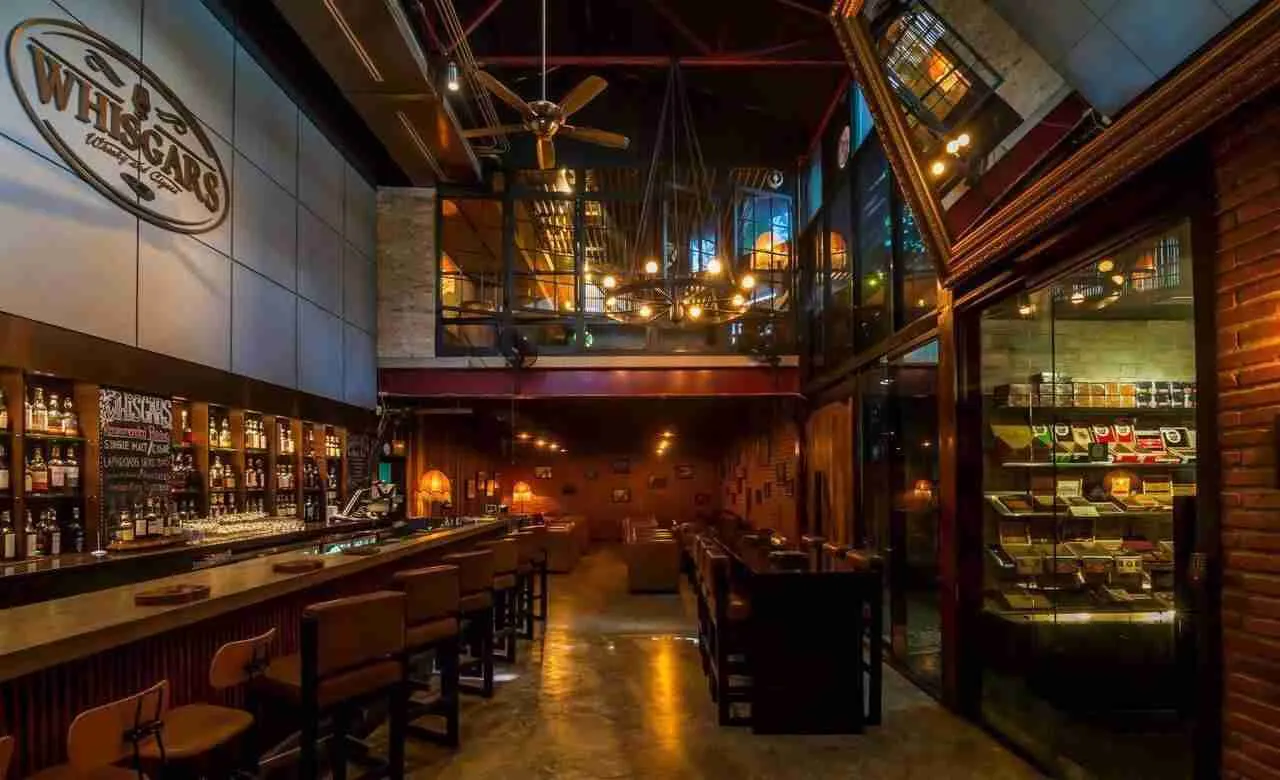 Location: Sukhumvit, Bangkok
Do you enjoy premium whiskeys and cigars?
Then this famous cigar bar in Bangkok Sukhumvit Soi 21 is perfect for you.
They have a wide selection of curated spirits and cigars that customers won't find anywhere else.
They take pride in hand-picked choices that are ‌rare and one of the finest in the city.
Of course, they also have a cocktail bar that is not to be missed.
Pair it with the world-class entertainment they bring in every now and then, each visit to Whisgars will be memorable as well as enjoyable.
Expect live music, magic shows, and more in this special one-of-a-kind establishment in Sukhumvit.
The bar can be extremely fun on the weekend, so try to visit on Friday or Saturday if you really want to party.
BKK Social Club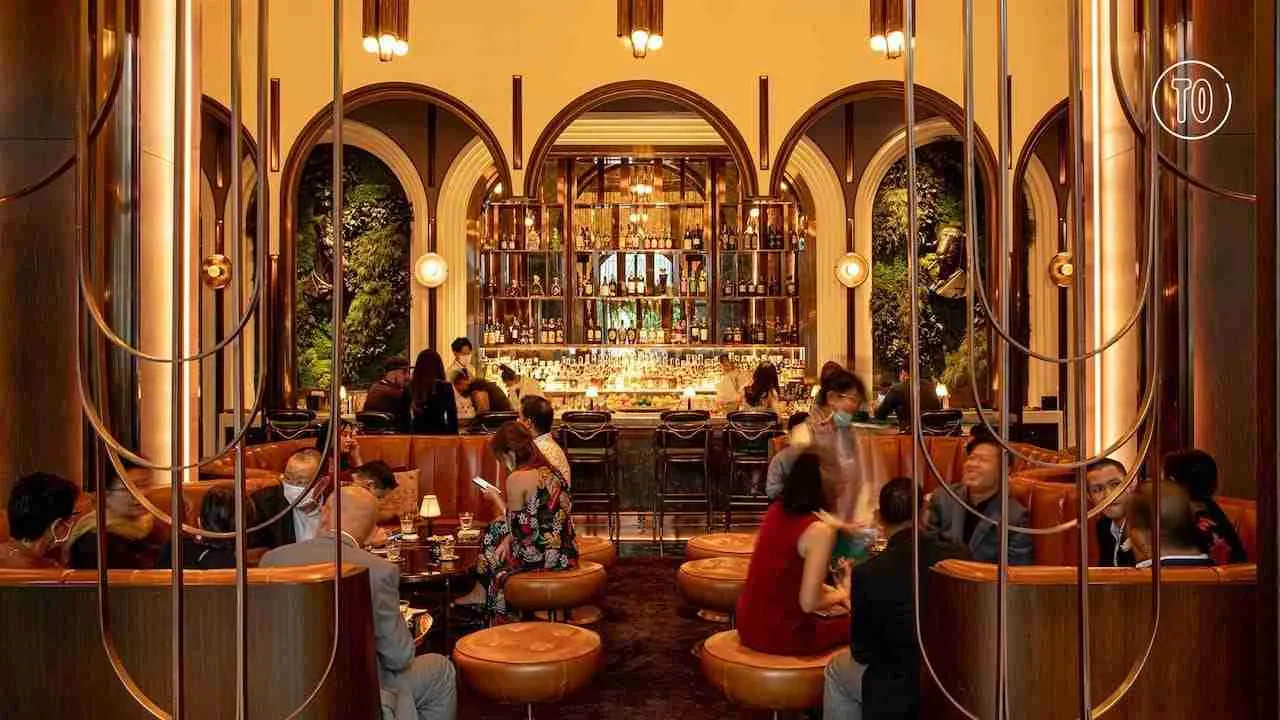 Location: Charoen Krung, Bangkok
BKK Social Club is noteworthy for many reasons, but the main one is being awarded as the 90th Best Bar in the world.
It's no wonder that they received that recognition. It's situated inside Four Seasons Bangkok, one of the best hotels in Thailand.
The ambiance is very elegant and sophisticated with decorations inspired by the beauty of Buenos Aires. The staff is very professional, too.
To add to that, they have world-class cocktails prepared by famous bartenders who have won many competitions.
They serve food, as well. It's truly the complete package if you want an immersive bar experience.
If you prefer to party in cocktail bars rather than loud clubs, this is the place in Bangkok for you.
TopOne Club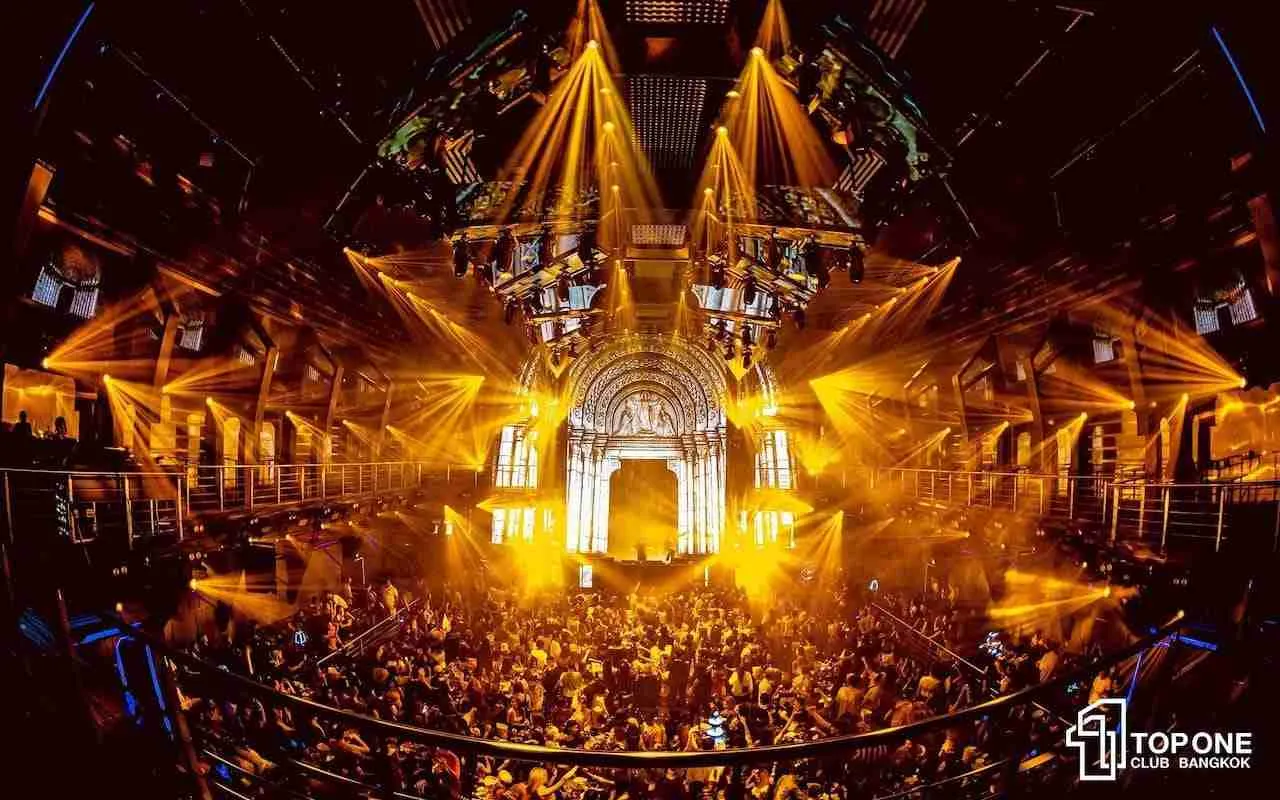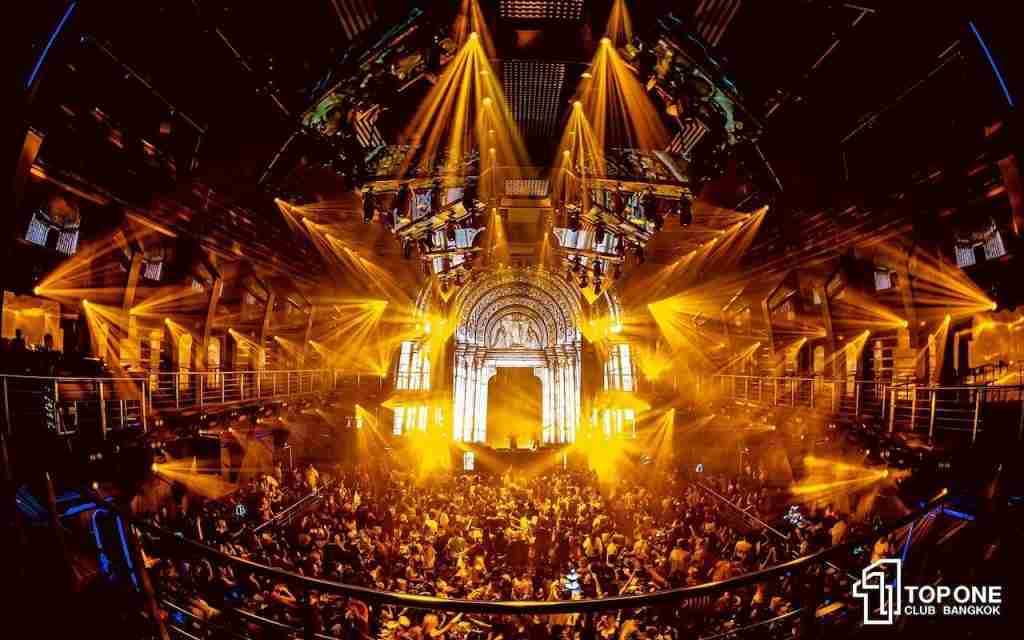 Location: Huai Kwang, Bangkok
Have an unforgettable and out-of-this-world clubbing experience right in the heart of Huai Kwang.
TopOne Club is one of the pioneers in the nightclub scene and clearly shows why Bangkok nightlife is so exceptional.
That means they know how to throw a party!
Bringing in popular DJs and performers matched with their topnotch lights & sounds system, TopOne Club has been a famous destination amongst trendy young Thais.
Their events are completely different from other nightclubs in Thailand with world-class entertainment, artists, and shows.
It is very popular with locals, and a few expats, so you can expect to meet new people on your visit if you have the right table.
Want to impress the crowd and make memorable memories at TopOne Club?
Book the best VIP table with VLS for a guaranteed good time.
Babyface Superclub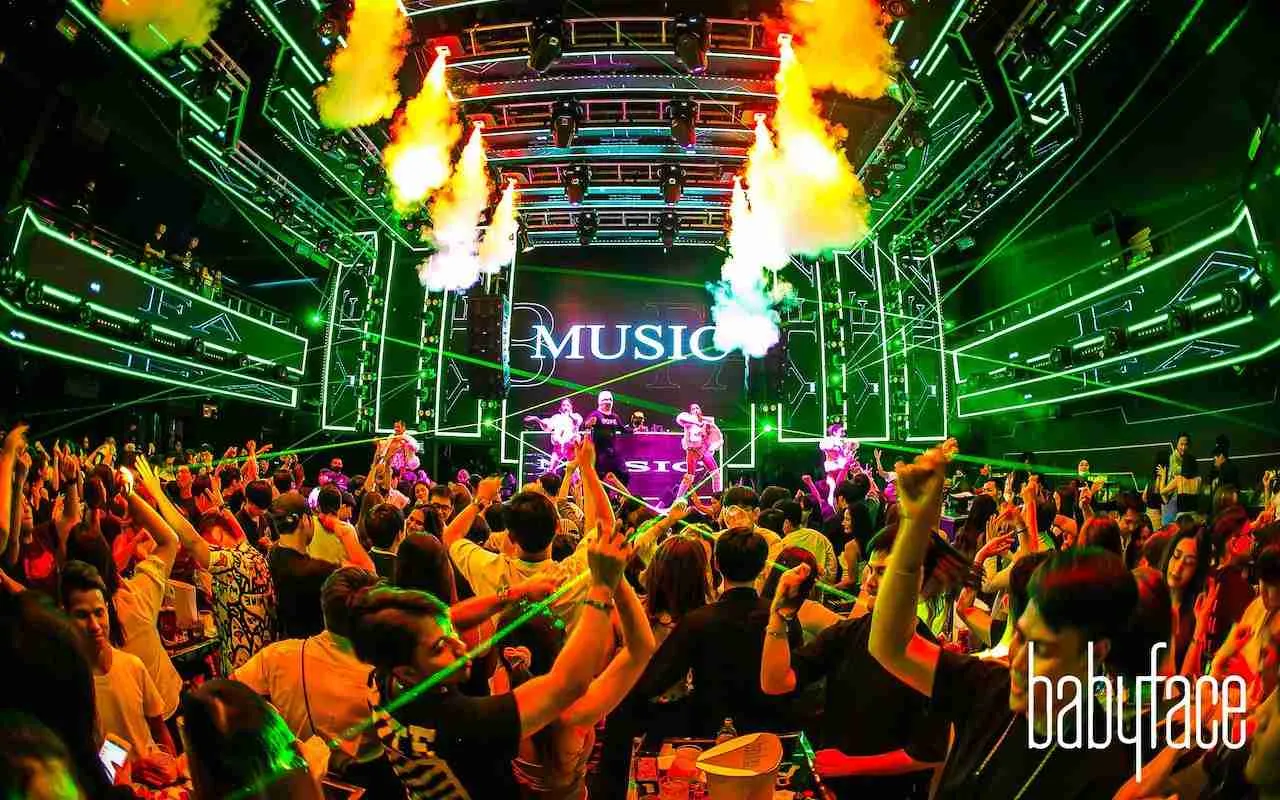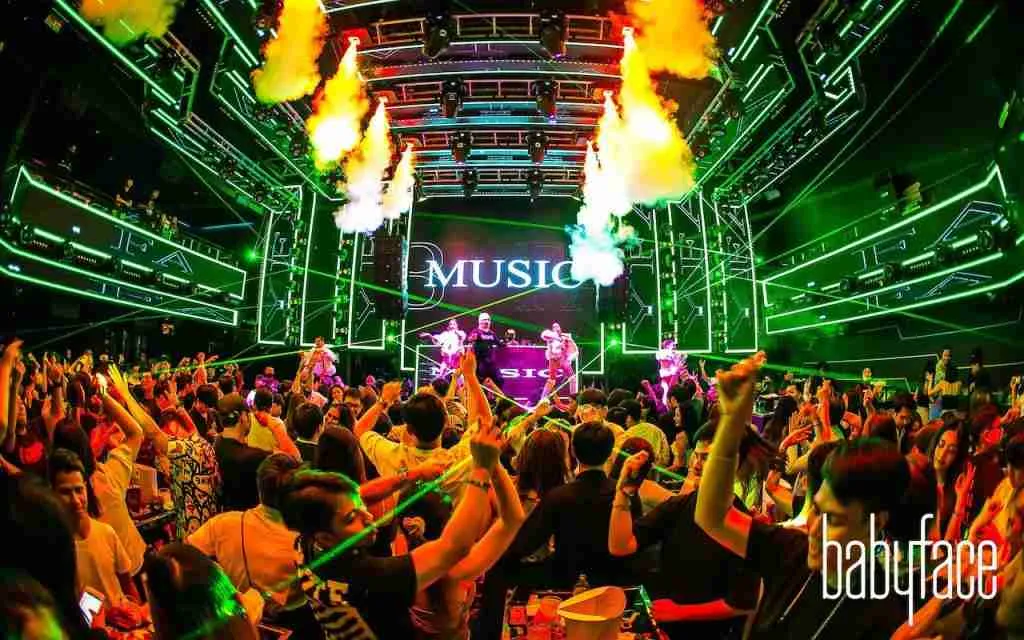 Location: Sukhumvit, Bangkok
Are you looking for a world-class party experience? Babyface Superclub is definitely one for the books.
With impressive light technology and an explosive sounds system, you will feel every beat played by the popular DJs playing there.
You will also be excited by the various events they hold weekly. There is surely a theme night while you're there, so make sure you don't miss it.
The atmosphere is very wild, too. This adds value to every visit with its upscale ambiance and crowd.
Babyface Superclub is nearby several bars and clubs, so this can be your after-party venue to end a great night in the popular Ekamai neighborhood.
Bobo Club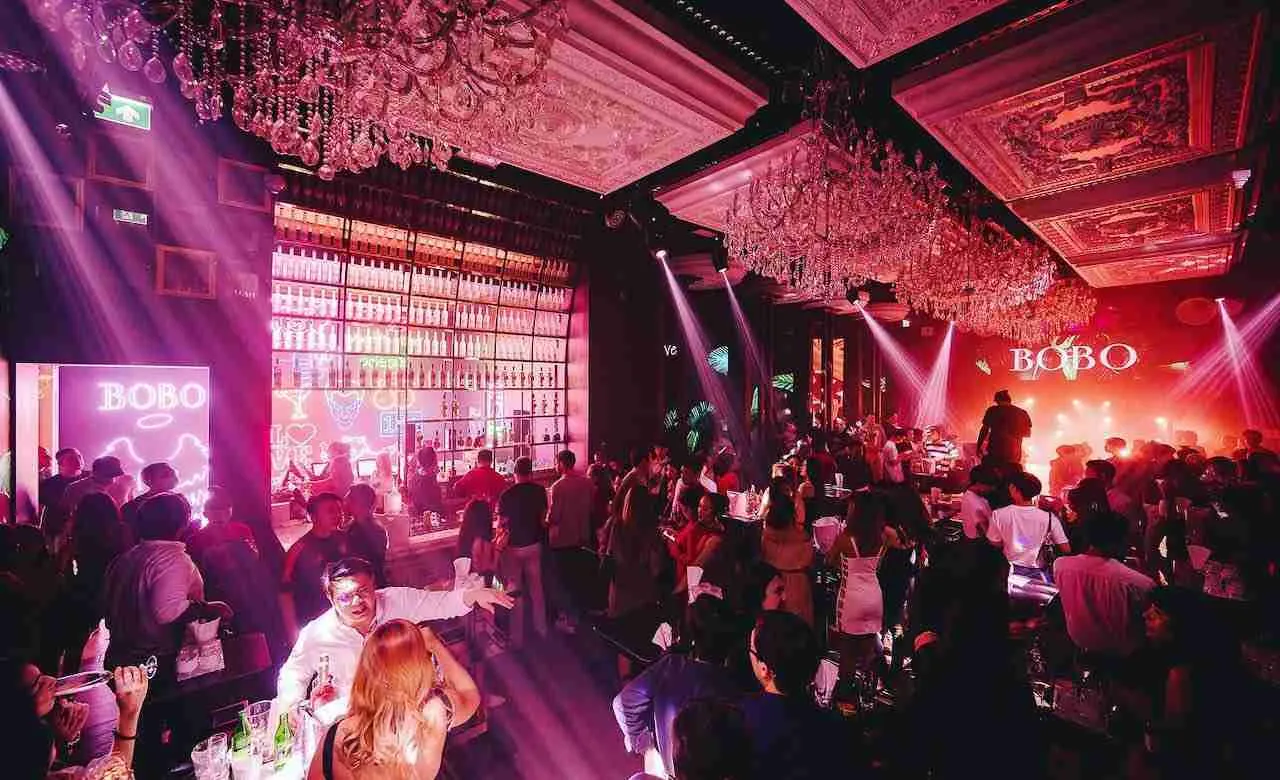 Location: Sukhumvit, Bangkok
Bobo Club Bangkok is the new kid on the block. However, it is quickly rising among the party-goers, especially young locals and ex-pats.
What attracts them is the good music, atmosphere, and incredible lineup of artists. It's a place to socialize and dance under the high-tech lights and sound system.
They also hold events often, so that makes it extra fun. They do Sunday parties, live shows, and, notably, models' night. This is the night when you can mingle with some of the most beautiful people in Bangkok.
They follow a strict dress code inside Bobo Club Bangkok, so be sure to look the part. This will be your entry to having a good impression on the ladies.
Let us know if you need help getting a custom suit in Bangkok. We have the best addresses and deals in town.
Worried about not getting any tables? Contact us and let VLS help you book with a 100% guarantee on any date, any time.
Illuzion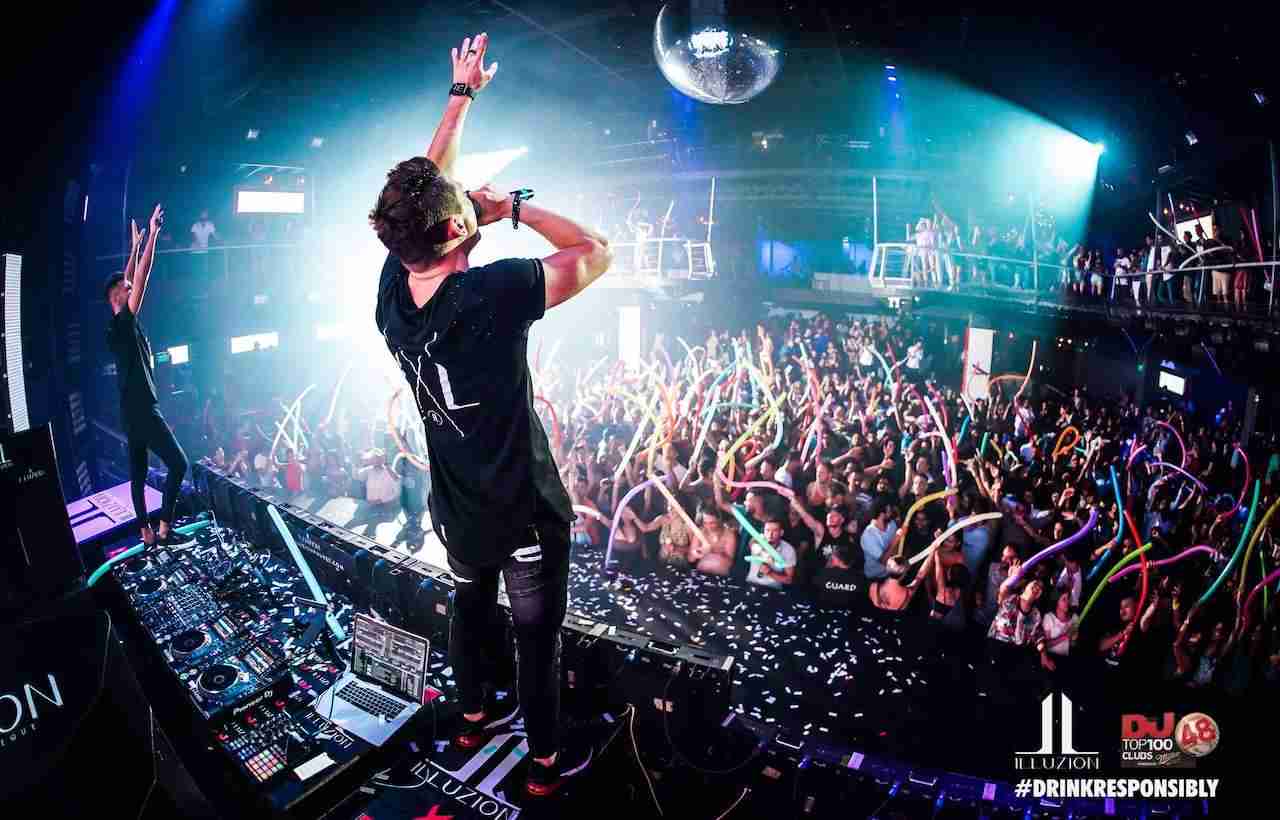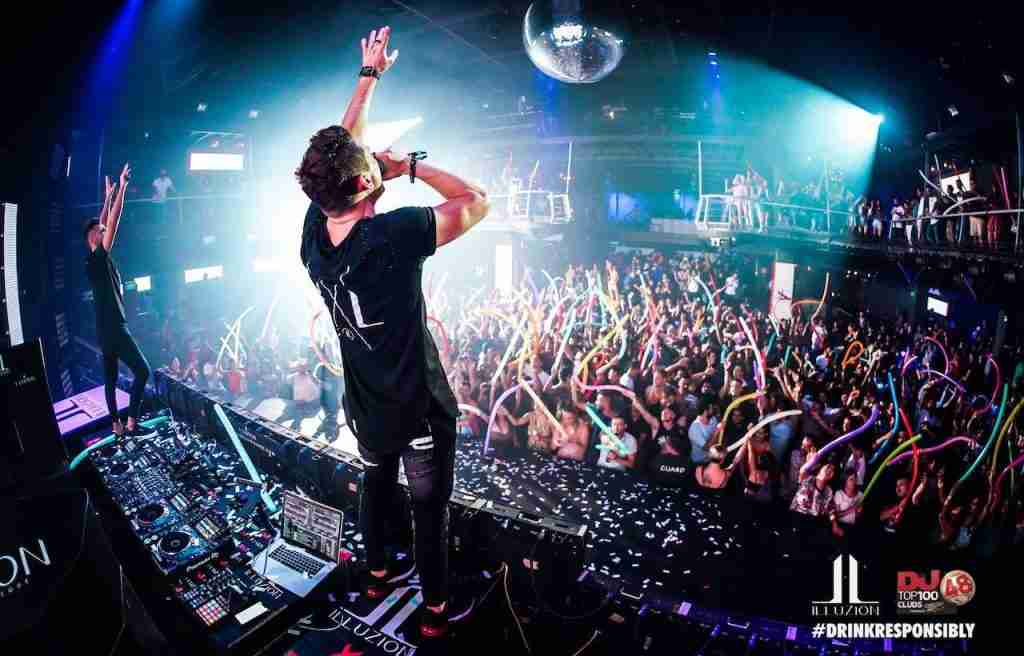 Location: Patong Beach, Phuket
Immerse yourself in the ultimate clubbing experience right in the heart of Patong Beach.
Established in 2014, Illuzion Phuket has been the go-to of many and has become the 16th best club in the world.
It is a massive club with 3 different rooms which can hold up to 5,000 standing people and an extra 300 in the VIP.
They take pride in their top-of-the-line sound system, LED displays, top-tier guest DJs, performers, and more.
Every big name in the space stops by Illuzion when they come to Thailand. This includes Steve Aoki, Marshmello, Tiesto, and Martin Garrix, just to name a few!
Illuzion Phuket should be on your list when you're going to Phuket.
Book with VLS to secure the best table in the club and be the star of the night.
Sugar Club Phuket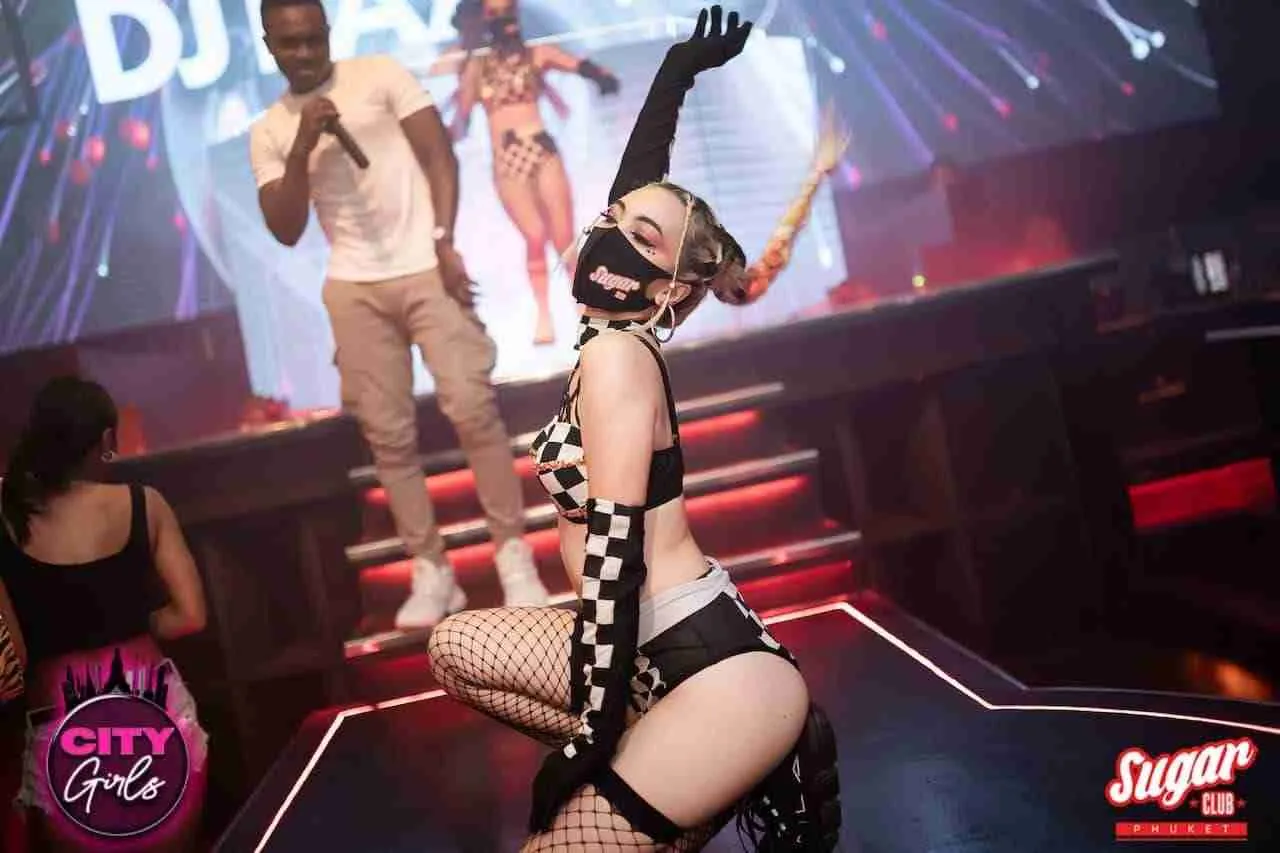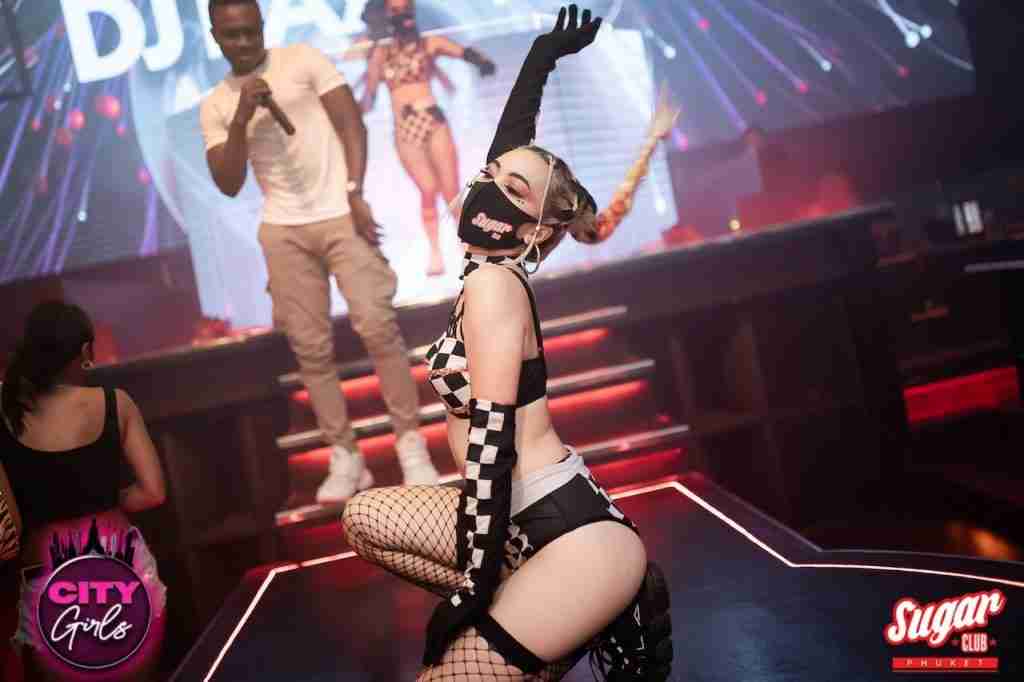 Location: Patong Beach, Phuket
Another Patong Beach staple, Sugar Club Phuket draws in a crowd on its own: hip-hop lovers.
If your jam is old school to modern hip-hop music, this club is notorious for playing the best music there is in the genre.
You will surely enjoy dancing and drinking to your heart's content in Sugar Phuket. You will also meet like-minded people delighting in the same thing.
What makes them even better is their MCs and hip-hop dancers. It gives the whole package for party-lovers.
They also hold weekly and special events that you should watch out for when visiting this lovely island.
The PIMP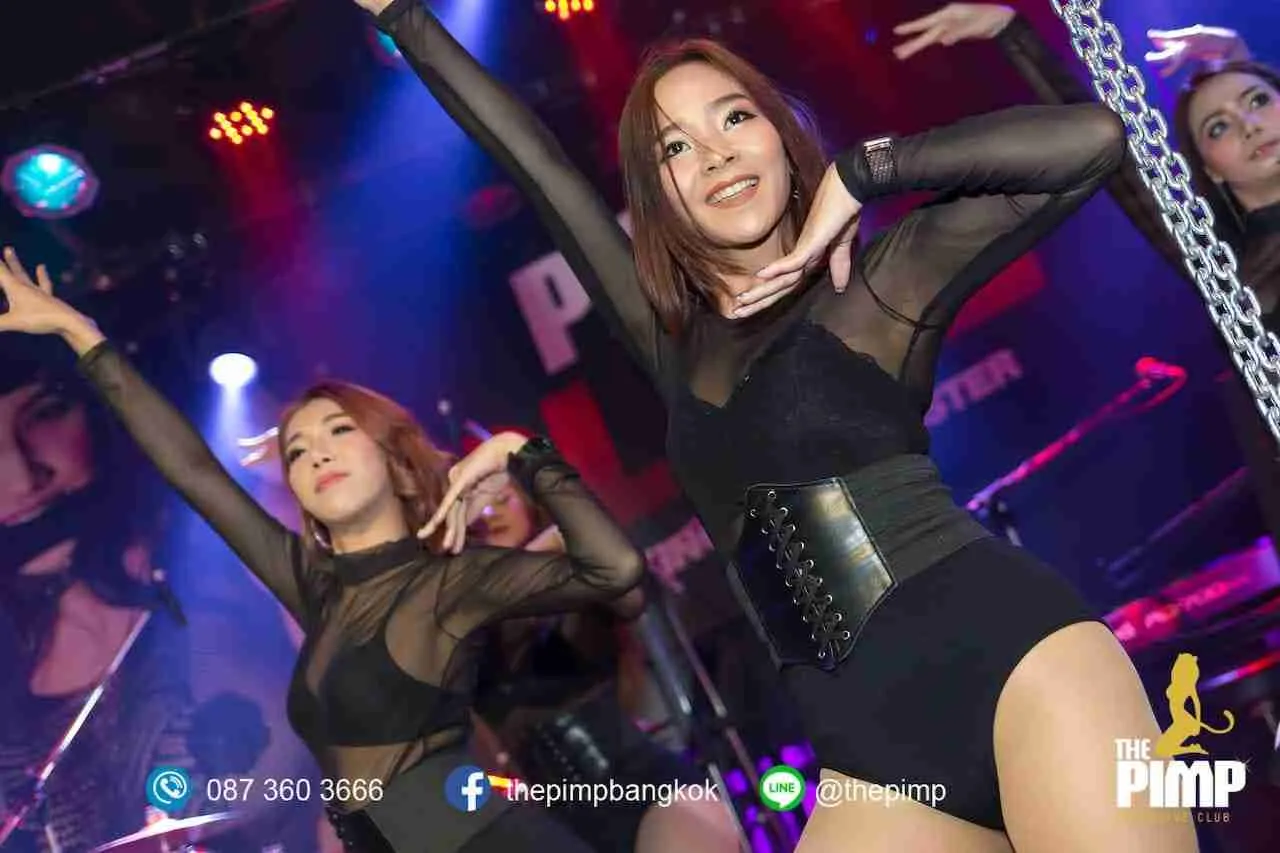 Location: Huai Kwang, Bangkok
To end your trip to the capital city, one place you must check out is The PIMP Exclusive Club.
It is Thailand's most famous gentlemen's club and home to 200+ of the most gorgeous Thai ladies.
The PIMP club has a large live music hall where some of Bangkok's best musicians, singers, and dancers perform every night.
And if you want to party in private, book one of the club's VIP rooms and party until the early morning.
Their luxurious VIP rooms have modern sound systems with YouTube and KTV Karaoke.
Many of the rooms also have pool tables, private DJ booths, spacious dance floors for sexy shower shows, and more.
And this is one of the only clubs in Bangkok a swimming pool zone complete with a live sound stage.
You can rent their unique pool club for groups of up to 200 people, making it an ideal venue for a company party, product launch, and marketing events.
There's even a massive party room overlooking the pool which accommodates up to 50 people.
Turn this space into your own private nightclub for a wild late-night party.
Here, you can organize the ultimate bachelor party for yourself and a few close friends and get wet and wild with hot Thai bikini babes.
The best part is that The PIMP is very discreet and exclusive, making sure that "Whatever happens in Bangkok, stays in Bangkok."
Party In Thailand With Style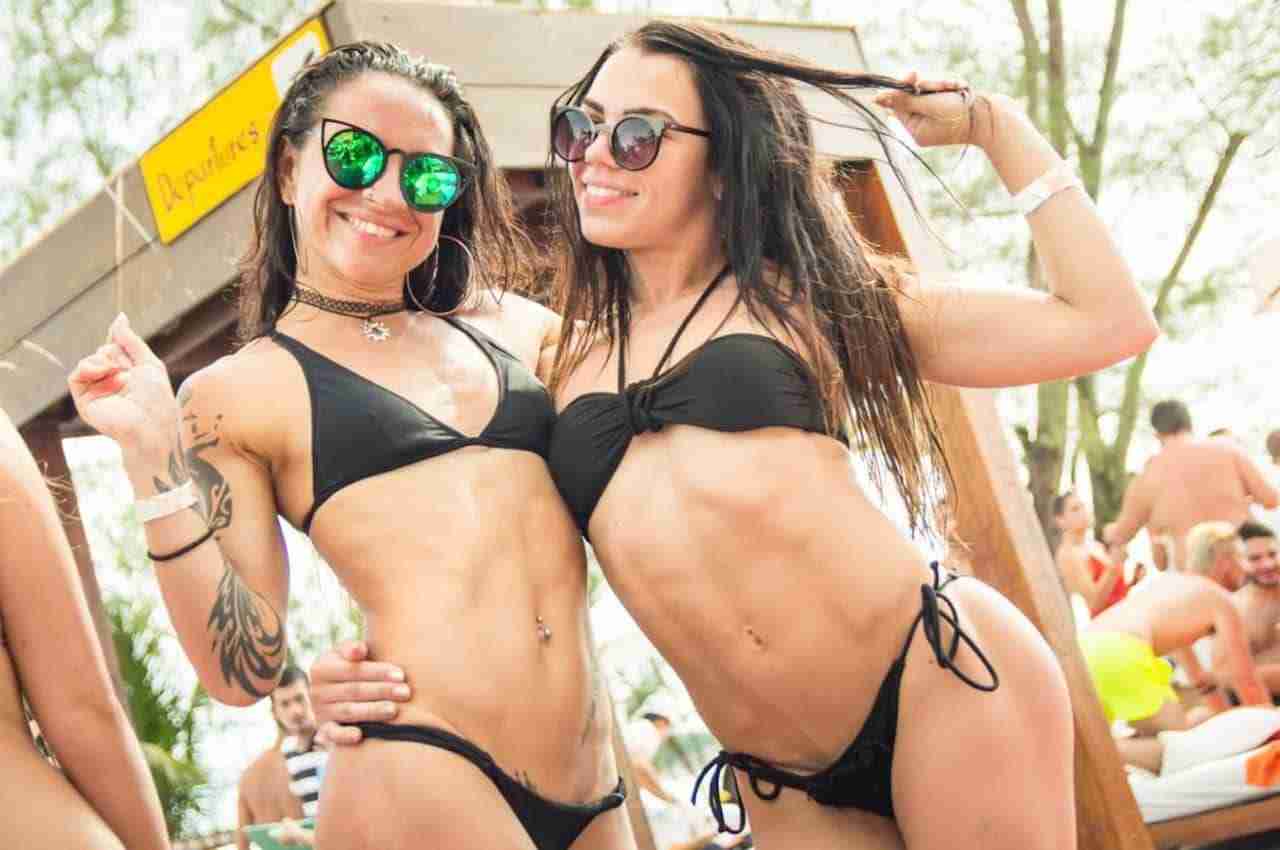 These are the top party places in the country, so it's best to expect that most of these establishments are fully booked all the time.
Make a worry-free booking for a VIP Table at any of these clubs, restaurants, and exclusive events and have a guaranteed good time with VLS.
Our luxury event planning services include models for hire, private party planning, entertainment add-ons (DJs, bands, etc.), boat rentals (private yachts, cruise tours, etc.), and many more.
Send us a message today and let's start planning your holidays together.
FAQ
Where is the best nightlife in Thailand?
A good choice would be Bangkok because of the many options it offers including The PIMP Bangkok, Bobo Club, Whisgars, and more.
Where to find news about Thailand's nightlife?
Follow this website to be updated on the latest happenings in Bangkok and all around Thailand.