Ever dreamed of having a fine dining experience on the river in the capital of Thailand?
Our concierge has picked for you the 4 most luxurious dinner cruises in Bangkok that will take you on a tour along the famous Chao Phraya river.
Get onboard for a unique experience on one of the most luxurious river cruises in Bangkok.
Wan Fah Dinner Cruise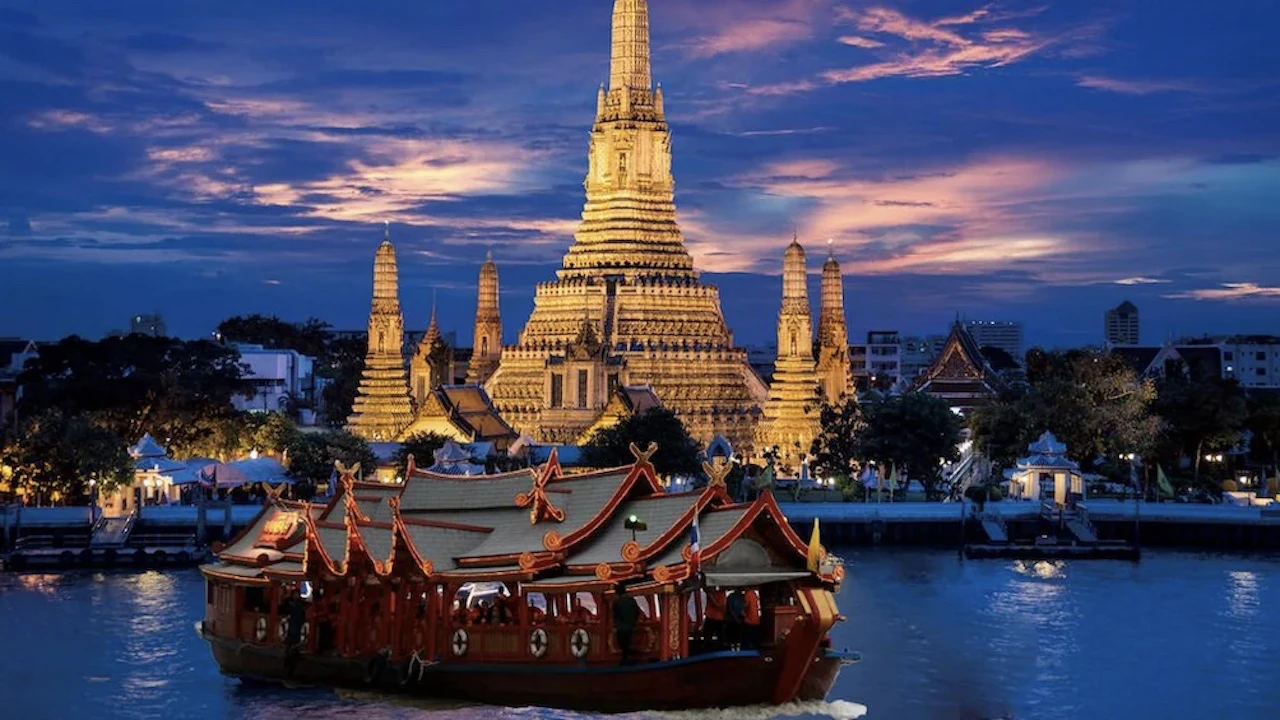 Wan Fah is a luxury Thai-style dinner cruise featuring delicious Thai food, live Thai traditional music and dances, and breathtaking views of Bangkok's landmarks.
Departing every night at 7 PM from the River City Pier, the 2-hour cruise is perfect for tourists, families, or even a romantic date.
It is ideal to enjoy the sunset over the river and discover Bangkok's most beautiful landmarks.
During the cruise, you can see the Temple Of Dawn, The Grand Palace & Wat Phra Kaew, Bang Khunprom Palace, Kanlayanamit Temple, and a string of 5-star hotels located by the river.
It is also by far the most authentic cruise in Bangkok for anyone who wants to discover and experience Thai culture.
Wan Fah Dinner Cruise is the best way to finish an exciting day visiting Bangkok.
Apsara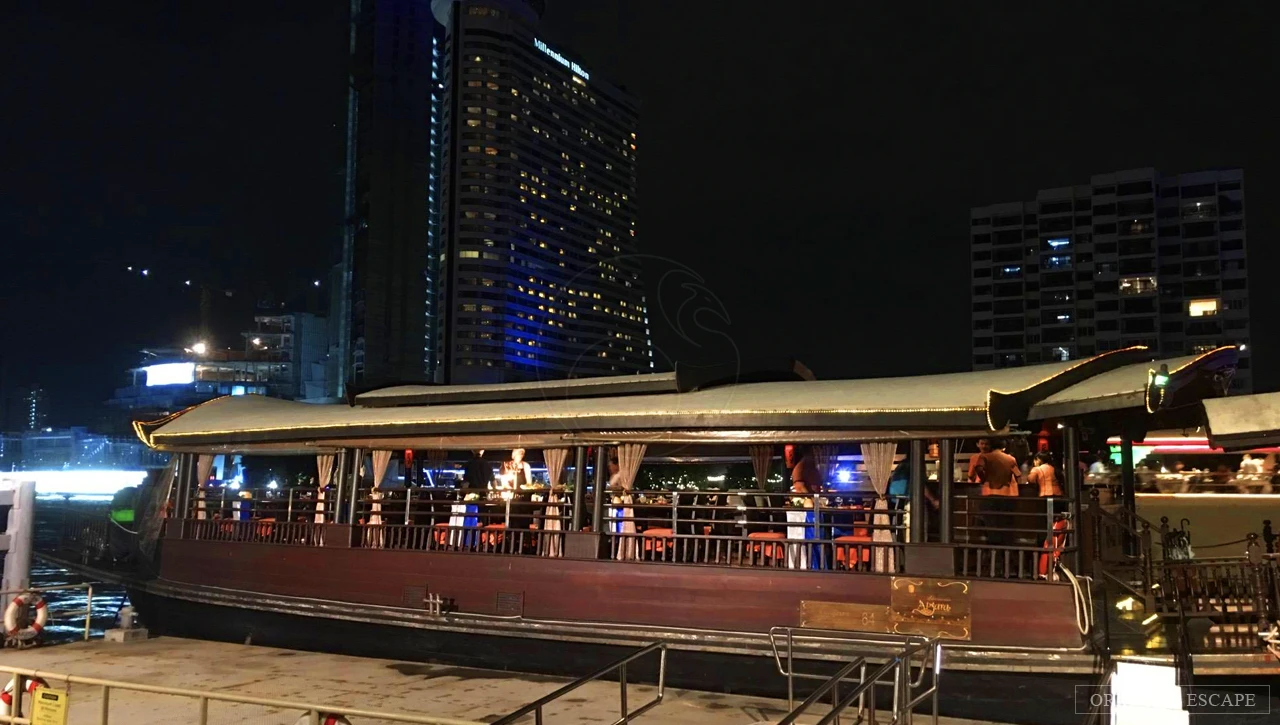 Apsara is an elegant restaurant river cruise featuring a 4-course meal of Royal Thai Cuisine and excellent service.
Departing at 8 PM and returning at 10.15 PM, the cruise offers the chance to enjoy the night views of Bangkok and have a romantic evening.
The cruise is taking place on an old rice barge restored to welcome guests in a comfortable and authentic setting.
Along this cruise you will pass by the Temple Of Dawn, the Royal Barges National Museum, Asiatique The Riverfront, Iconsiam (one of the most luxurious shopping malls in Bangkok), Phra Sumen Fort, and Wat Rakang Kositaram.
You'll also get to try a variety of Thai dishes, all while enjoying a relaxing cruise in Bangkok.
Don't miss out on this exciting adventure!
Supatra Cruise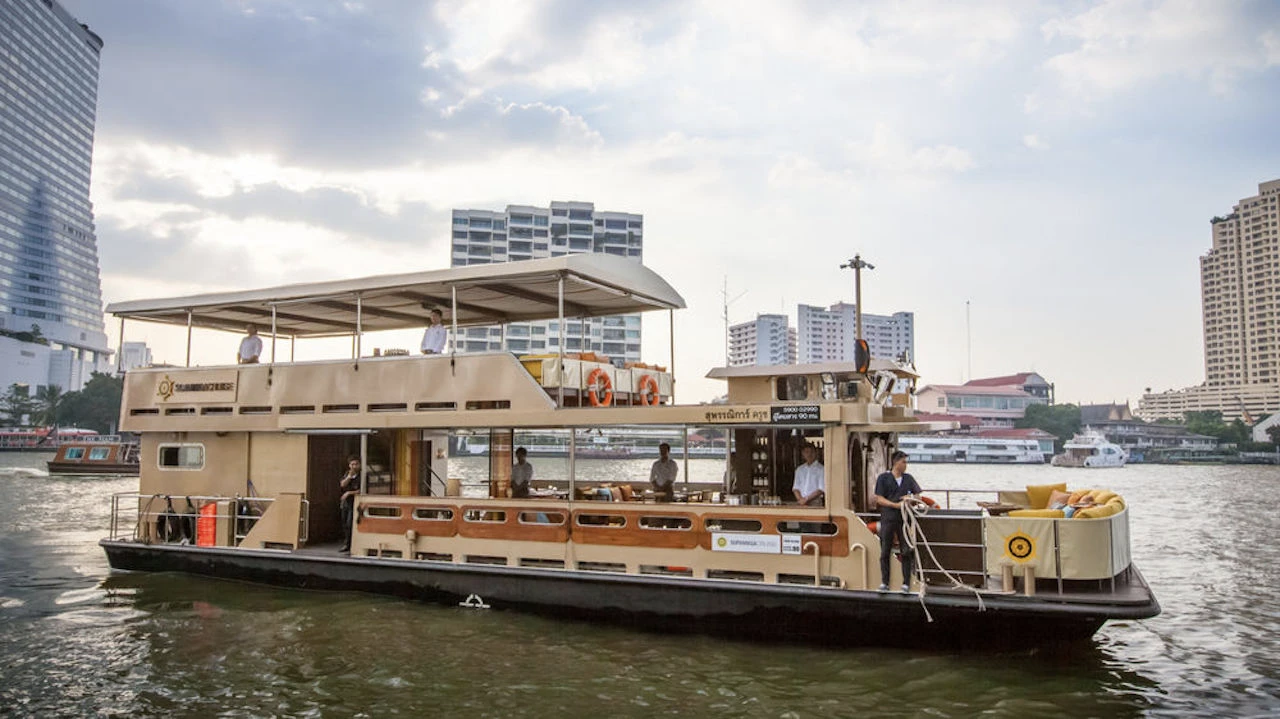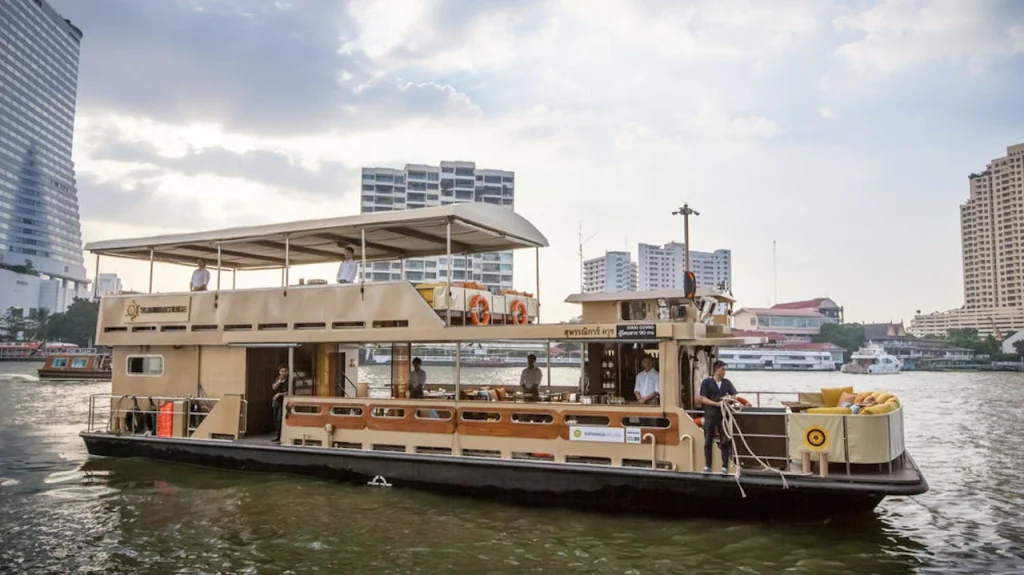 Supatra Cruise is a popular dinner cruise in Bangkok that offers a delightful evening of dining and sightseeing along the Chao Phraya River.
The private dinner cruise is operated on the "Patravadi Show Boat" and starts from Savoey, a popular Thai restaurant on the riverside.
The cruise offers an enchanting view of the city's popular landmarks, including the Memorial Bridge, Wat Arun, IconSiam, the Grand Palace, Rama VIII bridge, and Pra Sumen Fort.
The ambiance of the cruise is romantic, with dim lighting, the sound of the river water, and traditional Thai music playing in the background.
The set menu served onboard is from either Riva Surya or Savoey restaurant, both known for their delicious authentic Thai cuisine.
It's a great way to enjoy a special night out with your loved ones or to celebrate special occasions like birthdays, anniversaries, or even a romantic proposal.
The Supatra Cruise promises to be an unforgettable experience for those who want to enjoy the best of Bangkok's nightlife.
Manohra Cruises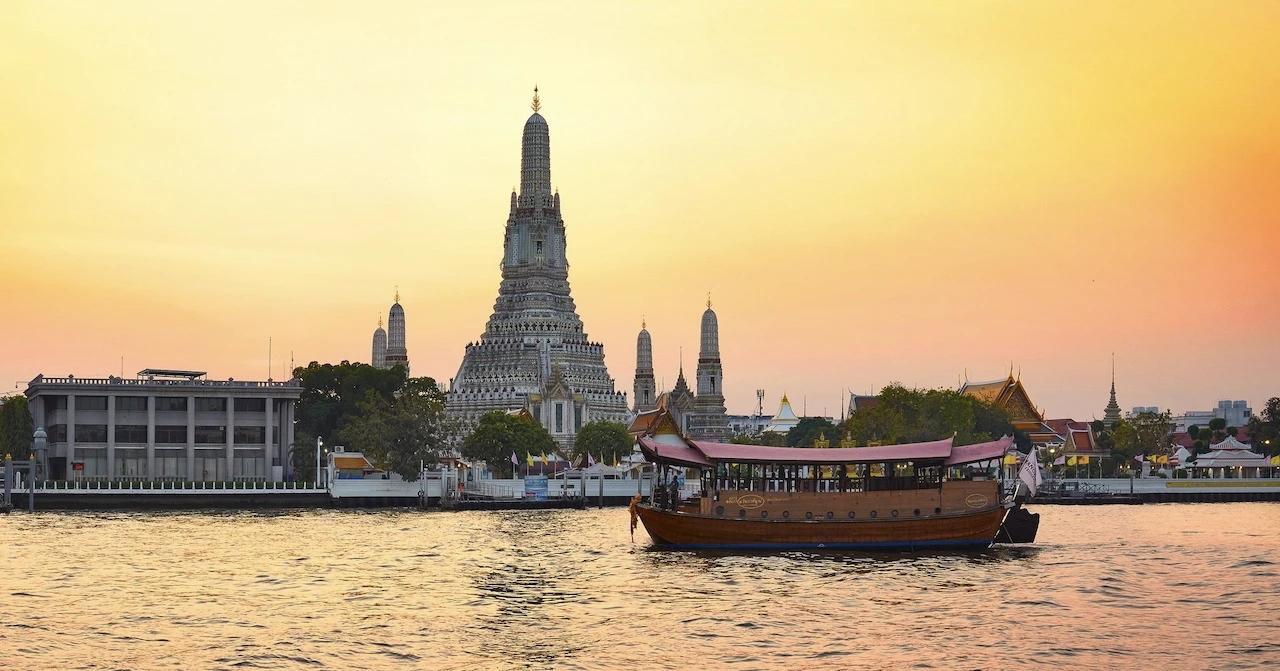 Start your evening at 7 PM with welcome drinks at Manohra Lounge, before you step aboard a beautifully restored antique rice barge.
This cruise is both a luxurious and authentic experience.
During this 2 hours cruise, you will pass by some of the most iconic sights, including the Temple of Dawn and the Grand Palace.
You will also have a chance to see lesser-known gems of ancient Buddhist temples and Beaux Arts-style mansions and palaces.
The cruise on the Chao Phraya offers fine Thai cuisine provided by the Anantara hotel.
The menu is crafted from traditional recipes and comes with refreshing drinks as you experience Bangkok by night like never before.
Manohra is perfect for a private dinner cruise with a small group of friends, or family, or for a special event such as Valentine's day, Loy Krathong, Songkran, or Chinese New Year.
Loy Pela Voyages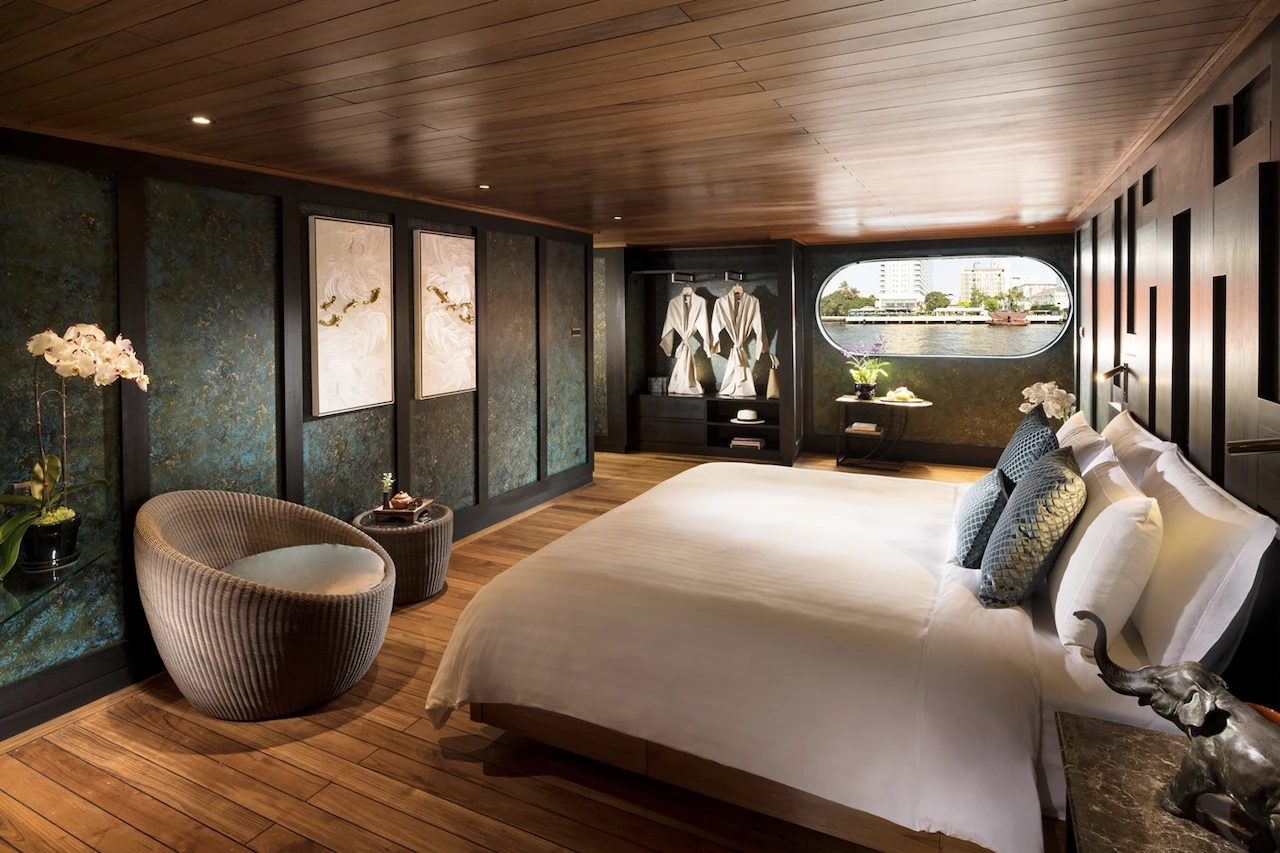 The river cruises by Loy Pela Voyages are really unique and exclusive, with a limited capacity of up to 8 people only.
With this cruise, you embark in Bangkok and go on a 2 or 3 days journey to Ayutthaya and back to the capital of Thailand.
The experience is meant to allow guests to discover and explore the natural, cultural, and historical aspects of the region through the river.
It is a journey through time, connecting the vibrant modern characteristics of Bangkok with the fascinating rich history of the old capital of Ayutthaya.
You can choose between two boats, the Loy Dream Staterooms and the Loy River Song Staterooms.
Both boats have rooms that can accommodate a maximum of 2 people.
During the cruise, you can enjoy private dinners on a boat with creative cuisine by famous chefs.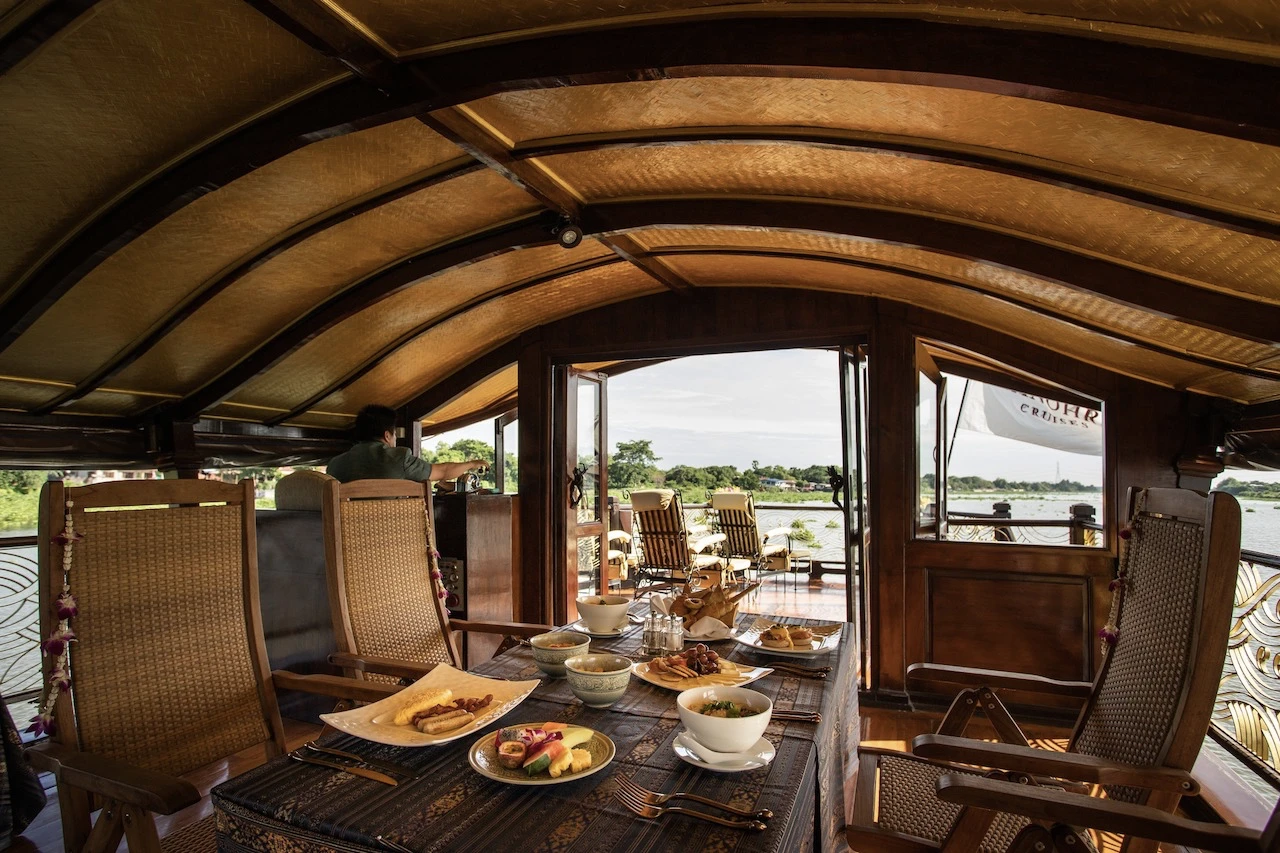 You also will pass by Wat Kanlayanamit, Wat Arun, Royal Barges National Museum, Wat Phanunchoeng, the UNESCO World Heritage site of Ayutthaya, Bang Pa-In Summer Palace, and Wat Niwet Thammaprawat.
Expect a truly unique experience through time and the beautiful Chao Phraya river.
Book A Private Dinner Cruise in Bangkok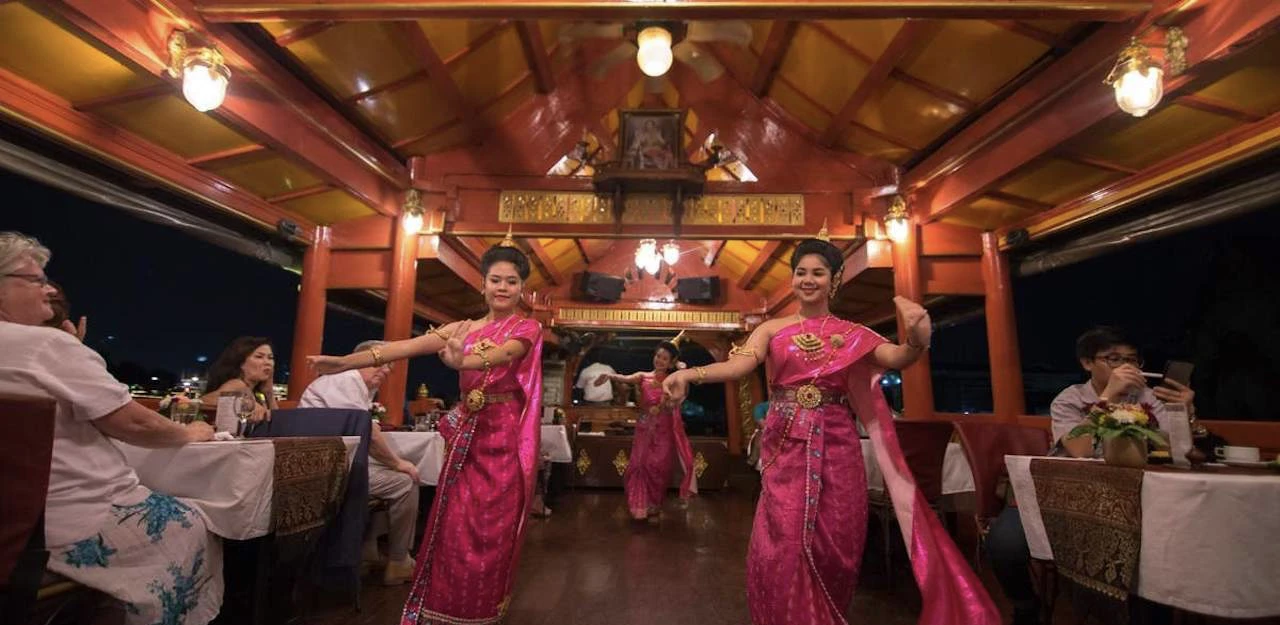 Whether it's for a romantic dinner or a large boat party, there are many options for a memorable dinner cruise in Bangkok, our concierge is here to help.
VLS offers custom-made dinner cruises on the Chao Phraya where we take care of all the arrangements, from the reservation down to the event management.
We customize the boat cruise to your wishes.
We can organize a luxury dinner cruise for intimate dinners, business meetings, corporate seminars, incentive events, birthday parties, anniversary celebrations… and more!
Let us take you to the popular landmarks along the Chao Phraya River while enjoying a first-class dinner.
Imagine a buffet of premium lobsters and oysters and free-flowing champagne as you watch the golden sunset.
We can arrange that easily for you.
Contact us to book a luxury dinner cruise in Bangkok or to organize your own.
We also can organize your whole stay in Thailand!
We book exclusive luxury tours and travel experiences across the land of smiles to make your stay unforgettable.
FAQ
Which 5-star hotels in Bangkok offer luxury dinner cruises?
5-star hotels in Bangkok that offer luxury dinner cruises are Anantara Riverside, Mandarin Oriental, and Banyan Tree.
How much is a luxury dinner cruise on the Chao Phraya?
A luxury dinner cruise on the Chao Phraya is between 1,000 and 20,000 THB per person.
What is the most romantic dinner cruise in Bangkok?
The most romantic dinner cruise in Bangkok is the elegant river cruise by Apsara.