Phuket is undoubtedly one of Thailand's most popular islands – if not the most popular.
It has several beautiful beaches with fine sands and crystal-clear water that you can explore easily and conveniently.
That explains why Phuket has some of the incredible houses in Thailand and why it's the most popular destination in South East Asia for luxury holidays.
More and more stunning villas are popping up to cater to locals and tourists alike looking to maximize their holidays in style and comfort.
In case you're looking to rent or buy one during one of your travels, we've rounded up the best choices that you should check out this 2022.
Four Bedroom Villa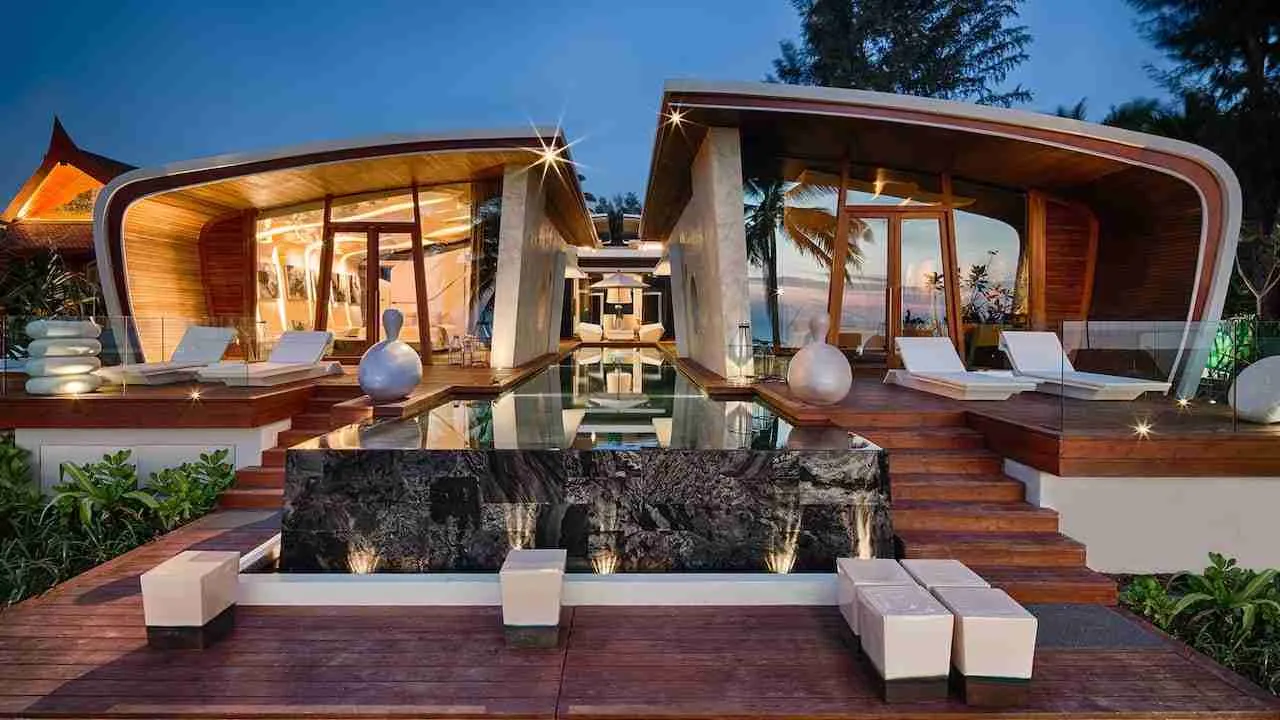 Location: Iniala Beach
Having three villas and one penthouse in its compound, this villa might as well be your own resort.
Each villa has 3 bedrooms, a spacious living room, a big dining area, and a private pool, but the designs are all different to suit everybody's preference.
There's the Ceramic Courtyard which is Thai contemporary in design and architecture, drawing inspiration from Wat Arun.
There's also the Living Room of the Sea where the decor looks straight out of the Andaman Sea. Kids will find the "Children's Hotel" amusing with all its facilities and amenities.
While the villas themselves are already remarkable, you'll see yourselves enjoying the large central pool at the large deck area, private spa treatment room, and 20-person private cinema with cutting-edge technology.
Hillside Mansion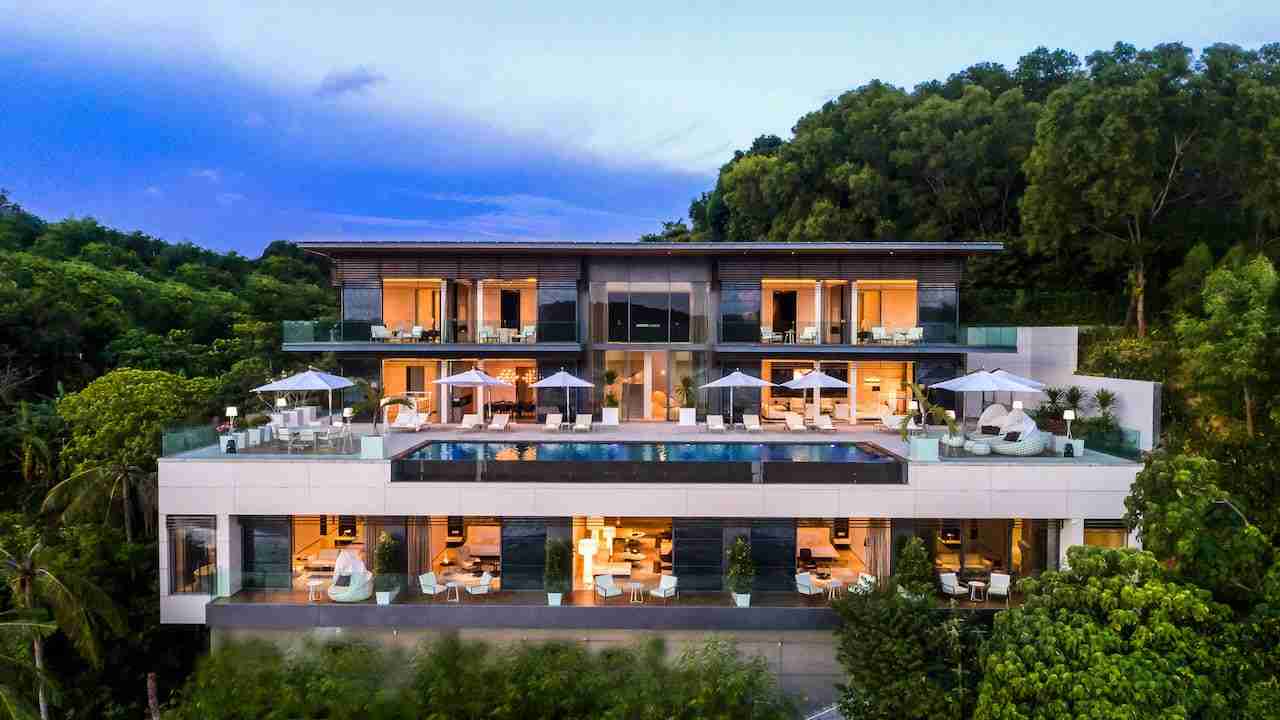 Location: Cape Panwa
Experience the best of the best of Phuket from the top.
Wake up to breathtaking views of Ao Yon Bay in this luxury mansion perched on the hillside at Cape Panwa. The panoramic scenery alone will give you your money's worth, but wait until you get inside.
This residences highlights six ultra-sophisticated rooms with an ensuite bathroom, large living quarters, two full kitchens, jacuzzi, fitness center, infinity pool, sun decks, and a lavish triple space Atrium.
The interior is very minimalist and high-end, which adds to its visual appeal and charm.
What's more is that you can maximize their services and amenities such as having a private chef, dedicated maids and butlers, full-board meals, private car rental, and many more.
You'll have everything you need and more in this millionaire house.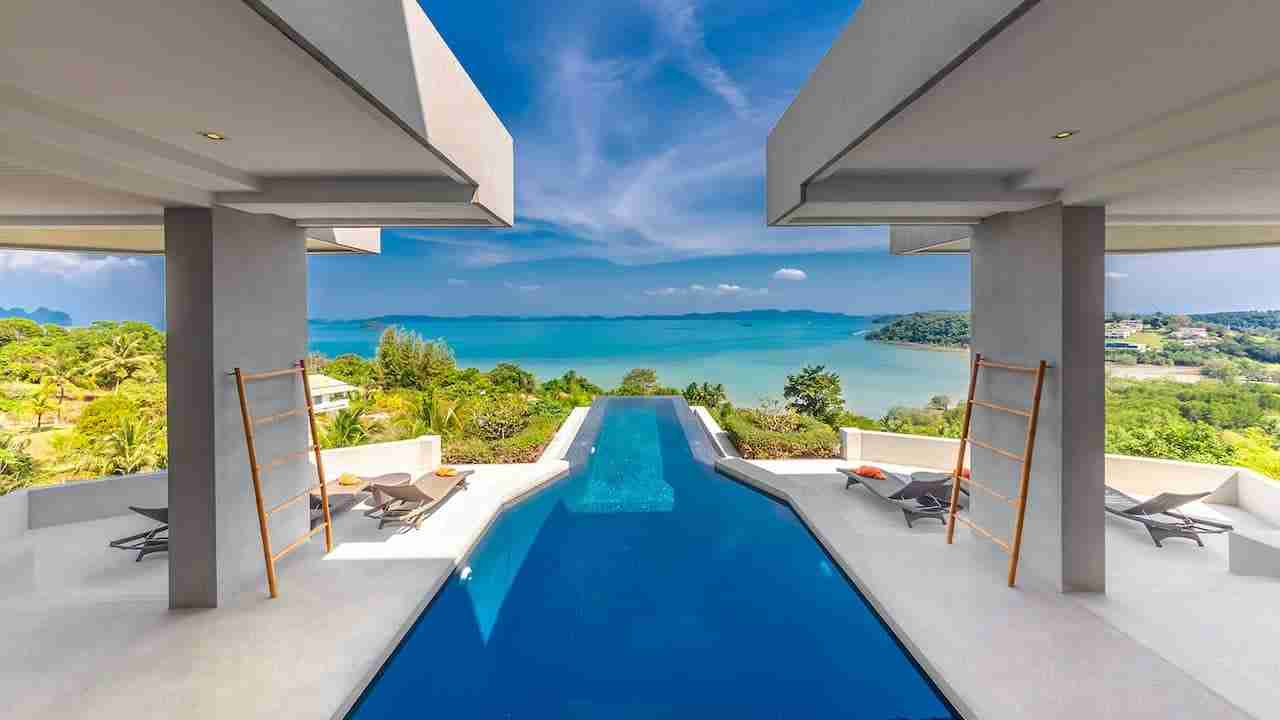 Location: Phang Nga Bay
The Phang Nga Bay has one of the most pristine waters in Thailand bursting with vibrant hues.
The villa displays that beauty perfectly in its Scandinavian-inspired abode featuring five suites, gorgeous gazebos, fully-equipped kitchen, large dining hall, and a long, stretching infinity pool that points where the sky meets the sea.
The whole atmosphere is calm and relaxed, but its variety of entertainment facilities make every day an adventure.
You can play ping pong and other fun activities at The Game Room. You can take your pick on what to watch at The Media Room, as well.
After a long and tiring day, you have a private chef ready to whip up masterful creations that will please your palates with everything from traditional Thai dishes to fine French food.
This is perfect if you're staying for a celebration like birthdays and anniversaries because what better way to kick it off than with good food, right?
It couldn't be easier to organize a private party there, contact us today and our team will handle everything for you.
Party Villa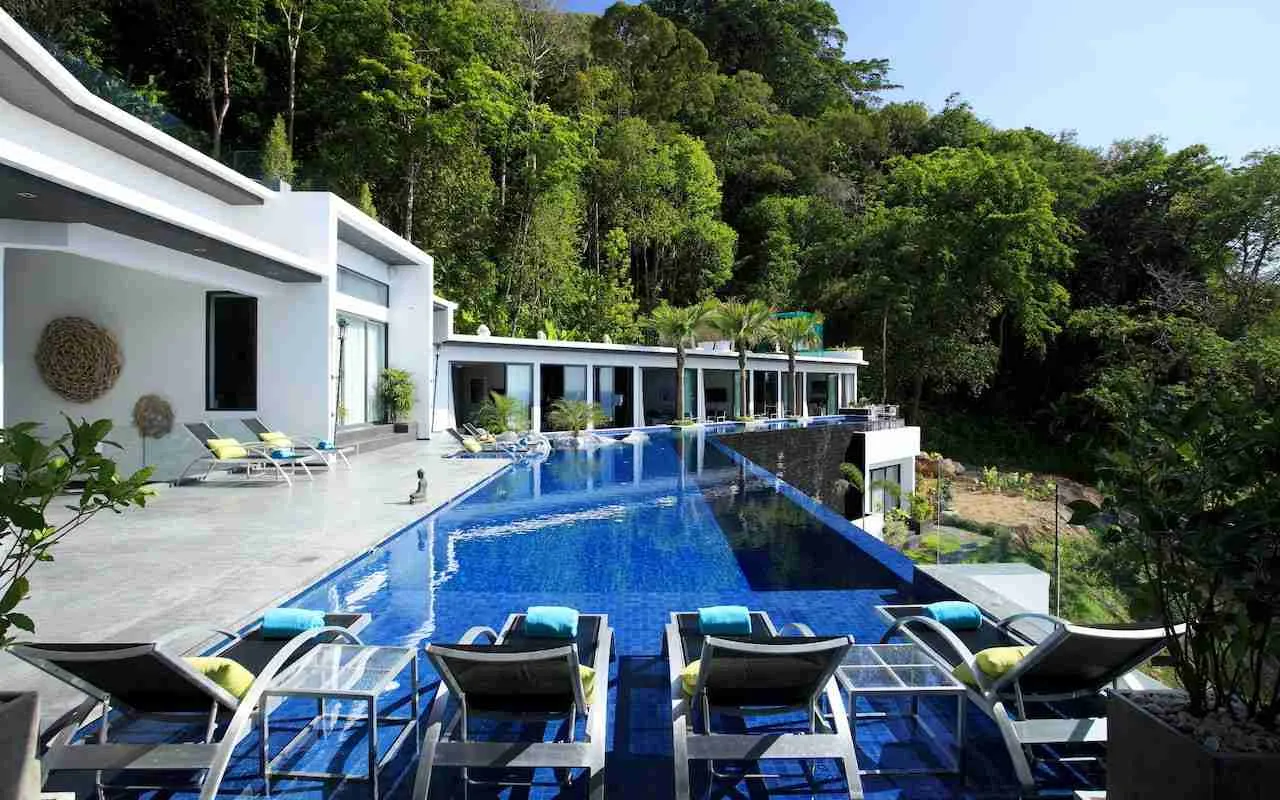 Location: Surin Beach
It's time to open the bottle and start the party at this villa. The moment you enter the property, you'll be called by the activities that you can do here.
The main highlight is the indoor bowling area. This huge residence has a winding basement where you can hit strike after strike.
You and your friends can also enjoy playing darts, mini-golfing, ping pong, billiards, as well as checking out the private cinema, gym, jet-powered jacuzzi, and infinity pool.
There's even an outdoor lounge that can double as a drinking spot at night. Surround yourself with gorgeous models and it's like paradise.
Don't forget to refresh and rest, too. They have eight modern suites that have Egyptian combed cotton sateen bed linen with velvety-soft duvet covers and pillows.
These little things will ensure that you get a good night's sleep and are ready for another day.
Four Bedroom Oceanview Villa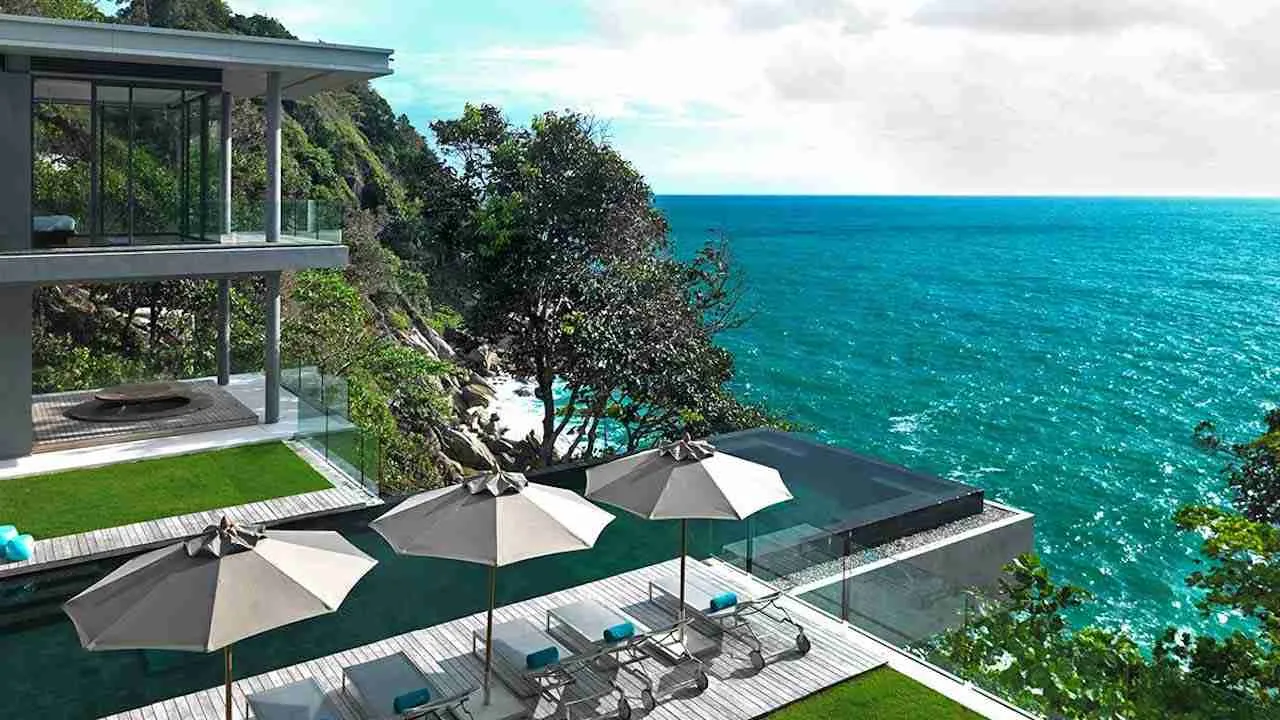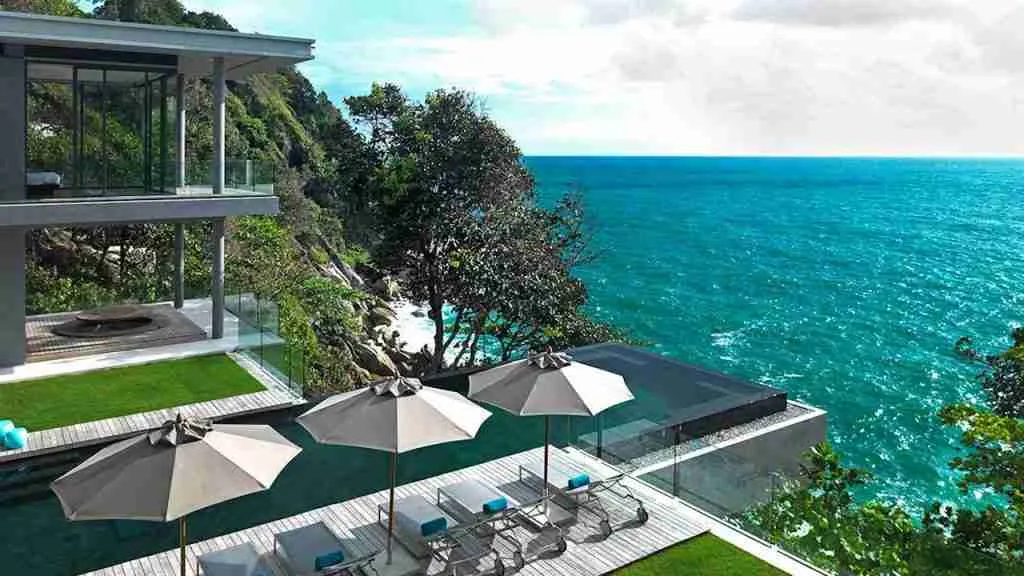 Location: Kamala Beach
When you're at the beach, staying at a tropical-inspired property will complete the ambiance.
This villa hits the mark by embellishing its luxurious space with earth tones and nature decor. Even from your room, you'll hear the ocean calling as you release all inhibitions.
This amazing villa takes advantage of the greenery of the vicinity.
You'll be enchanted by the mini forest leading up to the bedrooms in the central staircase, something that you'll rarely see in modern beach homes that are renovated entirely.
Going up to the room areas, one master suite, and three guest rooms. Each showcases the beauty of Phuket from its floor-to-ceiling glass walls.
You'll fall in love with the sight as the golden rays from the sunset sinks and shift to a starry night.
It's truly ideal for nature lovers as well as party goers as you're just minutes away Kamala's incredible nightlife.
Four Bedroom Oceanview Villa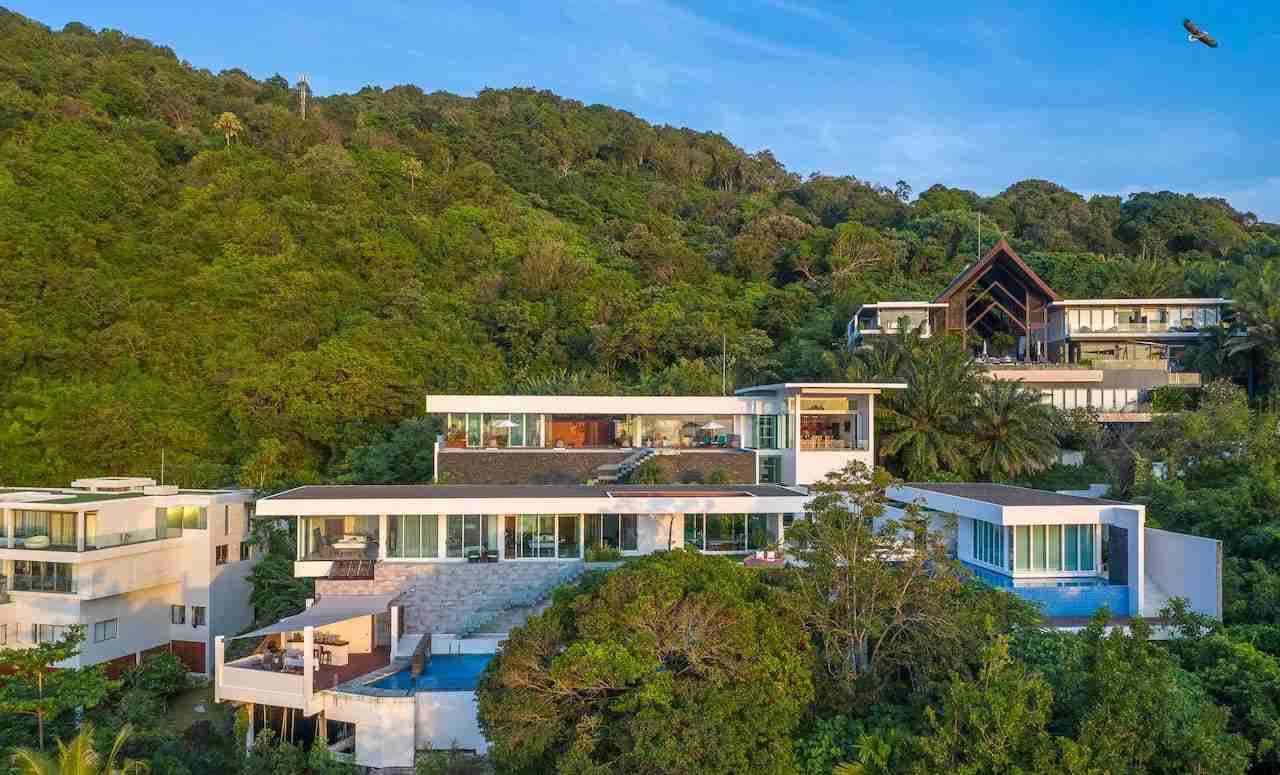 Location: Cape Amarin
This villa glows in natural beauty especially when the sun hits its well-designed architecture and interior.
Each corner of the place is bright and beautiful– making it a true embodiment of paradise getaway.
This incredible home features four bedrooms with different themes each, three swimming pools, full kitchen, poolside BBQ and bar area, large dining and living spaces, and spa room.
You'll find the private cinema room with a 2×3 meters screen interesting with its comfortable reclining chairs.
You can also do some water activities while you're here
While you're at a beautiful beach, it would be nice to soak up the sun and swim, go on an island hopping, scuba dive, snorkel, fishing, and rent a yacht for a day.
Mountain Villa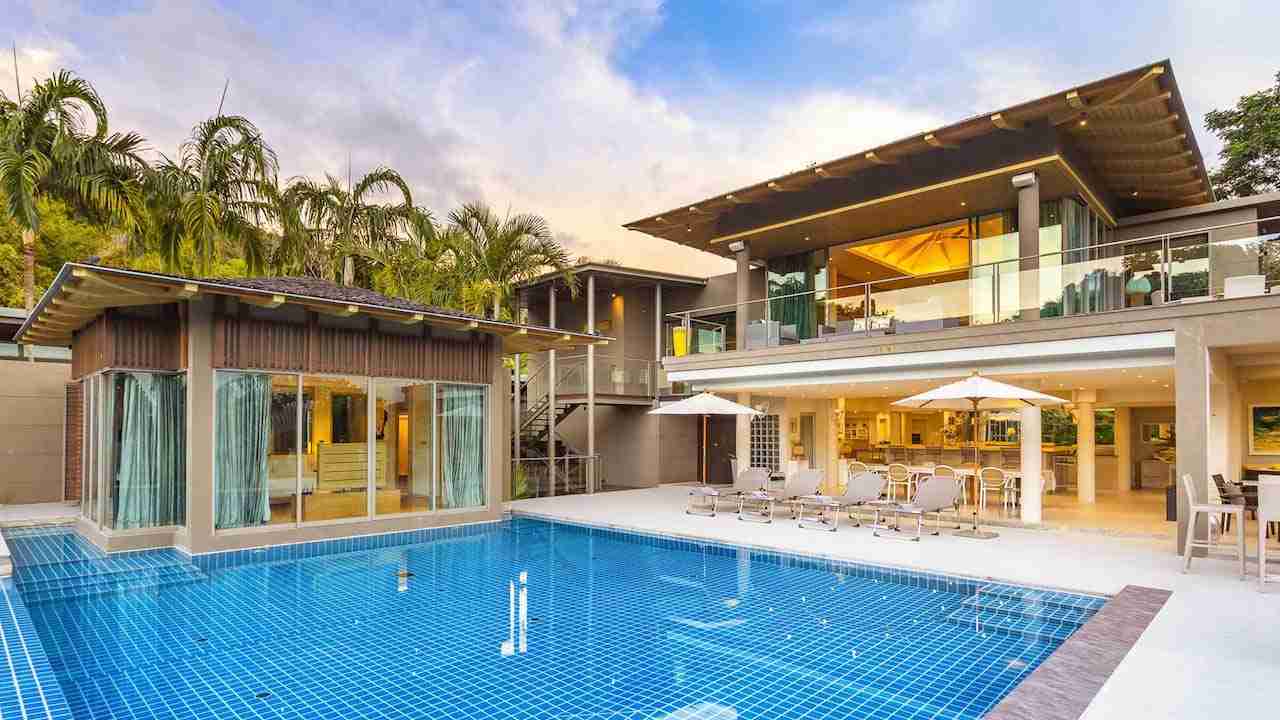 Location: Layan
If you're more into the mountainous terrains, booking this villa is the right choice.
It truly represents what outdoor living means without compromising the luxurious elements that you'll find in 5-star resorts in Thailand.
The whole compound has five impressive villas that have four to seven rooms each.
This is suitable for very large groups with the enormous space you have. It's also complete with a full European kitchen, dining areas, living rooms, ensuite bathrooms, infinity pool, and more.
What is remarkable about them is their warm hospitality, too.
They have villa managers and dedicated staff ready to help you with whatever you need. You can also hire a chef to serve any type of cuisine you and your guests crave for.And as always, our team of luxury concierges are at your disposal 24/7 to handle all your special requests.
Malibu-Inspired Luxury Villa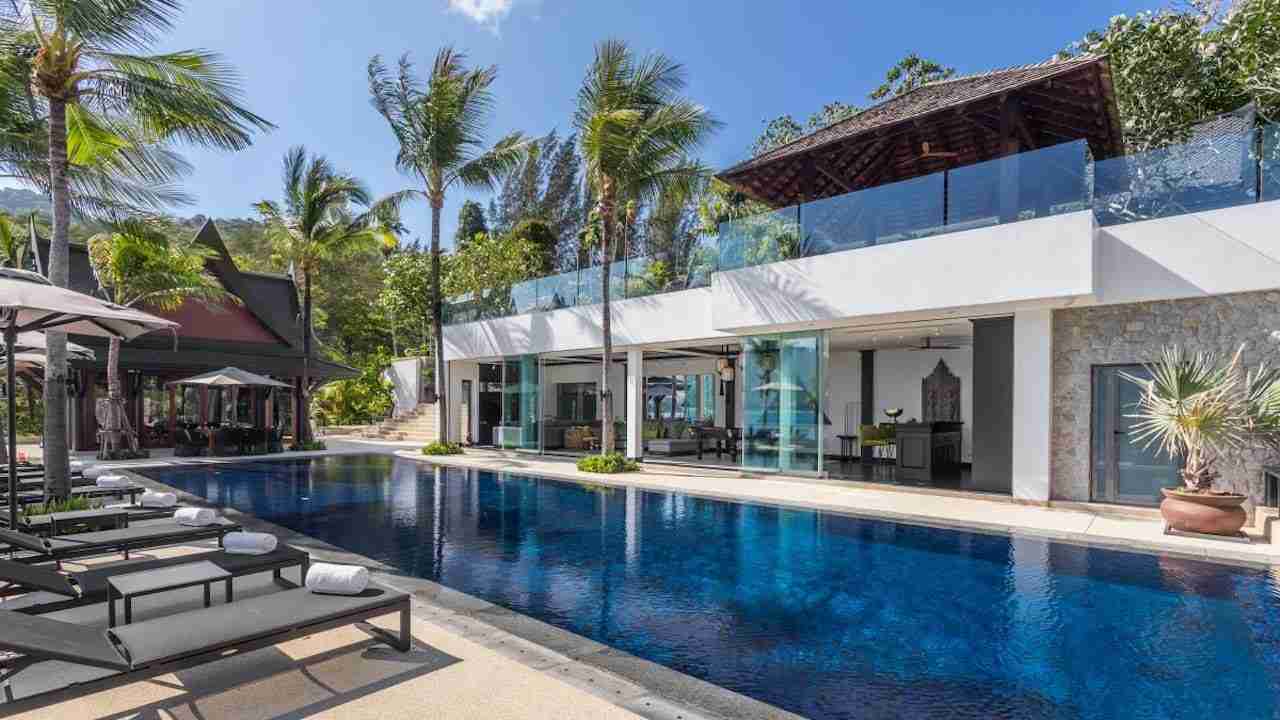 Location: Kamala Beach
This villa looks like a celebrity home in Malibu with its azure and off-white finishes and towering palm trees, but it's not all looks. The facilities and amenities of this glamorous resort are as world-class as they look.
This 3,200 sq m resort has five bedrooms in total that display the dazzling Andaman sea across the sundeck and pool area.
Aside from that, they take pride in their large living and entertainment area, fully-equipped kitchen, massive dining hall, private spa room, and bar area.
It's truly a perfect mix of relaxation and recreation!
Amazingly, they have 4 single kayaks to help you enjoy your time under the sun, too.
When you want to explore further, you can contact our concierge service to arrange a trip for you with a private chauffeur at your service to show you around popular tourist spots.
Six Bedroom Villa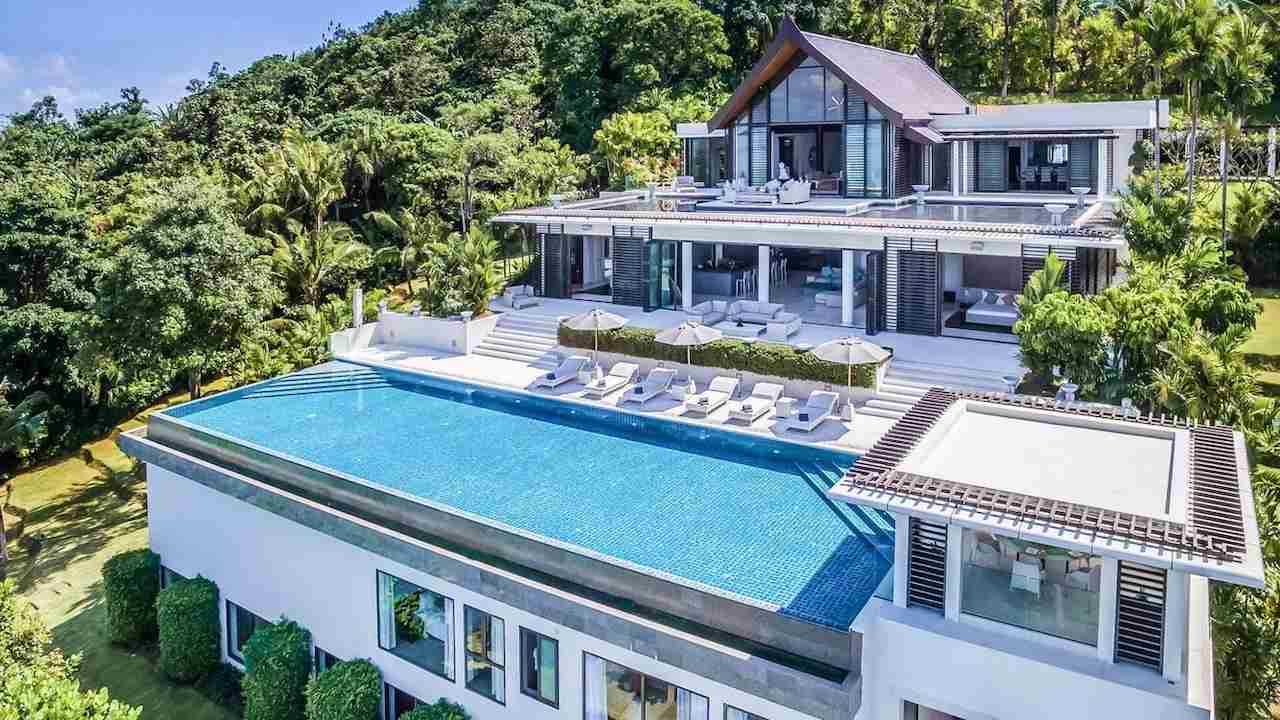 Location: Cape Yamu
This prestigious villa is managed by an incredibly experienced team.
That means you can expect that the entire experience would be global standards in every sense.
From the lavish interior down to their offerings, this villa is one for the books.
The theme of the place is minimalist with touches of contemporary Thai furnishings that boast the beauty of the country artistically.
You'll find yourself lost in wonder as you check out the 6 bedrooms, living room, outdoor sala, fitness center, private spa room, cinema room, bar area, and 26×8 meters infinity pool– all with direct access to the beach!
It's also pleasantly surprising to know that the estate has its own restaurant within its quarters. They specialize in Thai and Italian food headed by world-renowned chefs.
You'll enjoy each dish with mouth-watering flavors, making the moment more memorable with your loved ones.
Honeymoon Villa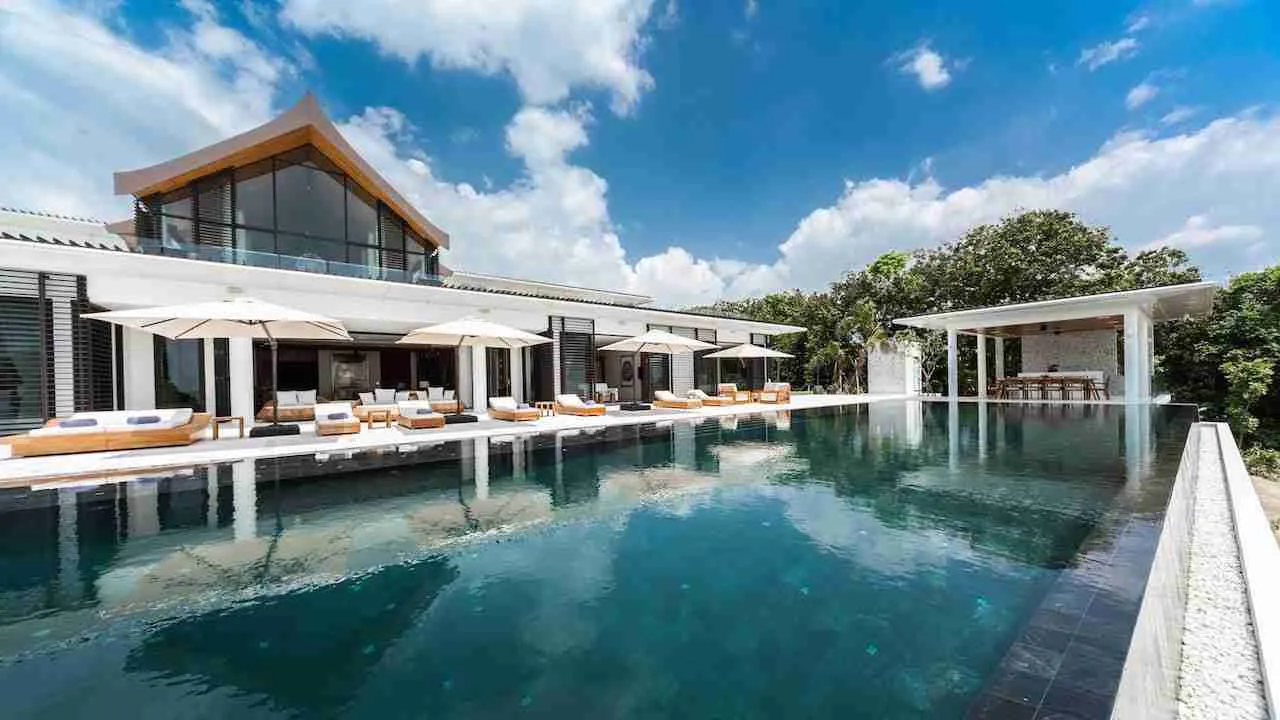 Location: Cape Yamu
Also located in Cape Yamu, this villa is every couple's dream honeymoon destination.
Its romantic mood lights and well-designed rooms make for an ideal getaway for lovers who want privacy and intimacy.
The striking features are the gorgeous bathtubs and outdoor showers located in the seven bedrooms of the resort. Not only do they look good, but it is very elegant in many ways. It's extremely possible for things to get steamy in no time.
Apart from that, couples can enjoy the in-house massage service that the villa offers.
Afterward, you can continue the good time by lounging at the lofty cinema area, dipping in the hot jacuzzi, or even having a candle-lit dinner by the poolside pavilion.
And whenever you need a change of scenery, the villa has its own private beach from which you can embark on a luxury yacht party around Phuket.
Eight Bedroom Villa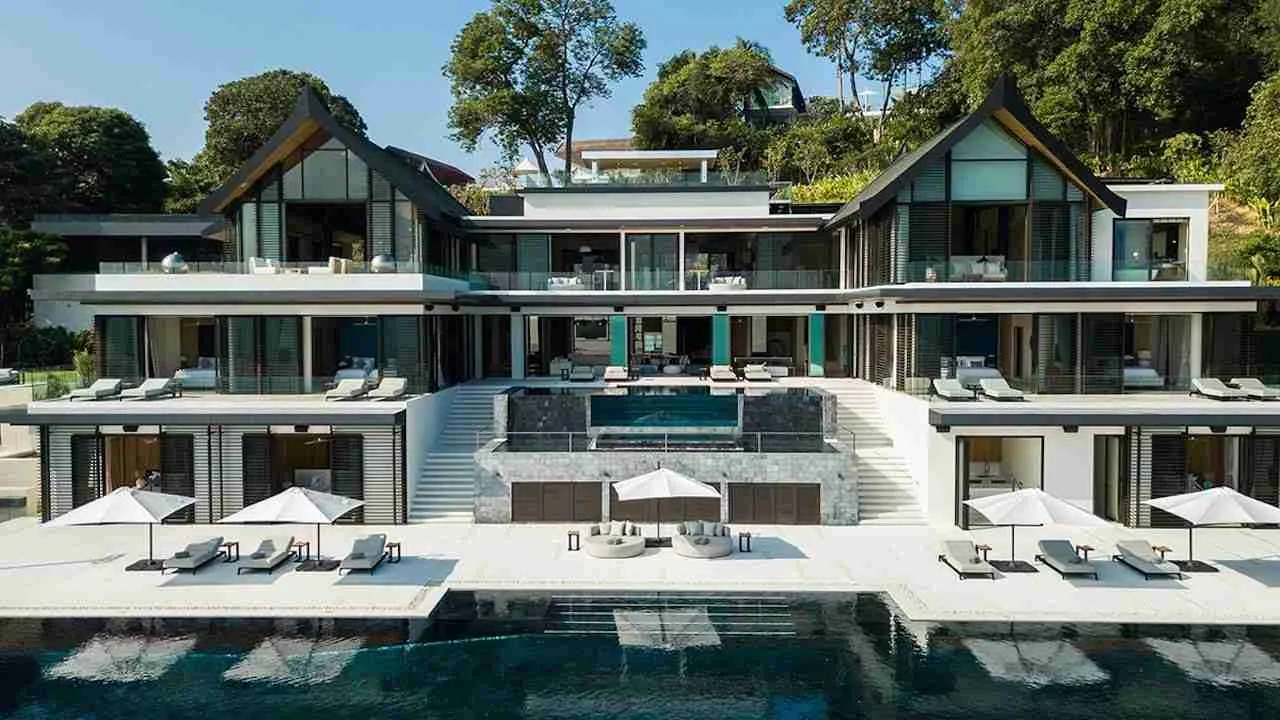 Location: Cape Yamu
This high-end luxurious villa will take your breath away the moment you enter the property.
You'll be greeted by their warm hospitality under the Pagoda-inspired main entrance displaying unique and modern elements all over.
You'll fawn over the stunning bedrooms that they have, along with the facilities and amenities such as three swimming pools, 2 giant whirlpools, fully-equipped gym, spa treatment room, sauna & steam room, state-of-the-art cinema, sports courts (basketball, tennis, and squash), and more.
There's truly an activity for everyone here.
Whether you want to lounge by the pool, play indoors, or explore the beautiful island, you're free to do so whenever you want.
This feeling of inclusion and belongingness is what makes staying in this prestigious place extra special.
From all the pool villas in Phuket we had the chance to see, this is without a doubt one of the most breathtaking.
Wedding Villa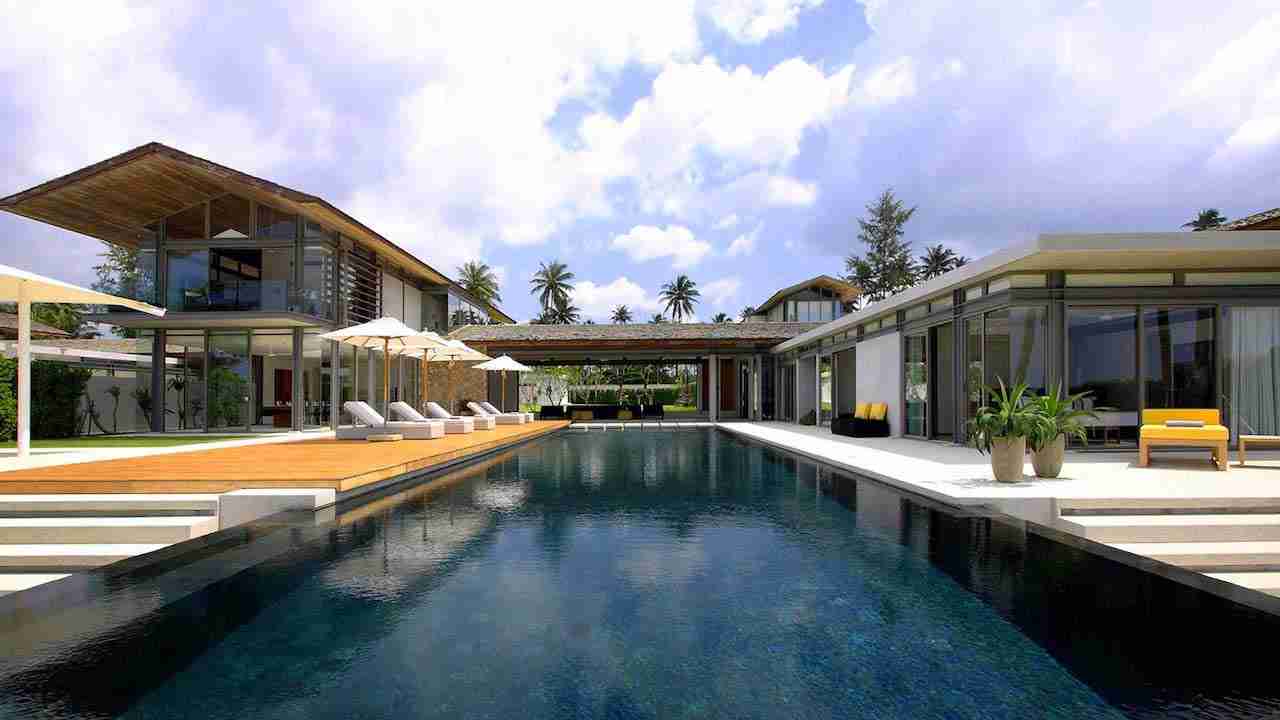 Location: Natai Beach
Express your love to your partner by checking out this wedding villa in Phuket.
It's ideal for grand events and will make anyone say "yes!" to their world-class facilities and amenities.
They have a gorgeous central pool area sandwiched between the five incredible villas in the property.
It can make for a great walkway with its stretching infinity pool showcasing the natural beauty of Natai Beach.
The place also has a spacious garden where intimate gatherings can be held.
You'll be impressed at how ready their dedicated staff is for any requests that you might have, too.
From in-house massage to private chef bookings, you'll understand why Thai hospitality is one of the best services in the world.
Leading You to the Best of the Best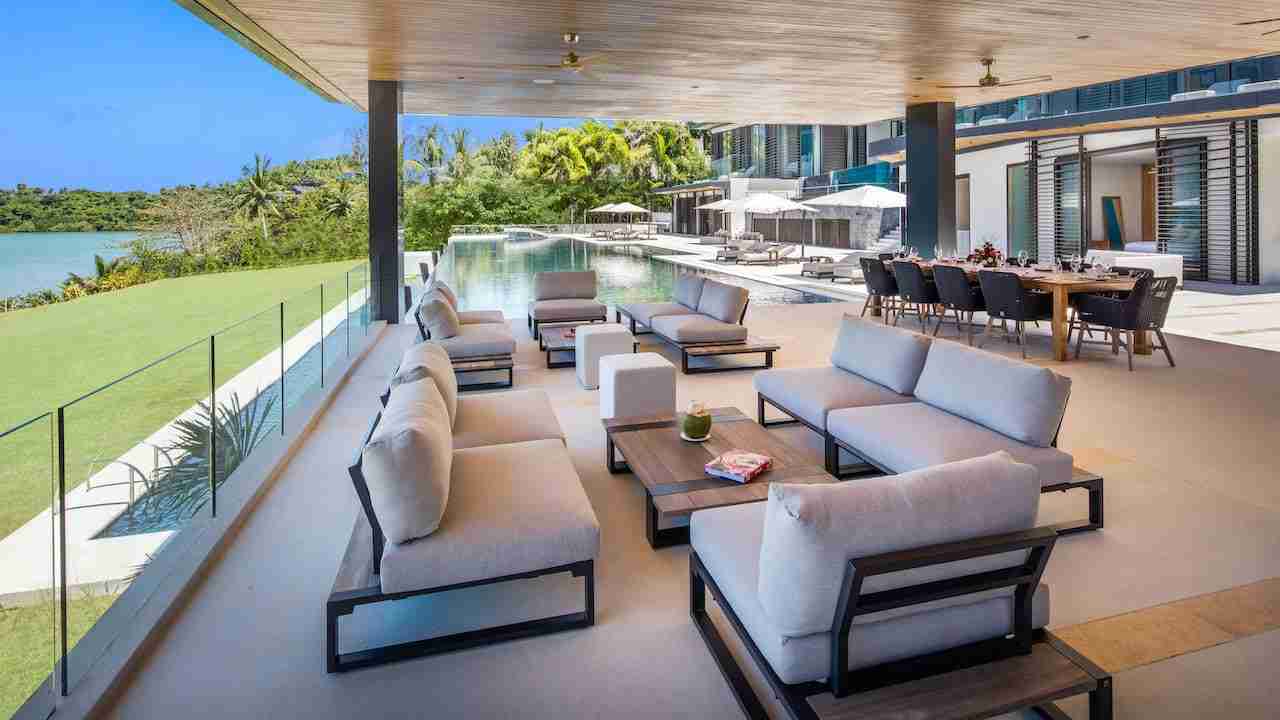 Whether you're looking to rent or buy these astonishing villas in Phuket, you can trust VLS in making that happen and your dream holiday trip come true.
With our network of connections and clients, our professional real estate agents can secure these luxury homes which you can call yours in no time.
You can also count on us to help you with whatever you need to make your villa experience worthwhile. This includes:
24/7 concierge
Visa assistance
Transportation arrangements (land, water, and air transfers)
Security management
Travel and events management
Entertainment add-ons (bikini models, private chefs, etc.)
… and more!
Contact us today to book your dream villa!
FAQ
What is the most expensive villa in Phuket?
The four-bedroom villa at Iniala Beach is the most expensive villa in Phuket with a whopping 9,500 USD/night.
Can you buy a villa in Phuket?
Yes. We can provide real estate agents and legal assistance to help you find the most suitable villa for rent or sale in Phuket. Contact us for more information.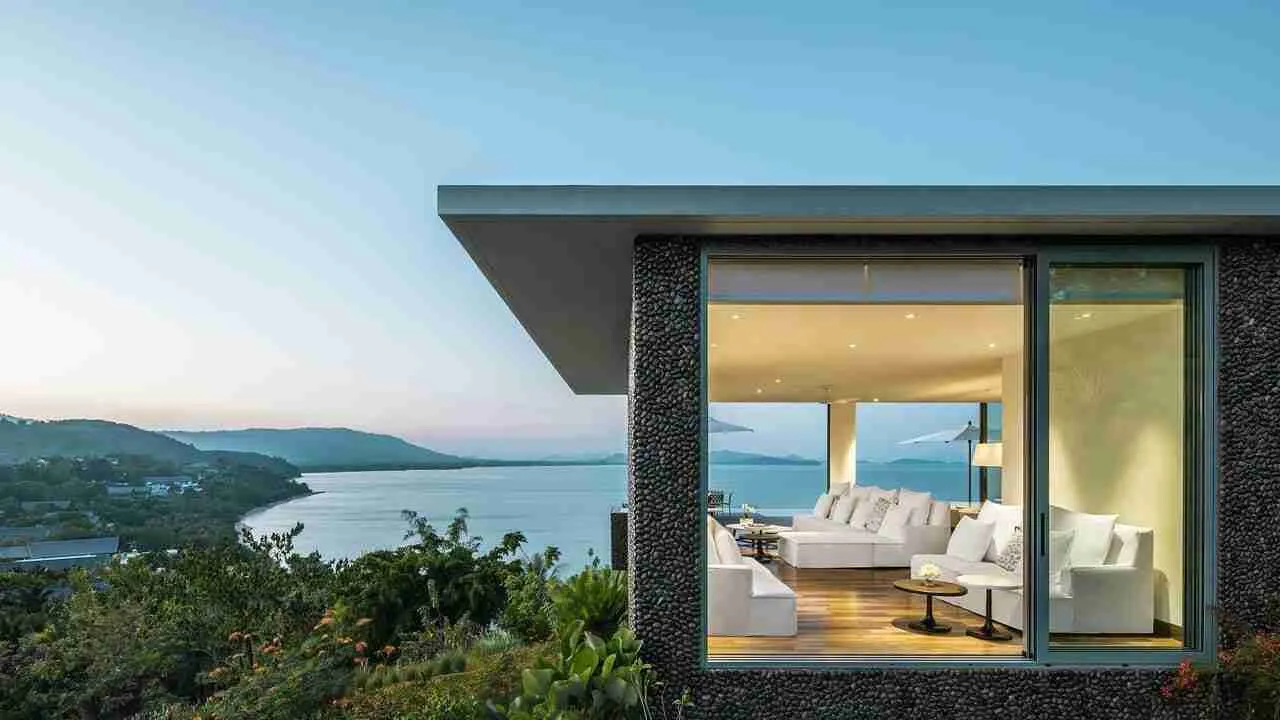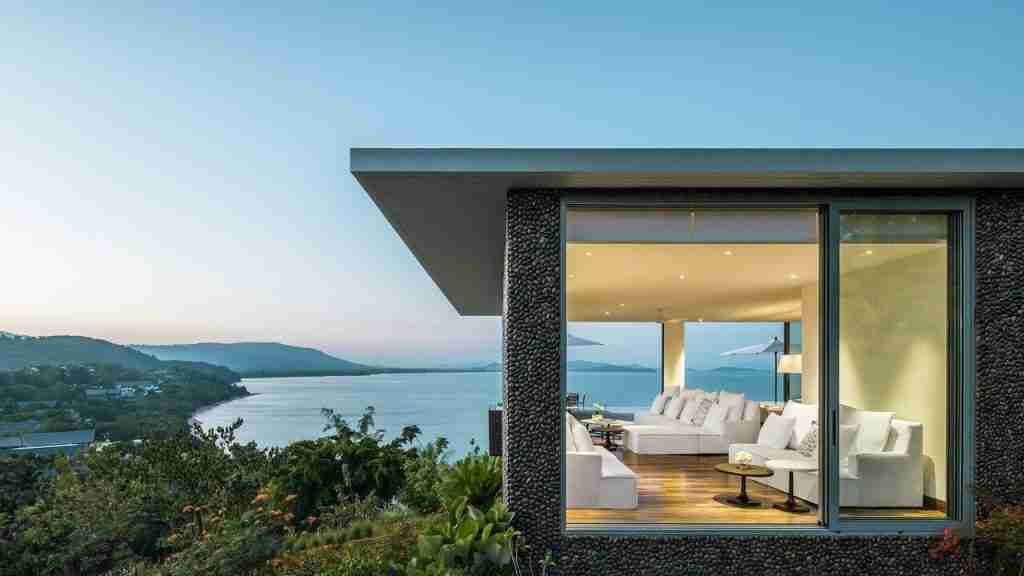 And if you're looking for other options for a luxury stay in Thailand, click here.
We have all you need to make your holidays in Thailand unforgettable.
From accommodation to transportation and unique experiences, our concierge will help you create the ideal package and book everything for you.