Thailand is a magical destination for a luxury holiday for many reasons.
One of them is the large number of tropical islands with 5-star accommodation, world-class service, and exciting nightlife.
Second, Thailand has two major bodies of water that each has its distinct characteristics that can suit your preference: the Andaman Sea and Gulf of Thailand.
From the natural beauty of Koh Chang down all the way south to the iconic Phuket, there's no shortage of gorgeous islands to explore all around Thailand.
With so many choices, it all boils down to choosing the right island to stay.
Our concierge rounded up the best islands to go to for a luxury getaway in the land of Smiles.
Let us know which one you prefer and let VLS organize your VIP stay there.
Exploring the Andaman Sea
The Andaman Sea side offers a full, unblocked view of the Indian Ocean. 5-star accommodations take advantage of this in their gorgeous sea-view villas.
The water is generally deep, which makes it good for diving. Some parts also bring stronger waves that are terrific for surfing.
To add to that, islands facing the Andaman Sea itself are big. You have many towns that you can explore easily accessible by car.
Let's dive in on the islands you can find in the region.
Phuket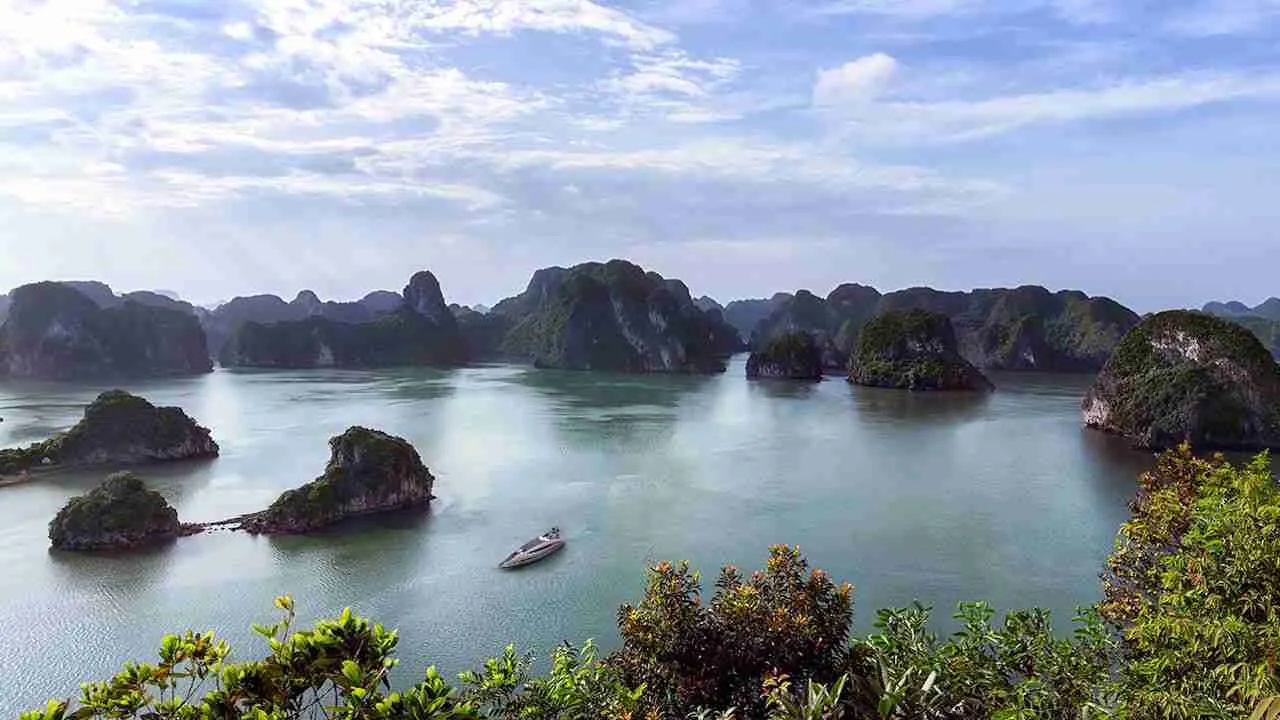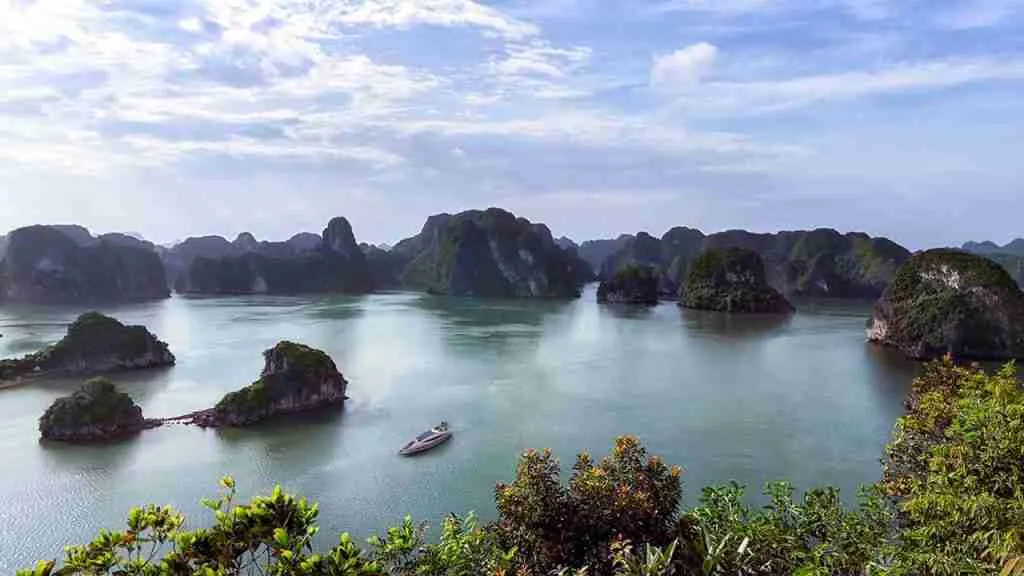 What makes Phuket special: Best island in south Thailand with plenty of varieties for all sorts of adventures.
Being the biggest island in the country, Phuket has so much to offer. It has different beaches that are worth exploring. Each is special in its own way depending on your preference.
If you want fancy resorts with amazing sunsets, Kamala Beach is ideal.
If you want to be near bars and clubs, Patong Beach is where you should be.
Do you like surfing? Kata Beach is great for that.
As different as these places may be, they have one thing in common: they have luxury resorts that will make your Phuket experience more memorable.
Expect elegant establishments sitting atop capes, private pool villas in the middle of the jungle, and high-end hotels right in front of the beach.
Where to Stay in Phuket?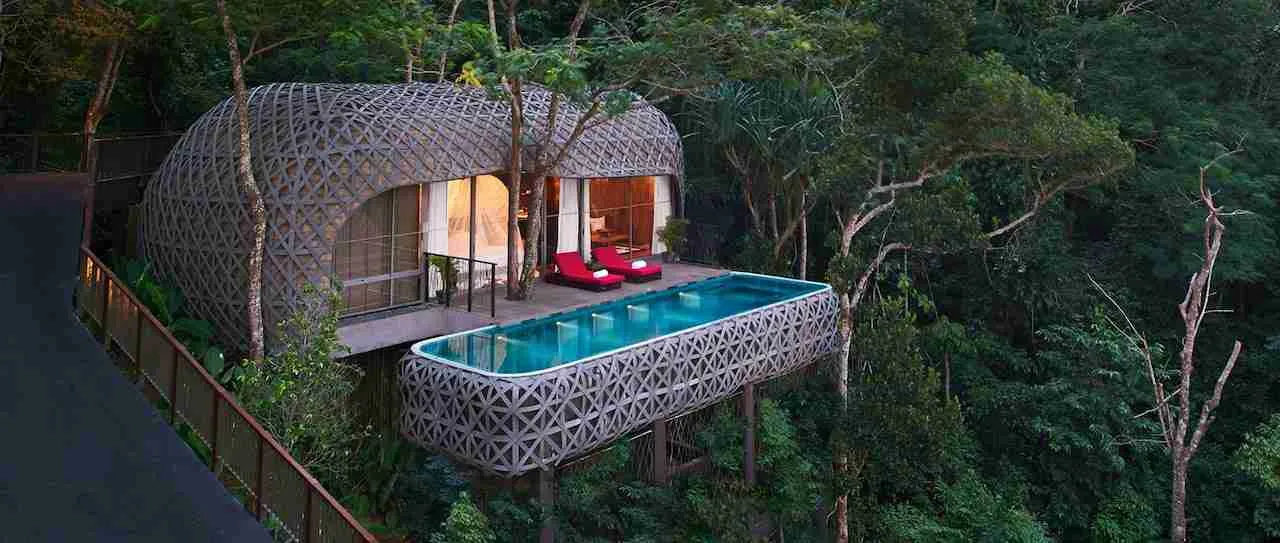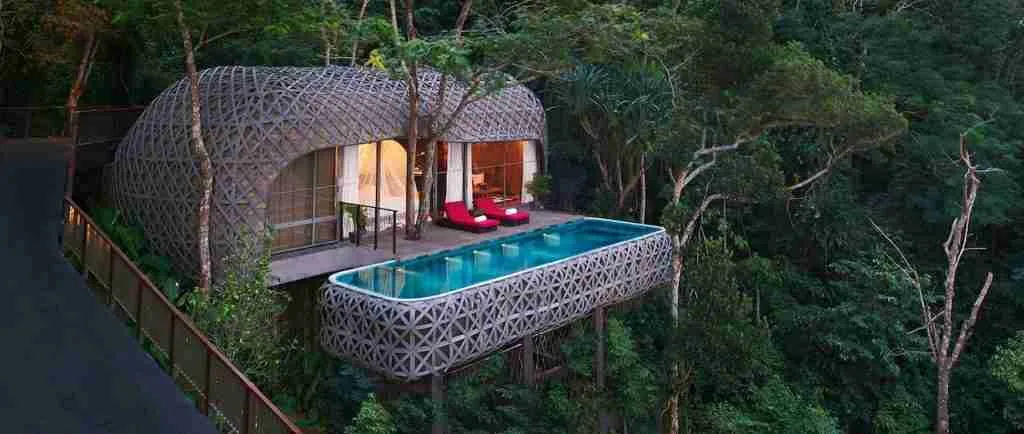 We highly recommend this gorgeous pool villa.
This villa has superb architecture and an interior similar to a bird's nest. Not only is it very homey, but it is also opulent on many levels.
You have lush greenies surrounding you. Plus, you have a spectacular view of the Andaman Sea directly from your bedroom and private pool.
This property will surely make you feel like the king of the jungle.
Read this post for more amazing villas in Phuket.
Koh Yao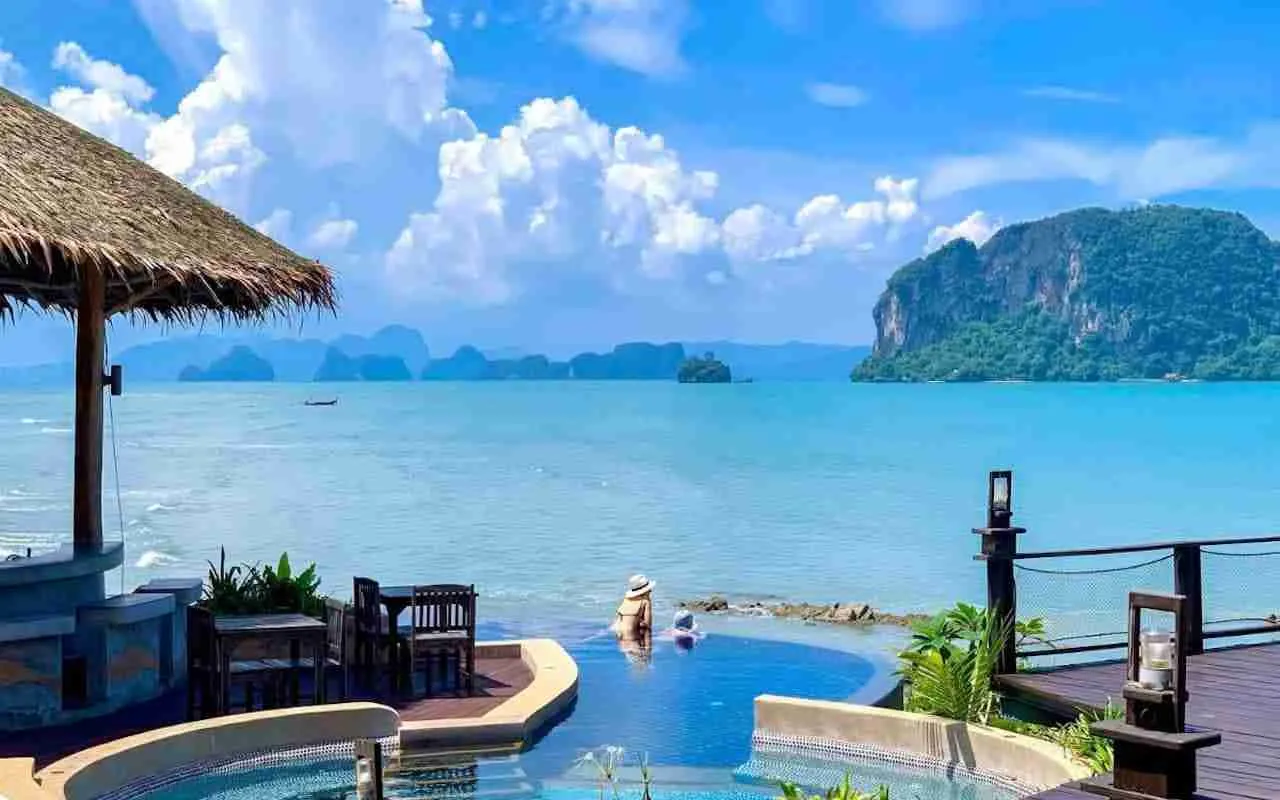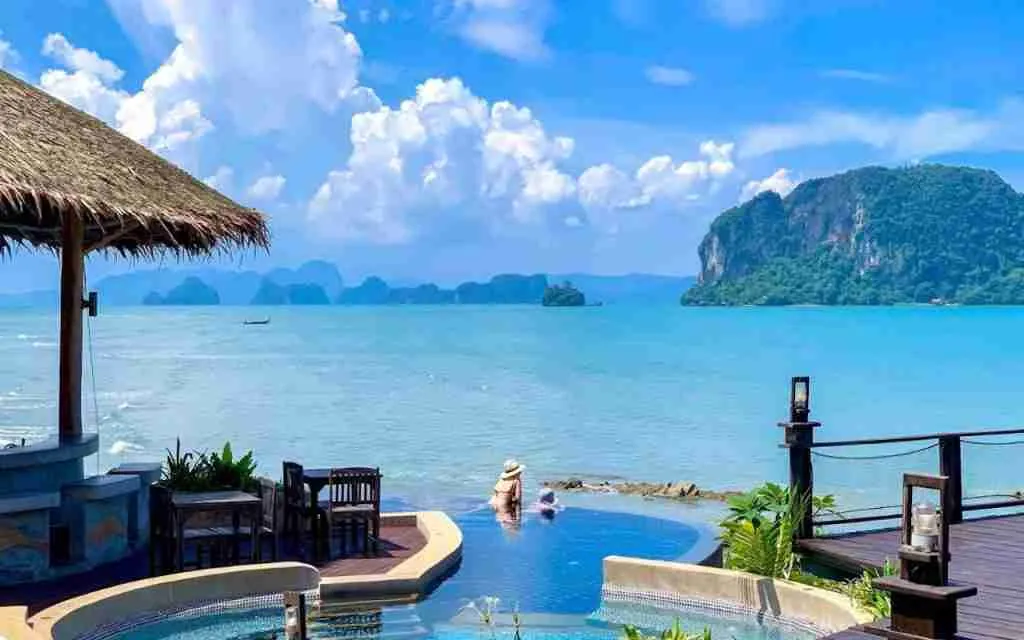 What makes Koh Yao special: Beautiful island that is perfect for relaxing in nature.
You might think that all Thai beaches are the same. However, you will realize that each island in the country has a distinct "personality" to them.
Koh Yao Yai is very reserved. Although it is near lively islands like Phuket and Krabi, it is a destination for those who just want to escape and be one with nature.
The nightlife here is not big, but they have amazing island tours, instead.
Koh Yao is quite large with two main areas: Koh Yai Noi ("Noi" meaning "Small") and Koh Yao Yai ("Yai" meaning Large).
With such wide coverage, you can spend days island hopping and appreciating the azure sea, nature viewpoints, and so much more.
Where to Stay in Koh Yao?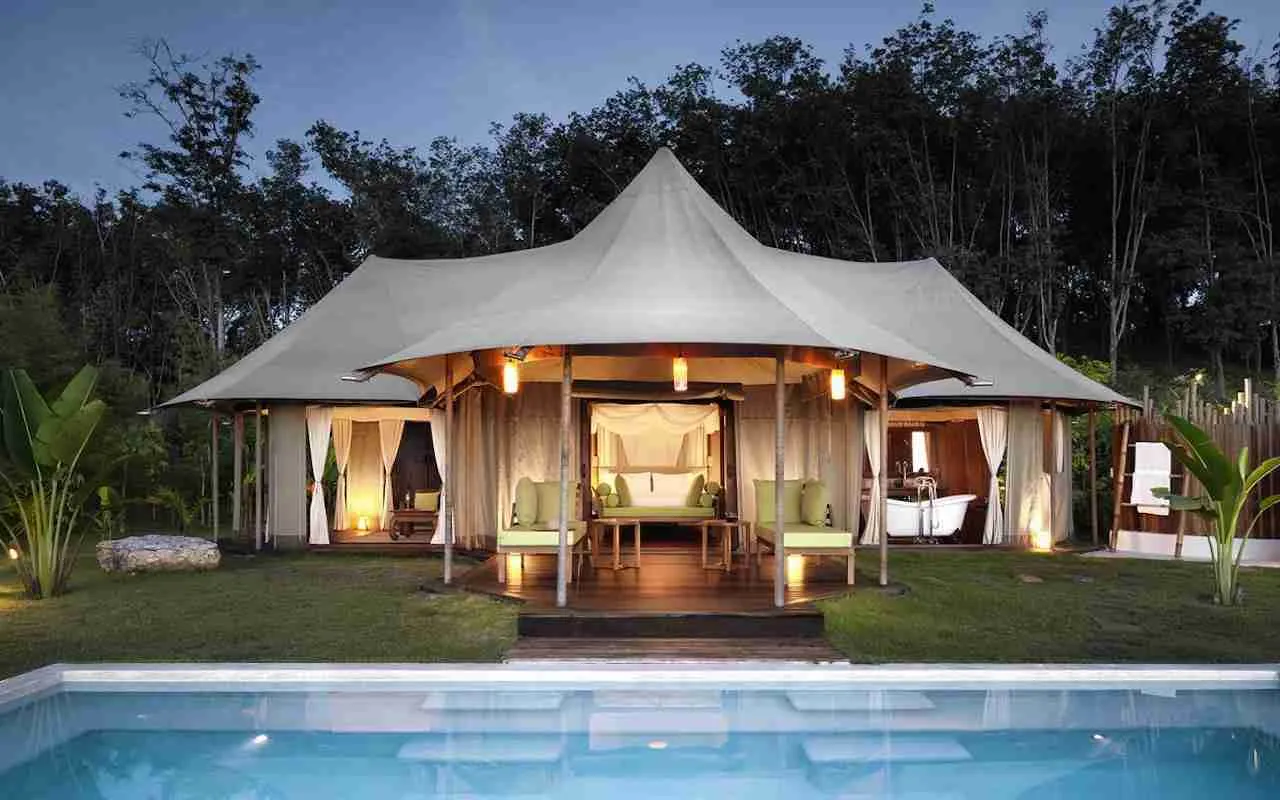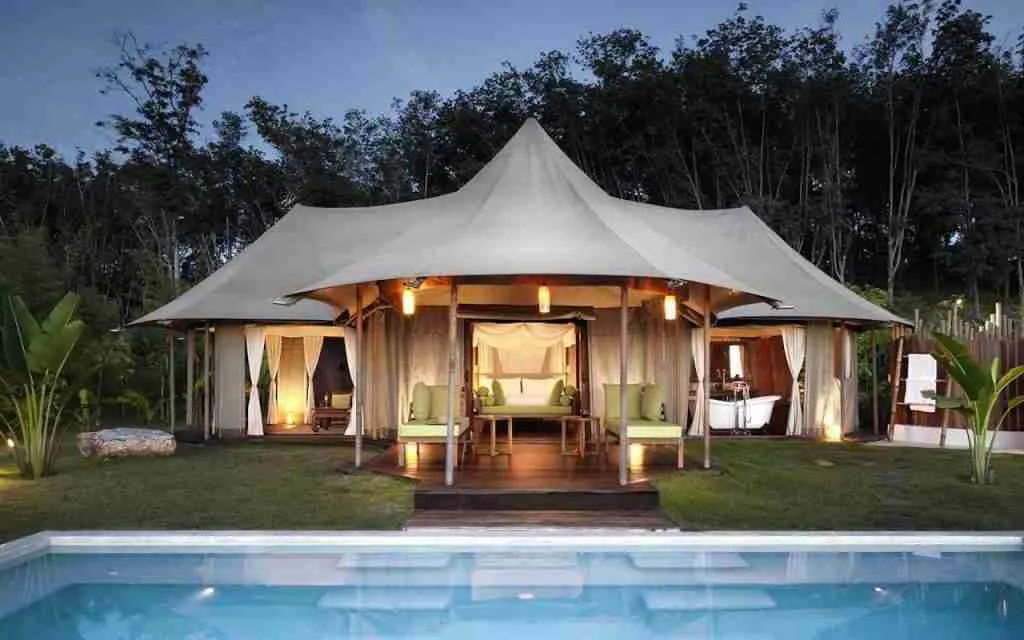 Koh Yao Yai is more geared towards adventure.
Travelers go to Koh Yao Noi for relaxing rather than partying. Like at this high-end luxury safari tented villa with only 10 rooms for the guests.
You will get the privacy that you need here. Plus, their service is top class. There is a designated attendant that will take care of all your needs.
It is relatively new and hot in the market, so it is almost always not available.
Contact us to get guaranteed bookings any time of the year.
Koh Phi Phi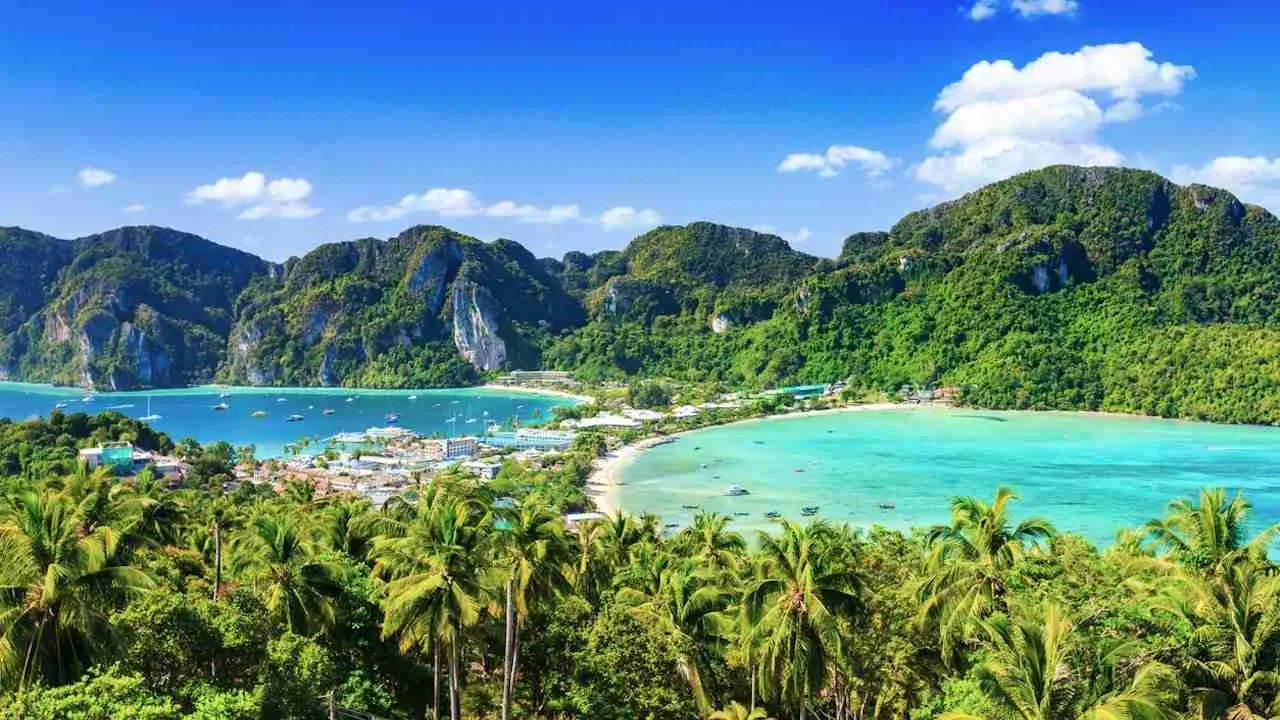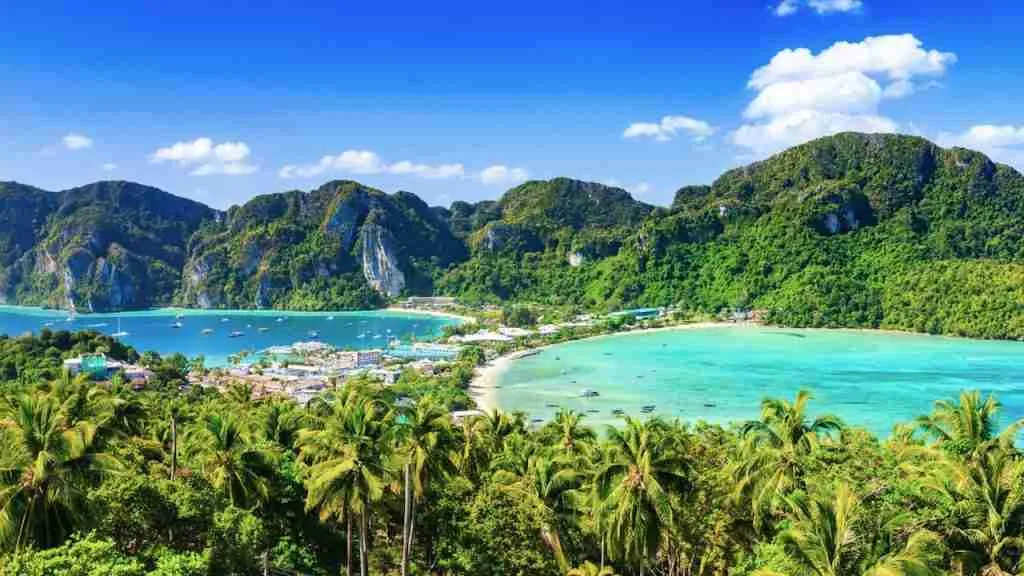 What makes Koh Phi Phi special: Amazing diving spot for those looking for some thrills.
Koh Phi Phi is composed of 2 big islands (Koh Phi Phi Don and Koh Phi Phi Le) and 4 islets (Koh Yung, Koh Mai Phai, Koh Pida Nok, and Koh Pida Nai).
With such a wide scope, there is so much stuff to do here.
You can swim and do water activities in areas like Monkey Beach or Ton Sai Beach. You can go trekking and check out view points if you want more nature.
After a long day, you will find the nightlife here to be quite lively. There are many bars you can check out for parties such as Ibiza Pool Party and Slinky Bar.
Where to Stay in Koh Phi Phi?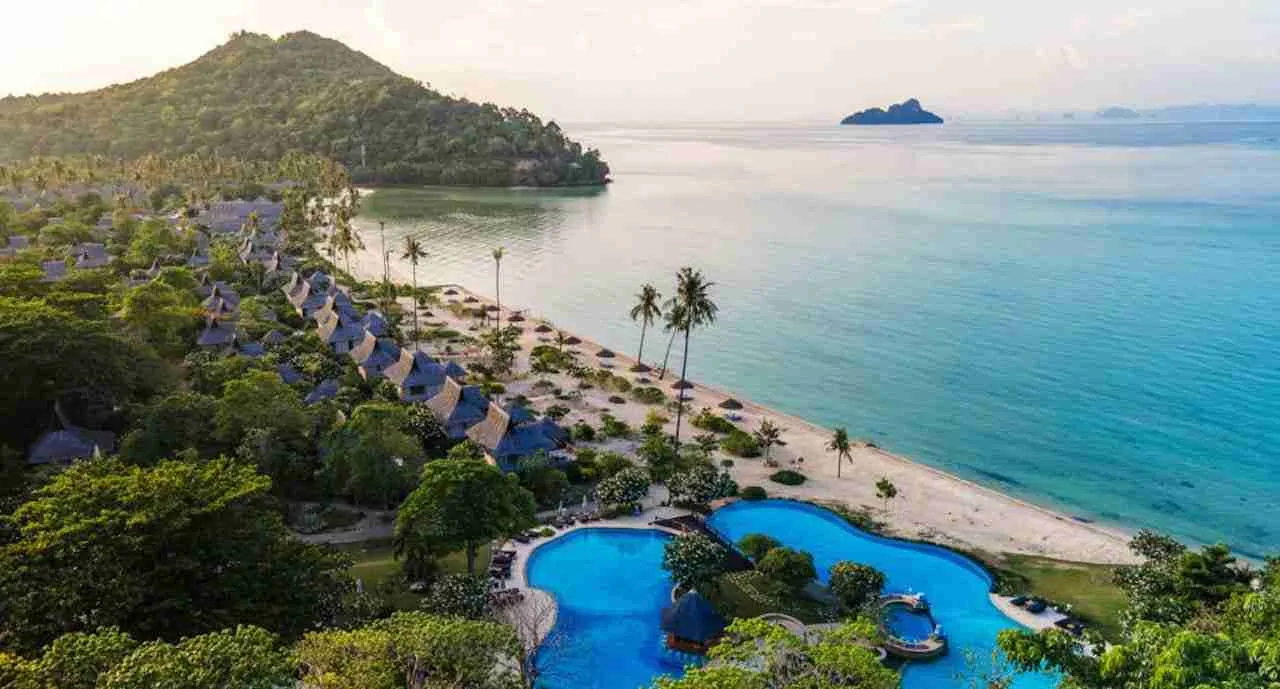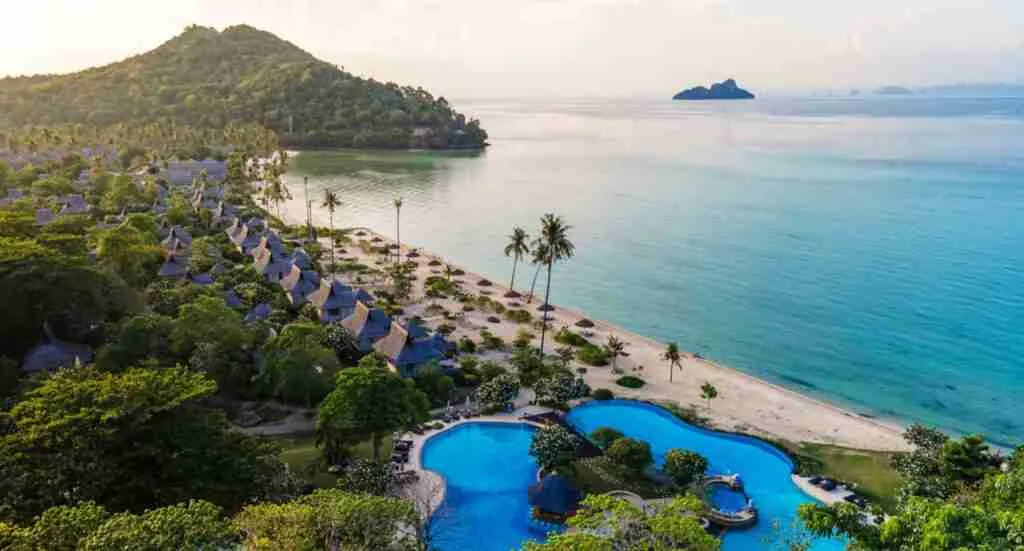 There are many good resorts in Koh Phi Phi, especially along Laem Tong Beach.
Like this resort that offer a 150sqm two-story villa.
It is oceanfront and has rooms on different floors. The best part is that it has a private plunge pool, as well, in case you want to swim at night after a day at the beach.
It's great for families, especially, since the property includes a creature comfort pillow, handcrafted puzzles, an outdoor swing, and many more.
Koh Lanta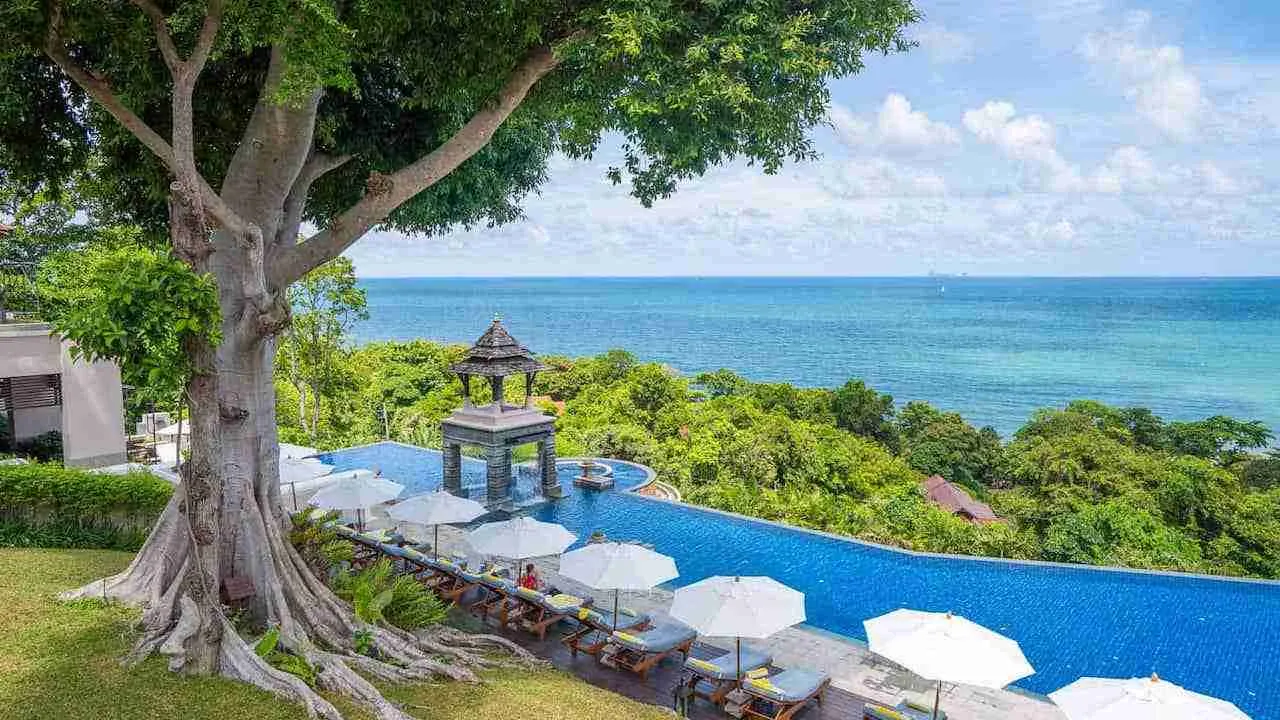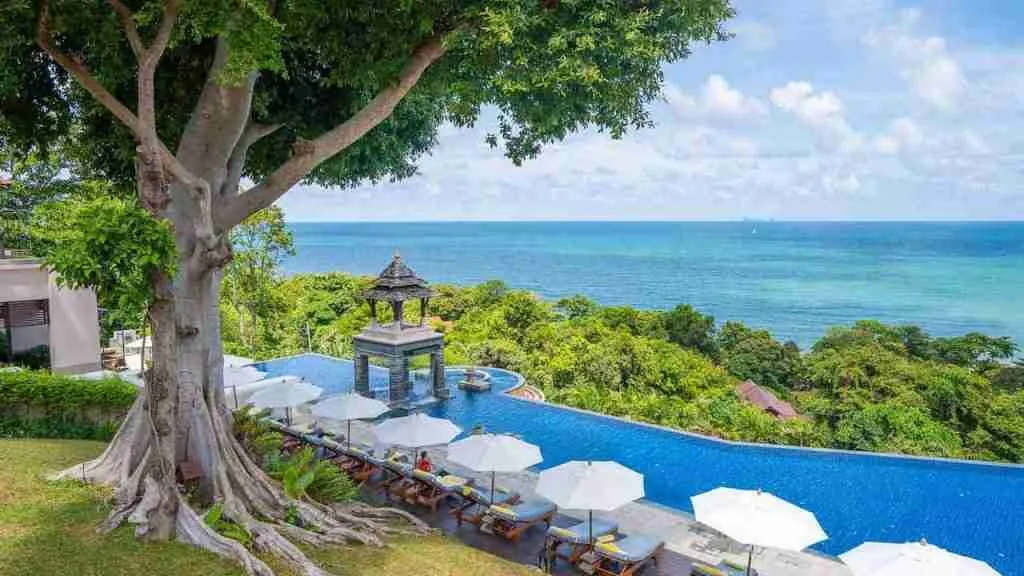 What makes Koh Lanta special: Laidback island that will leave you at peace and well-rested.
Koh Lanta is like the hidden gem of Krabi. It is mostly known for its coral beaches, mangroves, limestone outcrops, and rainforests.
That said, the national parks here are must-visits. The flora and fauna biodiversity on the island is amazing that you won't run out of things to do or see.
Interestingly enough, this is also where some semi-nomadic tribespeople in Thailand live.
They are called Chao Leh. It will be fascinating to interact with them and learn from their culture.
Where to Stay in Koh Lanta?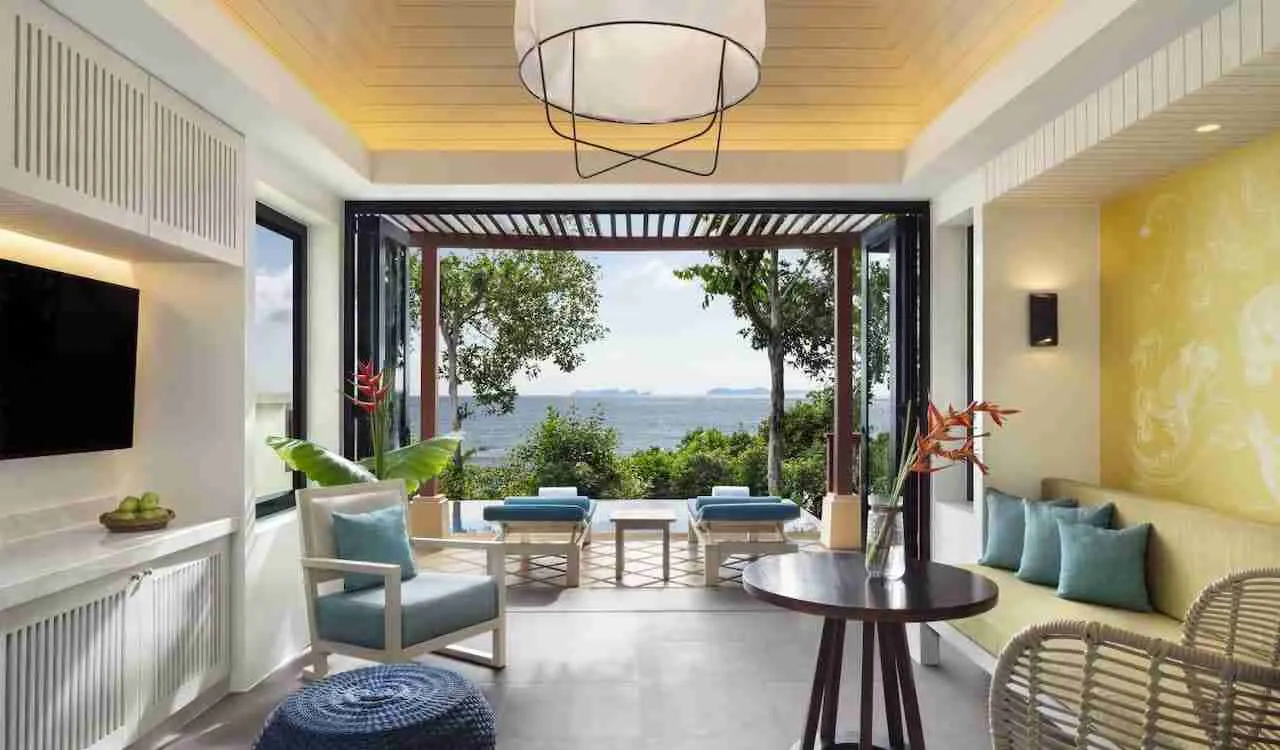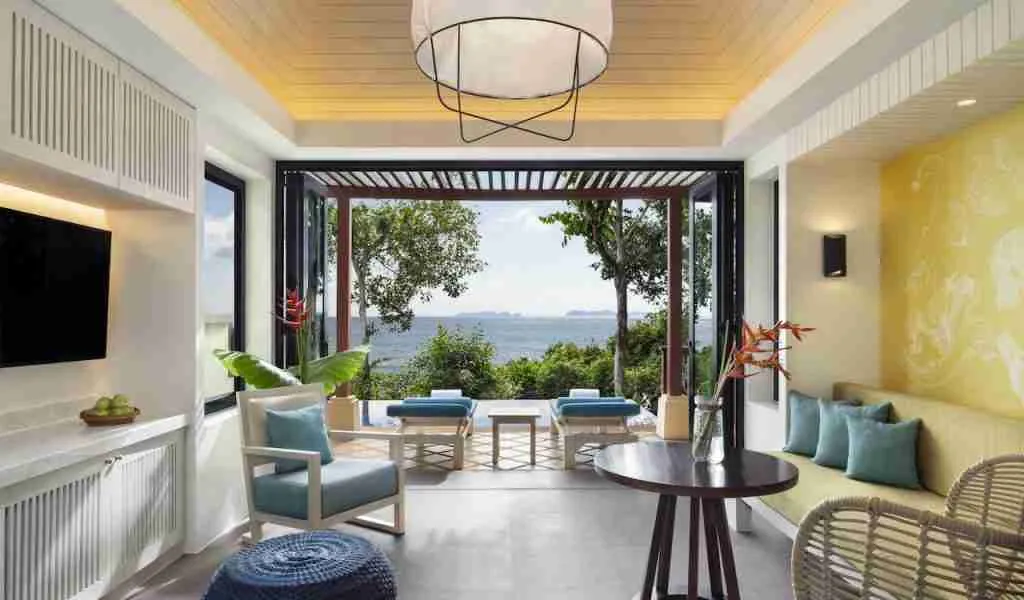 Though the culture and history here might be rich, there are still modern luxury resorts available to choose from.
For example, this grand ocean residence will make you feel like royalty. Situated atop the cliff, you will wake up to the sparkling seascape right from your bedroom.
It features a very big outdoor area with a private pool. It's a great spot for sunbathing or having BBQ with loved ones.
Koh Lipe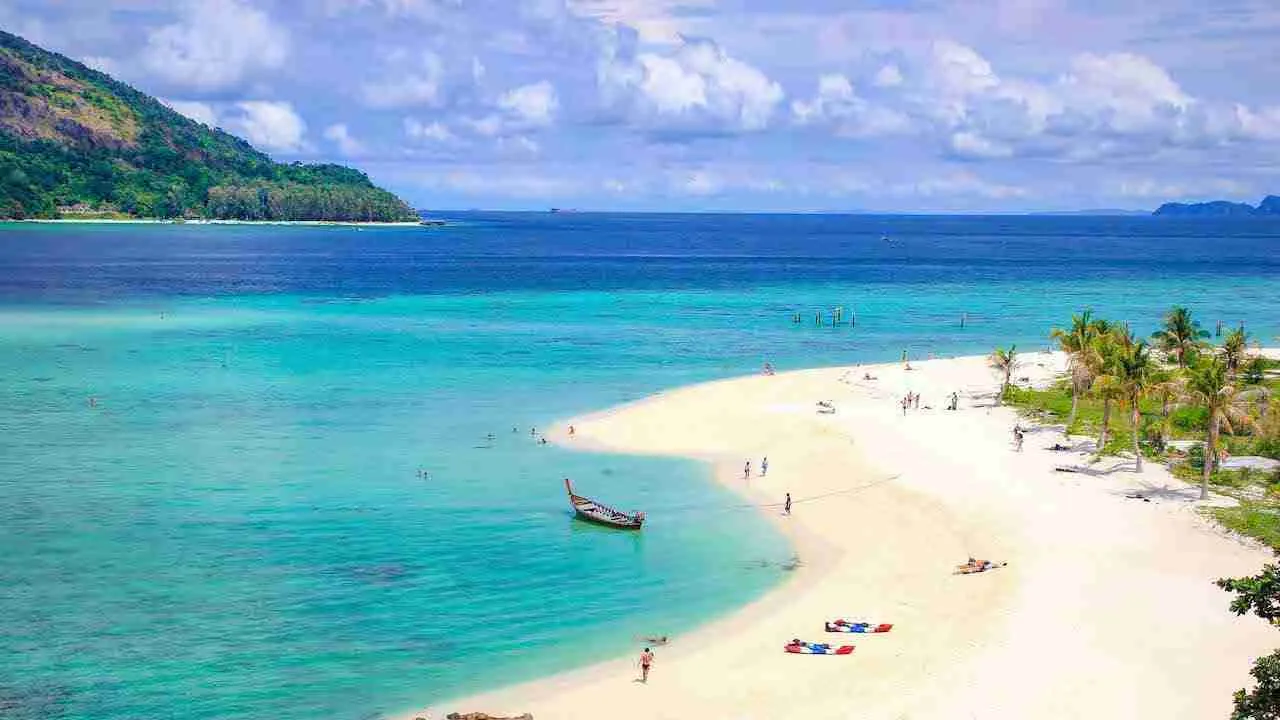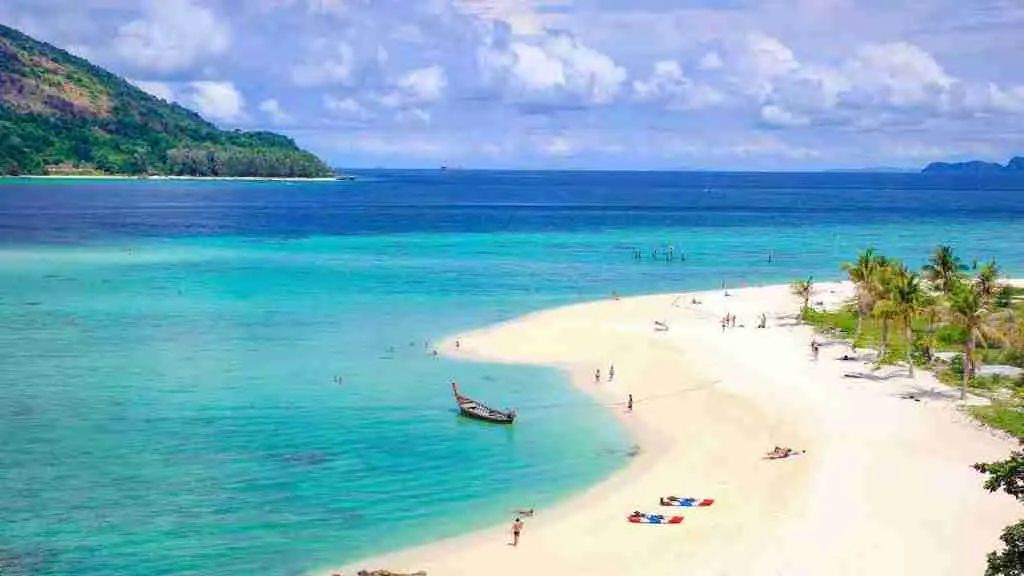 What makes Koh Lipe special: Beautiful island with vibrant marine life and crystal clear waters.
This island is a true paradise found in the South Andaman Sea. It is known to have white sand beaches and sea-green waters.
It's a great spot for snorkeling and diving, but it's good to just swim here, too. You will encounter incredible marine life here that you can't find anywhere else in the country.
There aren't many activities and nightlife going on around Koh Lipe, so resting and relaxing should be the main goal of going to Koh Lipe.
Where to Stay in Koh Lipe?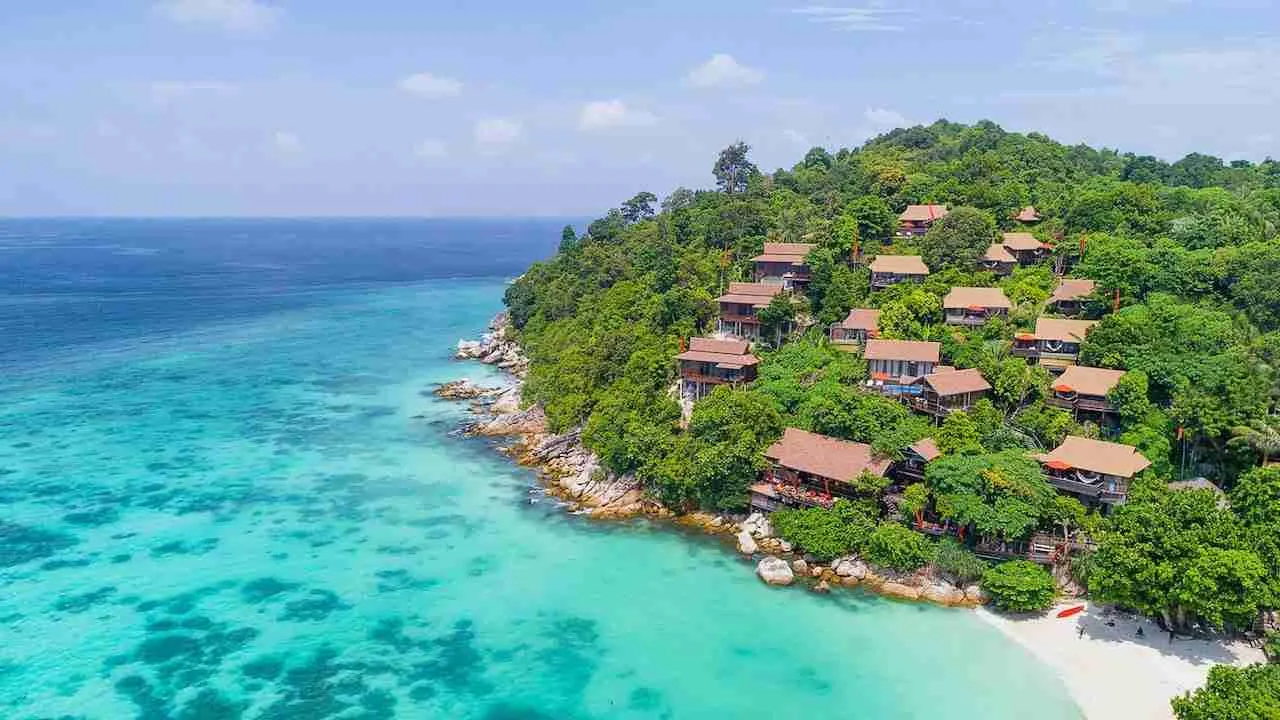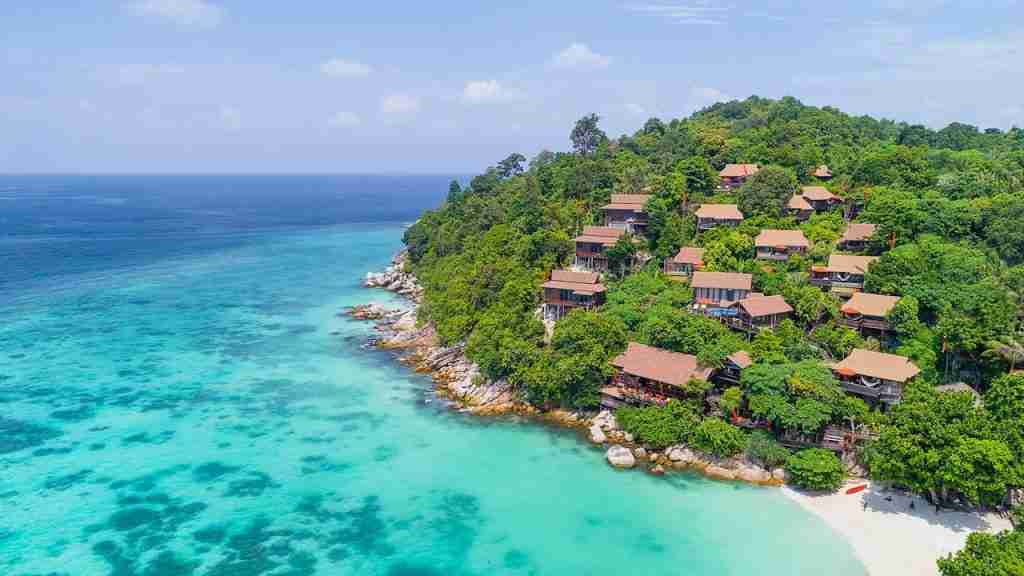 Elevate your experience by staying in a private villa with an infinity pool overlooking the Andaman Sea.
Wake up to the serene grace of the ocean, while you're pampered with upscale amenities and services.
You can seek assistance from the hotel itself in case you want to do island hopping and dive around the area to look at the bright coral reefs.
Similan Islands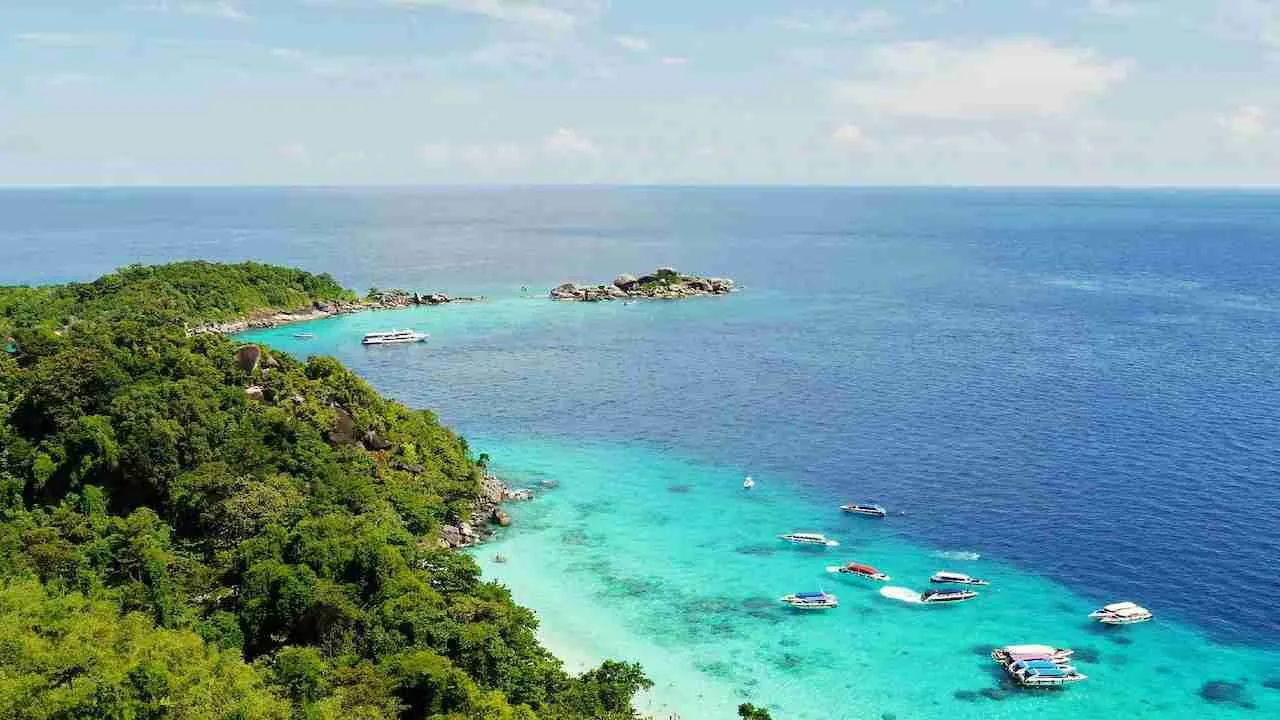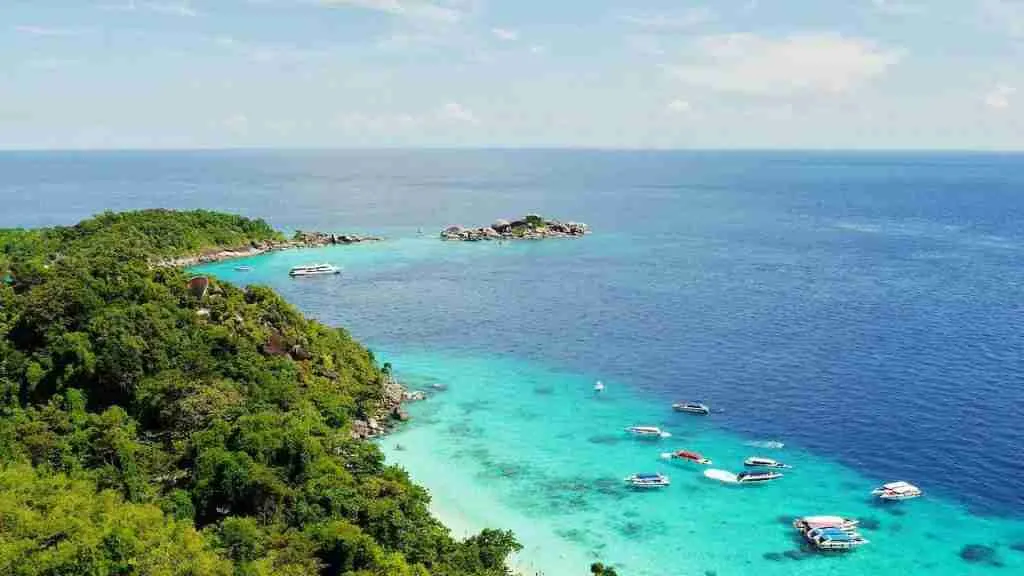 What makes Similan Islands special: Best island in Thailand for honeymoon with luxury cruises.
Do you love the ocean? Similan Islands is definitely for you. This archipelago in the Andaman Sea is popular for those with adventurous souls.
There are cruises here that go on for days or even a week. With over 11 islands to explore, there are tour agencies that allow you to visit each of them.
You can freely swim, go trekking, or simply lay along the shore. Diving is very good to do here as the coral reefs are very vibrant and lively.
When you want to drink and rest, hosting private parties on luxury yachts is an option, too.
Imagine the sunset with a bottle of champagne on deck, that is perfection.
Where to Stay in Similan Islands?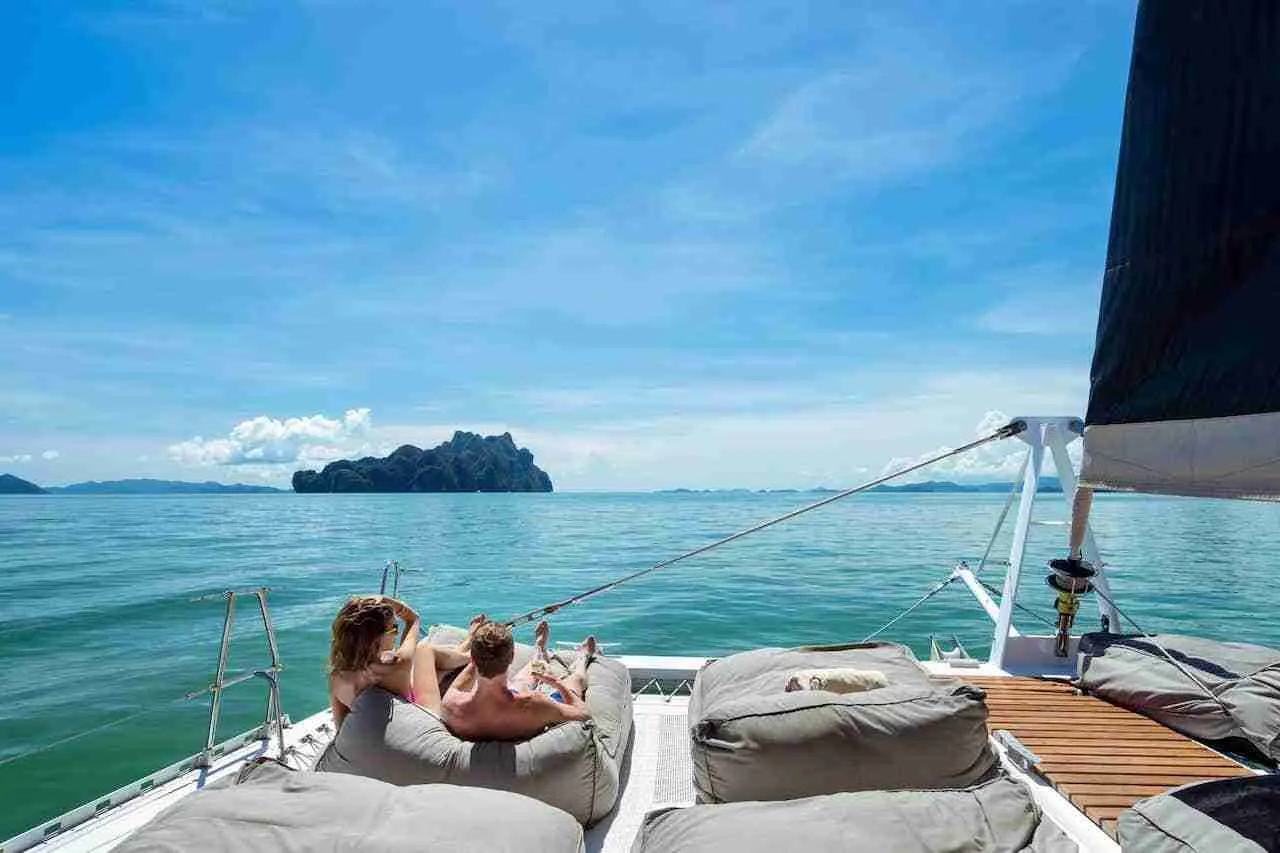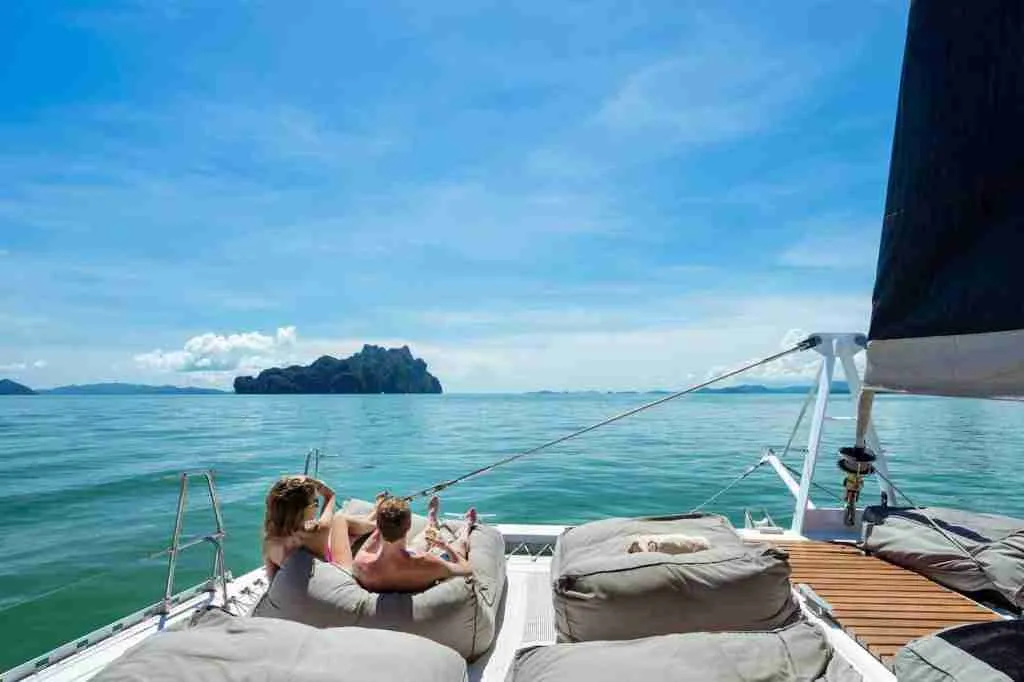 Since there are no hotels on these almost uninhabited islands, you can simply rent a yacht and stay close to the islands in the area.
There might not be any 5-star accommodation to shower you with the finer things in life, but the experience you'll have waking up on your luxury yacht while watching the sun rise over the islands is priceless.
It is a great experience to connect with nature, enjoy the company of friends and family, and practice watersports.
Contact us to know how we can make your stay in Similan Islands better.
This includes luxury yacht rental, party planning and arrangements, glamping set-up, entertainment add-ons, and many more.
Exploring the Gulf of Thailand
The islands surrounding the Gulf of Thailand are less developed and more natural.
However, there are still upscale resorts here that look like a luxurious nature sanctuary.
You will often find shallow waters with several mountains or rock hills in between here. This makes a postcard-worthy scene with vibrant colors everywhere.
Island hopping is popular in this part of Thailand, as well. This gives a more exciting experience touring different parts and being able to swim, dive, and snorkel.
These are the islands surrounding the inlet of Thailand.
Koh Samui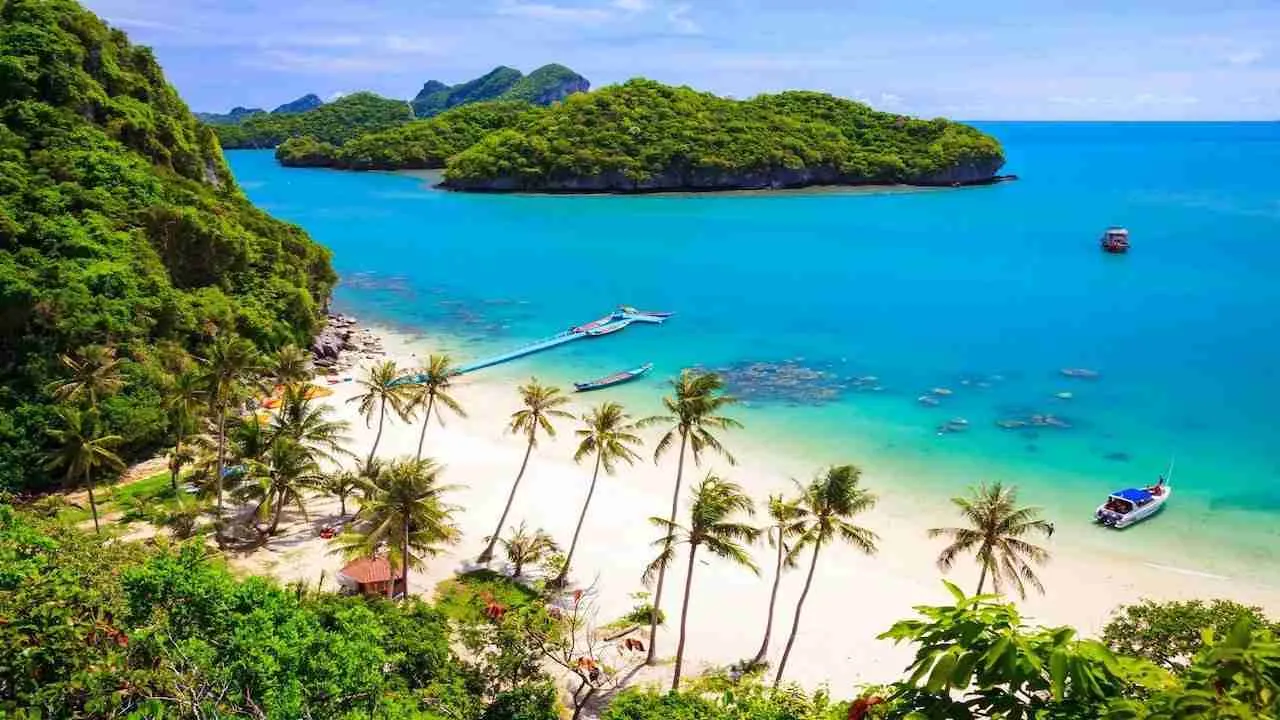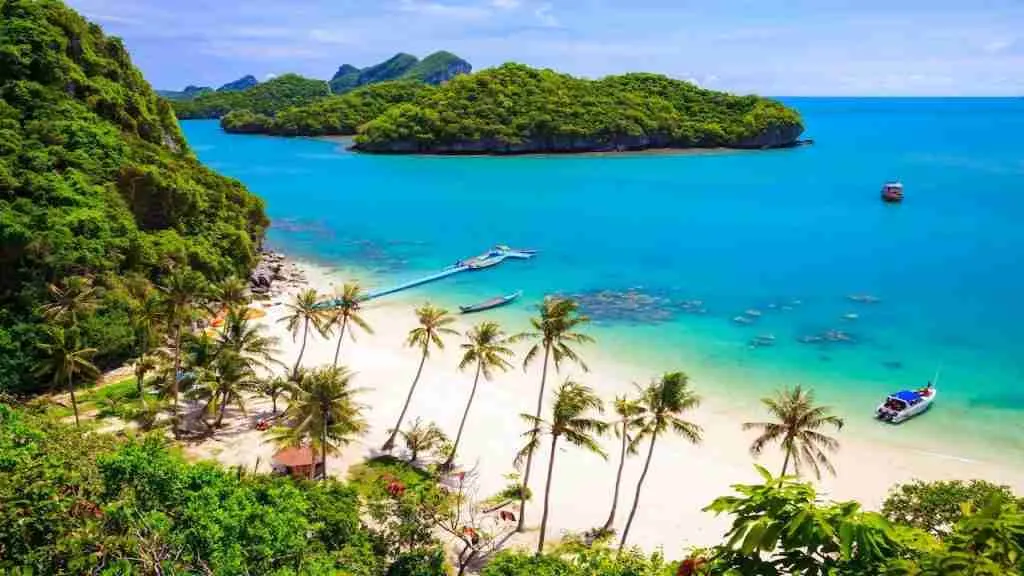 What makes Koh Samui special: Famous island in Thailand with everything a traveler wants.
Koh Samui is one of the top islands in mind for foreigners. It's well-known for its amazing nightlife and attractions.
Like in Chaweng Beach, you will find tons of beach clubs and clubs there. It is a tropical paradise where you can meet young and beautiful women.
Additionally, the water is great in Koh Samui.
You can have a nice day out under the sun after a long night with your mates and dates.
There are plenty of water activities that can be done here, too.
Where to Stay in Koh Samui?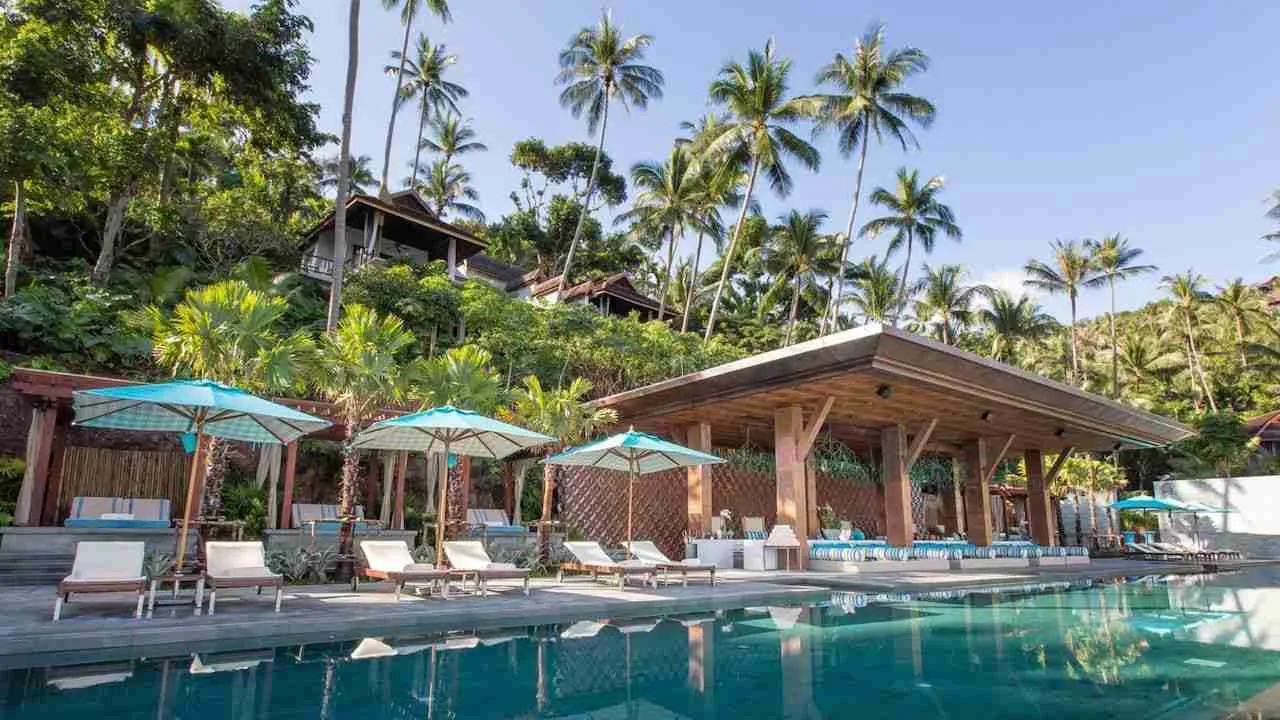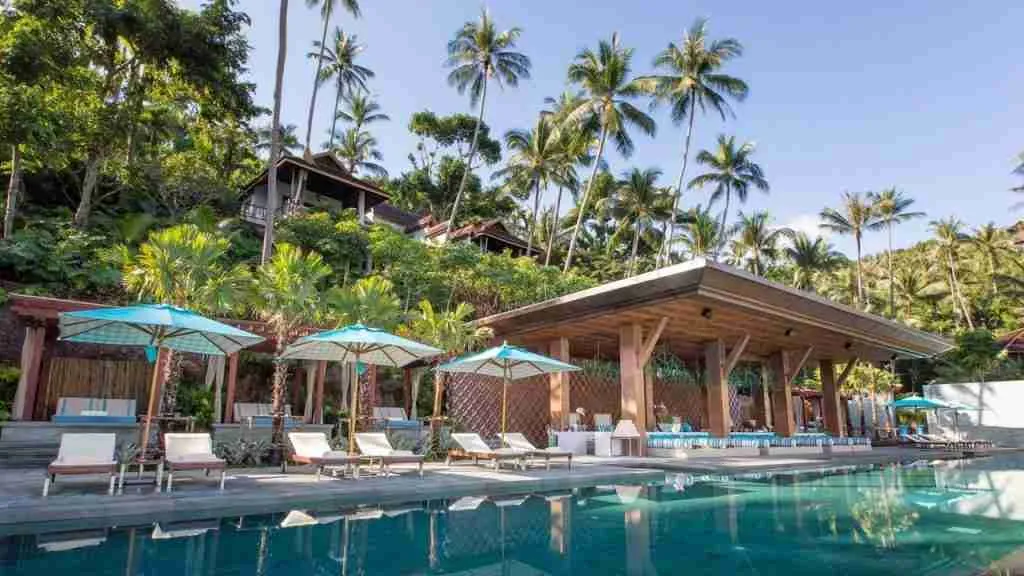 Being a tourist destination, you will find several luxury resorts and hotels here in Koh Samui. A lot of the top resorts in the country are in Koh Samui.
There are tropical oases there that will make you forget about the hustle and bustle of the city. This five-bedroom oceanview villa is one of them.
It spans over 1,500sqm and can fit up to 15 adults.
Not only are the facilities very high-end, but it's terrific to throw parties here. This will impress people you meet if you book a night (or more) here.
For more options in Koh Samui, click here.
Koh Phangan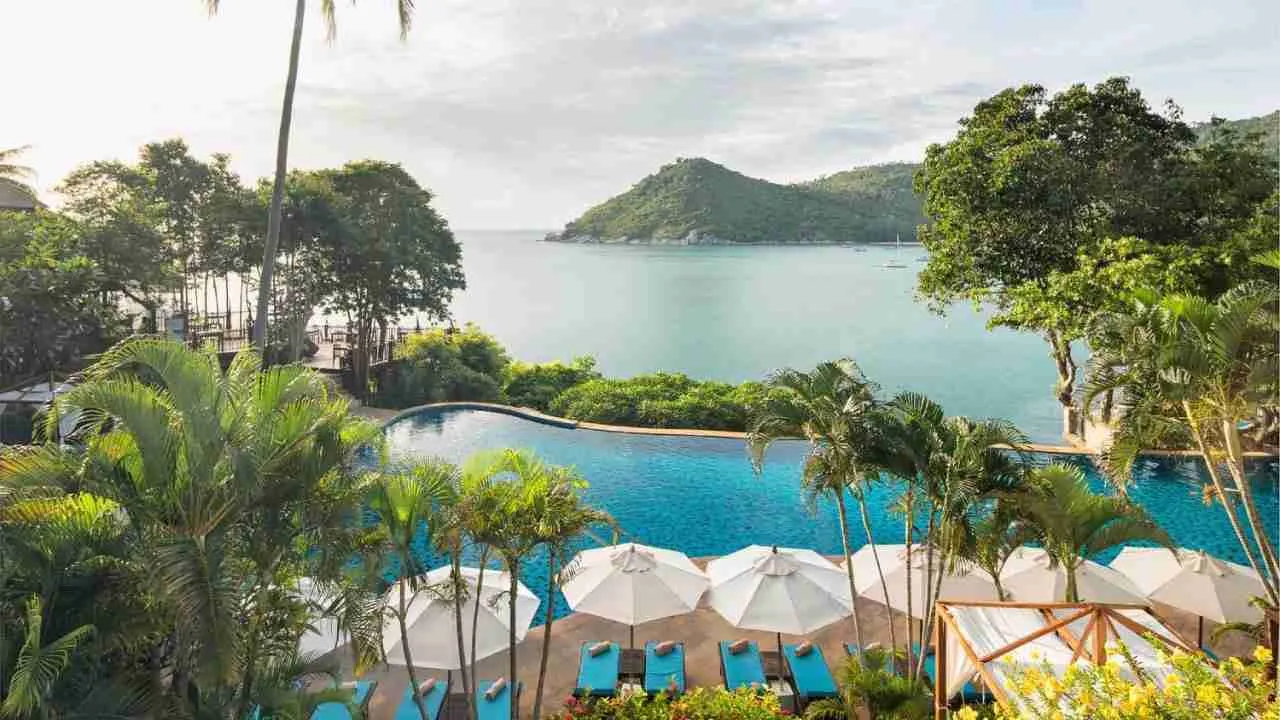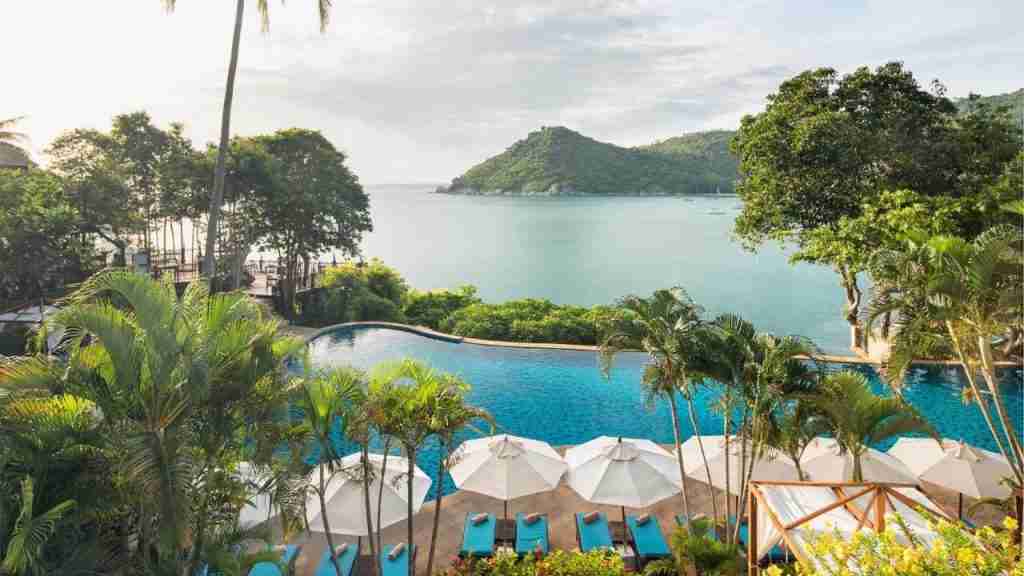 What makes Koh Pangan special: More than a party island, this island has breath-taking scenery and resorts.
You might have heard of Koh Phangan as a party island destination among foreigners. This is where the infamous full moon parties are held.
It gets quite rowdy during these monthly parties, but it is good fun. People get wild and naughty, while they enjoy sick techno and electronic music beats.
However, don't be fooled. The natural environment here is flawless, too.
You will love the clear waters and white sands that are easily accessible in most parts of the island.
The island is well known for relaxation as well, with many resorts specializing in yoga retreats, meditation seminars, and all sorts of spa treatments.
Where to Stay in Koh Phangan?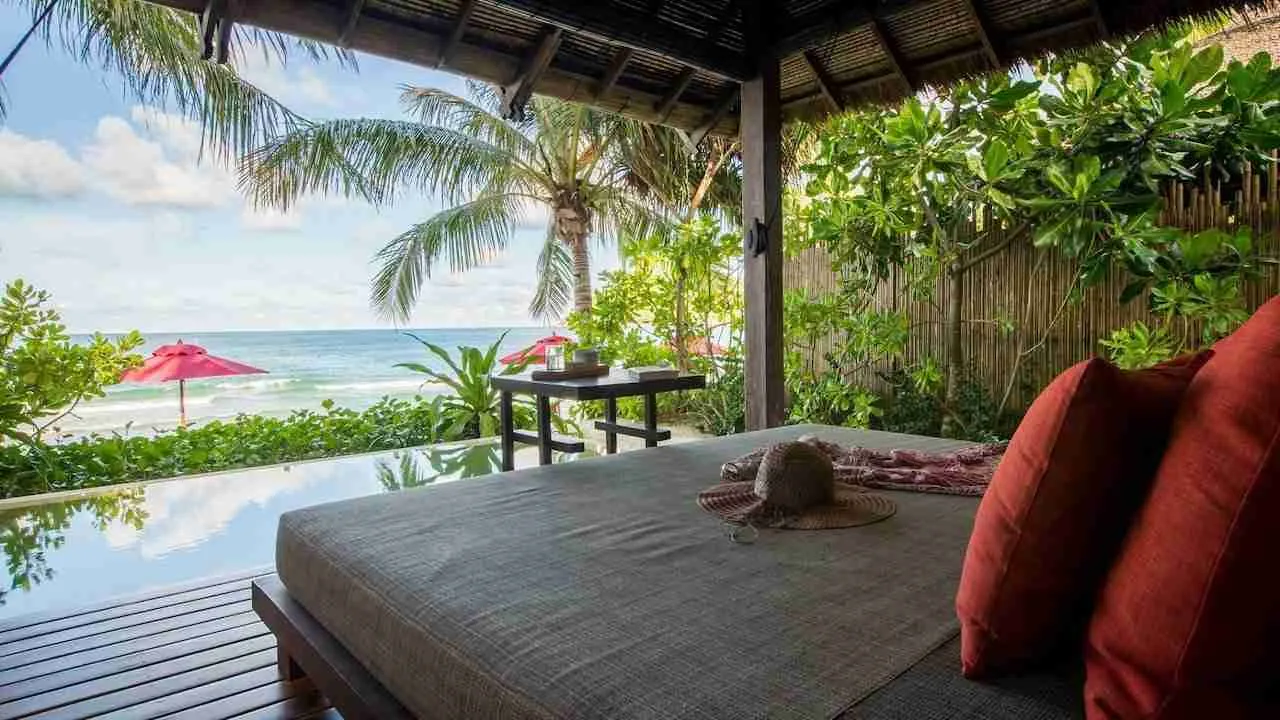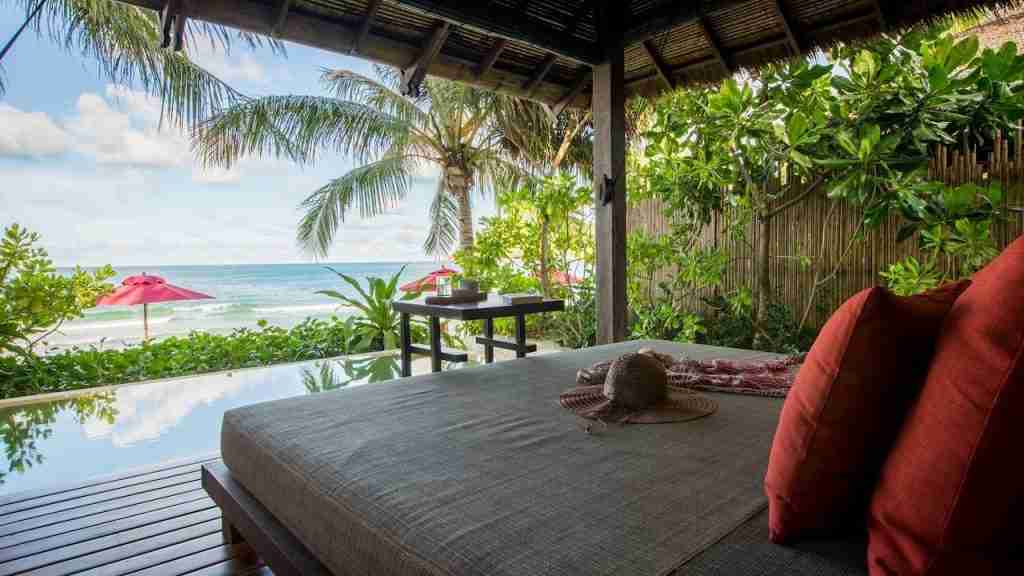 This four-bedroom pool villa await you in Koh Phangan.
With luxurious, modern interior and architecture, you will never want to leave the property.
This in-demand villa is 440sqm and can fit up to 12 adults.
It has a wide living space, home theater, enclosed garden with sundeck, and two private plunge pools.
It's a great choice, especially for a group of friends who don't want the party to end.
Contact us today to book this villa in advance.
Koh Tao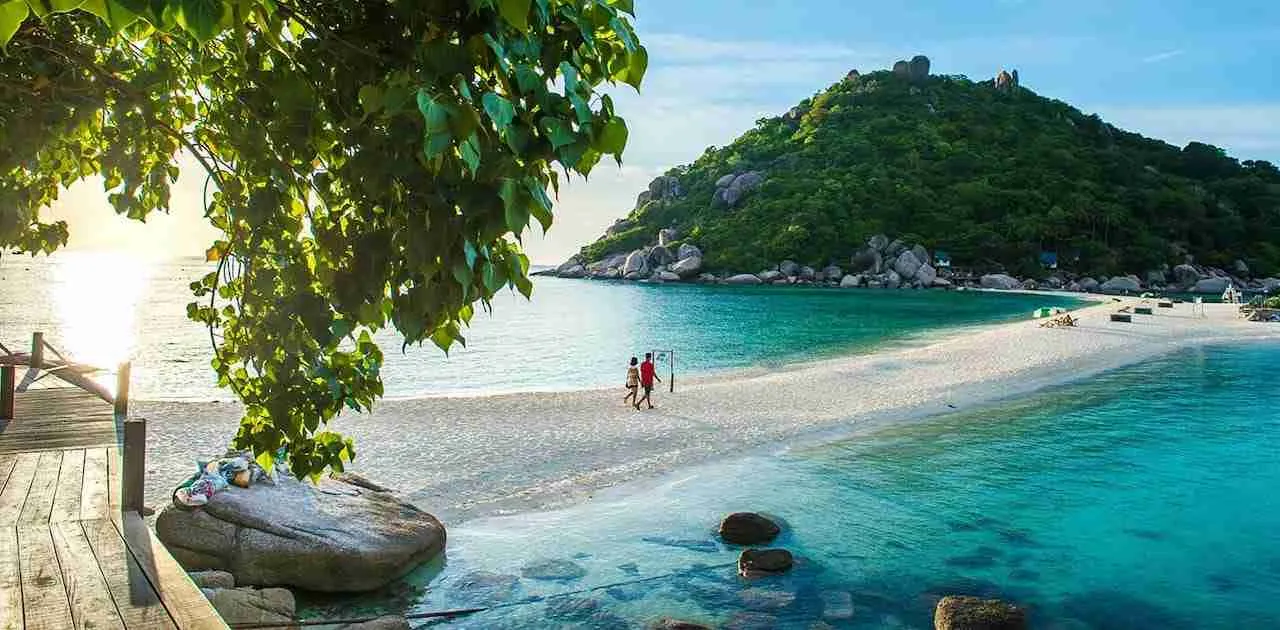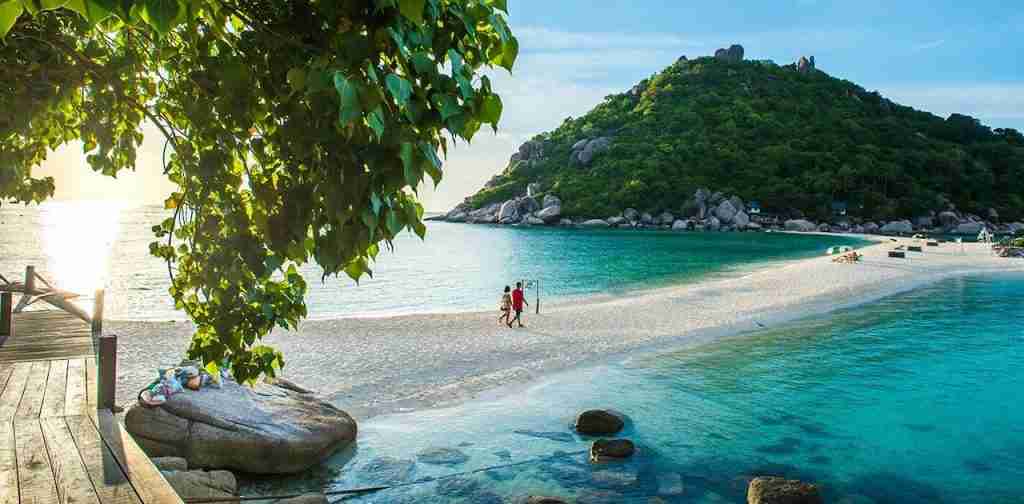 What makes Koh Tao special: Untouched beauty that has the charm of a secluded island.
Koh Tao literally translates to Turtle Island. That is because you will see many sea turtles on the island, which is their main attraction.
Swimming with the turtles and watching their graceful gliding in the ocean will leave you breathless. If you haven't experienced this, then you definitely should.
Plus, the lush tropics and white sand shores will make it even better.
All you would need is a good drink in your hand and appreciate this canvas-like beauty right in front of you.
Where to Stay in Koh Tao?
Many villas can be found on the island, but book the one that looks like it is its own resort.
Like this property, it seems like a whole luxury resort by itself.
With extremely big pools and premium-looking rooms, it is optimal for a group of friends or families.
However, it makes for a nice honeymoon place, too. It is private and couples will enjoy their time together while making full use of the facilities available.
Koh Samet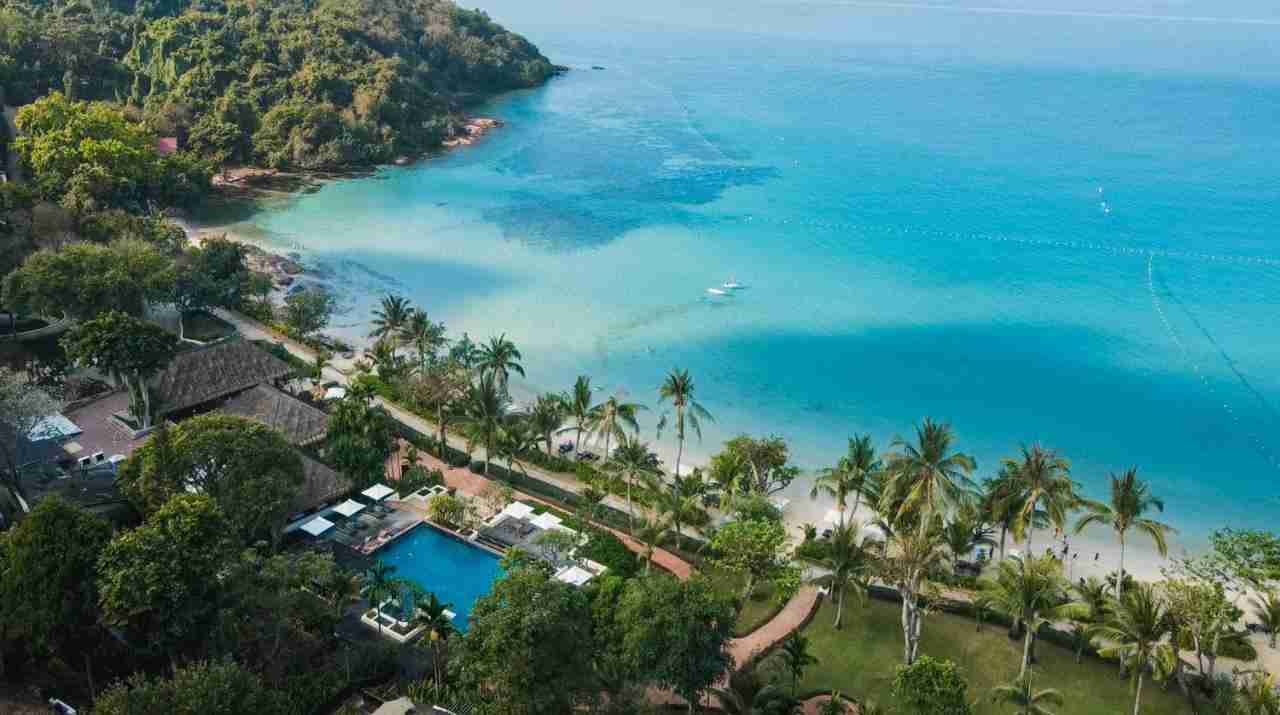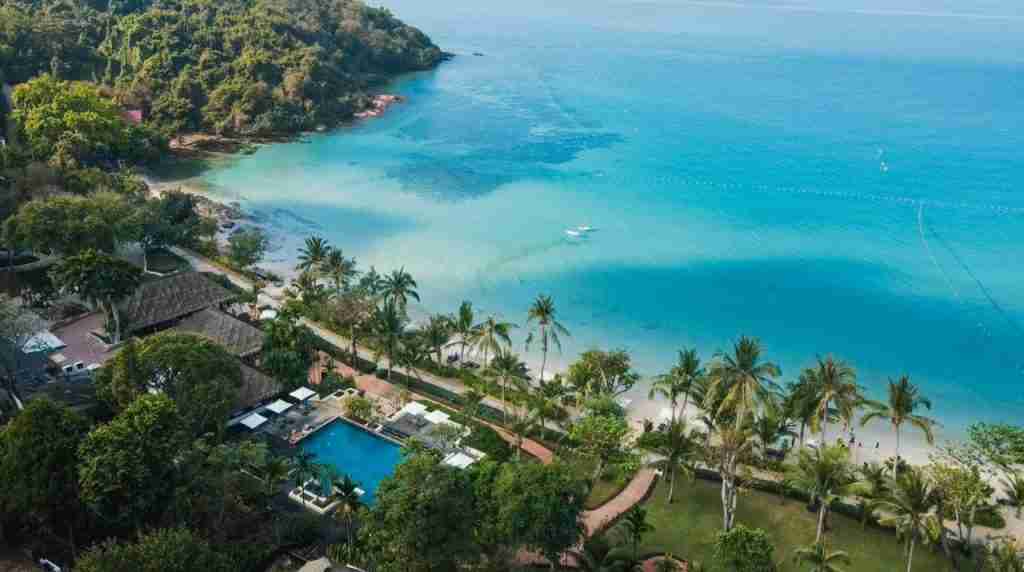 What makes Koh Samet special: Closest island to Bangkok that offers clear waters and several activities.
Koh Samet is just 3 hours away from Bangkok. Despite the convenient location, you would be surprised that this is one of the best Thai beaches in the country.
It is often visited by locals, but some tourists visit this island, too. The main attraction here are two things: the clear water and the amazing fire show.
It's a good place to unwind and sunbathe by day and grab a beer by the beach and watch the fire performance at Ploy Talay.
The fire dancers there are incredible and always perform on Fridays and Saturdays.
Where to Stay in Koh Samet?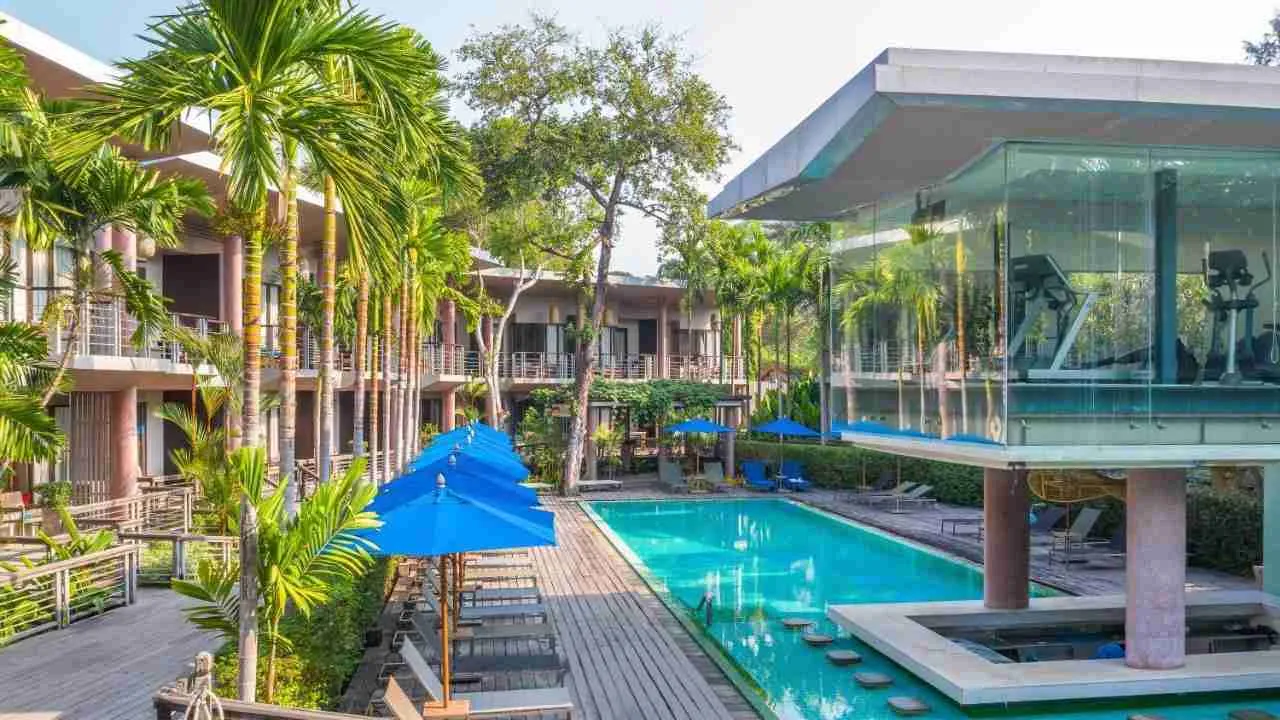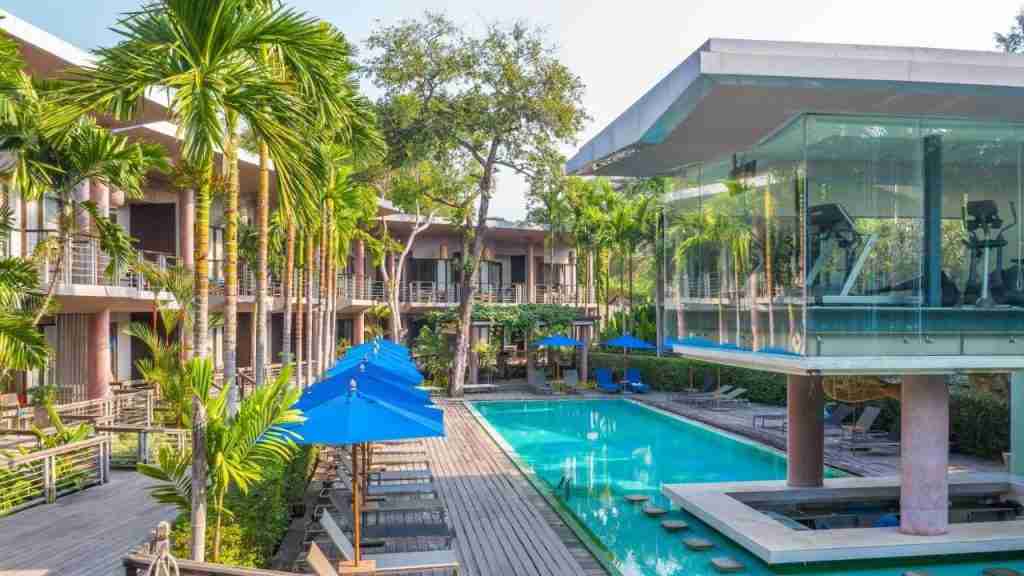 There aren't many choices on the island, but the good resorts are along Sai Kaew Beach. You will find two-bedroom beachfront villas here.
This private pool villa is over 100sqm. It includes two big bedrooms, dining area, living room, private pool, and spacious terrace.
It's a great spot for sunbathing and relaxing after doing all the available activities in the area such as jet skiing, paddling, parasailing, paragliding, and others.
Koh Chang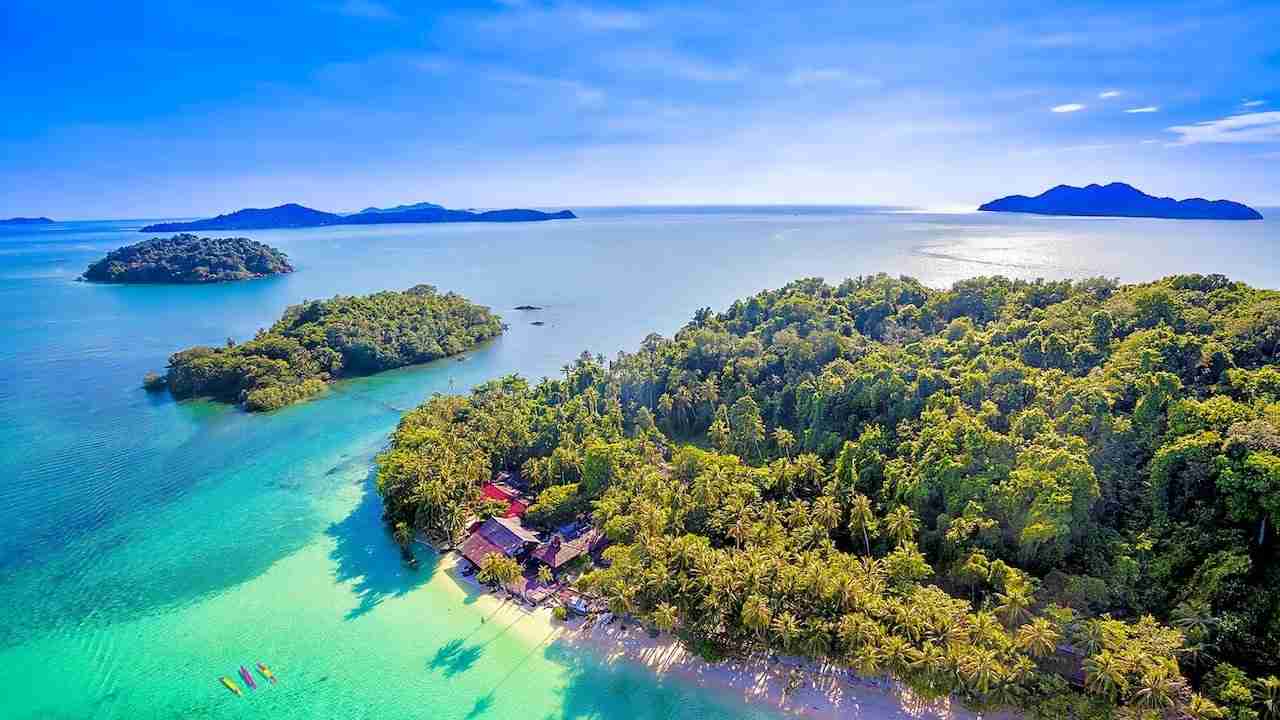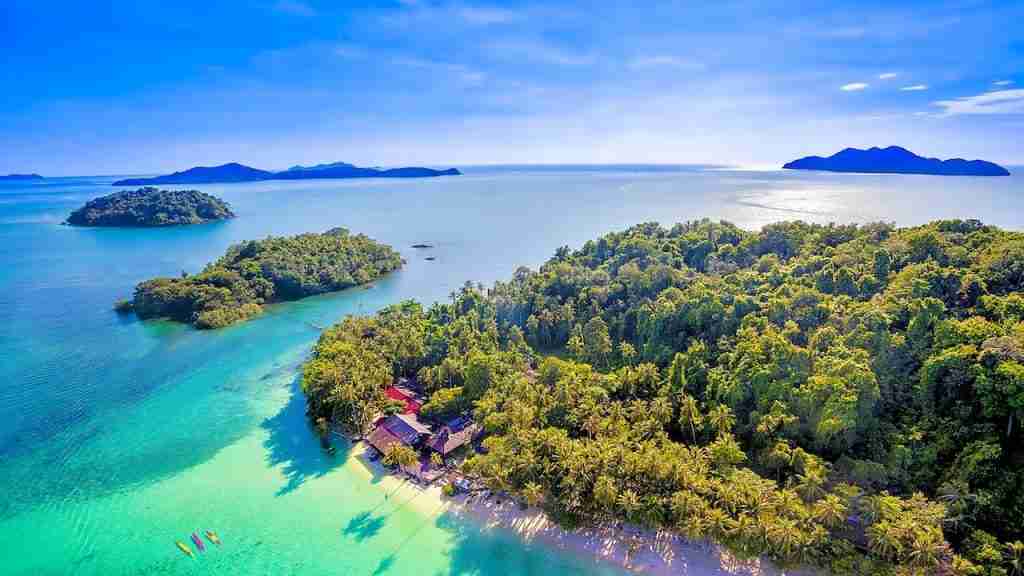 What makes Koh Chang special: Great option for those looking for a great beach with amazing nightlife.
White sand beaches, clear waters, and plenty of mountain areas are just some of what you would expect when you arrive at Koh Chang.
You have to ride a boat to go here, but it is worth it. The scenery is out of this world and there is an abundance of luxury hotels available.
To add to that, partying here is recommended. There are often beach parties here that are among the most popular in Thailand.
Where to Stay in Koh Chang?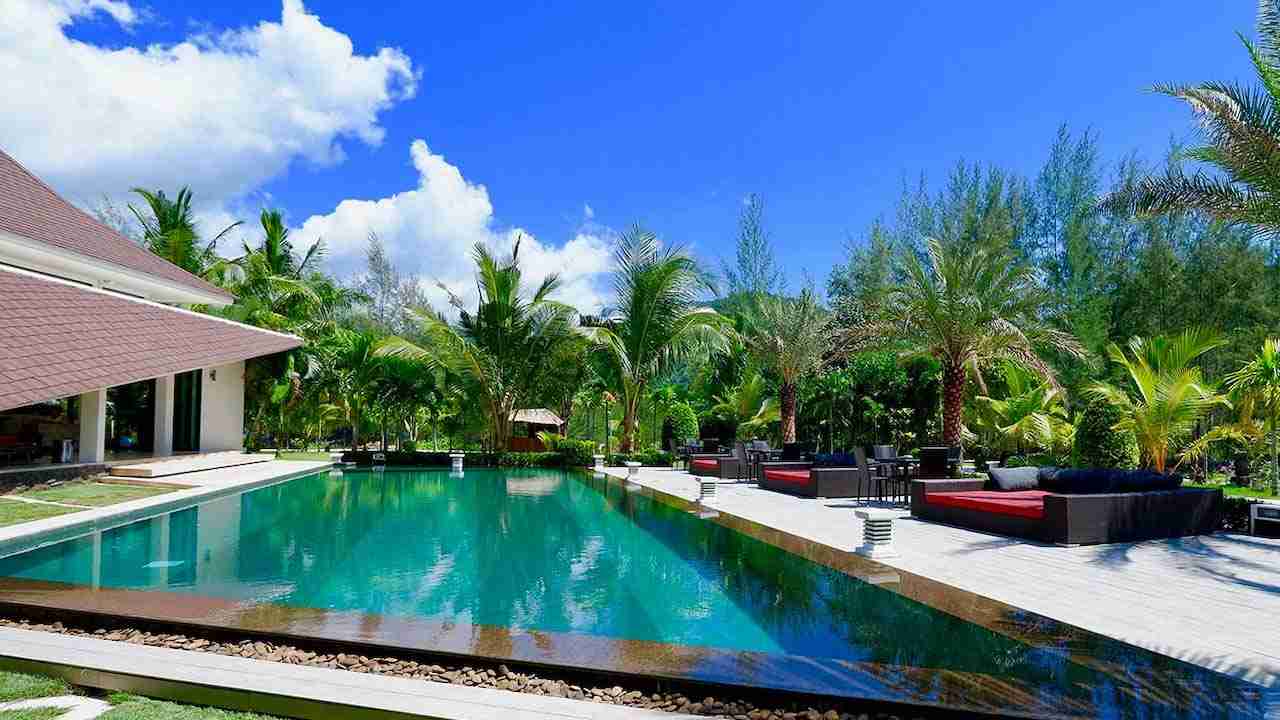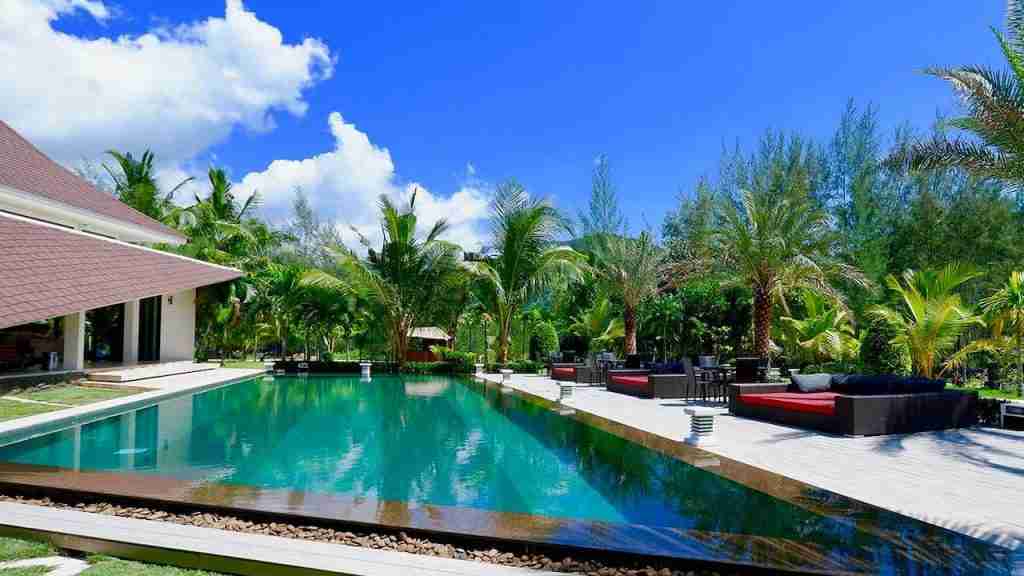 As mentioned, there are a lot of luxury resorts here. This includes this premium getaway destination.
With 6 different types of rooms, each has its own style and decor.
You can pick one that matches your preference in terms of design, but amenities and facilities are the same.
You can enjoy its designated butler/chauffeur service, private swimming pool, private sauna and steam room, and many more.
Koh Mak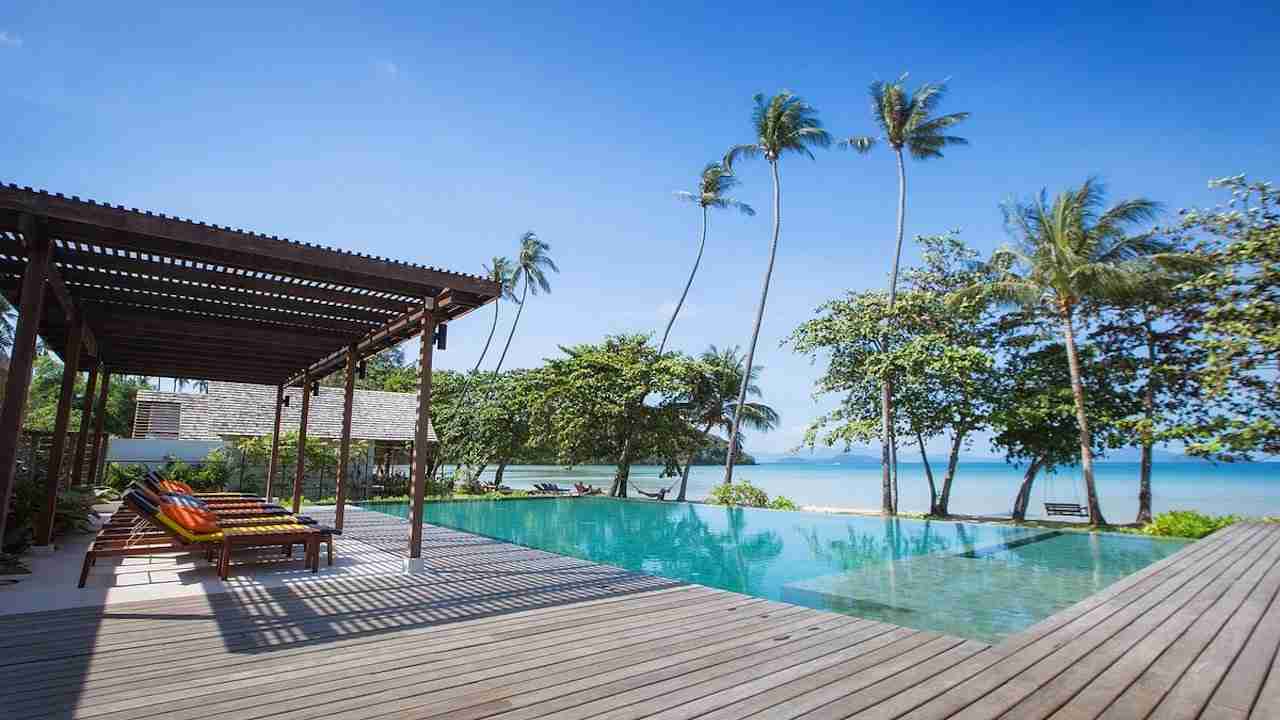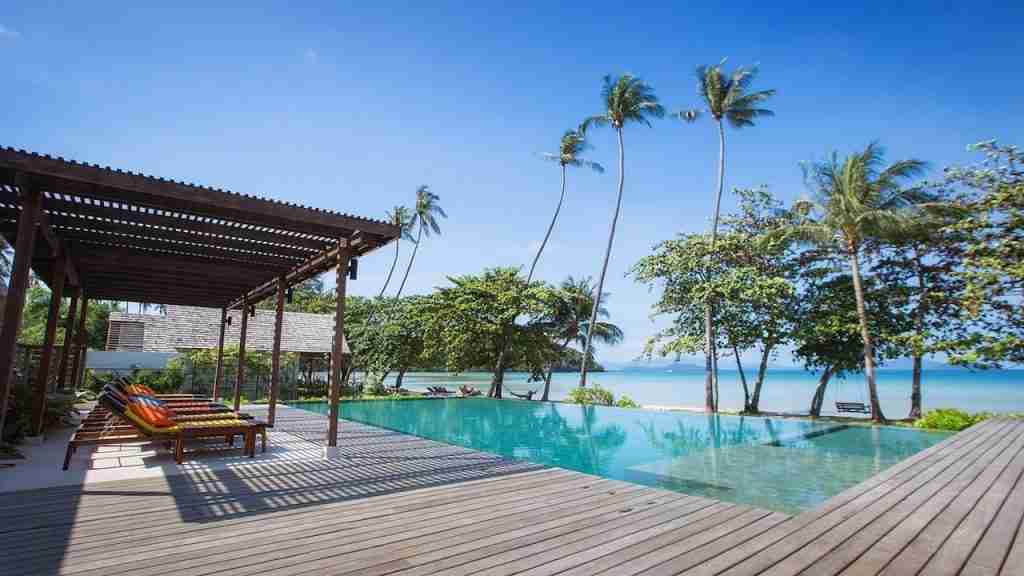 What makes Koh Mak special: Island located near Koh Chang in the Gulf of Thailand with stunning waters and white sands.
Arguably, Koh Mak might be the best island in Thailand for couples. Why? Because it is a small island that offers exclusivity and privacy.
It is also gorgeous and romantic with its coconut-lined shore and shallow waters. What's more is that you can definitely roam around the whole island in just an hour or so.
You can walk around with your lover and swim together to your heart's content. It might be small, but the beauty of the place will be beyond words.
Where to Stay in Koh Mak?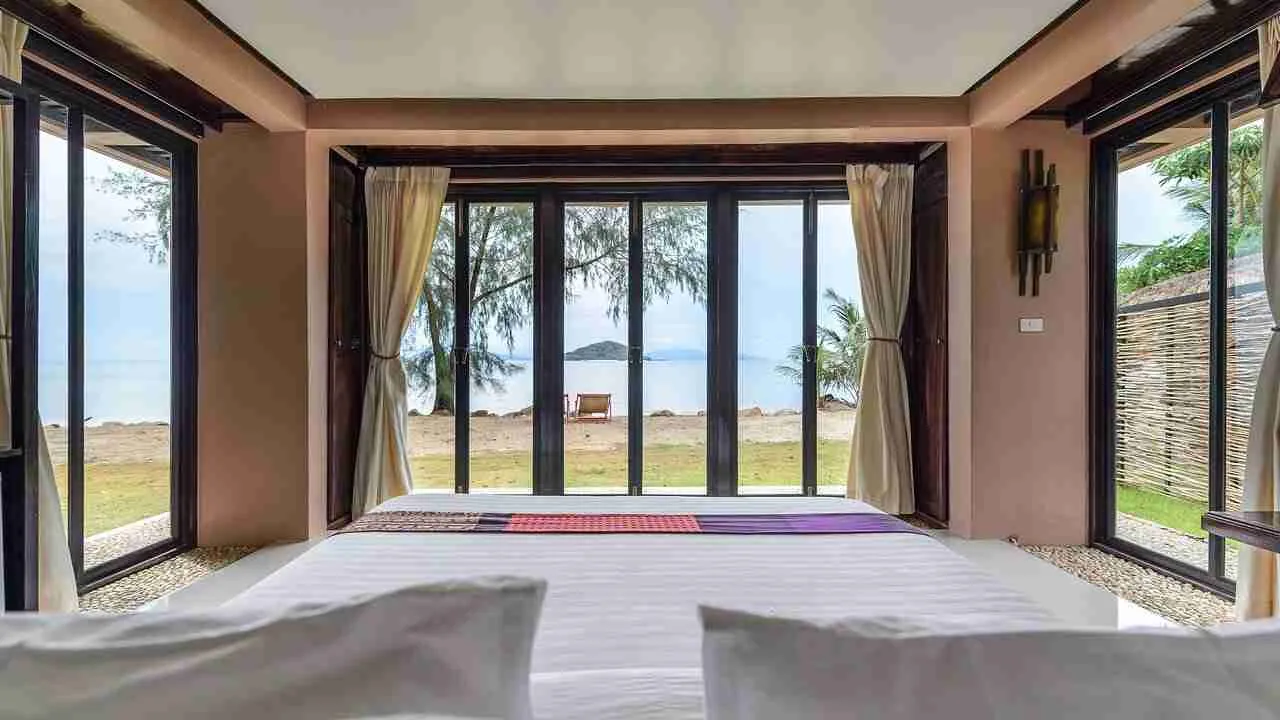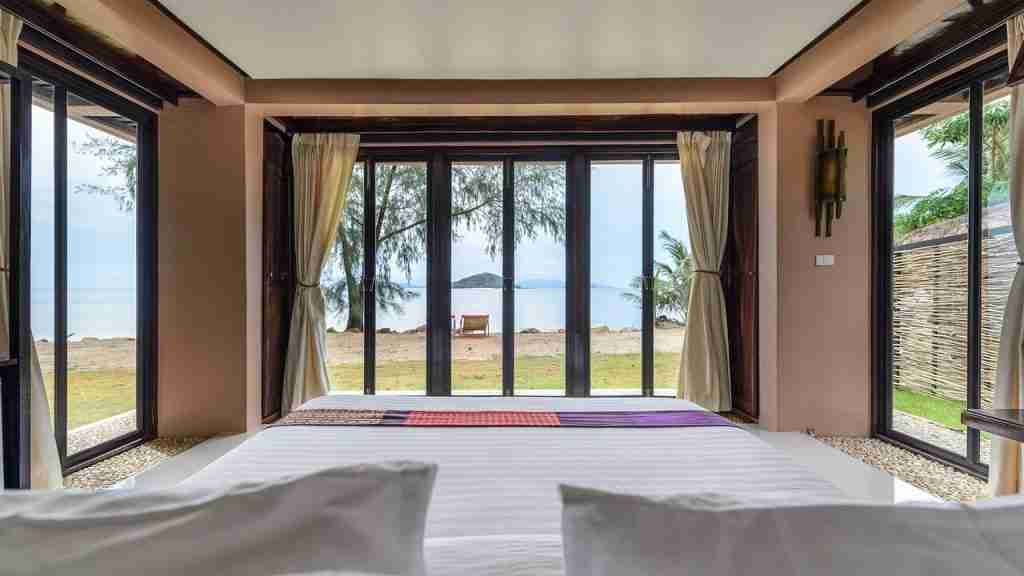 Even the resorts here have a romantic ambiance that couples would adore. It is most especially pretty at night with its dimly-lit design.
You will find villas there with a private jacuzzi. You can let your body be pampered by the jet sprays, while you're surrounded by lush greeneries all over.
Even the interior itself is nature-inspired with a modern touch. It's very peaceful here and overlooks the seascape right from the balcony.
Rent a Private Island in Thailand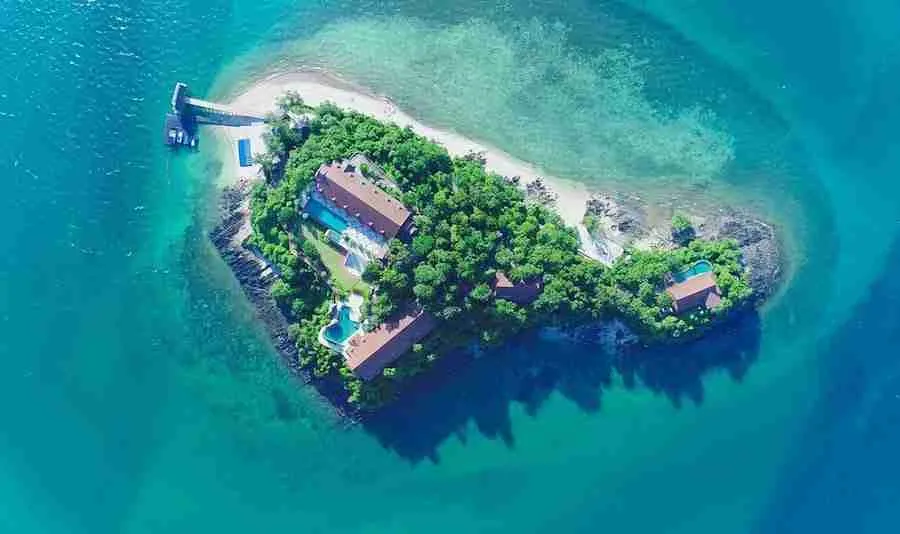 Did you know you can rent a private island?
Of the 1,430 islands you can find in Thailand, some only have one luxury villa or resort on them.
These private islands are perfect for special holidays and events.
You can find private islands of all sizes and for all occasions. A wedding, a VIP holiday with friends, or even a very private bachelor party.
Go to this page to learn more about renting a private island in Thailand.
Plan Your Next Trip to Thailand with VLS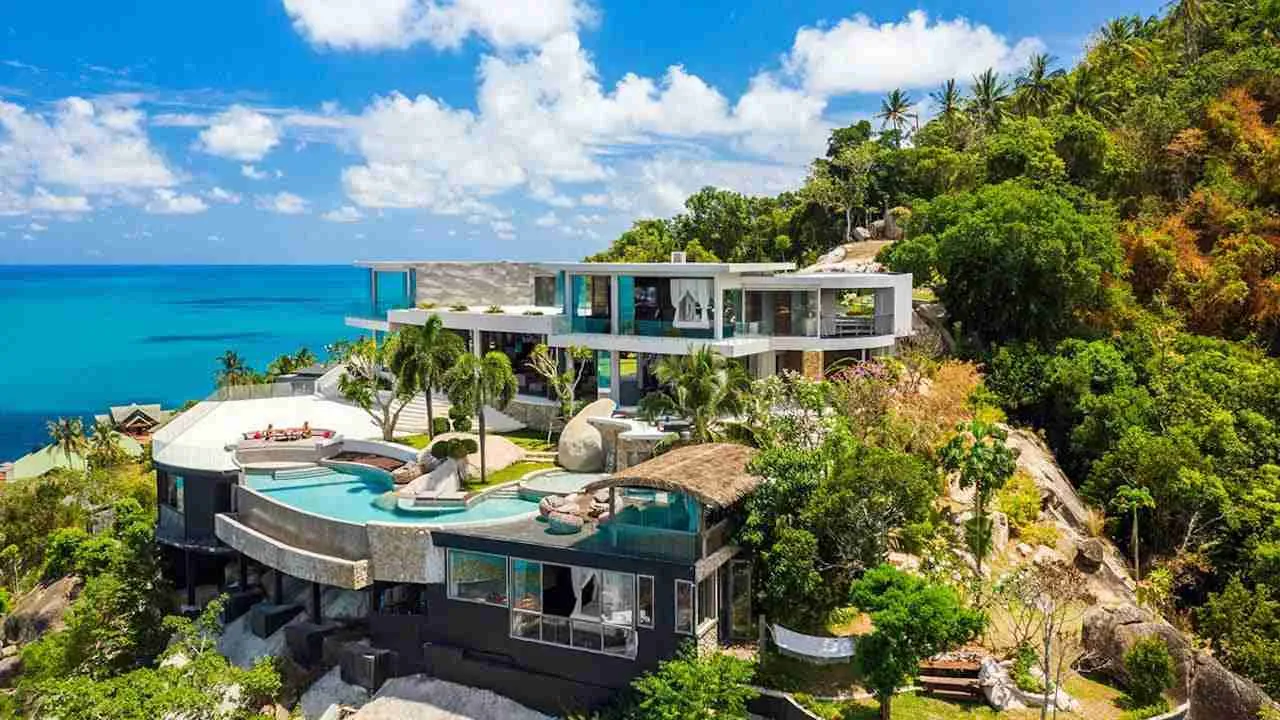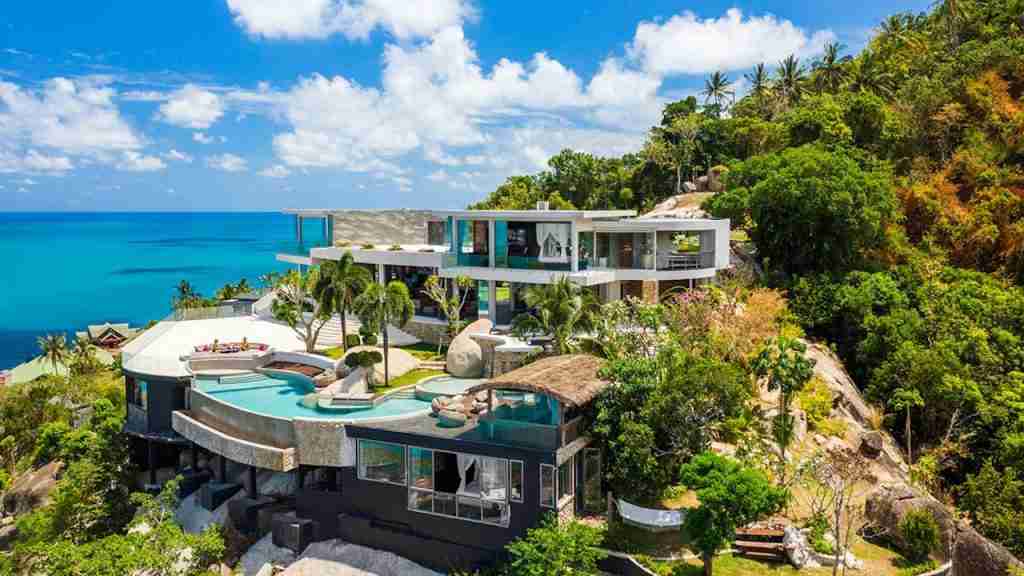 Even if these islands are beautiful already on their own, we can definitely make your travel experience to these places even better.
We can help you with:
Bookings and reservations
Travel arrangements (land, water, and air transfers)
Visa and immigration assistance
Luxury car, yacht, or plane rental
Events and travel management (island tours, yacht parties, etc.)
Entertainment add-ons (glamping set-up, private chef for hire, etc.)
24/7 concierge
… and many more!
Have the best time in Thailand at some of the world's most beautiful islands through VLS.
FAQ
How many islands does Thailand have?
There are around 1,430 islands in total in Thailand.
What is the largest island in Thailand?
The largest and most popular island in Thailand is Phuket. It spans over 12.36 km² and, more or less, is connected to nearby islands such as Koh Phi Phi, Similan Islands, and many more.
Which is the best island to stay in Thailand?
The best island to stay on in Thailand depends on your preference.
If you like to party, Phuket and Koh Phangan are good choices.
If you love nature, Koh Tao and Koh Lipe are recommended.
For a luxury trip, we highly suggest staying in Phuket. Not only will you find the best properties here, but there is also lots of stuff to do on the island, as well, from partying to outdoor activities.