If you want to treat yourself and your loved ones to a truly unforgettable trip to Thailand, this list is for you.
We've rounded up 8 of the most luxurious resorts in the country that will allow you to fully enjoy the island paradise at its finest.
From the pristine waters of Phuket down to the untouched beauty of Kod Kood, stay in these world-class properties in breath-taking beaches that others can only dream of through VLS. Read on!
Sri Panwa, Phuket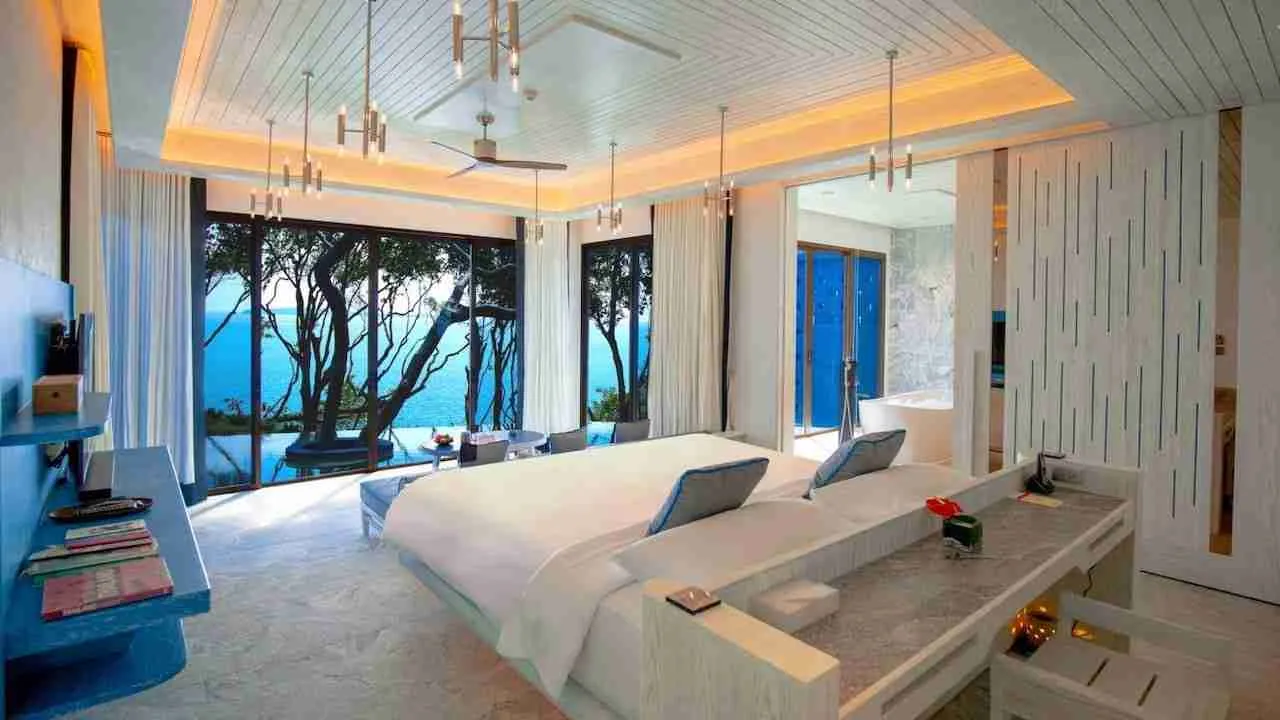 Sri Panwa Phuket is an award-winning resort located in Cape Panwa, Phuket.
It's one of the top properties in the country with picturesque views and world-class hospitality, which makes it a great choice for travelers looking for a guaranteed good time.
In the resort, they like to keep the guests engaged in activities through their massive two-decker swimming pool, fitness center, boxing ring, yoga deck, tennis court, and more.
Note that Sri Panwa is home to Baba Nest Rooftop Bar, which is among the top places to party in Thailand.
You can also relax and do treatments at their Cool Spa and enjoy food and drinks at any of their Baba Dining brands.
The tropical contemporary rooms won't disappoint, too.
You'll find yourself wanting to stay inside with your very own 25 sq m infinity pool in The Habita Penthouse. It's a 1-bedroom suite that is 140 sq m wide perched atop the hill to give you a 360 view of Phuket the moment you wake up.
Island Escape by Burasari, Phuket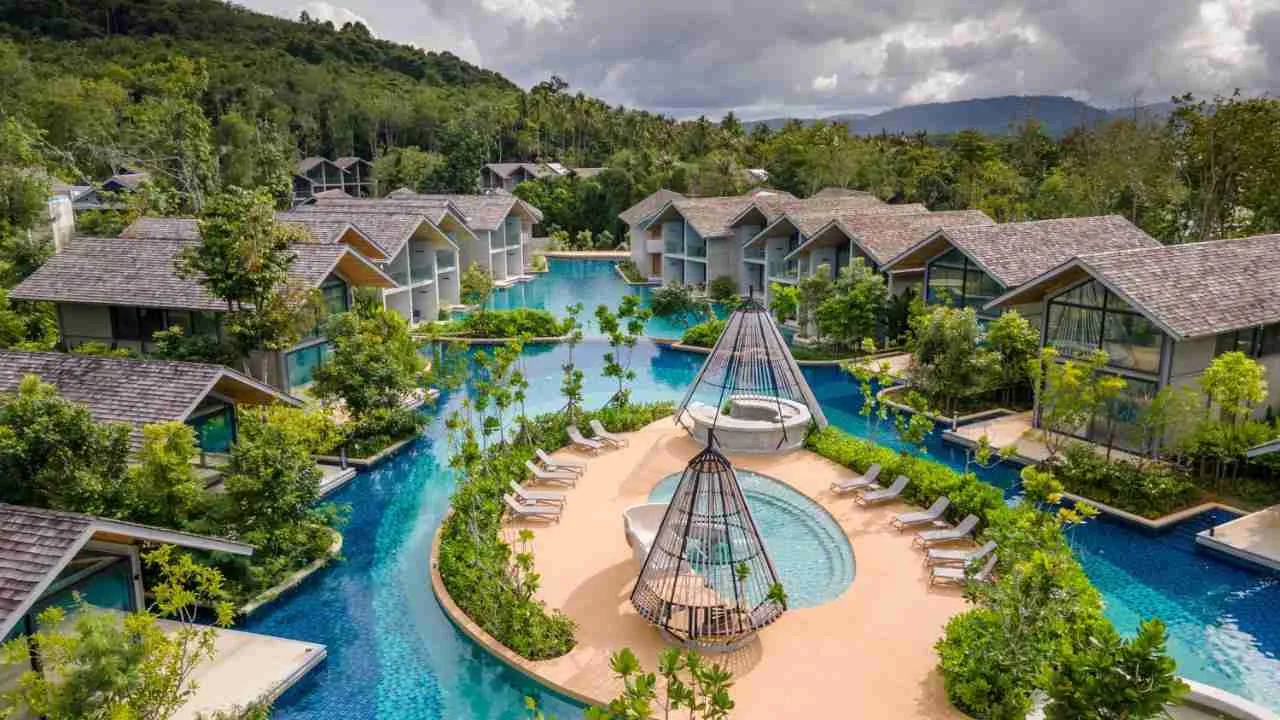 This luxury beach resort is segmented into four distinct zones.
The first one is the accommodation area featuring only 15 Private Ocean Pool Villas. Ranging from one to four oceanfront bedrooms, Island Escape by Burasari in Phuket is very exclusive to give you and your loved ones the privacy that you need.
The next two will be thoroughly enjoyed by everyone, especially the children. The Swim resort zone features an aqua park with plenty of sun loungers for sunbathing and a slide for entertainment.
If that's not enough for the energetic children, you can take them to the Treasure Island-inspired playground, where they can play in the treehouse, zip-lines, rock wall, and more.
There's also a special place for adults only, which is the Lagoon zone.
Have a romantic escape with your partner or sexy Thai companion and appreciate the cascading lagoon far away from all the noise in your one-bedroom villa or deluxe room.You can also request special services here like a private candlelight dinner and cocktail hours. And of course, if you need anything else, our concierge service will be there to help.
Como Point Yamu, Phuket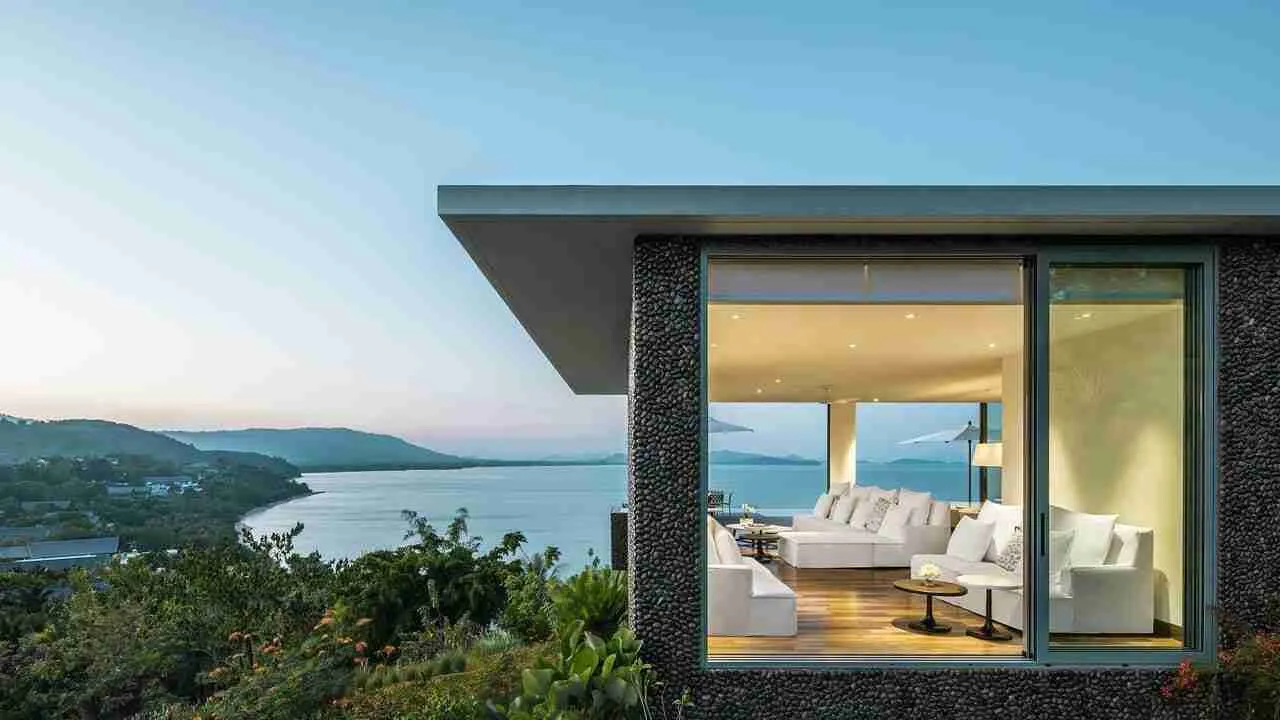 Como Point Yamu is not to be missed if you want to experience the true beauty of the country.
It showcases the pristine Phang Nga Bay in all corners of this Thai luxury resort. From the design down to its offerings, they integrate the local lavishness into their services for warm hospitality like no other.
The most extravagant room is the Como Pool Villa, which is 650 sq m wide. It's ideal for big groups as it has 4 grand bedrooms set in a fully-furnished 3-story building.
It has a big kitchen, dining area, multiple living rooms, sundecks, sun loungers, and an infinity pool on the top floor. Amazingly, there's also a car park directly on the ground floor of the cape villa.
What Como Point Yamu takes pride in is its yacht rental amenity. Have a sophisticated voyage with their first-class vehicle and take a tour around the island.
Soak up the sun and do water activities such as snorkeling and diving. Don't forget to have a sunset cocktail as you watch the golden sky in the most romantic setting.
By the way, if you need more yacht options, we have luxury yacht charters available in Phuket too.
Feel free to contact us for more information.
Six Senses, Yao Noi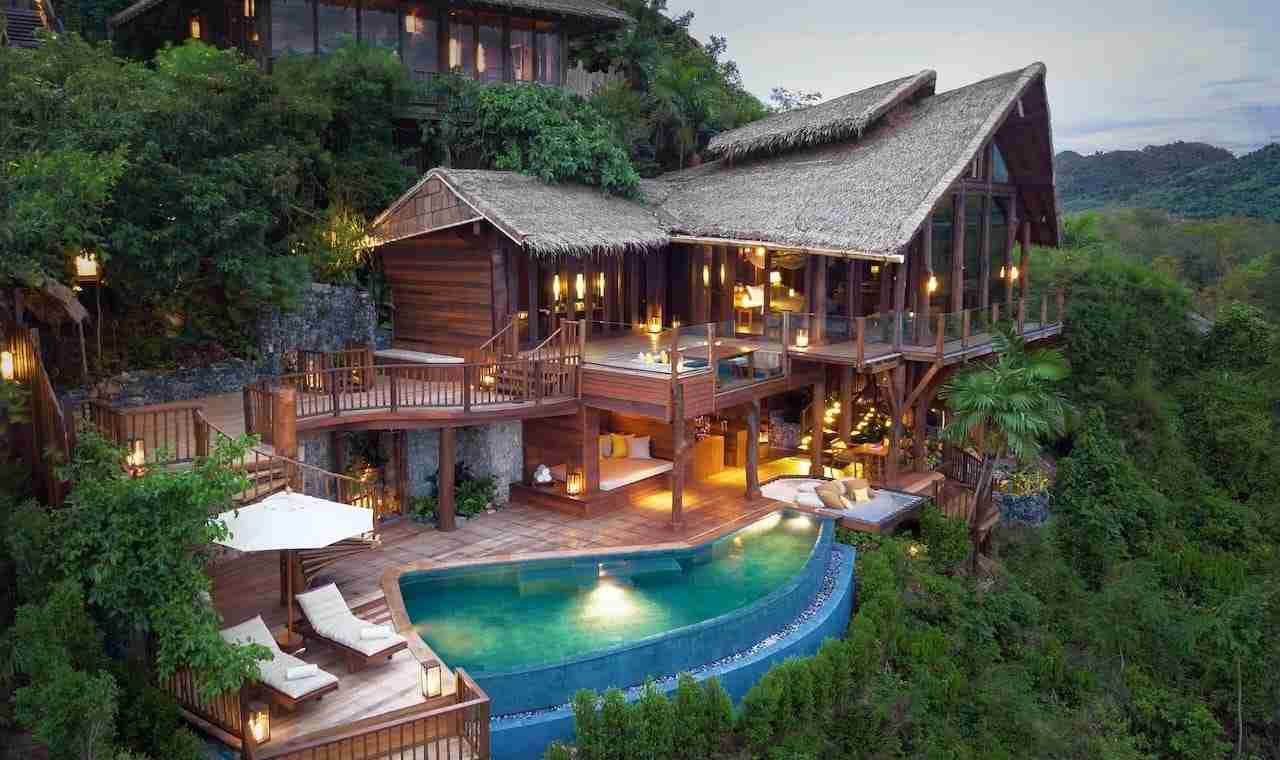 Looking for the ultimate villa? The Ocean Retreat at Six Senses Yao Noi will fit the pocket.
It's a two-bedroom duplex that is 500 sq m in size and has a grand alfresco pool area highlighting the peaceful Phang Nga Bay.
You can freely unwind and spend the day lounging in your private quarter and appreciate its wooden decor. Afterward, you can take a quick dip in the ocean through direct access from your room– a refreshing way to rejuvenate your body and mind.
If you want to explore further, Six Senses Yao Noi offers a variety of travel packages.
You can rent a boat and visit nearby islands such as the James Bond Island, Krabi Four-Island Region, and the famous Phi Phi Islands.
You can take this opportunity to dive and see the vibrant coral reefs of Thailand.
The Racha, Koh Racha Yai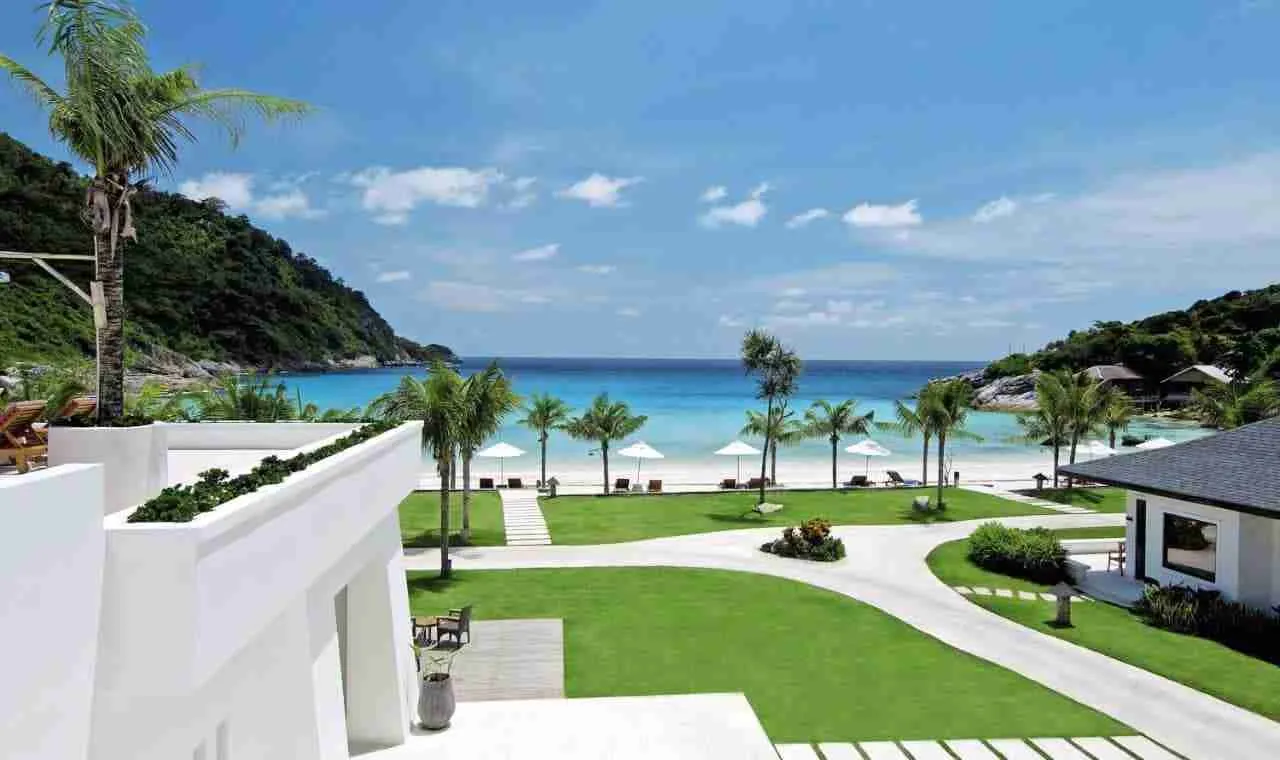 You've heard of three-story villas, but have you heard of staying at a lighthouse?
While it's not the literal one, this amazing and unique villa in Phuket will take a luxury holiday to the next level.
Standing 5 floors high, The Lighthouse at The Racha Resort can double as a secret hideaway and a party place for big groups.
By day, it's as serene as the island can get. You can see where the sky meets the sea from your room, especially on the 5th floor. Breathe in Racha Yai and the Andaman Sea in panoramic views that look like a postcard.
By night, you can transform the whole compound into a welcoming venue for a private party.
Maximize their state-of-the-art lights and sounds and dance to the beats from the pool area up to the rooftop and the ozonated jacuzzi pool.
Ritz Carlton Phulay Bay, Krabi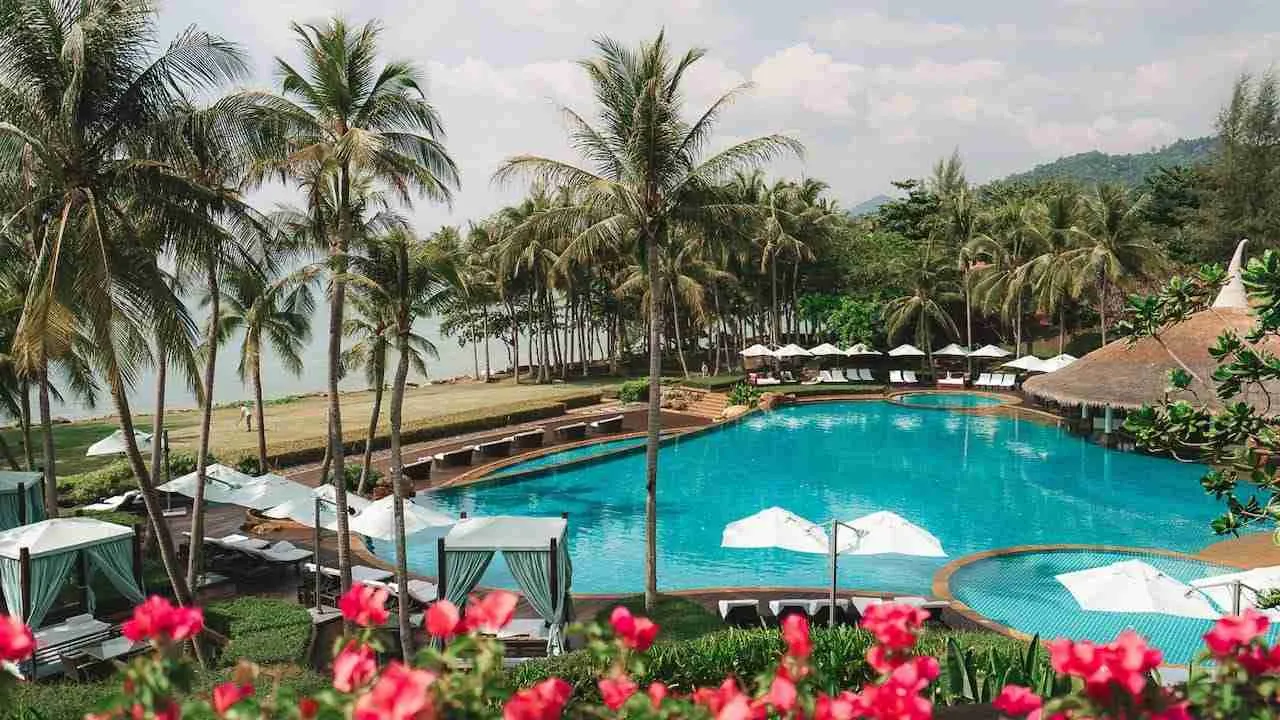 Despite being a global brand, the Ritz Carlton Phulay Bay Krabi pays homage to its Thai roots.
Upon entering, you'll see a giant pagoda-style architecture to welcome you in the most oriental manner possible.
With contemporary Thai style decor and the warm greetings from the staff, you will feel like you entered ancient Siam in its full richness.
You'll be lured into the gorgeous dining and wellness areas of this 5-star resort in Thailand. It will clear your mind from any stress and worries.
Even the rooms, as well. Like in the Royal Andaman Sea Villa (588 sq m), you'll understand why Thailand is a popular luxury destination for people all over the world.
Everything is quality from its velvety-soft beds down to the outdoor terrace with pool and hydro jets.
Rayavadee, Krabi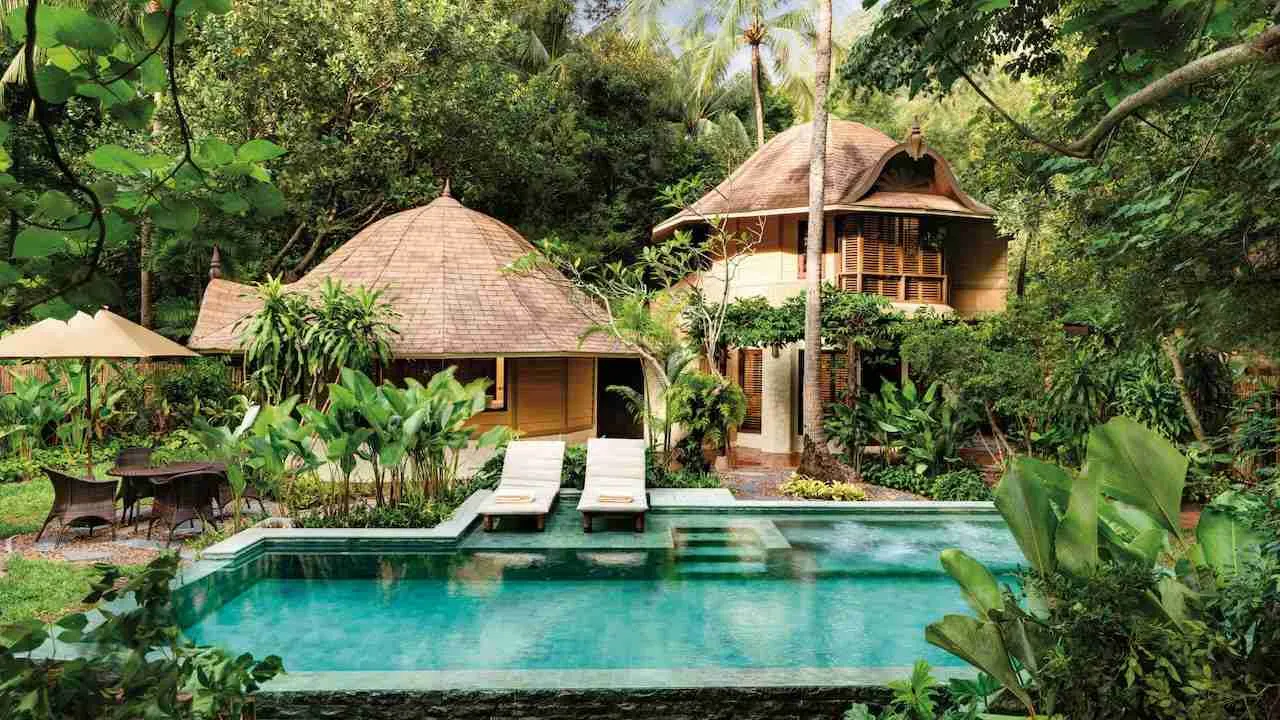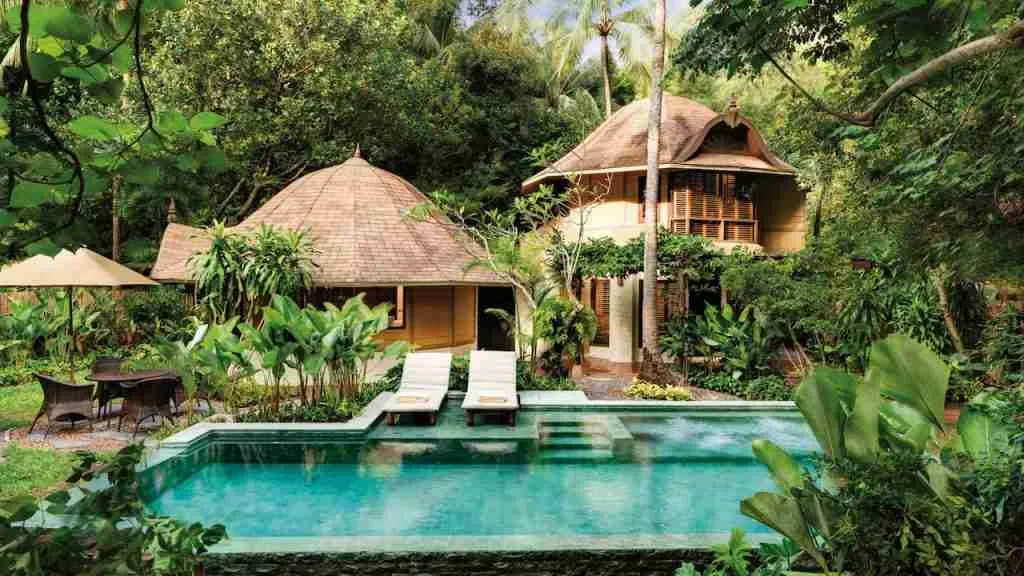 This is arguably the most beautiful resort in Thailand, which explains why it's where celebrities stay when they come to Thailand.
Take it from Angelina Jolie, Gwyneth Paltrow, Colin Farrell, and many more!
Located in the secluded Phranang Peninsula on the border of Krabi Marine National Park, Rayavadee hides in an island cove where the natural beauty of the lush flora and fauna coexists.
It's a top resort in Thailand where lovers can have their romantic rendezvous away from the city.
Like in the Phranang Villa 404, this signature two-story villa with three bedrooms is like an oasis deep within the jungle.
It's quite the distance from the lobby and the other facilities, but you'll be rewarded by a modern mansion with the vibrant jungle and limestone cliffs as a backdrop.If that doesn't meet your expectations, we have other luxury pool villas in Krabi that will.
Four Seasons Resort, Koh Samui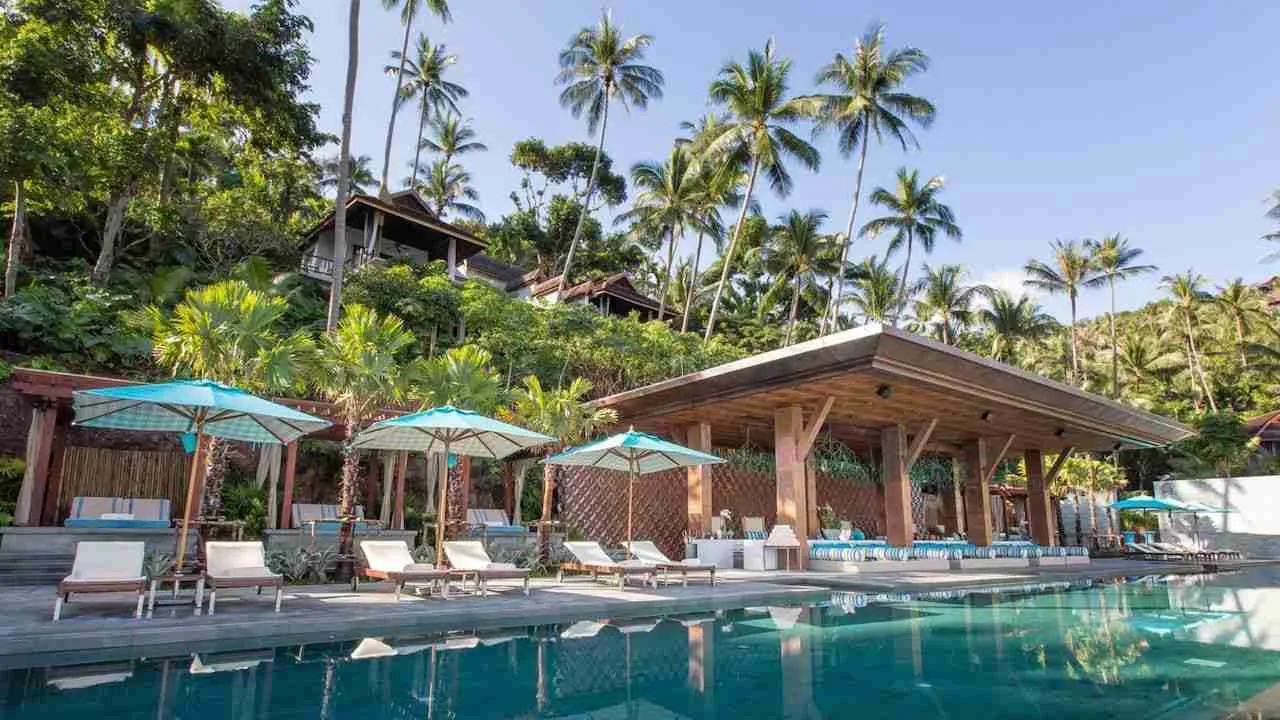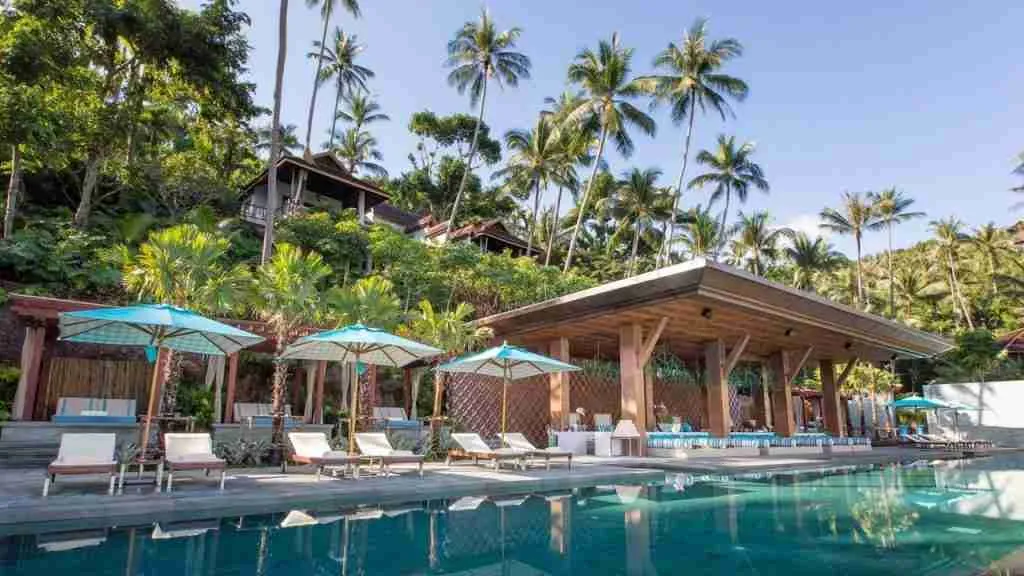 This all-inclusive resort has a prime location and superb services that are reliable in every booking.
You can freely enjoy the entirety of the island's immaculate sands and water while you do activities such as kayaking, island hopping, and more.
You can also revel in its upscale facilities and amenities to get the treatment that you deserve.
Eat at the authentic Koh Thai Kitchen and savor local dishes. Have cocktails by the pool and get the night started at Rum Vault.
Have an out-of-this-world experience at the Koh Samui Spa center and try their signature Lava Shell Massage.
Whether you want to stay in your villa and maximize all its features or you want to go out and check out the neighboring beaches, the choice is yours.
Conrad Koh Samui Residences, Koh Samui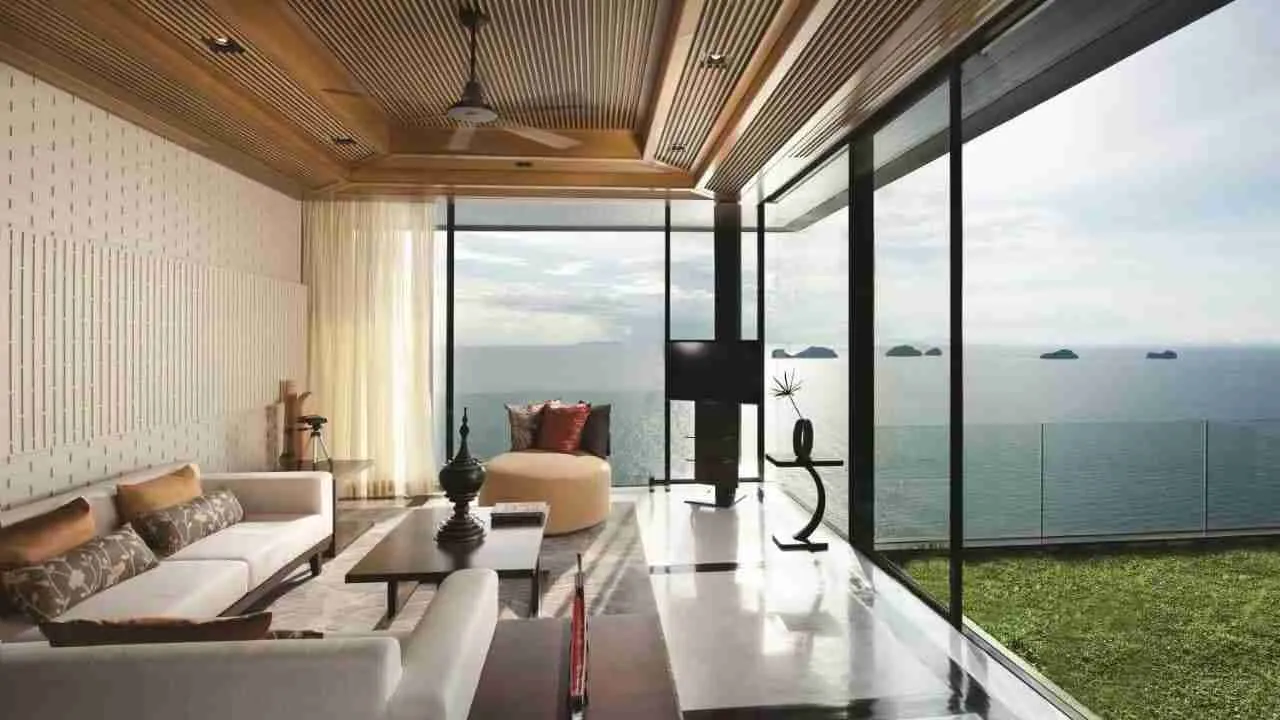 Located on the same island, the Conrad Koh Samui Residences is ideal for those who like fully-furnished rooms.
It gives an atmosphere of home away from home, which is great to achieve ultimate comfort and relaxation.
Like in their 3 King Bedroom Oceanview Pool Villa, it has an incredible size of 766 sq m spread over two floors.
On both levels, you can admire the awe-striking view of the Andaman Sea where the sunsets are golden day after day.
Feel like entertaining guests?
With your full kitchen, bar area, and private lawn terrace, you can host any type of party you want like a BBQ party, birthday celebrations, etc.
Our team of luxury party planners will be happy to arrange all the details for your event.
Atta Lakeside Resort Suite, Khao Yai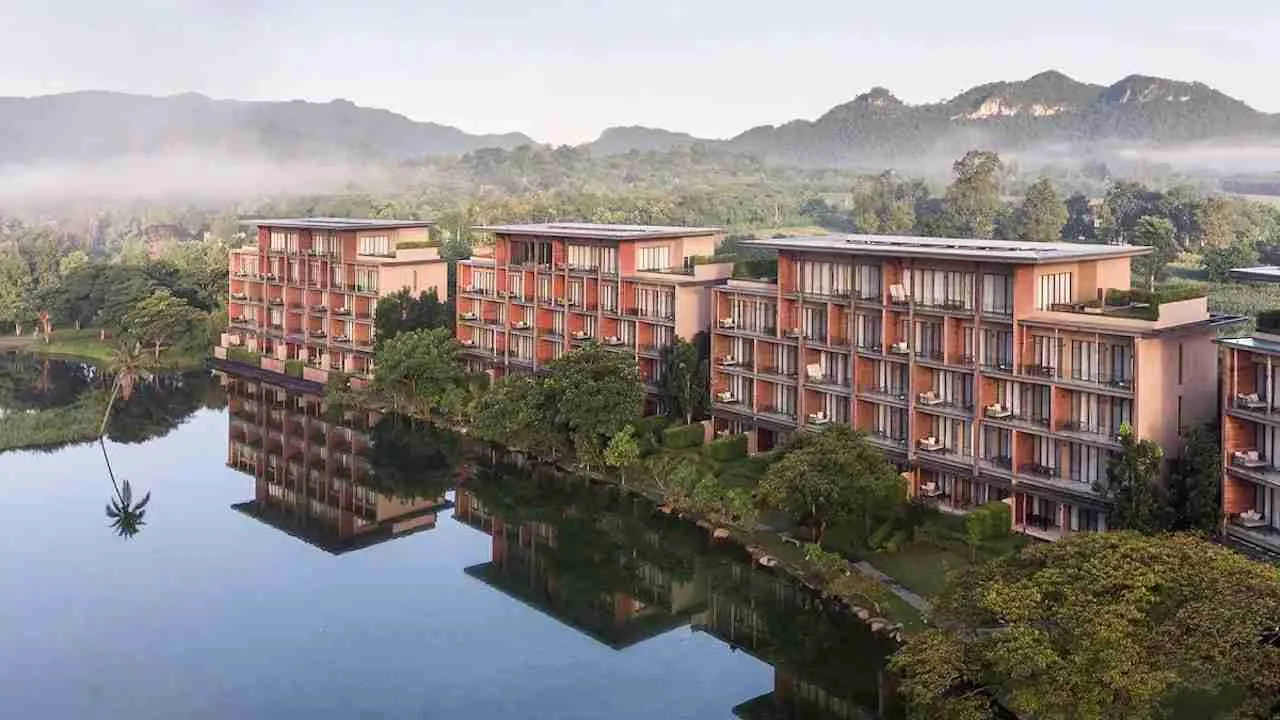 This fairly new resort wants to provide its guests luxury living in all of its facilities and amenities. Especially at their penthouse.
This stunning accommodation is a sight to behold with its cutting-edge design elements. You'll appreciate Khao Yai even further as you daydream in your private infinity pool.
One must-do activity here is golfing. Make use of the vast land, which is something you'd rarely see in the city or even islands.
At Khao Yai, you can roam around with a golf cart amidst the peaceful background of the lake and hills.
Atta Lakeside Resort Suite Khao Yai is ideal for event gatherings, too.
If you need to hold conferences or even do garden celebrations, its spacious set-up will be something your guests will appreciate in all its beauty.
The Sarojin, Khao Lak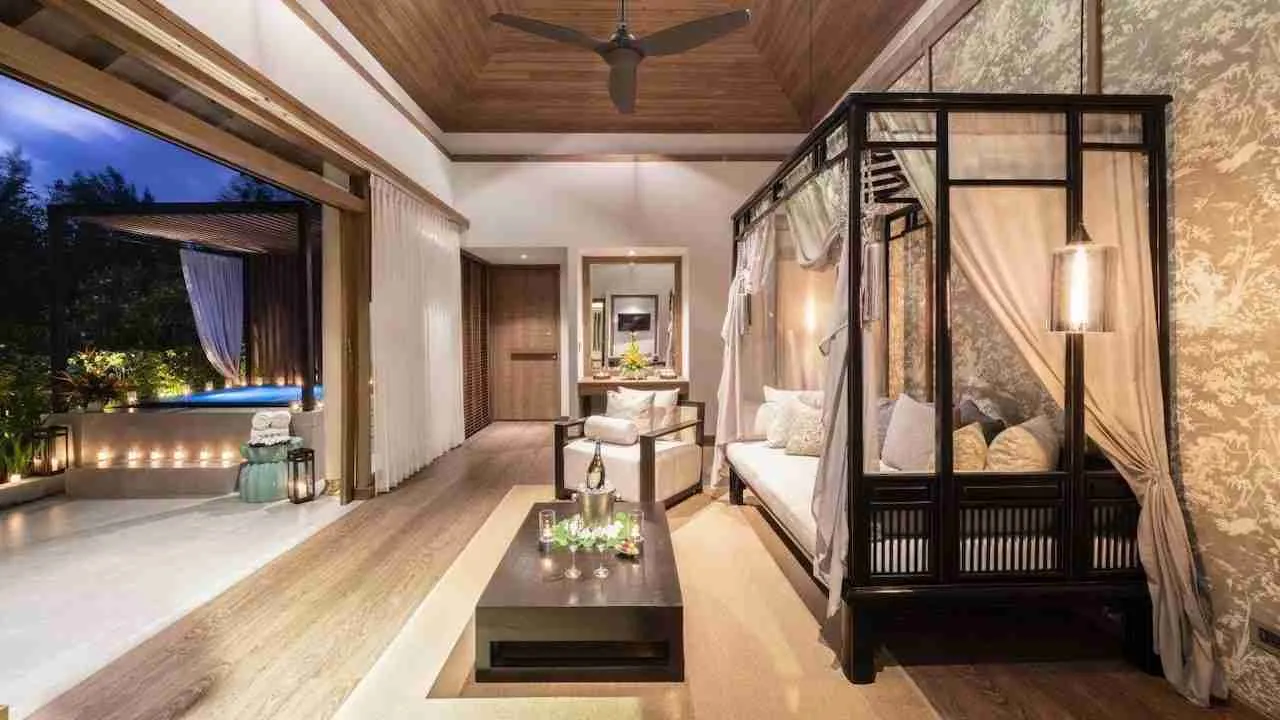 The Sarojin is a luxury boutique beach resort that every traveler must visit.
It's perfect for those who want to go on a hideaway and reconnect with their inner selves through nature and unparalleled hospitality.
Start off with a delicious breakfast served with sparkling wine, then go on a voyage on their Lady Sarojin luxury boat to check out nearby islands and landmarks such as the Phang Nga Bay and Khao Lak-Lam Ru National Park.
Continue the adventure by going diving in the marine sanctuaries nearby, especially at the famous Similan Islands and Surin Islands.
Those are part of the top ten world dive sites that are just less than an hour away from the vicinity!
Not sure what to do in Khao Lak? Let us plan custom-made trips and itineraries for you.
Soneva Kiri, Koh Kood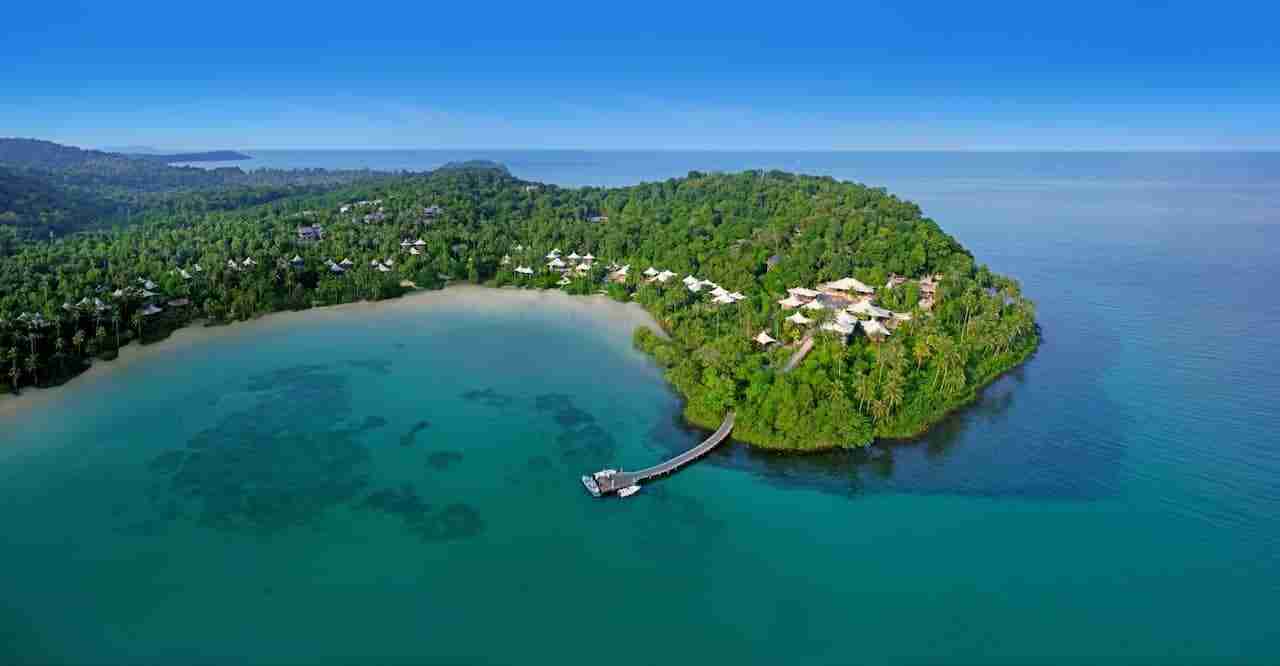 Last but not least, let's not forget Soneva Kiri at Koh Kood.
It may be far from the most unusual island choices in this list, but Koh Kood is worth traveling for if you want untouched natural beauty in all forms.
You'll be amazed at how fine the sands and how crystal-clear the waters are right outside your villa.
It will almost be like a dream where you wake up to the sound of the waves and the trees rustling in the most sophisticated accommodation possible.
The most incredible room at Soneva Kiri is the 6 Bedroom Sunset Ocean View Pool Reserve.
It's ideal for big groups with its 2928 sq m size. You'll have your own freshwater pool, gym, games room, steam room, and full kitchen with a grand outdoor dining table here.
A truly unique experience that you will never forget.
FAQ
What is the best resort to stay in Thailand?
The Rayavadee resort in Krabi is the best resort to stay in Thailand since even celebrities book villas there when they visit.
What is the most expensive resort in Thailand?
Soneva Kiri Koh Kood is the most expensive resort in Thailand which starts at around 250,000 THB ++ per night.
Where are the best luxury resorts in Thailand?
Phuket and Koh Samui have the most luxury hotels in Thailand including Sri Panwa Phuket, Six Senses Koh Samui, and more.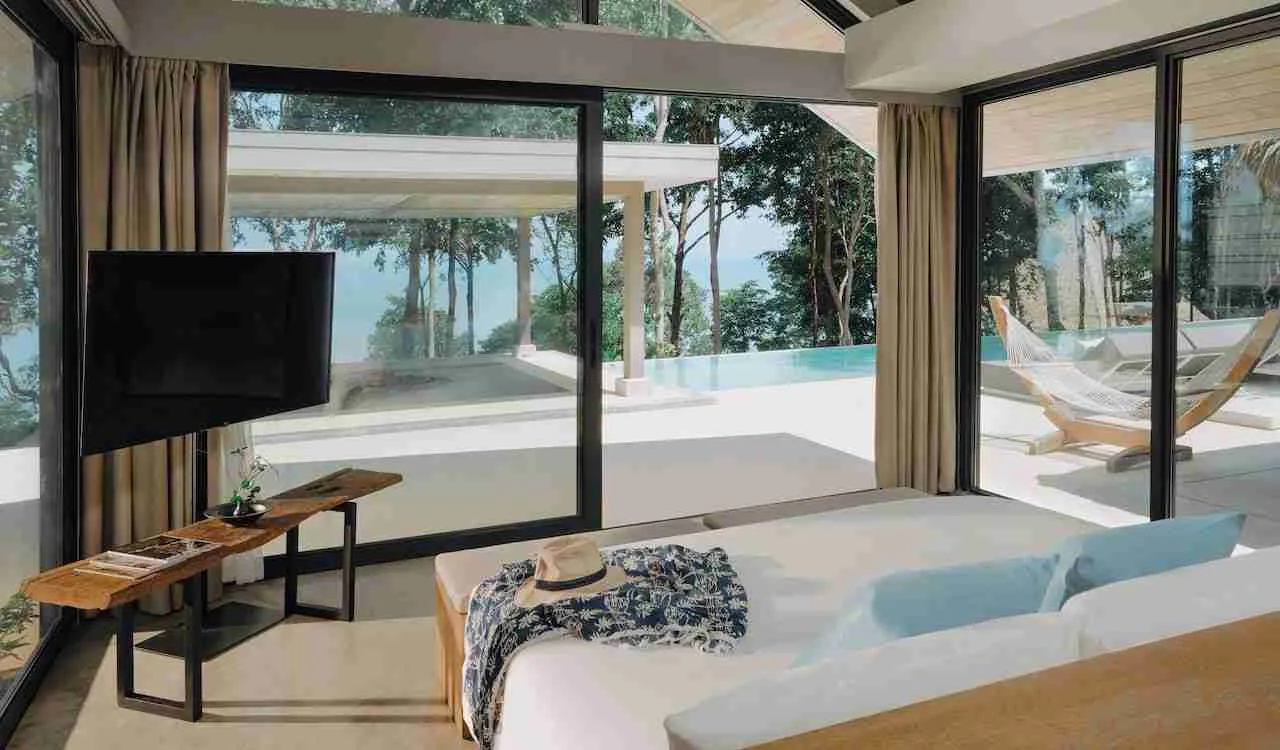 Guaranteed Bookings, Better Deals
If you liked what you saw on this list, contact VLS today to arrange your next holiday trip to Thailand.
Through our close contacts and network, we can book the best villa at the most luxurious resorts even during peak seasons depending on your preference and budget.
You can also have worry-free travel as we take care of everything for you, including:
Visa and travel arrangements
Itinerary planning
24/7 concierge
Land, water, and air transfers
Entertainment add-ons (private chefs, bikini models, DJs, etc.)
Events management (anniversaries, birthday parties, etc.)
… and more!
Experience world-class hospitality right in the heart of the Land of Smiles through VLS.