There are so many things to see and do in Bangkok, a lively city known for its beautiful shrines and vibrant street life.
But spending your day exploring the city can be really hot and exhausting.
That's why our concierge picked for you the 8 best hotels in Bangkok with private pools to refresh yourself after a long day of sightseeing.
VIE Hotel Bangkok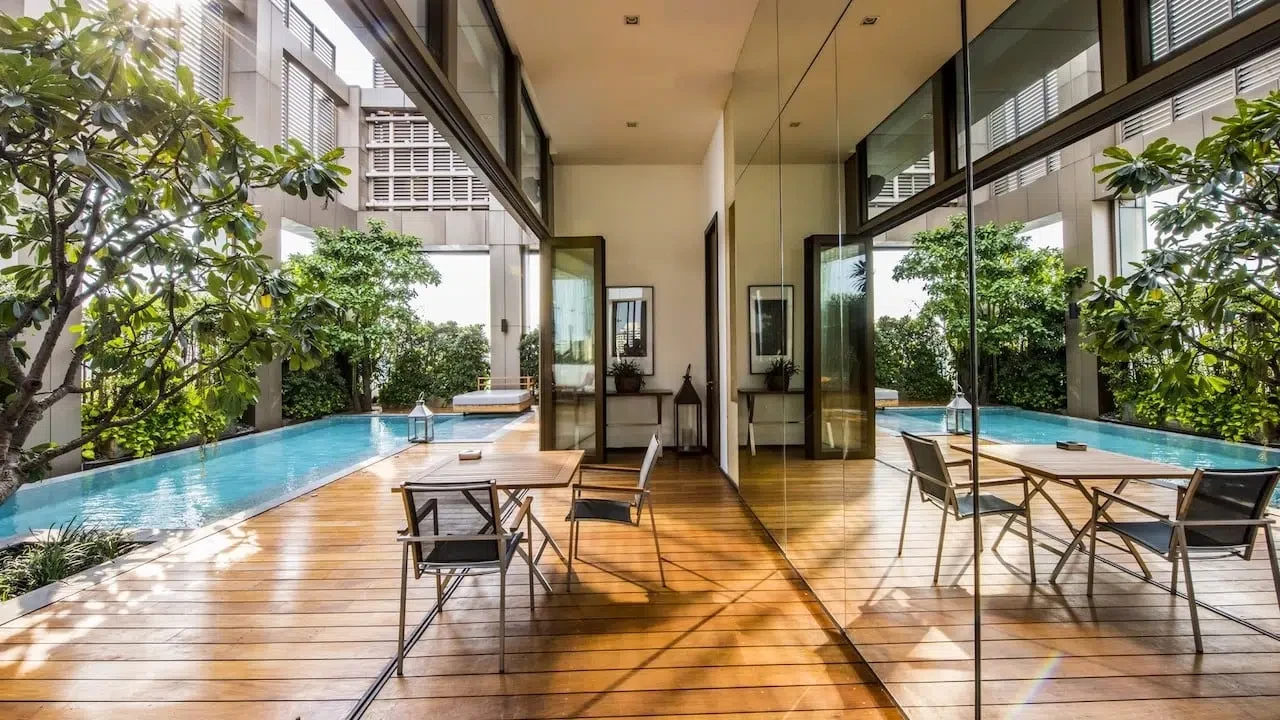 VIE is an elegant 5-star hotel located in the heart of Bangkok, only a few steps away from the BTS Ratchathewi station and the famous shopping district of Siam.
With top restaurants, an organic spa, a boutique wedding venue, meeting and event venues, and a stylish rooftop pool par, this hotel is just a perfect get-away in Bangkok. 
VIE Hotel Bangkok features 153 high-ceiling and spacious rooms and suites, each providing incredible views across an inspiring cityscape with its floor-to-ceiling windows.
If you want to have an exclusive experience, stay at one of the Piano Club Privilege Suites and enjoy swimming in your own private pool.
Nearby Attractions: Siam Paragon, Wat Arun (Temple Of Dawn), Wat Phra Chetuphon, Temple of the Emerald Buddha (Wat Phra Kaew).
W Bangkok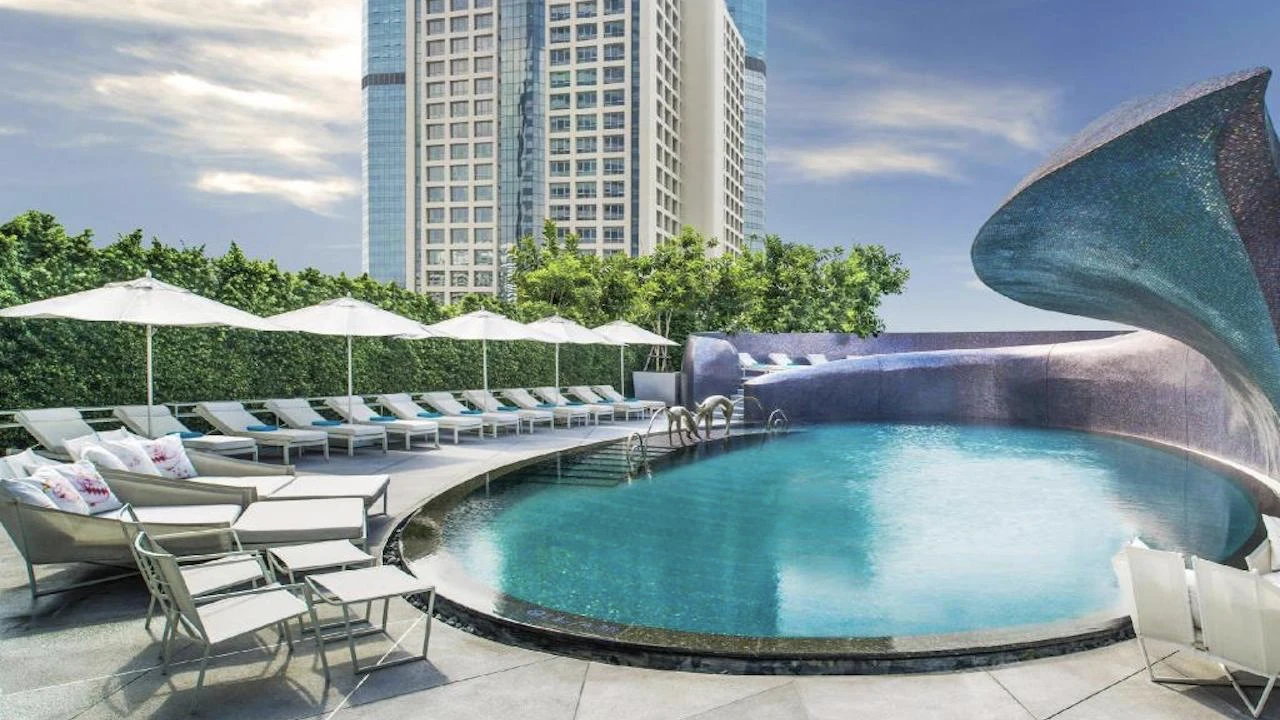 W Bangkok is another 5-star hotel, but this one is located in the business center of the city, Sathorn.
The hotel is close to the BTS station and some of the best shopping malls in Bangkok, like the biggest of them all, Iconsiam.
The rooms and suites at W are all very stylish, comfortable, and will make your stay in Bangkok as enjoyable as you can imagine.
W Bangkok also has all the best facilities you need to make your stay incredible.
High-quality dining options, a gym, a spa, and one of the most exciting bars in Bangkok, Woobar, which is right in the hotel lobby. 
Head to the stylish outdoor swimming pool where you can not only sunbathe or swim but also enjoy an incredible view of the Mahanakhon Tower, Thailand's tallest skyscraper.
It is the perfect spot to enjoy drinks or quick bites by the pool after a long day of sightseeing.
To complete the perfect evening, head to the restaurant in the hotel "The House of Sathorn"
It is not just any restaurant – it is one of the finest dining venues in Bangkok and offers modern Thai seafood cuisine.
Nearby Attractions: Mahanakhon Skywalk, Siam Paragon, Lumpini Park, Bangkokian Museum.
137 Pillars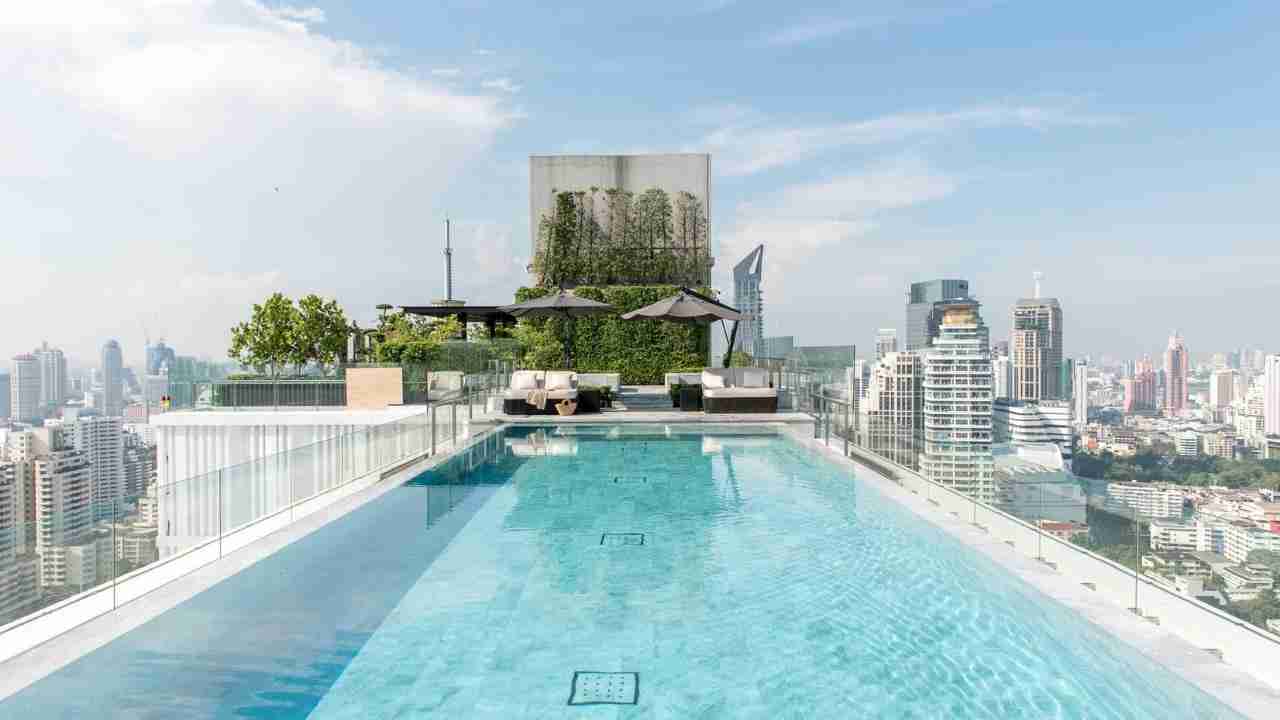 137 Pillars is a 5-star hotel located in the Phrom Phong neighborhood, in the heart of upper Sukhumvit.
As 137 Pillars is close to Sukhumvit and the popular Asoke, Thonglor, and Ekkamai areas, it's an ideal place to stay for business and pleasure.
This hotel provides incredible rooms, with some of them featuring a large bathtub overlooking Sukhumvit.
And all the luxurious suites are named after the royal periods in Thai history.
But the gems of this hotel are definitely the two rooftop pools with an amazing view over the city.
And you will have exclusive 24/7 access to the pools offering a breathtaking 360-degree view of the city.
One of the two pools is an infinity-edge pool complemented by a big Jacuzzi on level 27, optimal to forget all the heat and hustle from the city.
What are you waiting for?
Nearby Attractions: Thonglor, Emquartier, Emporium, Benjasiri Park, Nana, Asoke.
SO/ Bangkok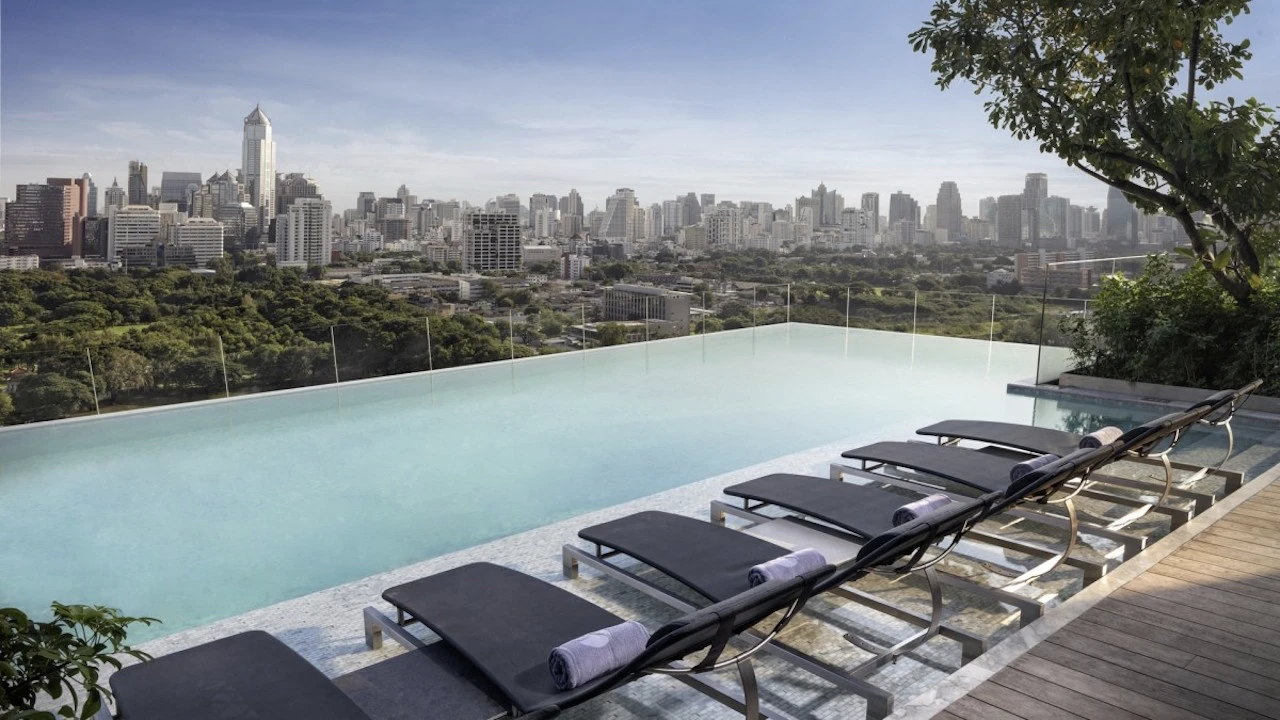 So Bangkok is a hotel that suits everyone, whether you are here for business, leisure, party or only to relax and hang out by the spa.
The rooms are designed by one of Thailand's top designers, giving each room a theme that is the perfect setting for a daily escape from real life.
Elements of water, earth, wood, metal, and fire are used for these unique room styles in the luxurious boutique hotel located in Sathorn.
The themed rooms are elegant and modern, and all feature large windows with views of the city or Lumpini Park.
And the rooms are not the only things in the hotel to have a theme.
The high-end So-SPA is designed like a mythological forest.
It offers relaxing massage treatments and rejuvenating hot tubs.
After a session at the spa, head to the 10th floor of the hotel where you will find the amazing infinity pool.
The infinity pool overlooking the Lumpini park is 32 meters of cool refreshing water to forget all stress.
Nearby Attractions: Lumpini Park, Patpong Museum, Siam Paragon, Siam Square, King Power Mahanakhon.
Avani+ Riverside Bangkok Hotel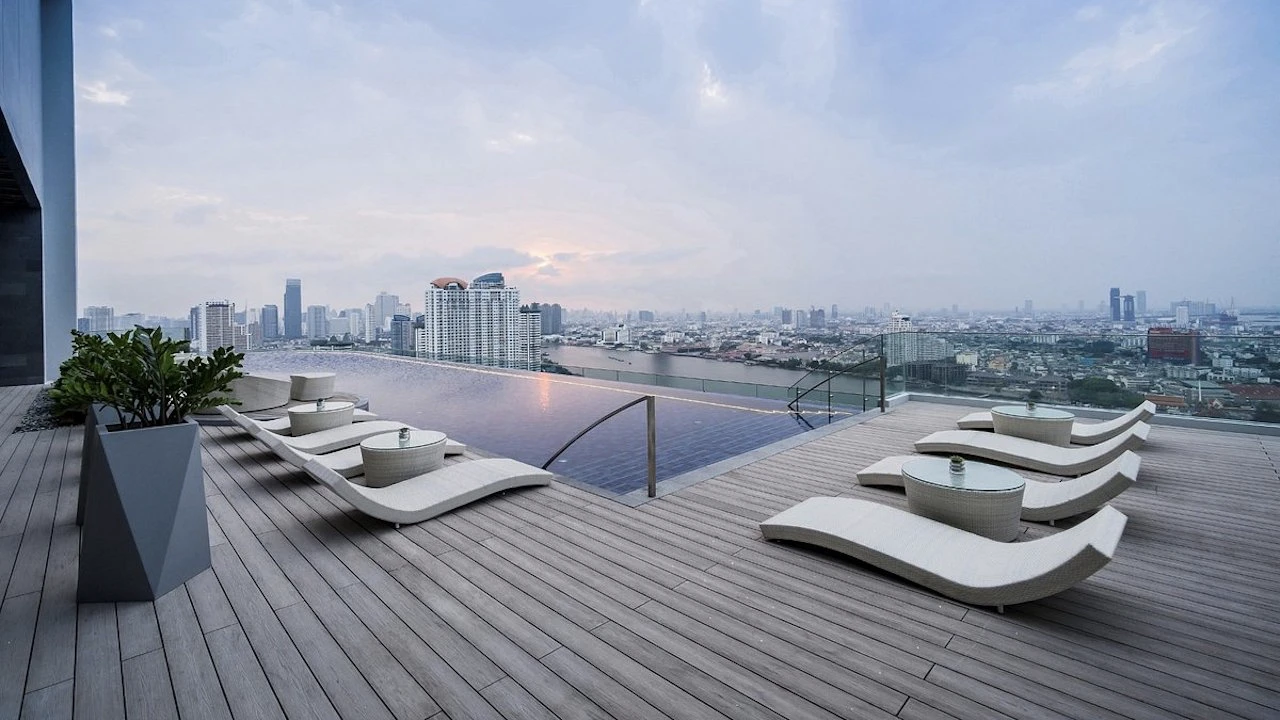 Avani Riverside is going to wow you.
With 250 rooms and suites, uninterrupted views of the Chao Phraya river, 5 amazing dining venues, and an infinity pool on the rooftop with views of Bangkok's skyline.
This is the place where you can really relax, even in a busy city like Bangkok.
With a lot of meeting venues inside the hotel, it has excellent facilities for business meetings.
Avani+ Riverside Bangkok Hotel also has a restaurant, a fitness center, and a nice bar.
After work, it's time to relax or have a drink by the pool, enjoy the sunset over the city, or just have a nice dinner at their world-class rooftop restaurant and bar, SEEN.
Nearby Attractions: Emporium Shopping Mall, Tha Phra, Wat Nang Ratchawihan, Wat Nak Prok.
The Siam Hotel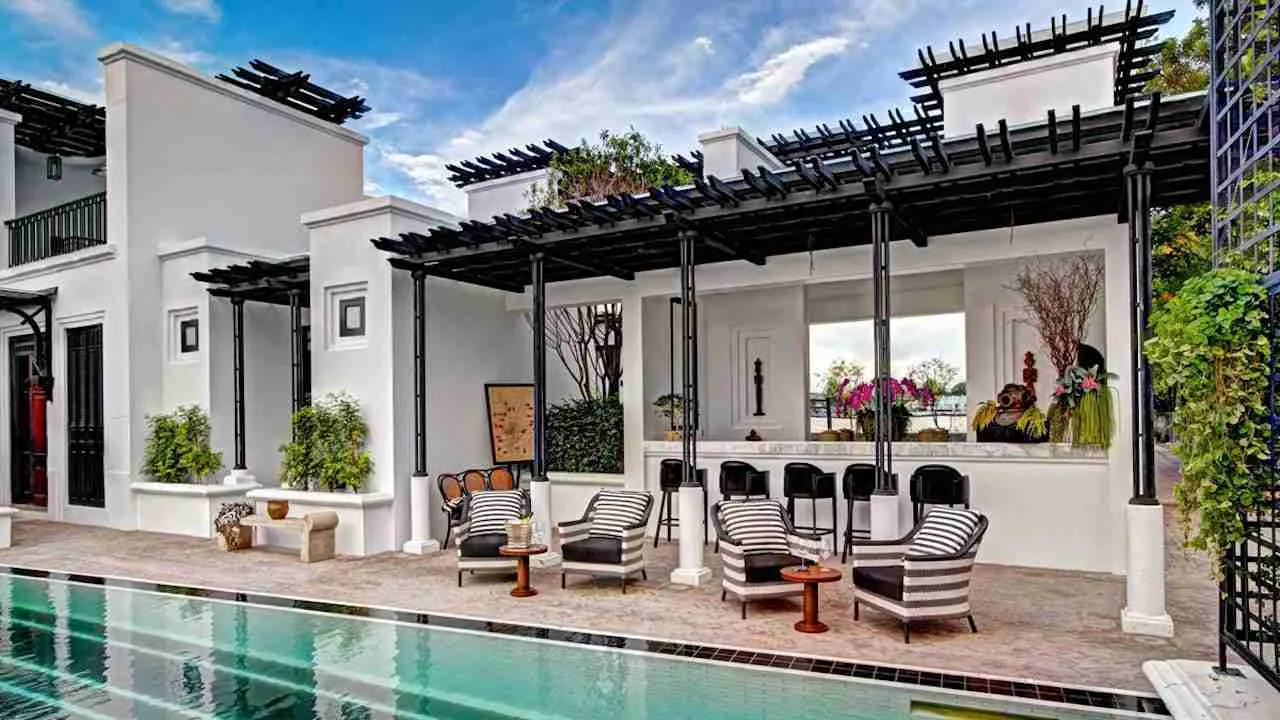 The Siam Hotel is the epitome of luxury.
Located by the Chao Phraya River, The Siam Hotel Bangkok is offering various types of suites and villas, including a pool villa that will let you speechless
It's a green oasis in the center of Bangkok.
But it is not only the location and design that makes this hotel the perfect getaway.
This hotel offers 4 dining venues with excellent food, an outstanding butler service, a spa and wellness center, an incredible gym, and 2 swimming pools.
Including a beautiful 22 meters long riverside infinity pool by the Chao Phraya river.
Guests also have access to a shuttle boat service between the hotel and the central Sathorn pier.
There is really nothing more to wish for.
Nearby Attractions: Vimanmek Teak Palace, Khempet, Devavesm Palace Museum, Wat Mai Thongsen.
Siam Kempinski Hotel Bangkok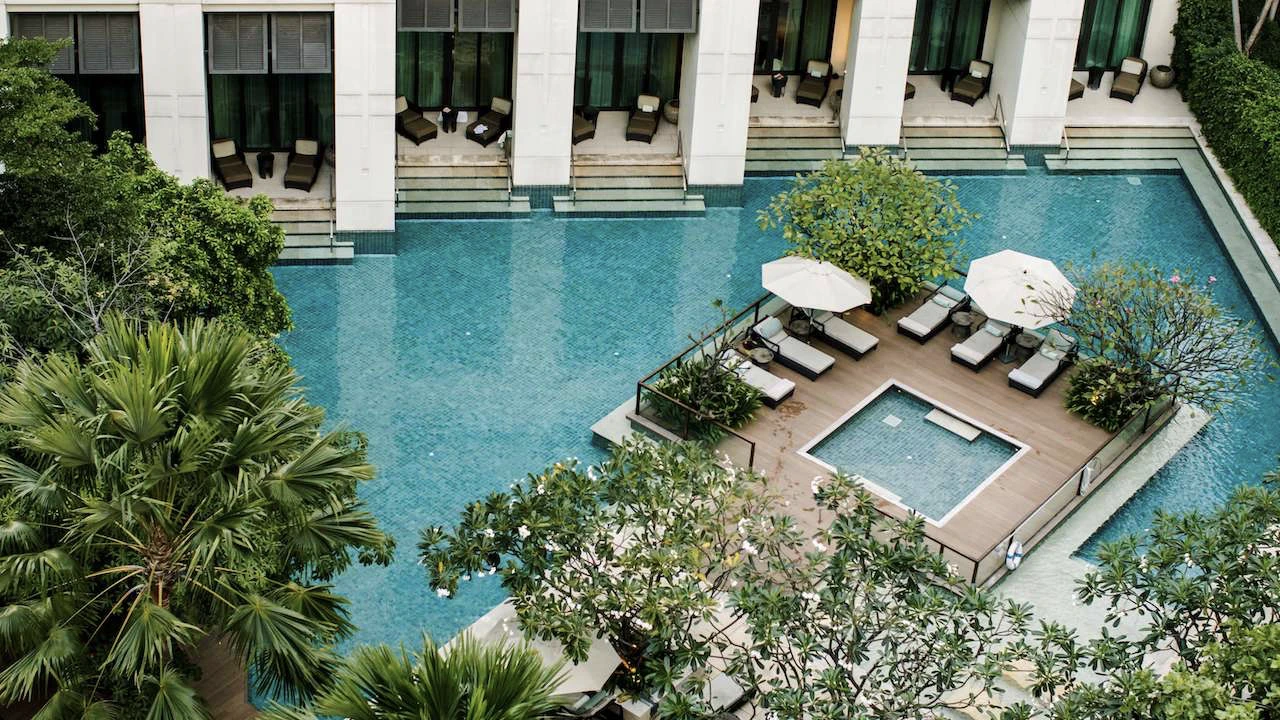 This luxurious urban oasis is more than just a hotel.
It's a sanctuary in the heart of the city, where all rooms overlook lush and beautifully landscaped tropical gardens.
The Siam Kempinski Hotel Bangkok is perfect for luxury travelers who want to explore this vibrant city, but without compromising on comfort.
There are three restaurants and bars in the building (including one Michelin Star restaurant), a luxury spa, and a health club.
But the highlight of the hotel are the multiple pools situated within the property.
They even have suites with private pool access.
Can you imagine something more relaxing than walking straight from your room to the pool after a long day?
Nearby Attractions: Siam Paragon, Central World, Gaysorn Village, Lumpini Park, Nana.
Park Hyatt Bangkok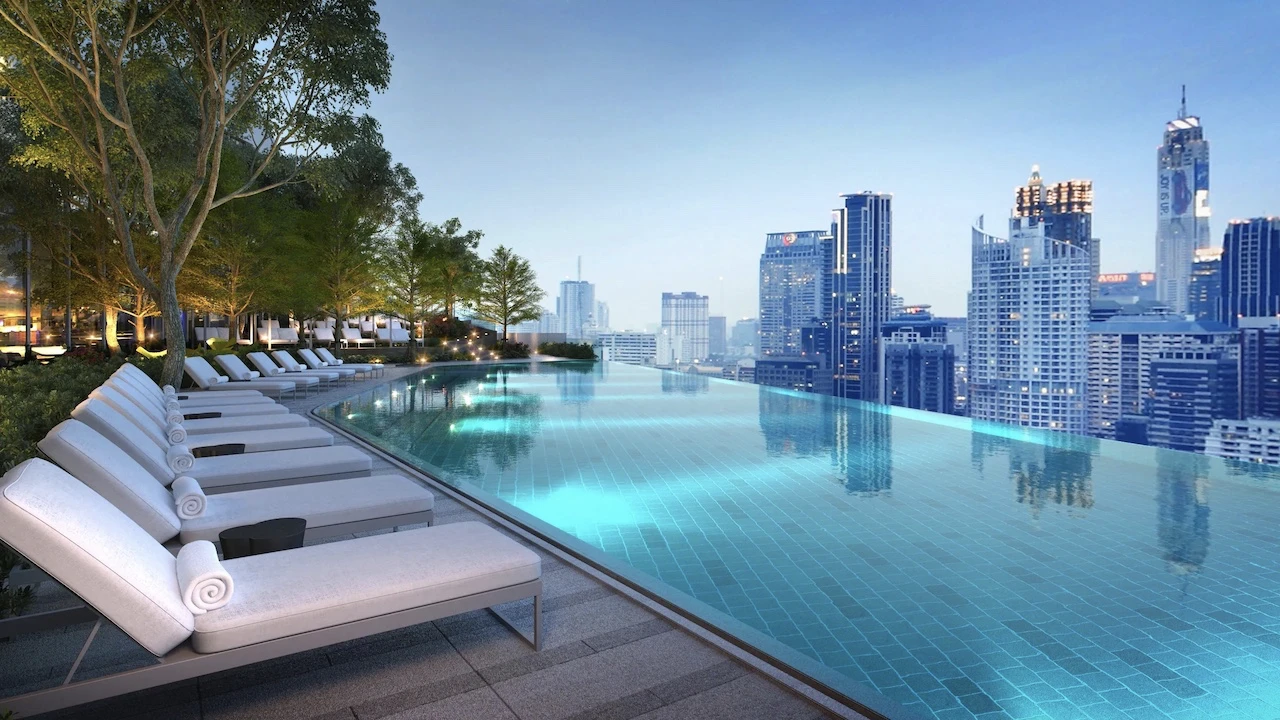 Park Hyatt Bangkok is the next level of luxury.
And for this one, the presidential suite is the suite to stay in!
The presidential suite is a 381 square meter penthouse with a view over Bangkok's skyline.
And it has its own indoor private pool!
But that's not all.
The suite also features a spa room, a gym, a home theater, a 20 square meter balcony and many more incredible things to make your stay unforgettable.
There are many hotels with in-room pools in Bangkok, but this blows them all.
But even if you decide to stay in one of the rooms without the private pool, you won't really miss out as there is a 40-meter saltwater pool with infinity edges, a sun terrace, and breathtaking views over the capital.
And you'll find inside Park Hyatt Bangkok excellent dining venues, spa facilities, a fitness center, and many more things to make your stay incredible.
Nearby Attractions: Siam Paragon, Lumpini Park, Benjakitti Forest Park, OneSiam Skywalk, Dragon Town.
Start Planning Your Stay In Bangkok
Contact VLS to arrange your unforgettable stay in one of these luxury hotels in Bangkok or anywhere else in Thailand!
Please let us know if we can help you with something else like restaurant bookings, luxury car rental, visa assistance, and so on.
We will go above and beyond to make your stay in Thailand unforgettable!
FAQ
Which Hotel In Bangkok Has The Most Impressive Pool?
The hotel in Bangkok with the most impressive pool is 137 Pillars Hotel. It has an infinity-edge pool on its rooftop offering a spectacular 360-degree view of the city.
Which 5-Star Hotel In Bangkok Has An Infinity Pool?
The best 5-star hotels with an infinity pool in Bangkok are 137 Pillars, SO/ Bangkok and Park Hyatt Bangkok.
Which Hotel In Bangkok Has a Pool In The Room?
The Park Hyatt Bangkok presidential suite has a pool in the room.