After exploring the vibrant city of Bangkok, there is nothing better than having a place to relax in style.
Imagine having your own private Jacuzzi in the hotel room.
There you are, drinking a glass of Champagne while relaxing in a hot tub, in good company, after a day visiting the city.
Here are the 8 best hotel rooms with a Jacuzzi in Bangkok.
Imperial Suite at Sofitel Bangkok Sukhumvit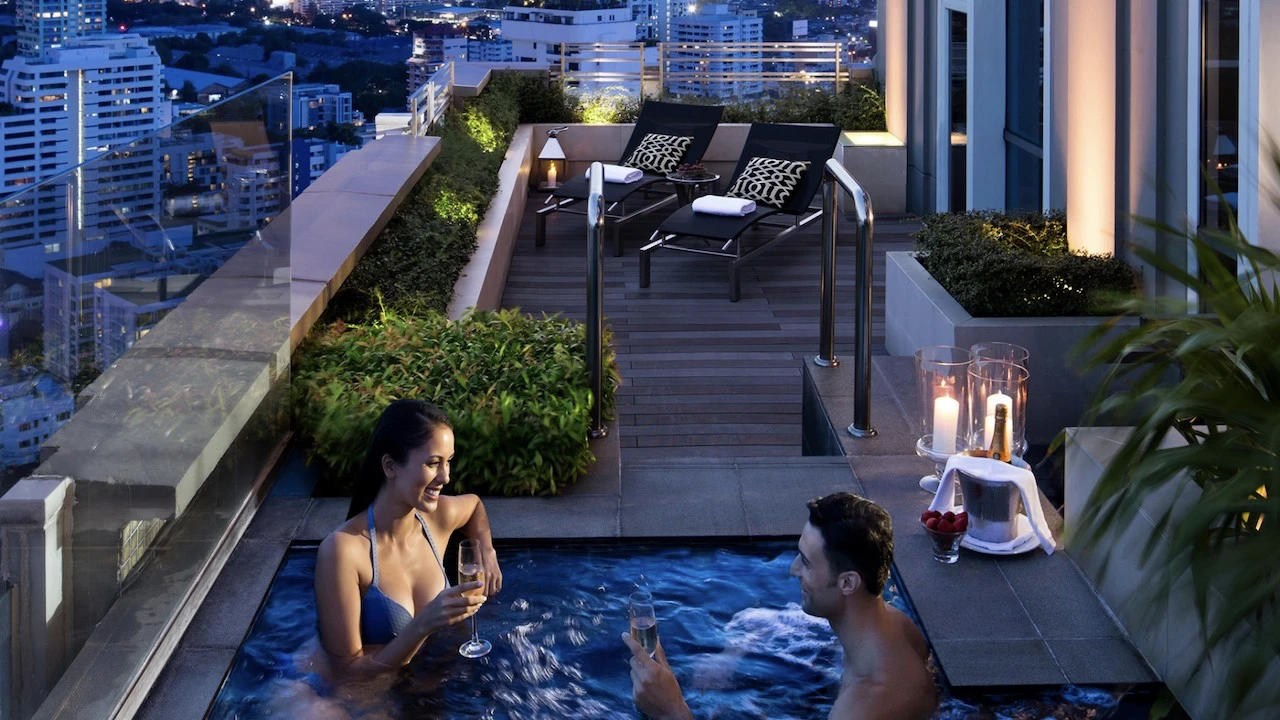 The Imperial Suite at Sofitel Bangkok Sukhumvit is one of the few exclusive suites in Bangkok that has both an indoor and outdoor private Jacuzzi.
The 168 sqm room also has a living room, a kitchenette, an elegant 9-seater dining room, a beautiful bedroom and a luxurious bathroom.
Everything is there for a unique luxury stay in Bangkok.
And it's perfect if you plan to celebrate something.
The Imperial Suite is a favorite among men celebrating their bachelor parties in Bangkok, couples on their honeymoon, and businessmen with a tight schedule.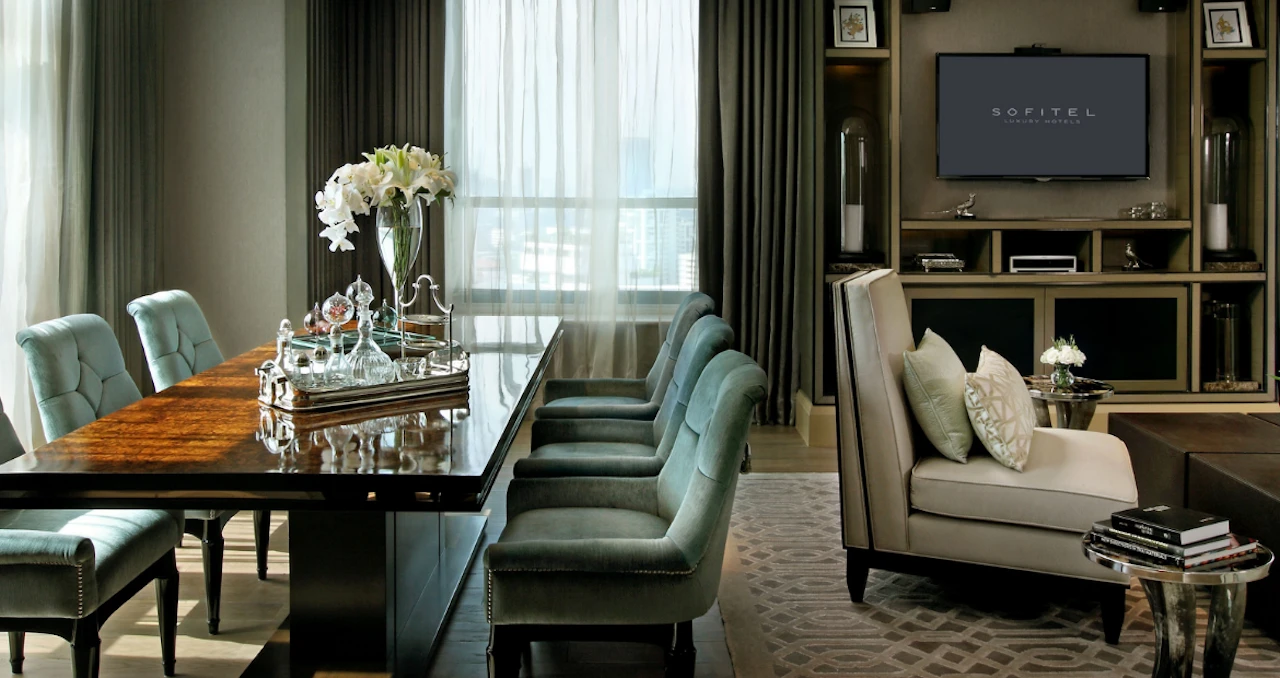 And by staying at the Sofitel Bangkok Sukhumvit, you can also enjoy their two restaurants and the bar.
From exquisite French dinners to quick business lunches, and cocktails on the terrace to the best brunch in Bangkok, you will find it all at the Sofitel Bangkok Sukhumvit.
Paranim Penthouse at Hotel Muse Bangkok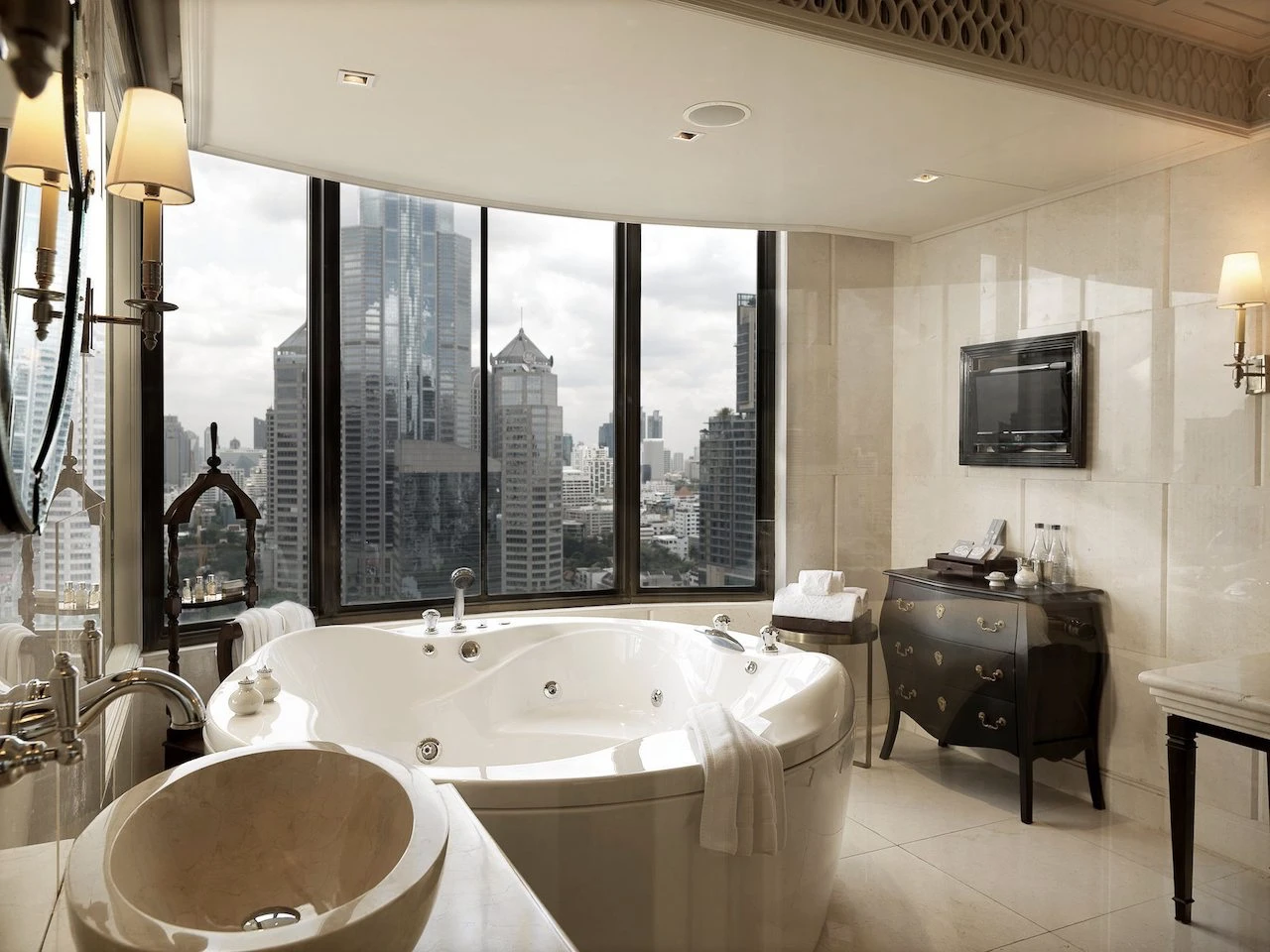 This is one of the most exclusive penthouses in Bangkok.
It features a king-size bed, a spacious bathroom with a Jacuzzi bathtub for two, a dining area, a fully fitted kitchen, and three furnished balconies.
All the rooms of the hotel are designed in Thai style, but this is one special.
Why?
Because you have your own private Jacuzzi from where you can enjoy the beautiful city skyline.
What else could you wish for?
The Paranim Penthouse is ideal for private parties, photo shoots, or to impress your date.
And there's more.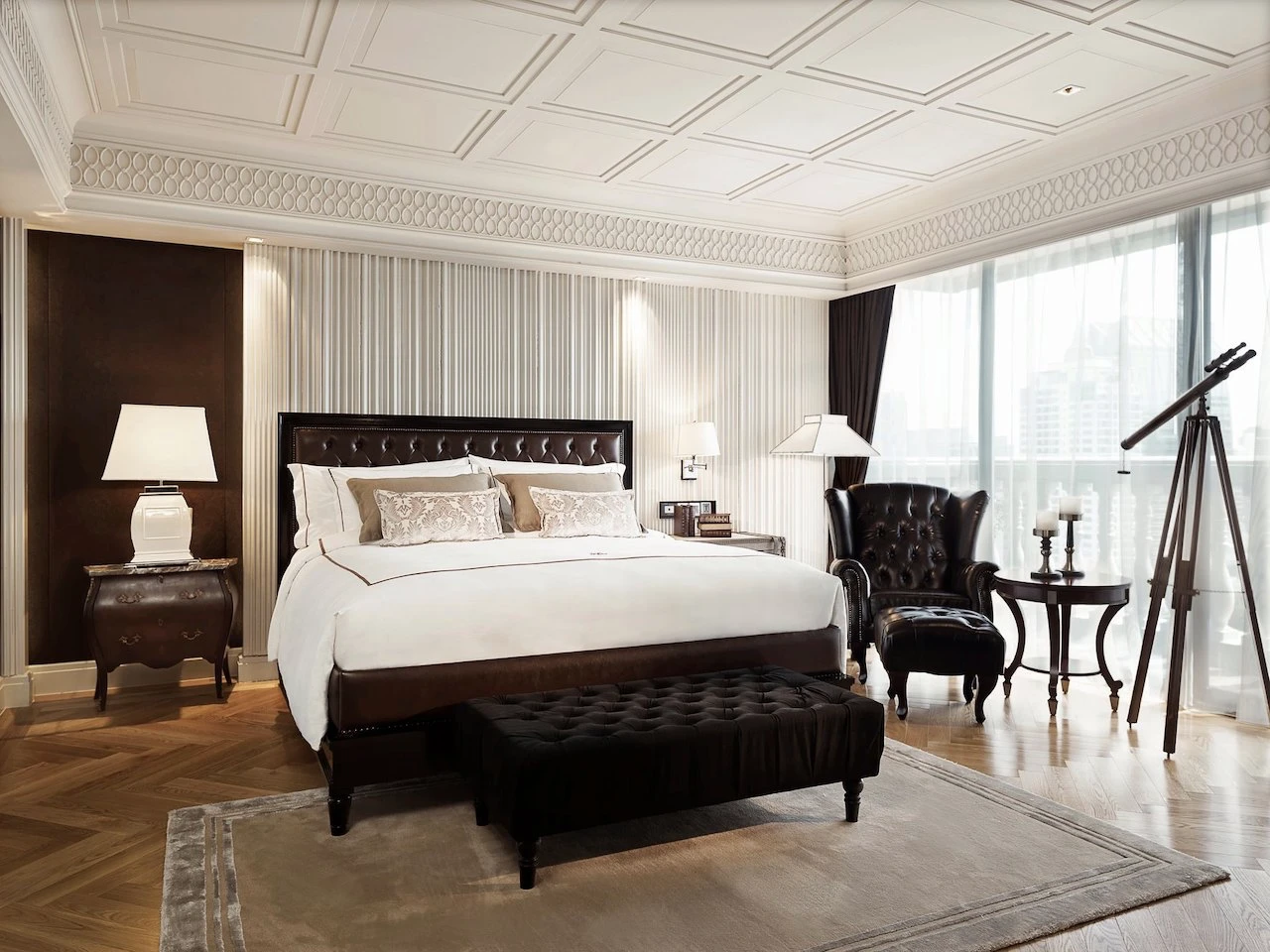 The Hotel Muse Bangkok is an award-winning hotel with some of the best restaurants and bars in Bangkok!
Head to the hotel's basement to eat delicious Italian food at Medici Kitchen and Bar.
Or go up to the 24th and 25th floor of the hotel for tapas, fine cocktails, and a cigar at The Speakeasy Rooftop bar.
SO VIP Duplex At SO/ Bangkok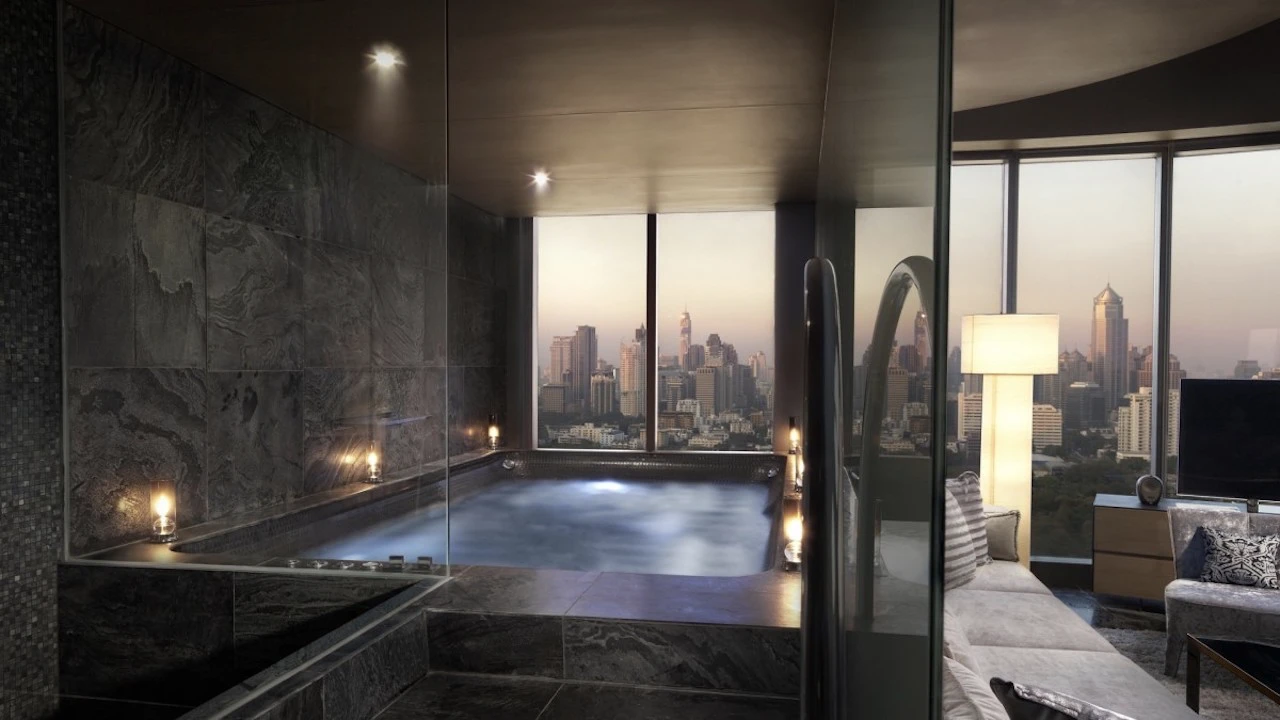 The SO VIP Duplex Suite in the 5-star hotel is a 233 sqm suite of pure luxury.
The 2 bedroom suite has a Jacuzzi in the room with electric frosted glass technology giving instant privacy and romance.
Downstairs there is a separate guest bedroom, living room, dining area and also a butler's pantry.
For maximum privacy, the master bedroom takes up the entire upper level.
And from the luxury suite, you have stunning city and Lumpini Park views.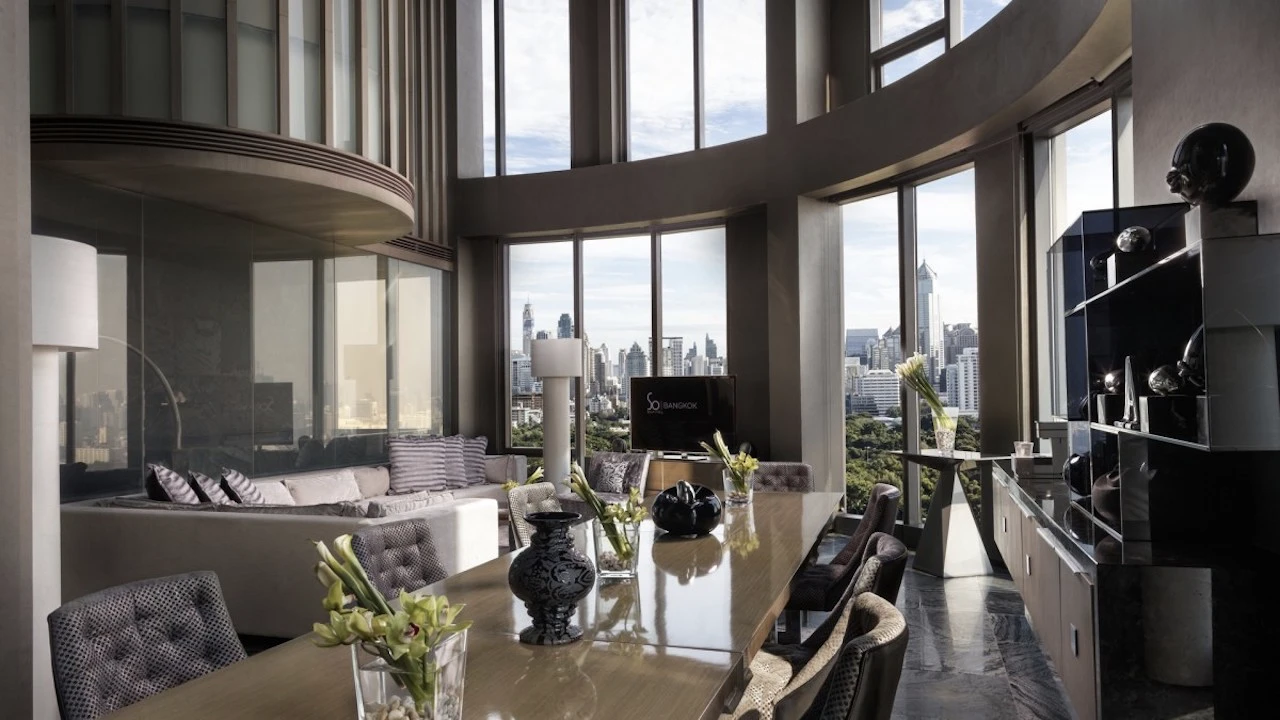 Whether you're visiting for business or leisure, for a spa day or a party night, SO/ Bangkok's luxurious amenities and accommodations will make any stay unforgettable.
And while you're there, try the multiple venues and facilities inside the hotel.
Restaurants, bars, an executive lounge, meeting rooms, a fitness center and a spa at SO/Bangkok.
The Grand Terrace Suite At The Peninsula Bangkok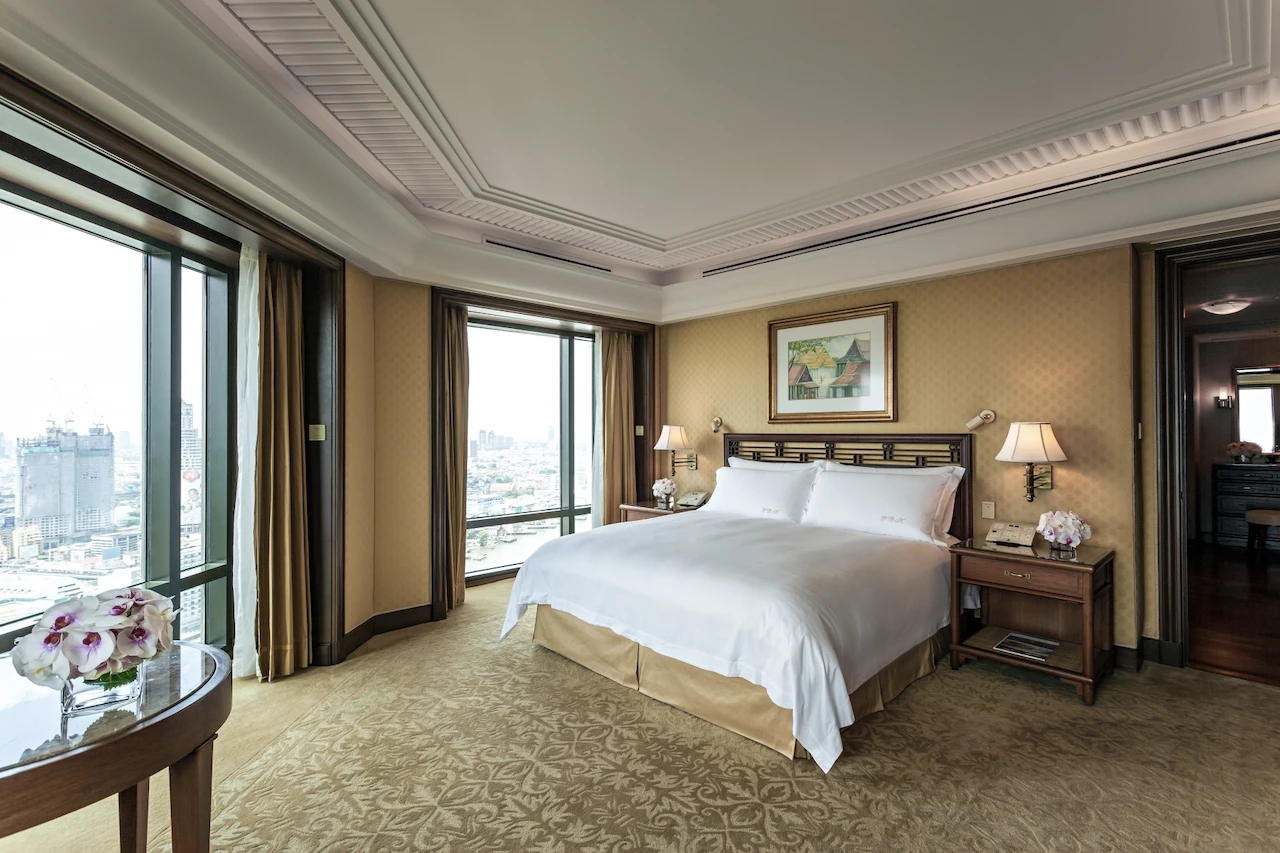 This Grand Terrace Suite and its sophisticated Asian design is located on the 36th floor of the hotel and covers over 240 sqm.
This two-bedroom suite has a master bedroom with a super king-size bed and in the guest bedroom, you can find two queen-size beds.
There is a combination of Thai and Chinese ceramics on the walls, and antique furniture and art pieces in the bedrooms.
And it has a living room and a separate dining room for up to 8 people.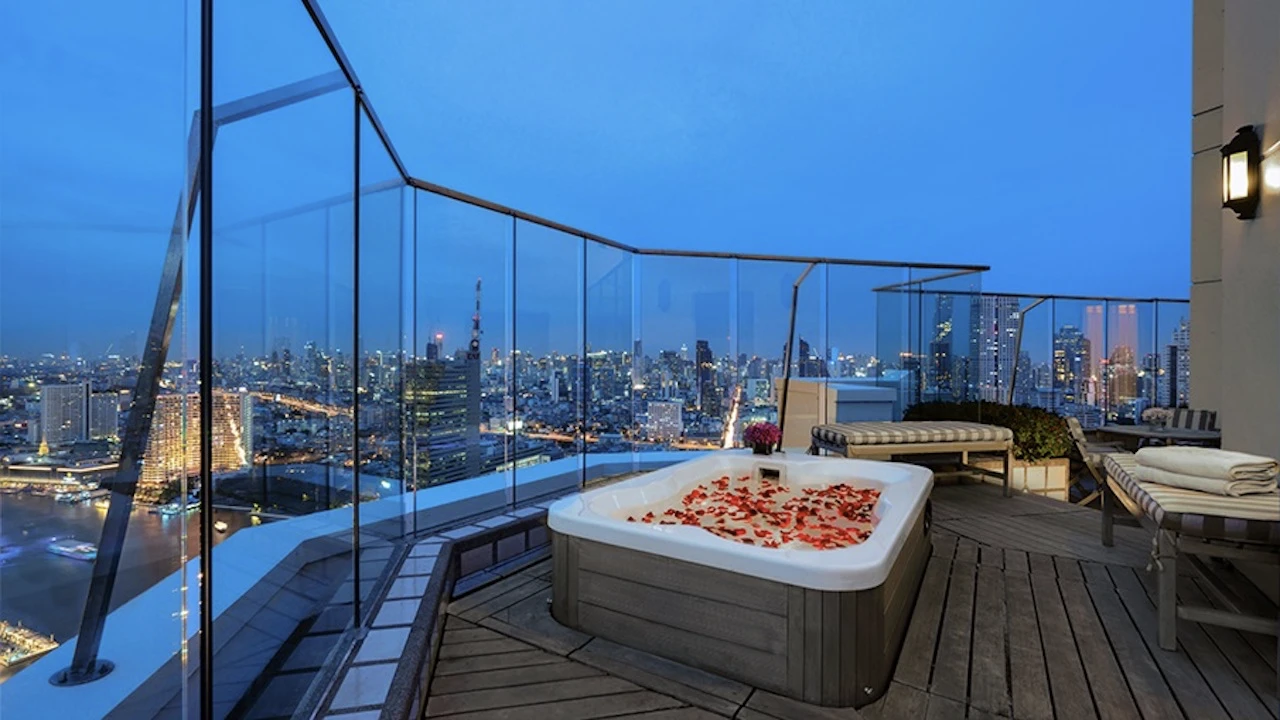 But the real jewel of this luxury suite is located outside.
On the private terrace, you can find an outdoor Jacuzzi which is the perfect spot to relax with stunning views over the Chao Phraya River.
Vice Presidential Suite at Bangkok Marriott Hotel The Surawongse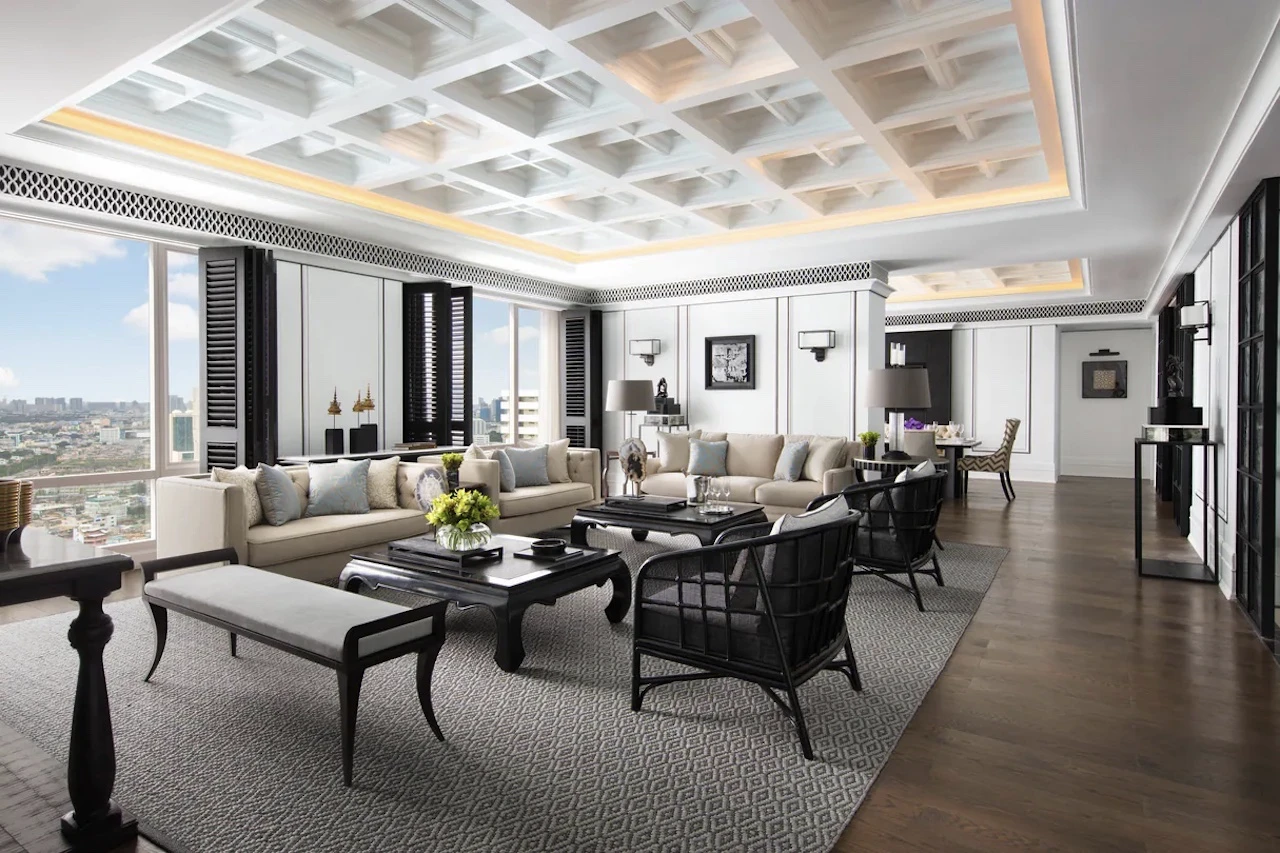 The Vice Presidential Suite at Bangkok Marriott Hotel The Surawongse has everything you need to relax after a busy day in Bangkok.
The suite is decorated in traditional and contemporary styles.
You can enjoy your private Jacuzzi in the suite with beautiful views over the city.
This is definitely one of the most luxurious suites with a hot tub in Bangkok.
Spending a night there is a memorable experience.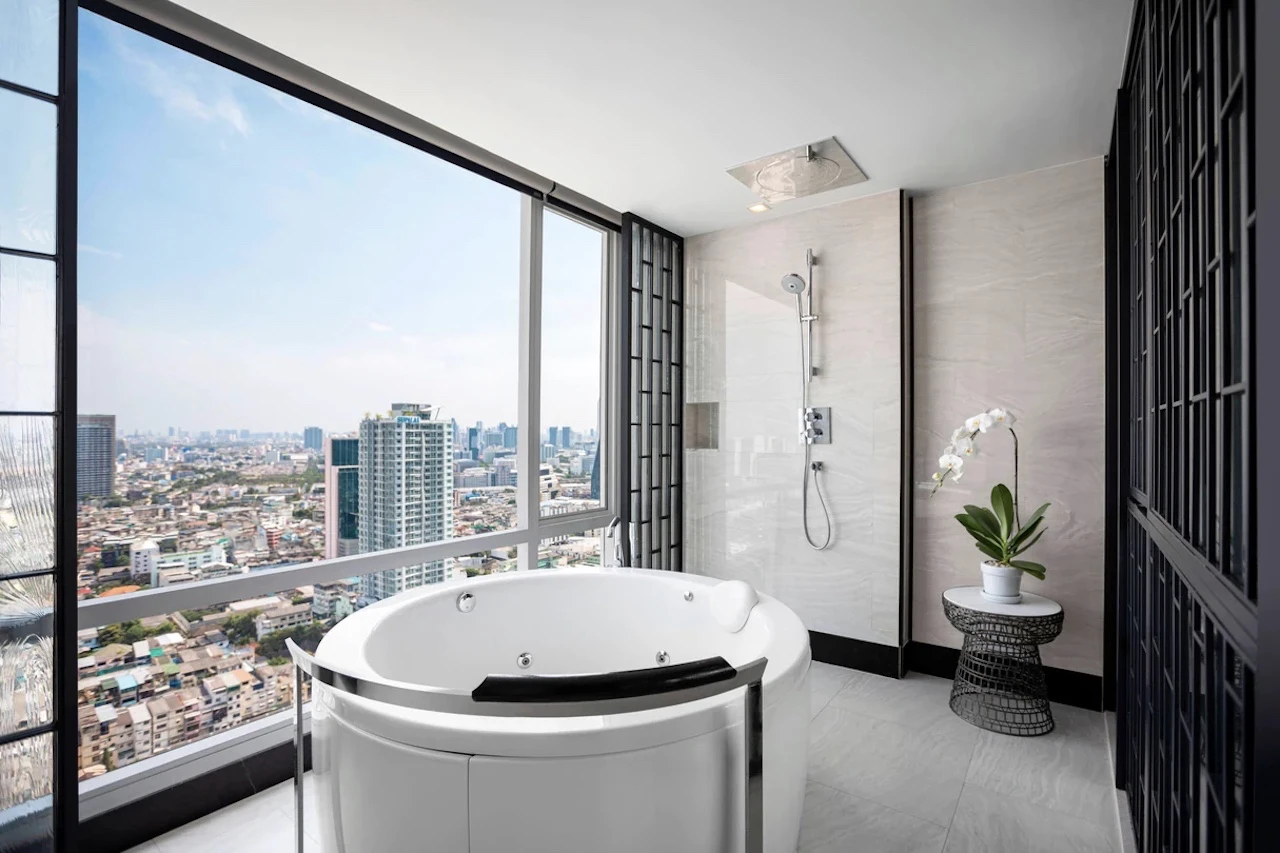 The hotel also has an outdoor infinity pool, a fitness center, a spa, and top-class restaurants.
The perfect getaway for a memorable vacation, romantic escape, or even a business trip.
Verandah Room at Capella Bangkok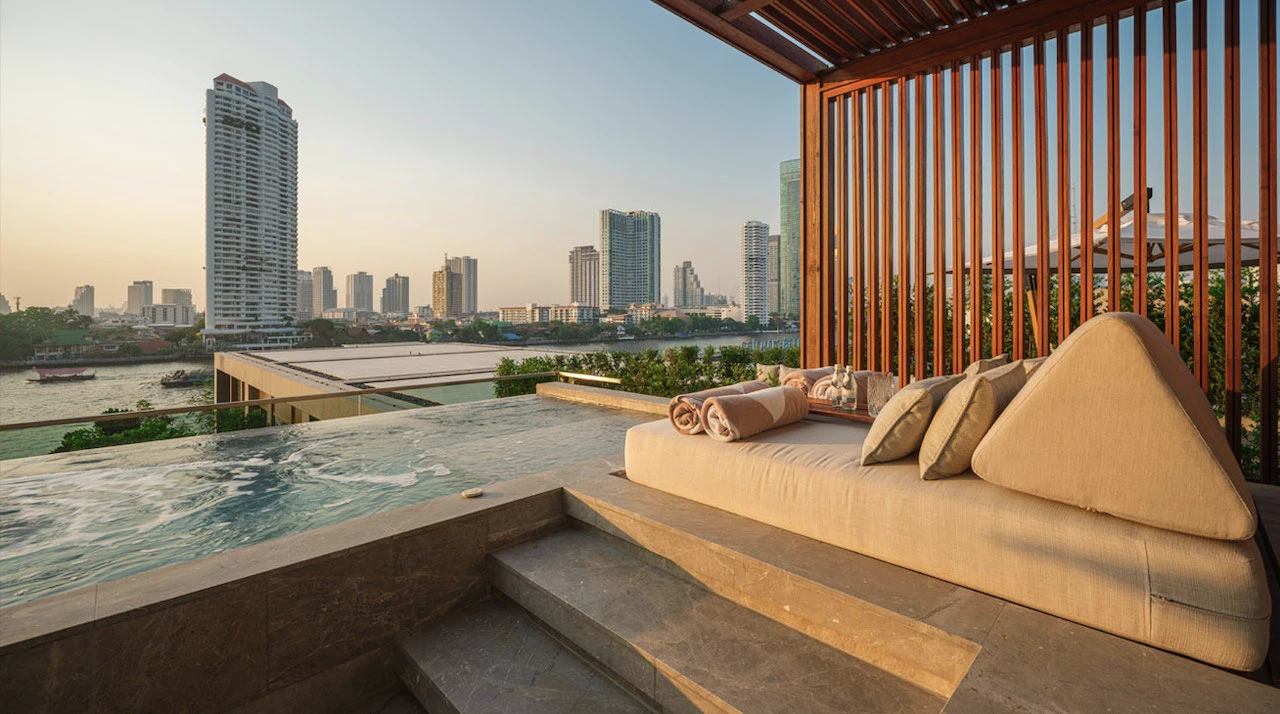 The Verandah room at Capella Bangkok is located on the 3rd floor having 137 sqm with a private verandah, sala, and an outdoor Jacuzzi plunge pool overlooking the river.
The room has an elegant, residentially styled setting, with a king-size bed featuring custom art, a generous marble bathroom and gives you access to 24-hour in-room dining.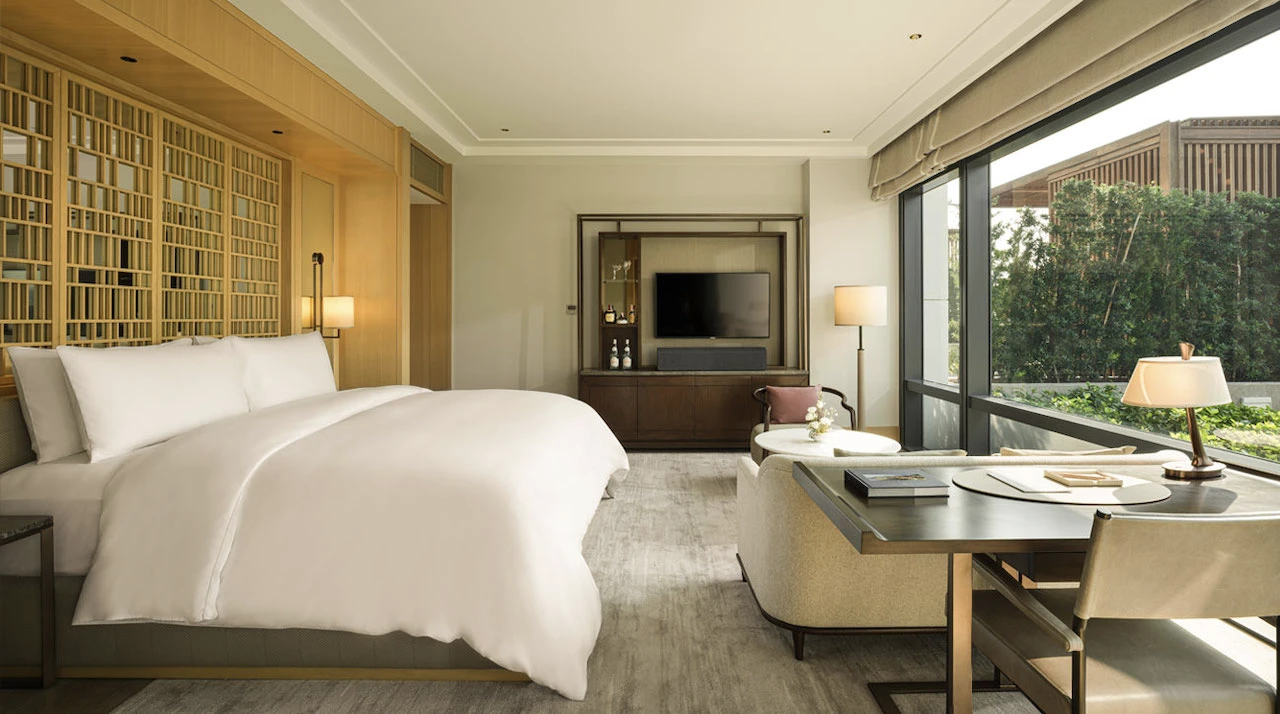 The hotel also features a restaurant with a breathtaking riverfront setting, a fitness center and a spa.
It's easily one of the most incredible hotel rooms and hotels in Bangkok.
Extreme Wow At W Bangkok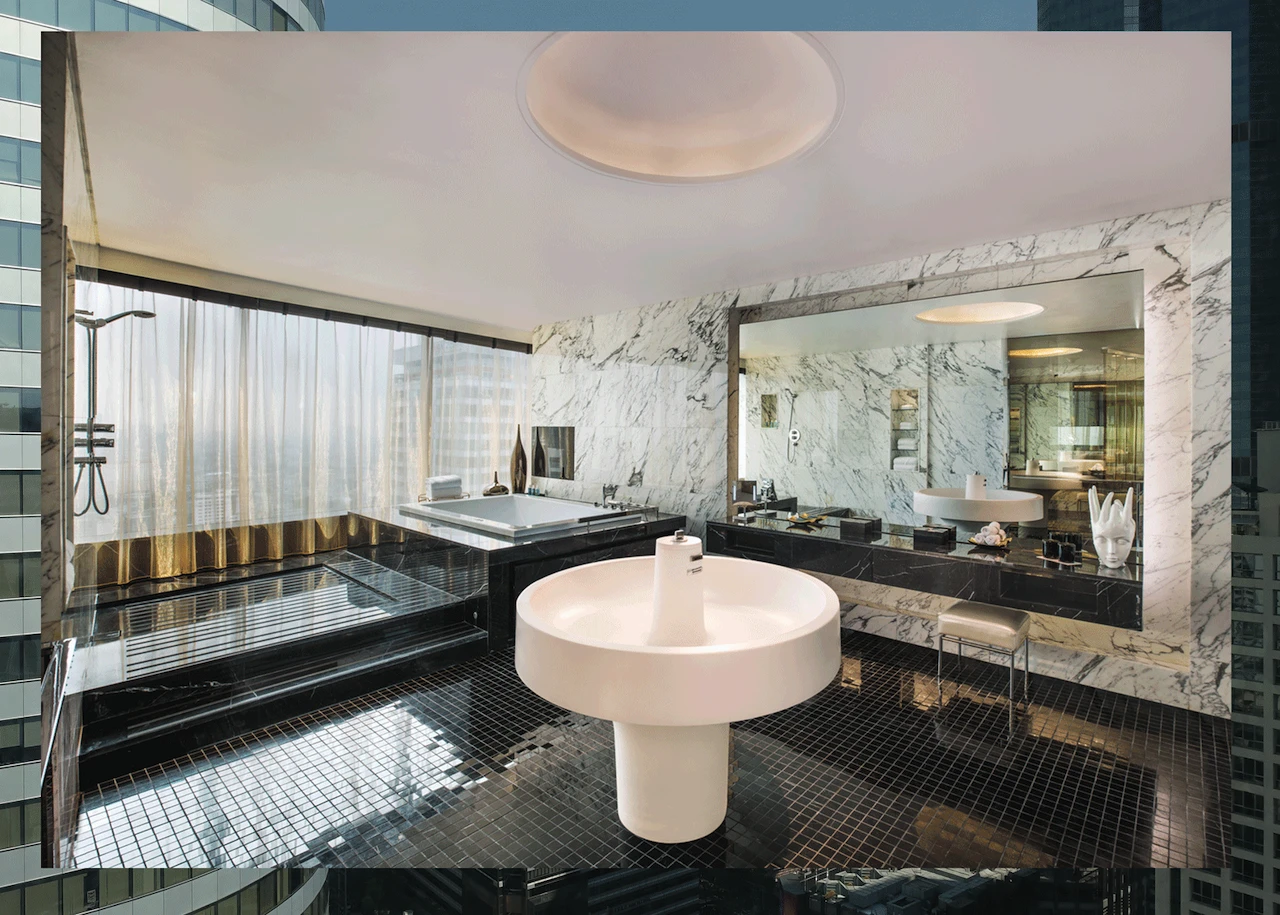 Extreme Wow is a suite like no other.
Use a touchscreen to turn on different playful moods in your suite.
The bathroom is spa-like featuring large showers, separate tubs, a private Jacuzzi and floating vanities with an ultra-modern style.
It doesn't get more modern and luxurious than that.
But there's more to having your own spa in the suite, you also have your own bar with cocktails and snacks.
If you get hungry, you can order to your room anytime.
The hotel provides delicious 24-hour in-room dining.
The W Bangkok also features 3 restaurants and a bar.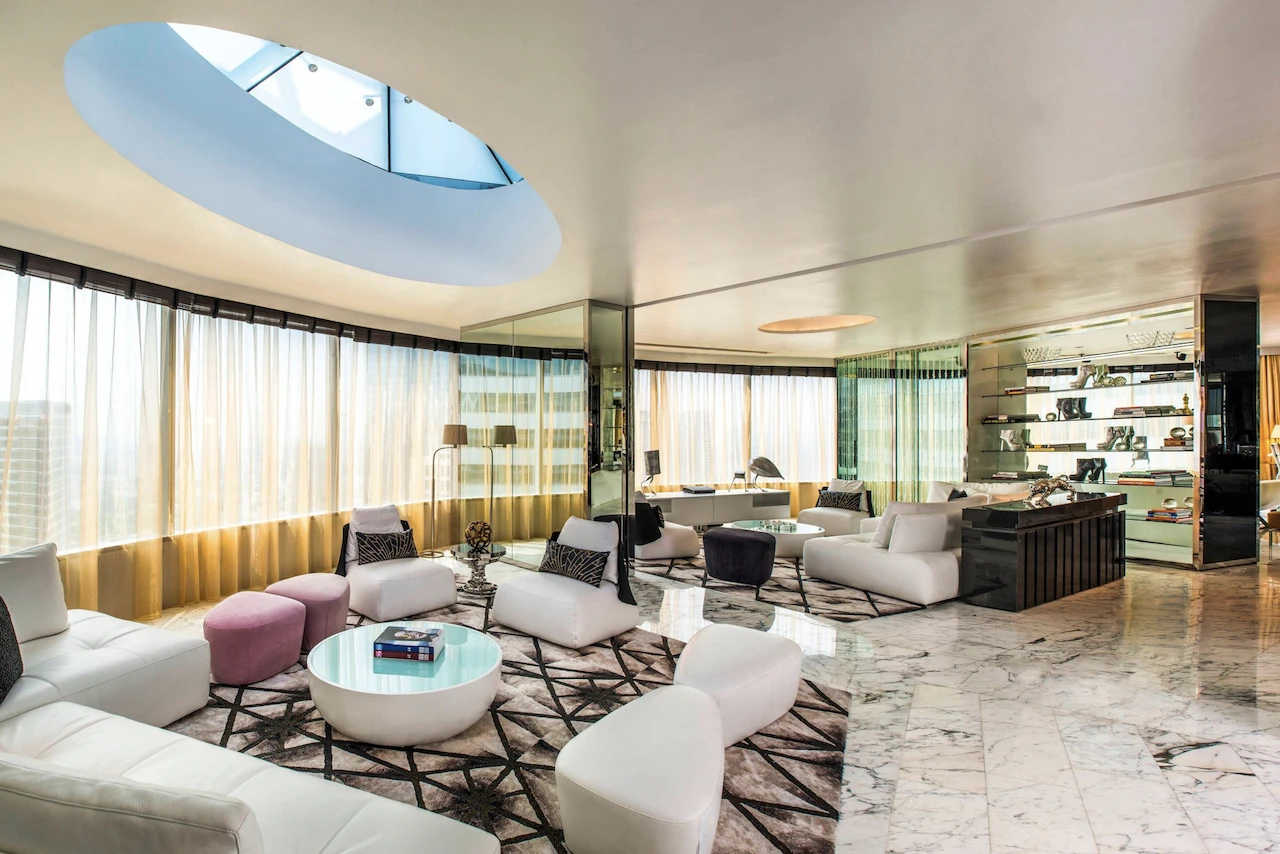 W Bangkok definitely lives up to the standards of other W hotels around the world.
It is an excellent 5-star hotel in Bangkok for people coming to the city to party or for business (or a mix of both).
Villa With Private Pool At Shan Villas Sukhumvit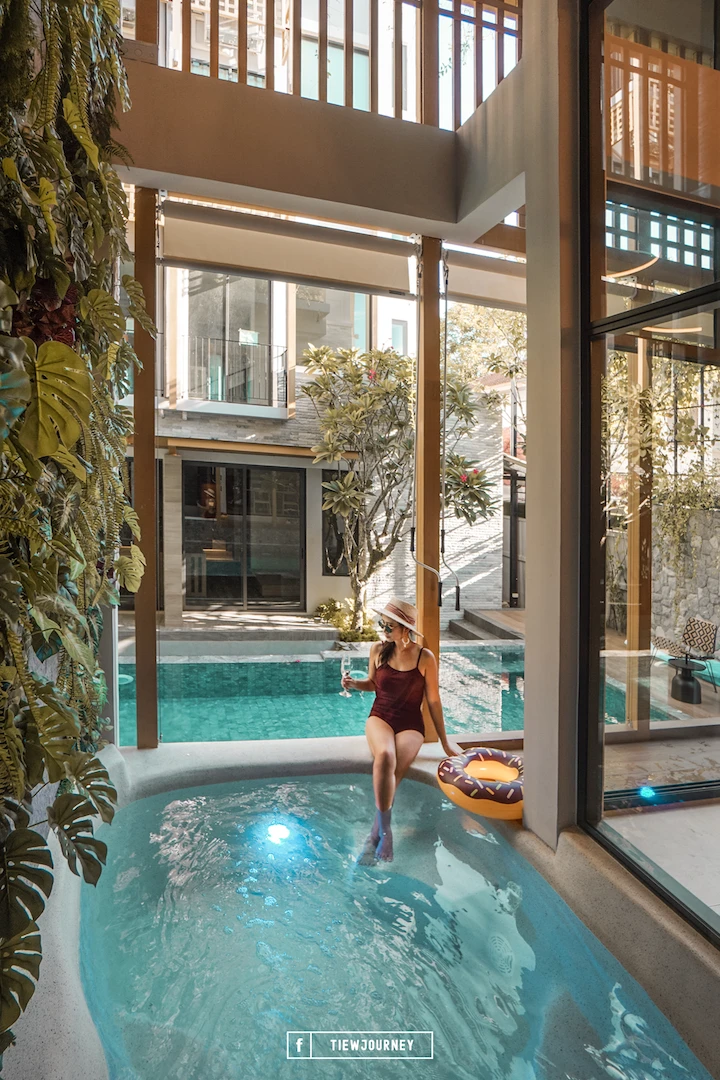 This Villa has 5 bedrooms with ensuite bathrooms, a private pool in front of the villa, and a Jacuzzi next to the pool.
And the Jacuzzi can easily fit up to 8 people.
What a perfect getaway for a large group or if you are just planning to have an awesome private party.
You also don't have to worry about getting food, as the Shan Villas Sukhumvit provides a top-class restaurant.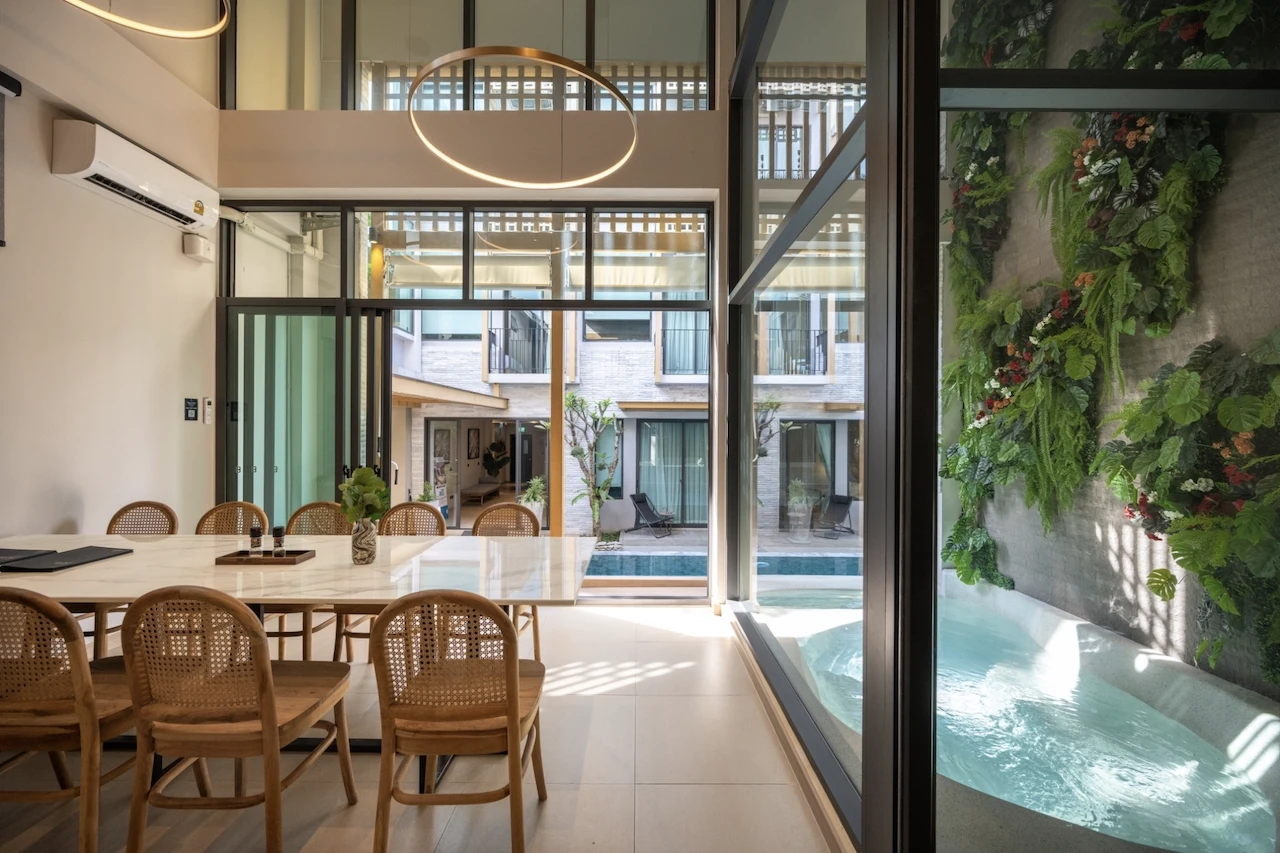 Shan Villas Sukhumvit has one of the few pool villas close to the center of Bangkok that come with a private hot tub.
Try it out.
Contact VIP Luxury Services To Plan Your Trip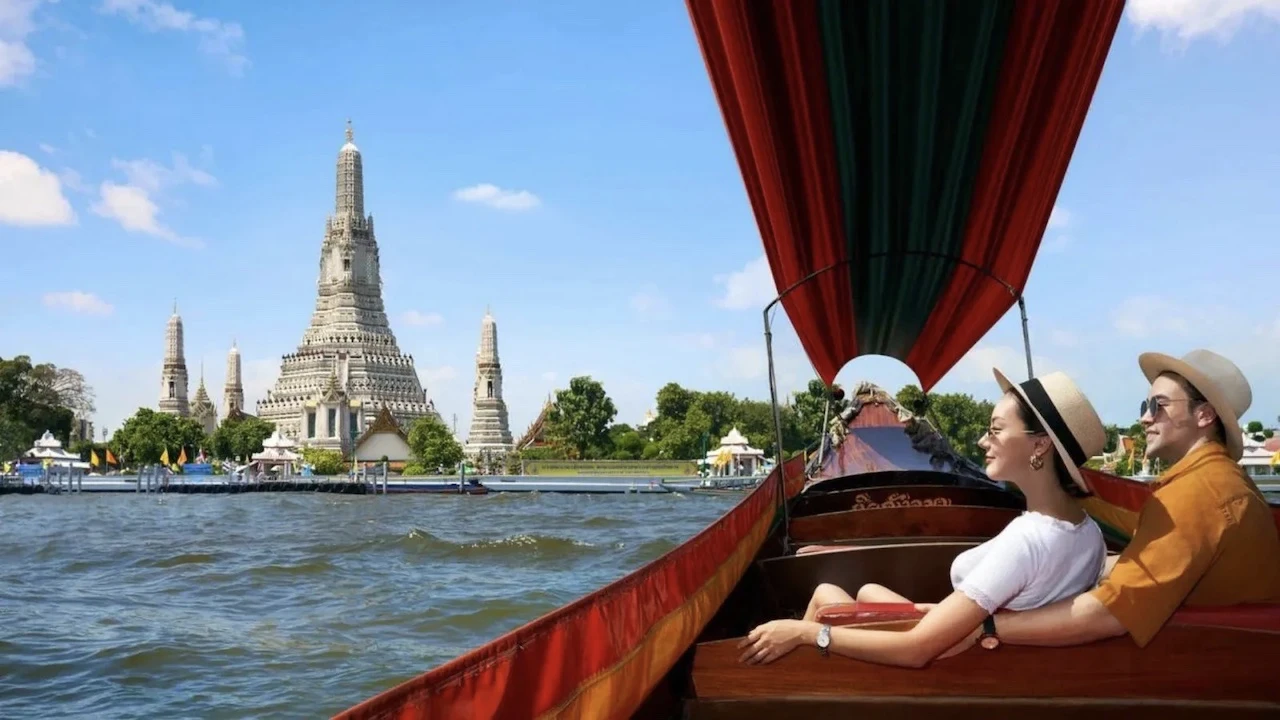 No matter what you need to make your stay in Bangkok and Thailand unforgettable, our concierge service is here to help.
Contact VLS to book one of the most exclusive rooms at the best luxury hotels in Bangkok, rent a yacht on the Chao Phraya, or arrange a private jet to Phuket.
We also can organize your whole stay in Thailand!
Start planning your holidays in Thailand now.
FAQ
What Hotel Room With a Jacuzzi In Bangkok Has The Best View?
The hotel in Bangkok with a jacuzzi that has the best view is The Grand Terrace Suite At The Peninsula Bangkok, with views over the Chao Phraya River.
What Hotel In Bangkok Has The Biggest Jacuzzi In Room For Private Parties?
The hotels in Bangkok that have the biggest jacuzzi in room for private parties are the Sofitel Bangkok Sukhumvit (with its Imperial Suite), Capella Bangkok (with its Verandah room) and Hotel Muse Bangkok (with its Paranim Penthouse).
Discover More Places To Stay In Bangkok And Thailand
Whether you're coming for a few days or a few months, our concierge have listed for you the best luxury rental options for your stay in Thailand.
Explore more options here.